WWE Rumors: The Rock, John Cena, Rey Mysterio and Monday's Top WWE News
February 27, 2012

Michael N. Todaro/Getty Images
Of all the shows on the Road to WrestleMania, tonight is probably the most important. Raw will feature the return of The Rock, along with John Cena and, presumably, more involving Triple H and The Undertaker. 
Obviously, Rock's response will be the biggest story of the show. What is he going to say? Will it be good enough? Will he take shots at the "anonymous" wrestlers who have been bashing him?
With so much going on, we are just going to step back and let it all unfold. In the meantime, here are the top stories from the wacky world of WWE this Monday. 
THE ROCK SAYS A LOT...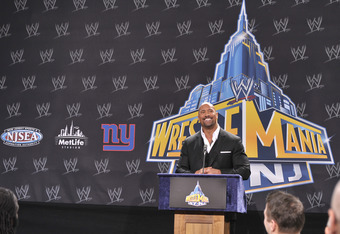 Michael N. Todaro/Getty Images
In addition to making his much-anticipated return to Raw tonight, there are reports that The Rock will be wrestling at next year's WrestleMania. He stated at the press conference for the event that he would be there, but now we have a somewhat clearer picture of his role. 
Question on Everybody's Mind: Next year is great, but what's going on tonight?
Our Take: Since he has already taken to Twitter to basically call the stars who have been anonymously bashing him, look for Rock to be in rare form. Cena is getting all kinds of attention for cutting a real promo—one that didn't include lame comedy—so it's on the Great One to retaliate in kind.
Hype Meter: 5 out of 5 Shiny Microphones
This appearance, more than any other on the Road to WrestleMania, is the most important. Rock and Cena are going to set the tone for this feud based on what happens tonight.
Deeper Dive
The Rock and John Cena Are Hurting The Fans (B/R)
Rock and WrestleMania 29 (PWTorch via NoDQ) 
------------------------------------------------------------------
JOHN CENA PREPARED TO PULL DOUBLE DUTY
Matthew Stockman/Getty Images
Proving that he is a man of his word, John Cena is reportedly going to be in Daytona Beach, Florida to start the Daytona 500 and Portland, Oregon for Raw. The race was scheduled to take place on Sunday, but got delayed due to weather. 
Question on Everybody's Mind: Will Cena and Rock go face to face?
Our Take: While that would be the most likely scenario, I would like to see Rock on his own cutting a promo on Cena in response to what we heard last week. Then next week, you bring the two titans in the ring together for a segment. 
Hype Meter: 4 out of 5 Weather Delays
Give Cena props for honoring his commitment to NASCAR. Rock had to pull double duty back in November when he was filming a movie, so now Cena will understand what he went through. 
Deeper Dive
Are Rock and John Cena On A Crash Course For Another Match? (B/R)
John Cena Starting Daytona 500 (TMZ)
---------------------------------------------------------
REY MYSTERIO NEEDS A MONEY IN THE BANK MATCH
While there has been talk of not having a Money In the Bank match at WrestleMania this year, Rey Mysterio did an interview saying that he was hoping to wrestle in that particular match on the biggest show in 2012. 
Question on Everybody's Mind: Will WWE get Mysterio into a different match?
Our Take: That depends on how much he is actually able to do. If there is a big six- or eight-man tag team match, he could be thrown into that. Somehow, someway, WWE will find a way to get him on board if he's able to compete. 
Hype Meter: 4 out of 5 West Coast Pops
Mysterio has been sorely missed during his absence. He has a way of helping other stars get over and staying at a high level on his own. Very few stars in WWE are able to do that nowadays, and someone has to shoulder the load. 
Deeper Dive
WrestleMania 28 Moments That Should Happen (B/R)
Rey Mysterio Wants MITB (1130 AM Detroit)
-------------------------------------------------------------------------
KHARMA READY FOR WRESTLEMANIA?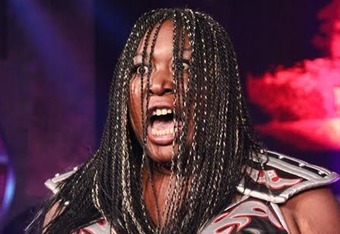 Last week we told you about a report saying that Kharma was not ready to return full-time, which is why she hasn't been seen on television since the Royal Rumble. She could be ready to go for the biggest show of the year, and it could be against Beth Phoenix. 
Question on Everybody's Mind: So Kharma's coming back as a babyface?
Our Take: Considering how badly WWE has been treating Natalya, the least they can do is give the fans a female wrestler that they can actually root for. Eve will always be there for us to laugh at, but she doesn't belong in a ring. 
Hype Meter: 4 out of 5 Headless Barbie Dolls
Right now, Kharma is the only hope that the divas division has. She is, like Chris Jericho in 2007, here to save us from all the madness. Let's just hope she is ready to go in time. 
Deeper Dive
WWE's Most Underrated Stars (B/R)
Kharma vs. Beth Phoenix at WrestleMania? (Wrestle Zone)
---------------------------------------------------------------------------
Check back for more on the WWE as it comes, and check out Bleacher Report's Wrestling Page to get your fill of the WWE. For more WWE talk, check out Ring Rust Radio for all of the hot topics you just can't miss.