NFL Combine 2012: LaMichael James' Draft Stock Soars with Lightning 40 Time
February 26, 2012

Harry How/Getty Images
With his impressive run at the 2012 NFL Scouting Combine, former Oregon running back LaMichael James has made himself a much desirable draft candidate for any football team.
After declaring for the NFL draft following his junior year and the first BCS victory in the Chip Kelly era for the Oregon Ducks, James wowed scouts and NFL franchises with a 4.45 second 40-yard dash at the 2012 NFL combine. This run put him at No. 2 overall at the running back position, behind only Miami running back Lamar Miller.
James, whose name immediately started trending on Twitter following the performance, is to be rightfully considered among the most elite prospects at the position. While an undersized athlete at 5'8" and 194 pounds, the speedy back may draw comparisons to NFL players like Darren Sproles and Jahvid Best.
The 4.45 time proves that he can explode in the backfield for 20+ yard runs, and may become a viable option for kick and punt returns.
The dynamic back, who also has an unofficial 40 time of 4.37 seconds, proves that he would be able to outrun tacklers and find the open field as an explosive option for a team that needs running back help.
James rushed for over 1,500+ yards in his three seasons at Oregon, and averaged 7.3 yards per carry in his final season.
He also recorded a touchdown in his Rose Bowl victory and notched a 90-yard carry earlier in the season.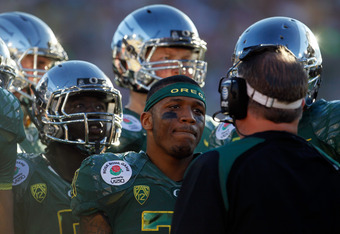 Jeff Gross/Getty Images
While he may have become a more popular household name, the noted fame would certainly not come as a surprise to anyone who actually watched him play in the Pac-12 conference during his tenure at Oregon. As an Oregon student who has watched LaMichael James play in person, I understand how electrifying he can be on a football field.
James is a legitimate, constant threat to score from no matter where he is on the field. Regardless of other fumble and handling liabilities, that type of value makes him a desirable candidate for an NFL team. 
Even if many scouts question his size and could tout him as third- to fourth-round talent, his performance against the large Wisconsin defense and his stellar 40-yard dash at the NFL Combine makes James an even more exciting pick who can become an exciting late-first or mid-second round pick when the NFL draft comes around.
Click here to Follow @BryanKalbrosky.