NFL Mock Draft 2012: How the Workouts Are Affecting Players' Stock
February 26, 2012

Sarah Glenn/Getty Images
The NFL Scouting Combine is currently helping and killing a ton of players' draft stocks. Every year, we see risers and we see fallers, all because of this one week in Indianapolis.
The most notable riser is Georgia Tech's star wide receiver, Stephen Hill. Hill weighed in at an impressive 6'4", 215 pounds and ran the 40-yard dash in 4.36 seconds.
One player who seems likely to drop is Mohamed Sanu of Rutgers. The Rutgers wideout ran the 40-yard dash in just 4.67 seconds. Doesn't sound like a first-round pick, does it?
Ohio State's Mike Adams got off to a great start at the Combine, weighing in at 6'7", 323 pounds, but it was all downhill from there. Adams put up just 19 reps in the bench and ran a 5.40 in the 40-yard dash.
Cordy Glenn, the 6'6", 346-pound lineman from Georgia, ran the 40-yard dash in 4.96 seconds and put up 31 reps of 225 pounds. Impressive, for someone so big.
Memphis' Dontari Poe weighed in at 6'4", 346 pounds and put up 44 reps of 225 pounds. The big man's stock looks to be on the rise.
Without further ado, here's the a look at the entire first round.
1. Indianapolis Colts: Andrew Luck, QB, Stanford
2. Cleveland Browns (from St. Louis): Robert Griffin, QB, Baylor
3. Minnesota Vikings: Matt Kalil, OT, USC
4. St. Louis Rams (from Cleveland): Morris Claiborne, CB, LSU
5. Tampa Bay Buccaneers: Justin Blackmon, WR, Oklahoma State
6. Washington Redskins: Trent Richardson, RB, Alabama
7. Jacksonville Jaguars: Quinton Coples, DE, North Carolina
8. Miami Dolphins: Nick Perry, DE, USC
9. Carolina Panthers: Michael Brockers, DT, LSU
10. Buffalo Bills: Whitney Mercilus, DE, Illinois
11. Kansas City Chiefs: Dontari Poe, DT, Memphis
12. Seattle Seahawks: Ryan Tannehill, QB, Texas A&M
13. Arizona Cardinals: Riley Reiff, OT, Iowa
14. Dallas Cowboys: Dre Kirkpatrick, CB, Alabama
15. Philadelphia Eagles: Fletcher Cox, DT, Mississippi State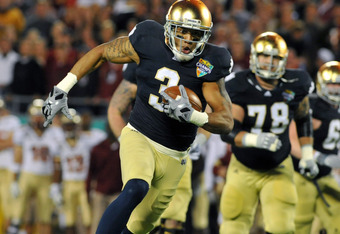 Al Messerschmidt/Getty Images
16. New York Jets: Michael Floyd, WR, Notre Dame
17. Cincinnati Bengals (from Oakland): David DeCastro, OG, Stanford
18. San Diego Chargers: Mike Adams, OT, Ohio State
19. Chicago Bears: Kendall Wright, WR, Baylor
20. Tennessee Titans: Courtney Upshaw, DE, Alabama
21. Cincinnati Bengals: Janoris Jenkins, CB, North Alabama
22. St.  Louis Rams (from Cleveland): Alshon Jeffery, WR, South Carolina
23. Detroit Lions: Luke Kuechly, LB, Boston College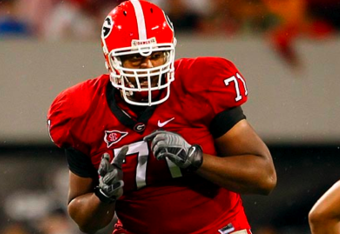 24. Pittsburgh Steelers: Cordy Glenn, OG, Georgia
25. Denver Broncos: Mark Barron, S, Alabama
26. Houston Texans: Stephen Hill, WR, Georgia Tech
27. New England Patriots (from New Orleans): Stephon Gilmore, CB, South Carolina
28. Green Bay Packers: Melvin Ingram, OLB, South Carolina
29. Baltimore Ravens: Peter Konz, C, Wisconsin
30. San Francisco 49ers: Andre Branch, OLB, Clemson
31. New England Patriots: Devon Still, DT, Penn State
32. New York Giants: Jonathan Martin, OT, Stanford