UVA Football: 5 Players Who Need a Great Spring Camp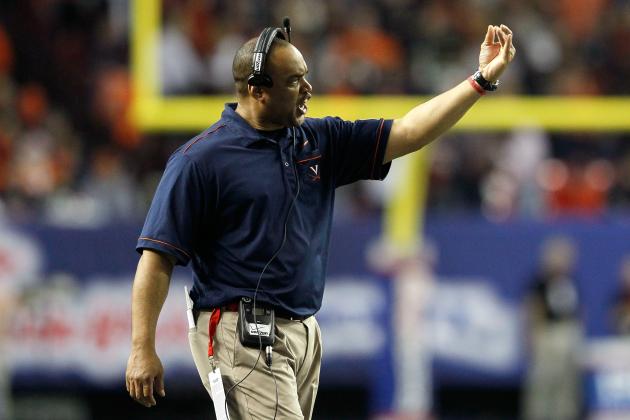 Kevin C. Cox/Getty Images

Virginia football made significant strides in 2011.
The Cavaliers under second-year head coach Mike London made a bowl game for the first time since 2007 and were just one game from claiming the ACC Coastal Crown.
Virginia had won one game in franchise history in Florida before last season when they swept the Miami Hurricanes and the Florida State Seminoles in the Sunshine State.
Now Virginia must deal with heightened expectations and significant losses on both offense and defense heading into 2012.
While some players have already shown signs of being stars, this team's success will depend on the ability of new players to rise up and fill the void at several key positions.
Here are five players to keep an eye on this spring. They may not be household names yet, but their play could determine which direction the Cavaliers head next season.
Begin Slideshow

»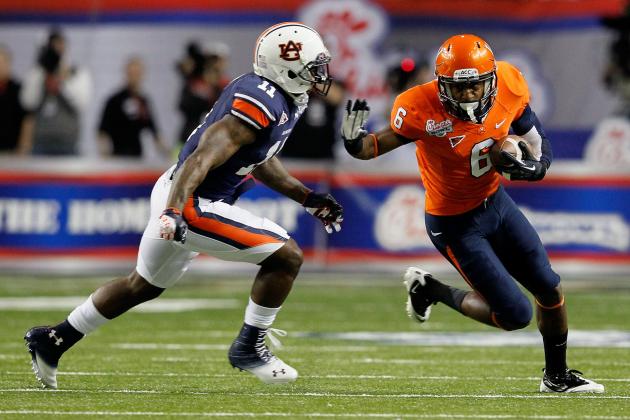 Kevin C. Cox/Getty Images

With the emergence of quarterback Michael Rocco, Virginia's passing game will be a key to the 2012 season.
Now that Kris Burd is leaving, someone must fill the void of Mr. Reliable, whose 66 receptions for 913 yards led the team in both categories.
Jennings, a talented speedster, had a harsh learning curve as a true freshman. With 20 receptions for 238 yards, seven of those catches came in the final three games of the season.
Jennings, along with Dominique Terrell, represent the future of Virginia's receiving corps and will need to step up for Rocco as the Cavalier offense tries to take another step forward this Fall.
Jennings had a slow start but needs a good spring camp to build on the momentum from the end of last season, give defenses something to worry about and complement the ground attack of Perry Jones, Kevin Parks and Clifton Richardson.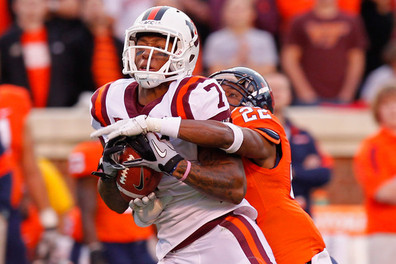 Even if Drequan Hoskey is not a household name, he does have one of the best plays of the year for Virginia in 2011.
On the road against Florida State, Hoskey was inserted late as the Seminoles marched down the field in the final minute trailing by a point.
Hoskey swatted away a perfect spiral from quarterback E.J. Manuel in the end zone in one of the biggest plays of the game.
The seldom used corner will take on a much larger role next year with the departure of Chase Minnifield and Dom Joseph to graduation. Hoskey now will be the favorite to start in the other corner position next season and therefore his spring will be critical to Virginia's success.
While Demetrious Nicholson had a strong effort as a true freshman at corner, his diminutive height makes him a danger against certain big wide receivers. That puts extra responsibility on Hoskey, something that he will have to be prepared for as the 2012 season begins.
Virginia's secondary has gone from one of the biggest strengths to biggest weaknesses. A big spring camp by Hoskey can help alleviate some of those fears heading into next season.
Rijo Walker worked his way into the lineup last season.
The rising junior played in all 13 games last year and even started two as a safety for the Cavaliers. In limited action he picked up ten tackles and an interception.
Virginia's defense improved greatly over the 2010 version because of their physicality. London's charges were able to get to the ball and bring players down in year two, but Walker must improve his tackling for Virginia to continue its path of progression.
With such a young and inexperienced secondary, teams will be going to the air early and often in 2012 to test these players. Walker has to be able to recognize offensive schemes and be in the right place at the right time.
As much as Virginia's defense improved in 2011 it was still vulnerable to the big play. Against Southern Miss, Virginia gave up a 3rd-and-23, ultimately leading to a loss.
The Cavalier defense had trouble with the speedy Travis Benjamin of Miami.
If Walker can learn quickly, he can help erase some of those Sportscenter highlights and put the Cavaliers closer to glory.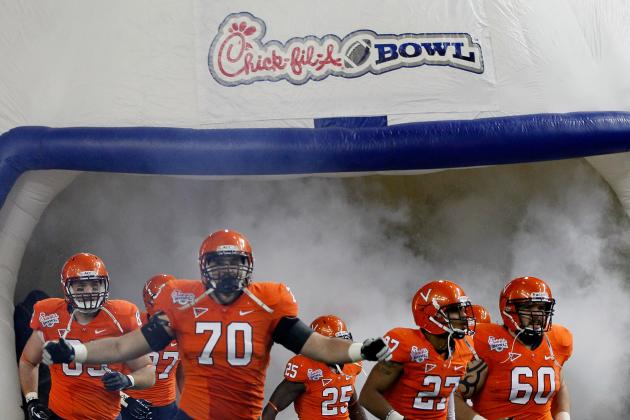 Kevin C. Cox/Getty Images

While all the emphasis was on the young players on the Virginia roster, people forget that much of their success came from a veteran offensive line.
The Cavaliers may have had freshmen running the ball but the starting center and left guard were seniors who must be replaced.
Anthony Mihota was a two-time ACC Offensive Lineman of the Week last season and replacing a center can be particularly challenging.
Cody Wallace is next on the depth chart to replace Mihota as the leader of the offensive line. He controls the tempo and his relationship with the quarterback is essential to success.
Wallace has the frame to live up to the shadow left by Mihota, in fact they are both 6'4", 285 lbs.
If he can develop a strong rapport and gel with his fellow linemen, Virginia can continue to maintain its ground and pound offensive identity.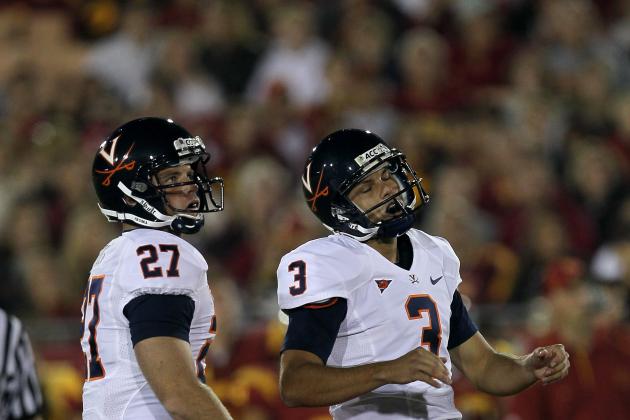 Stephen Dunn/Getty Images

Now usually the kicker does not get any attention unless he messes up.
No one gives the little guy any credit.
Well, Virginia cannot ignore the gaping hole on special teams.
Virginia's kicker, punter and kickoff specialist were all seniors and therefore are all going to be replaced in 2012.
Punter Jimmy Howell was one of the more experienced players in the country last season. Given Virginia's anemic offense of the past years, his kicking ability kept the Cavaliers in games and will be sorely missed next year.
Kicker Robert Randolph had an up-and-down career but the Cavaliers cannot relish starting over.
Whoever the Cavaliers pick to be the replacements for these positions, they will be exceptionally green. They need to build some early confidence in spring and hopefully take those positive thoughts into the season because we all know special teams can win games.
More importantly, Virginia has learned that special teams can lose games.