The 7 Biggest Keys to New Orleans Saints' 2012 NFL Free Agency Strategy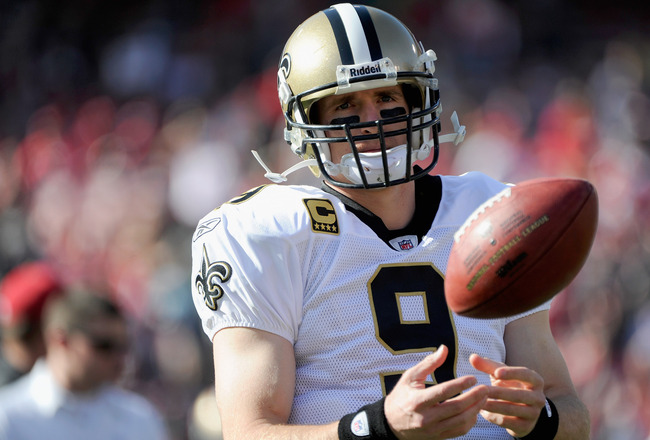 Thearon W. Henderson/Getty Images
It's kind of funny really how everything revolves around Drew Brees this offseason. And I'm not limiting that to discussions around the New Orleans Saints.
In NFL terms, if Brees were to somehow spurn the Saints, or they he, Brees would instantly become the hottest name on the block.
That being said, Drew Brees should return to New Orleans to retire as a New Orleans Saint. He will go down as the most influential and best player in franchise history. He will forever be a Big Easy legend.
That statement is true regardless of where Brees laces up his cleats next season. But should that place not be the Mercedes Benz Superdome, a franchise and a city will mourn for days, weeks, months and probably even years.
Therefore, everything revolves around re-signing Drew Brees not to a franchise tag but to a long-term deal. It will not only give Brees the security, and by extension, trust that New Orleans wants him to retire a Saint, but more importantly, will ring throughout the NFL that the Saints are here to stay.
Free agents will continue to crave playing in the Crescent City alongside Brees and for the finest head coach in football.
But should he leave, all hell may break loose.
There's really only one strategy for the Saints in free agency. Until that elective is met, no other may proceed. Once it is completed, the Saints have a lot of work to do.
1. Sign Carl Nicks Long-Term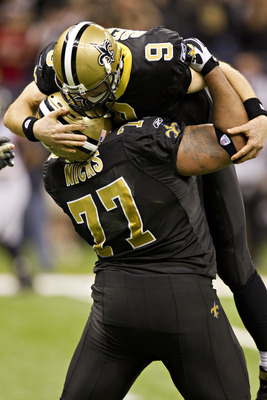 Wesley Hitt/Getty Images
If there's anything even remotely close to the importance of re-signing St. Drew long-term, it's re-signing St. Nick(s) long-term as well.
This St.Nick(s) isn't quite as gentle or generous as the original, but he matches the child icon in girth and almost superhuman qualities.
The 2011 All-Pro has quickly morphed into the best guard in football. And he is just now hitting his prime. The Saints would almost assuredly regret letting Nicks leave especially if he were to sign with an NFC rival.
As noted here, Nicks' value probably starts around $8 million per year but could easily extend beyond that number. He will be an expensive re-sign but the cost of losing him may be worse as the Saints would have to find his replacement and hope that player can mesh with the remainder of the offensive line—a difficult task given the necessity of continuity on the o-line.
A new left guard would hurt in maintaining a league-wide top-10 running game, but more importantly would put Drew Brees' life at much greater peril.
While losing Nicks would help the Saints with their overall cap figure it may actually hurt them in free agency. After all, who wants to go to a team who is losing two of its five best players?
2. Find a Pass-Rusher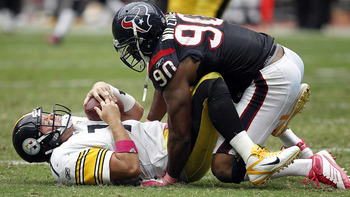 Bob Levey/Getty Images
Of the Saints' holes from the 2011 season, none is bigger than the lack of a front four pass-rusher.
The lack of one forced Gregg Williams' hand in blitzing over 50 percent of the time (though one could argue the system limited the talent along the front four which is a very legitimate argument and one I'm prone to agree with).
Will Smith, Cam Jordan and Junior Galette are all talented defensive ends, but none are the dominant pass-rusher the Saints require to return to championship form. However, should they be paired with a dominant player—i.e. Mario Williams, Cliff Avril or a 2012 draft pick—as a unit they could make tremendous strides and develop as an elite group overall.
Mario Williams and Cliff Avril are the two big-name pass-rushers who excite me in the free-agent market. Then, there are some lesser known and less-expensive names who can come in and play 20 snaps a game as a situational pass-rusher and could be very effective.
Hopefully, the Saints throw a chunk of money at one dominant guy who can make the remaining trio better, as opposed to simply attempting to patch up the position on a whim and a prayer.
3. Find a Solution to Replace Marques Colston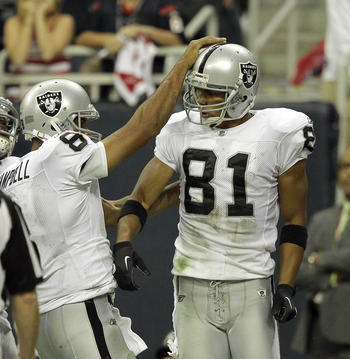 Bob Levey/Getty Images
If Vincent Jackson is going to warrant a contract in the $10-12 million range, Marques Colston's deal will come awfully close to the same figure.
That is simply too much money for the Saints to spend on one player who—though clearly the team's best wide receiver and one of the five best in the game—is just one part of a much larger pizza pie of offensive talent.
For about one-fifth of the cost, the New Orleans Saints can re-sign their own big-play threat, Robert Meachem and bring in Oakland's Chaz Schillens.
Schillens possesses the same kind of size with greater overall athleticism than Colston.
Though he has been a walking injury in his time in Oakland—the main reason they would likely to choose to let him walk—he has shown glimpses of potential. Remember Colston wasn't much of anything to speak of when the Saints drafted him in the seventh round in 2006.
Schillens would prosper in an offense with such weapons as Darren Sproles, Jimmy Graham, Lance Moore and Robert Meachem to name just a few. It also wouldn't hurt to have St. Drew throwing him the ball.
If not Schillens, Plaxico Burress, Laurent Robinson or some kind of trade up into the first round to pick up Notre Dame's Michael Floyd are the next best options as replacements for Colston.
One other option could be spending the money on Vincent Jackson and letting Robert Meachem walk as well. Jackson combines the abilities of Colston and Meachem to make for one dangerous X factor. But that would require the Saints to spend approximately the same amount of money, if not more, as it would to re-sign Colston and Meachem.
4. Find a Third Safety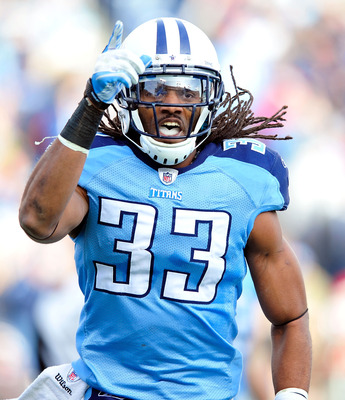 Grant Halverson/Getty Images
I've spoken of this multiple times prior to now, but the defense Steve Spagnuolo brings to New Orleans requires an able-and-talented third safety on the roster.
Certainly, Malcolm Jenkins and Roman Harper will be the two starters come on opening day 2012—assuming neither suffers a season-ending injury prior to that game. But the weakness of both players is playing the center-field spot.
Granted, Spagnuolo rarely requires a safety to play deep thirds coverage. Instead, he helps his safeties out by playing Cover 2 with mostly man coverage on the outside. He relies on a four-or-five-man pressure package most often to get pressure on the quarterback.
It is a very solid defense. But on third down—and various other times—he likes to mix it up and do some creative things with his safeties. This requires a third player who can play that centerfield spot that neither Jenkins nor Harper are able to play.
More on this in a later slide, but ideally this player would be a guy who is noted for creating turnovers. For that reason, Dashon Goldson is the most desirable player the Saints could find in free agency. But if not him, a player such as Michael Griffin—who has experience and has played very well at times in Tennessee—would make for a great fit in New Orleans.
5. Who Is Our Middle Linebacker, and Then Who Plays Outside?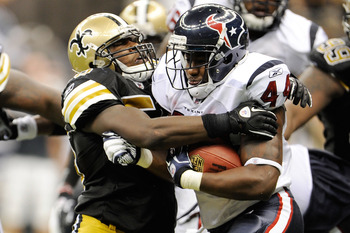 Stacy Revere/Getty Images
Saints fans seem divided into two camps on this issue. Half want the Saints to cut Jonathan Vilma and open up $6.6 million of cap space. Others believe Vilma is not the problem on this defense and don't see $6.6 million for a player with some game left as a cap hit.
I understand both points. For me, I would make a huge run at D'Qwell Jackson to play the middle. His cap number would likely be pretty similar to Vilma's current cap figure. If you're able to get him let Vilma go. This would seal Dunbar in at one outside linebacker spot.
If you're unable to get him you open up the middle linebacker spot for Vilma and Dunbar to compete for knowing Dunbar has the outside linebacker spot cemented should Vilma resurrect his career and beat him out.
The ideal situation would be Jackson starting in the middle, flanked by Dunbar and Jonathan Casillas with Martez Wilson coming in when Spags calls in sub packages.
(Note: Monday February 27 the Cleveland Browns re-signed D'Qwell Jackson to a five-year, $42.5 million contract extension.)
Result: The Saints must now figure out who their guy is at middle linebacker. If it's Vilma, Dunbar stays outside. If it's Dunbar the Saints must find an OLB in free agency or in the draft.
6. Find a Turnover Machine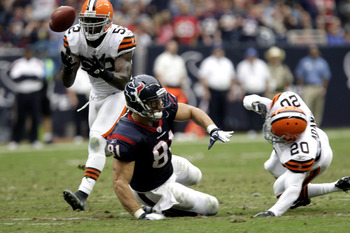 Thomas B. Shea/Getty Images
The Saints finished tied for 28th in the league in interceptions in 2011. They didn't do a whole lot better in recovering fumbles. A big reason is that they lack a turnover machine. A ball-hawking safety or linebacker or even a pass-rusher who succeeds at stripping the ball from the quarterback on his windup would help the Saints improve in creating turnovers.
Plain statistical analysis shows the best teams in football at creating turnovers were the Packers, Giants and Patriots. Is it any wonder those teams had such great success in 2011? Causing turnovers masked other deficiencies and helped those teams win football games.
That the Saints went 13-3 in 2011 despite causing many turnovers is a testament to how good a coach Sean Payton is and the overall play of his team.
If the Saints were even middle of the league in causing turnovers in 2011, they would have won the Super Bowl hands down.
The Overriding Theme of the Saints' Free Agency Strategy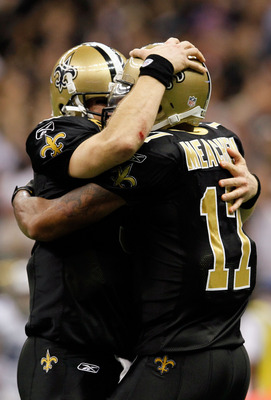 Kevin C. Cox/Getty Images
The overriding theme of the New Orleans Saints' 2012 free-agency strategy is simple: Sign the best fit for the team.
As great as Marques Colston has been in NOLA, he's no longer a necessary piece to the Saints' puzzle. Much more crucial are the dynamic playmaking abilities of Robert Meachem, the turnover creating of a Dashon Goldson or D'Qwell Jackson and the all-out pass-rushing abilities of a Mario Williams or Cliff Avril.
The Saints must find cost-efficient answers at outside linebacker (Casillas and Dunbar anyone?) and "X Receiver" while making a gigantic push for impact defenders like Jackson, Goldson and Williams.
But they must also make sure not to lose the main parts of their team's core by allowing Carl Nicks or Drew Brees to walk away.
For a 13-3 team there are a lot of questions this offseason. Mickey Loomis and Sean Payton are going to make or break this team in the 2012 offseason.
But if the past is any indication, they'll find a way to improve this franchise.
Keep Reading

New Orleans Saints: Like this team?