Rick Nash and the 20 Most Unhappy Players in the NHL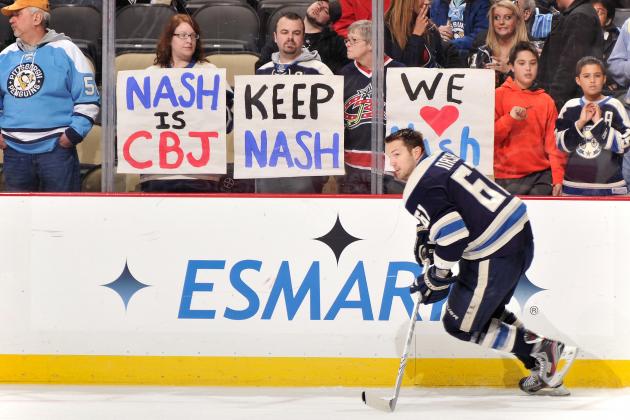 Jamie Sabau/Getty Images

If you've checked any hockey source within the last week, it seems Rick Nash has a new "likely" destination every day.
His Dwight Howard-esque trade talk is a cancer that is affecting every team. Aside from the fact that the NHL is full of classy players (...and Bertuzzi) and Nash is the only one not talking about himself, the Dwight Howard style of trade talk simply promotes himself to only the good teams with good players—and it, like Nash, changes every day.
However, the NHL is not a league filled with ego-centric athletes who blabber about which Kardashian they're meeting—or marrying. The game is meant to be played purely with passion and teamwork—something Rick has done his entire career in Ohio.
The former first overall pick was swept in his four career postseason games after an incredible nine seasons with Columbus, likely leaving one unhappy.
Let's hope Nash gets traded soon, as there's no telling what his game can become with a talented squad on his side.
Begin Slideshow

»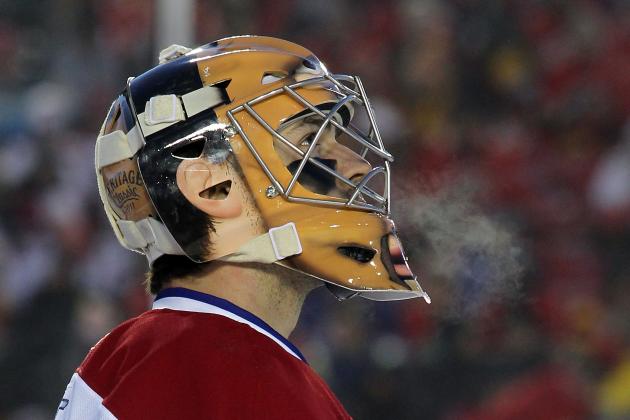 Andre Ringuette/Getty Images

Price posted a 38-win season last season, but after a sad first-round loss in seven games, coupled with a weak offense in front of him, he has since had success.
Montreal is currently dead last in the Eastern Conference, probably another thing Price isn't very proud of...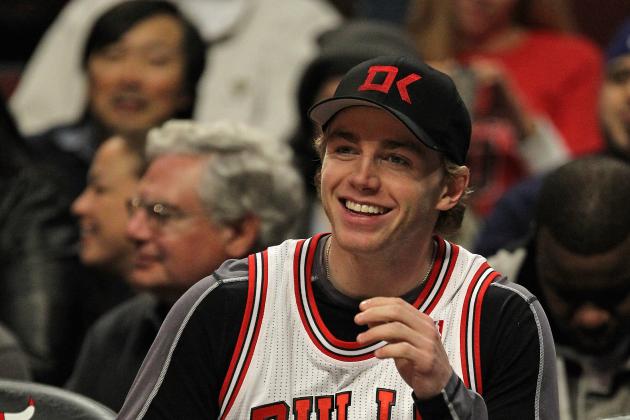 Jonathan Daniel/Getty Images

Patty Kane is happy as ever with Chicago's surroundings. However, his on-ice performance has received nothing but scrutiny.
Kane was moved to center for part of the season and has yet to find his usual fluid groove for the sixth place Hawks. Look for Kaner to rally his way past all of the cab drivers to a positive playoff run for Chicago.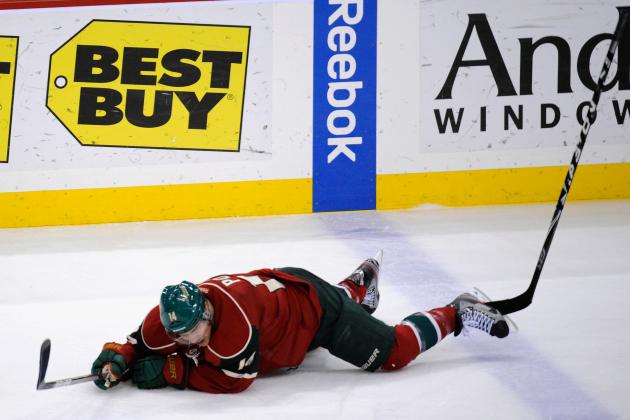 Hannah Foslien/Getty Images

Have you ever seen a Minnesota Wild home game? They are a borderline playoff team at best, yet the fans pack the place in the coolest hockey jerseys ever—only a select few reading "Minnesota Wild," however.
The Wild have since cooled following the hot start earlier this season, and "playoff handyman" Dany Heatley lost any chance of making a playoff run when he was traded from the Sharks.
What Heatley has had on all of his playoff teams is a great center, i.e. Thornton or Spezza—without that Heatley is forced to become a playmaker rather than his usual role as goal scorer.
Whether or not he makes Yashin look like Santa Claus, playing a bit out of his element has left Minnesota in an unhappy 12th place.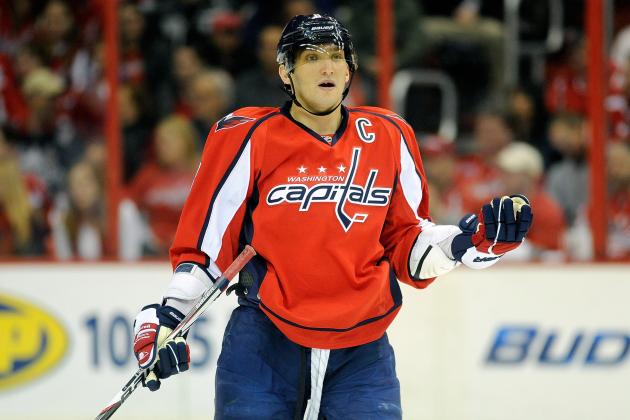 Greg Fiume/Getty Images

Ovi faces the media's over-analyzing with his recent failed playoff runs and lack of a 60-goal season since '07-'08. What they fail to report is the lack of help from his teammates Backstrom and Semin, as well as the injured defenseman Mike Green.
Ovechkin is arguably the best talent in the game's history, playing with speed and agility on both sides of the rink—maybe it's no wonder he's expected to carry his team all the way. The currently ninth place Caps will make a late season run on Ovechkin's back yet again.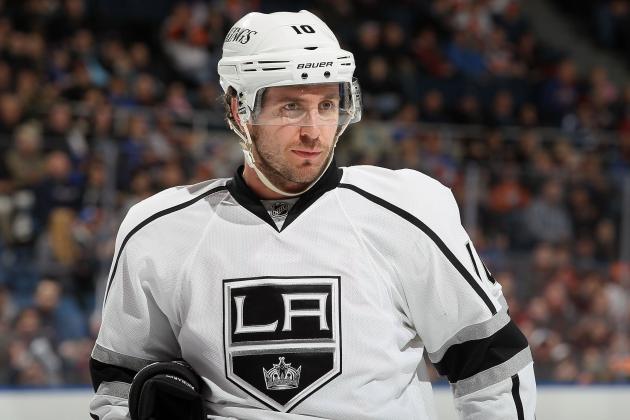 Jim McIsaac/Getty Images

Richards lost the "C" in a great hockey town only to join a struggling Kings team, seemingly lacking offense. That has to be tough for the winger, who is currently sitting in fourth place in the Pacific and joining this lost list of apparent unhappy Kings.
LA fans can only hope Richards, Kopitar and Penner can actually start scoring goals—or they can just be all Hollywood and act like they only care about Kobe and Blake Griffin.
The troubles start with getting on the ice—literally—and finish with a lackluster performance, having only scored two goals.
It's a good thing the Sharks traded Canada's all-time leading goal scorer for Havlat.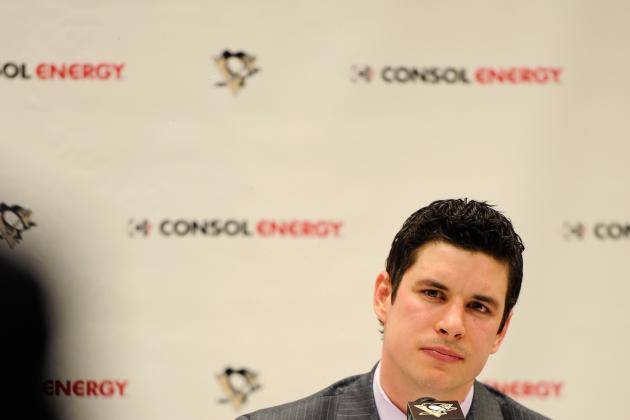 Jamie Sabau/Getty Images

The Penguins are like that family who got a new puppy to make up for the lazy, older dog.
The Kid was probably the best in the game during his short, incredible time on the ice, but with his post-concussion symptoms, it doesn't seem very likely we'll need to stop ogling Malkin and his jaw-dropping Super Mario-like ways.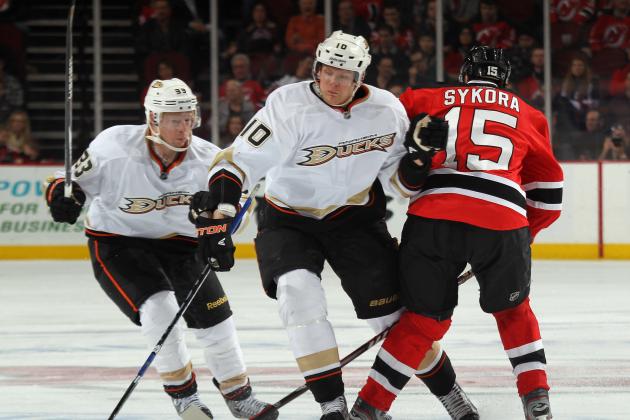 Bruce Bennett/Getty Images

Whether it's a hat-trick or an overtime winner, Perry has been doing it all for Anaheim—too bad they can't climb out of last place in the Pacific Division.
Nothing like being a superstar for an awful team, eh?
I think it's time for a change down there in Disneyland, whether or not Perry will be moving his talents elsewhere.
The 21-year-old and likely 2012 league MVP already almost has 50 goals, yet his team still sits in 11th place fighting for a playoff spot.
And though he'll never show it, there's no way he can be happy with an early exit in the playoffs—assuming they even make it that far.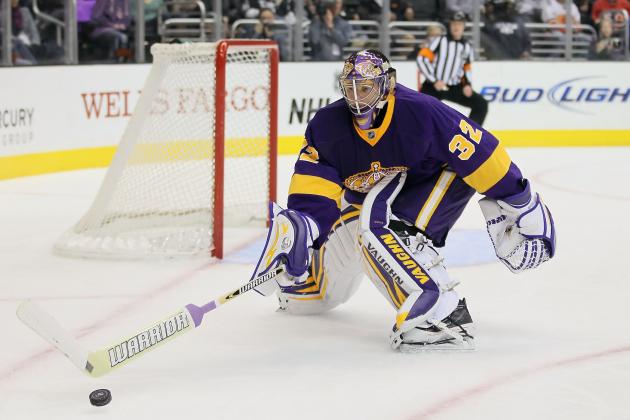 Jeff Gross/Getty Images

Quick continues to post unreal numbers, what with his 1.92 GAA (3rd), .932 save percentage (3rd), and seven shutouts (T-1st). Quick also is one of only eight netminders to log over 3,000 minutes on the ice this season—yet the Kings are still fourth in the division. It's also too bad the team is last in the league in goals scored.
Adding fuel to this unhappy fire, the Kings GM—yet again—trades away a young talent for a mediocre forward in Jeff Carter (don't worry, he's unhappy too...). It's frustrating to me (a Sharks fan, mind you) why the Kings continue to dump top-level prospects for aging forwards.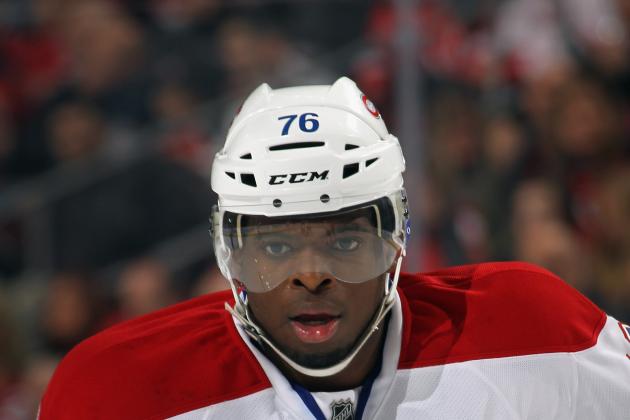 Bruce Bennett/Getty Images

PK and the ailing Habs have little fight left—having "dressed like losers" pretty much all season.
Currently in last place in the East and 28th overall, the Habs need some major change to help build a team around Price and Subban.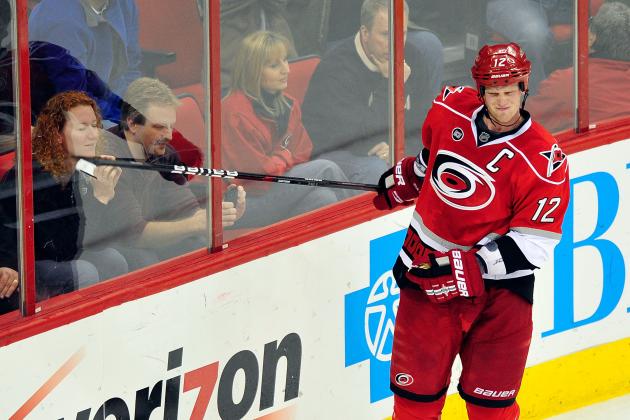 Grant Halverson/Getty Images

The gold medalist is likely to be soon overshadowed by younger brothers Marc and Jordin, who continue to land atop the Eastern Conference standings—youngest brother Jared plays in Carolina with Eric.
Eric was off to one of the worst starts in his career this season and has since had minimal success carrying his team.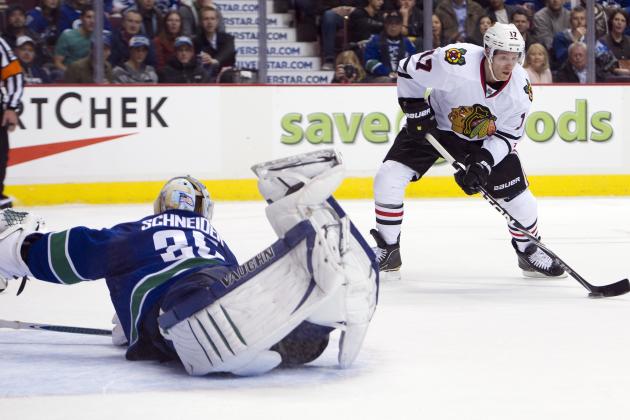 Rich Lam/Getty Images

Having backed-up Canuck netminder Roberto Luongo long enough, Schnieder has clearly proven he is in dire need of some playing time already.
It's a surprise more GMs around the league aren't hounding the Canucks to move Schneider.
Nothing fans and front office members want to hear more than "I have zero confidence" from a $5 million asset.
Bryz and teammate Sergei Bobrovsky are always near the top of the "goals against" category, yet somehow the prolific scoring of "G-Sus" & Co. are keeping the Flyers in fifth place in the East.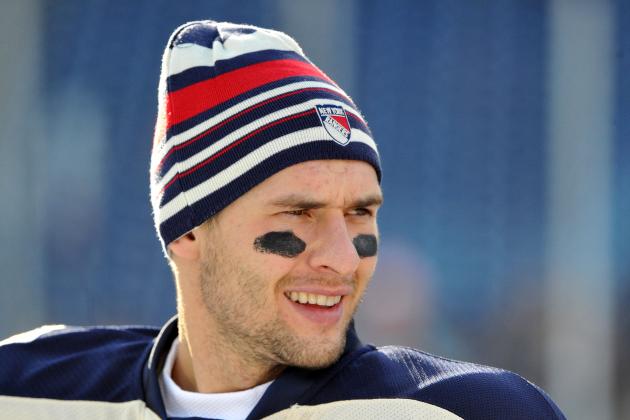 Christopher Pasatieri/Getty Images

Since the All-Star Break, Wolski was fresh off a Winter Classic win and headed straight for the Eastern Conference Finals with the New York Rangers when he was abruptly traded to Florida for a minor league defenseman and third-round draft pick.
Wolski was probably traded because he counts $3.8 million against the cap and, in all likelihood, will become a restricted free agent after the season.
It's pretty obvious to say that he had a better chance to etch his name on Lord Stanley and Hayden Panettiere's tongue with the Rangers rather than Florida, but once the playoffs come around, anything can happen—as Tim Thomas' three Game 7 wins prove.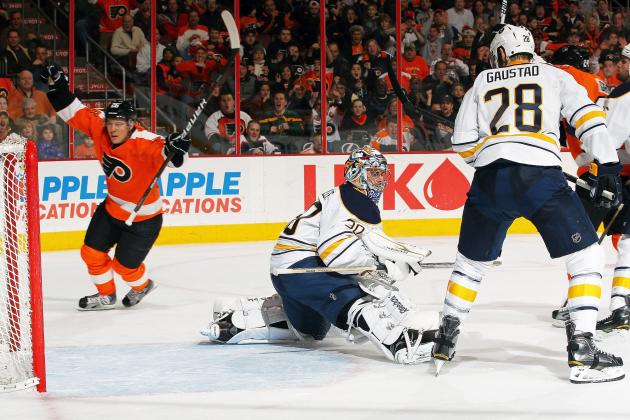 Al Bello/Getty Images

Miller is no stranger to adversity, working his way from a fifth round pick to his first Veniza Trophy in 2010 as the league's top goaltender.
However, Buffalo has been nothing short of awful this season, posting a minus-38 goal differential along with a 12th seed in the Eastern Conference.
The only stat for Miller where he's even mentioned around the league is his shocking ninth most losses recorded among goalies this season.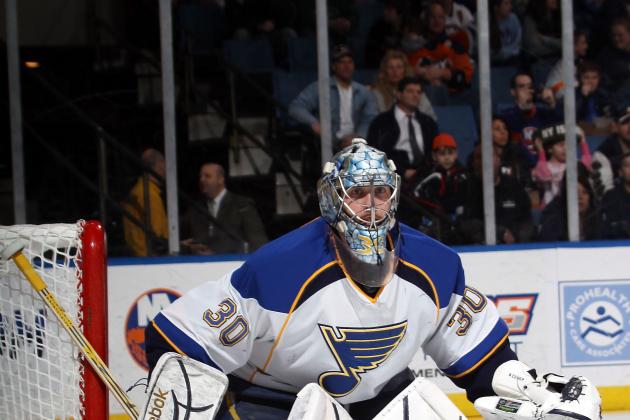 Bruce Bennett/Getty Images

The former music note was receiving minimal playing time in St. Louis behind the outstanding play of NHL leading goalie's Brian Elliot and Jaroslav Halak, but now the 6'7'' tank is moving to Ottawa to help the seventh place Sens make a run for the cup.
In all likelihood Bishop will, yet again, back up current Senators goalie Craig "pea soup" Anderson.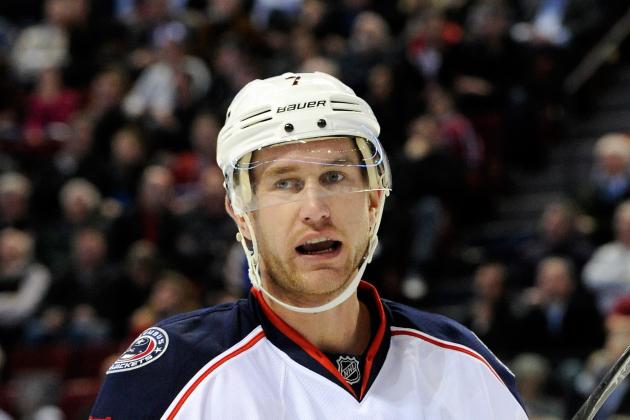 Richard Wolowicz/Getty Images

Currently a member of Club Trillion on this newest team, the LA Kings (one game played, zero stats—box score reads 1,000,000,000,000...refer, hater), Carter has been trade bait for three teams in three seasons.
As I'm sure he's happy he is no longer on the league's worst team, he's not "movin' on up" too far, as the Kings are in fourth place and have four (apparently) unhappy players.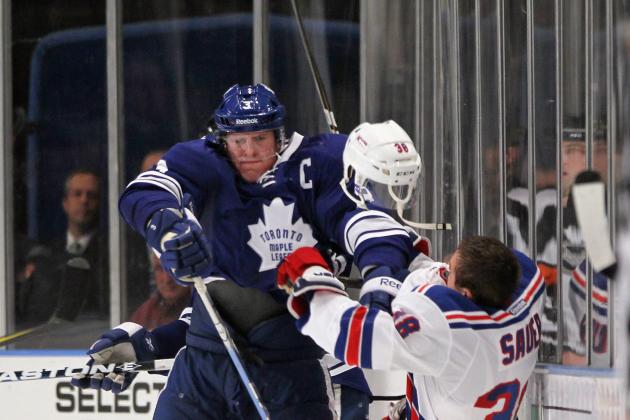 Bruce Bennett/Getty Images

Aside from the fact he plays angry, this machine cannot be happy with the 10th place performance of the Leafs.
Although the current run is good for the recent history of the Maple Leafs, Phaneuf has had his share of failed playoff runs, and I'm sure the Captain is doing his best to keep his troops in line amidst the deadline talks.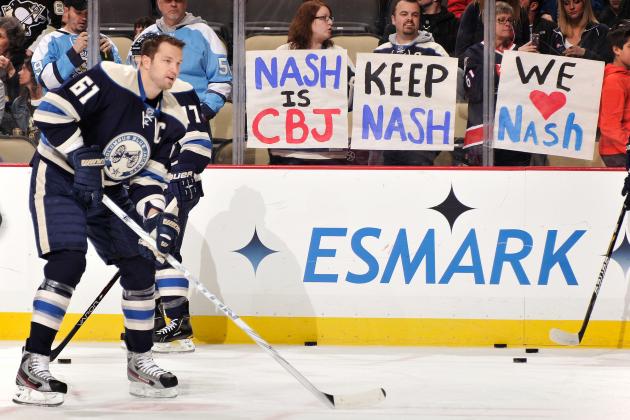 Jamie Sabau/Getty Images

Currently Columbus has minimal defense, slumping goaltenders, and all superstar Rick Nash hears is "hey bro, where are you moving to?"