Edgar vs. Henderson: Frankie Edgar is Still a Threat at Lightweight
Use your ← → (arrow) keys to browse more stories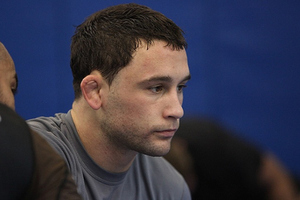 Frankie Edgar/ Sherdog.com
After five rounds of action, Frankie Edgar thought that he had done enough to successfully defend his title for a record-setting fourth time in the lightweight division.
Instead, challenger Ben Henderson earned the contentious decision win before the sold-out crowd at the Saitama Super Arena in Japan, becoming the UFC's new 155-pound champion.
Now, Edgar finds himself on the fringes of the lightweight class, another contender in a division full of hungry and compromising challengers.
It's been suggested before that Edgar move down to the featherweight class, as he is notably regarded as one of the smaller men competing at 155 pounds.
However, it's that same discrepancy in size and strength that Edgar has had to overcome time and time again, which ultimately makes him one of the division's strongest competitors, ironically enough.
Edgar has had to overcome daunting obstacles in the likes of BJ Penn and Gray Maynard. Using speed, technique and plenty of heart, Edgar managed to solidify his claim then as the lightweight division's No. 1 fighter.
Particularly his battles with Maynard have especially endeared Edgar to the fans, as the New Jersey fighter was seen rocked and dropped by "The Bully" on multiple occasions.
In their rubber match, Edgar rallied back from early adversity and secured the decisive "Knockout of the Night" finish in the fourth, putting an end to an epic rivalry and placing him further and further up the pound-for-pound ranks.
His recent battle against Henderson is no indication that Edgar is not talented enough to compete in a division full of towering opponents, in fact, it's quite the opposite.
Again, Edgar managed to secure takedowns and out-land a man much larger in stature, and though he walked away without the victory, Edgar still managed to secure his position as one of the world's best at 155 pounds.