NBA All-Star Game 2012: 10 Greatest Dunk Contest Performances Ever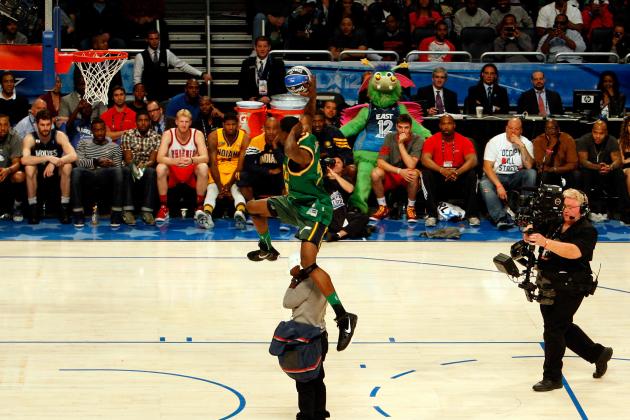 Mike Ehrmann/Getty Images
Jeremy Evans pays tribute to former Jazz star Karl Malone.
Awkward silence.
Saturday night's dunk contest seemed to have more moments of silence than uncontainable, 'Can you believe he did that?' excitement. However, there is no doubt that 2012 dunk king Jeremy Evans, and his competition, Chase Budinger, Paul George and Derrick Williams are unbelievable talents. That being said, the dunk contest bar was set extremely high by guys who are old enough to be fathers to the 2012 dunk class.
Saturday's dunk contest was not the worst ever, but it pales in comparison to many of the competitions before it, including the 10 greatest performances of all time.
Begin Slideshow

»
We start the list with the very first contest in league history, highlighted by some of the greatest dunkers ever, Julius Erving and Dominique Wilkins. However, a soft-spoken highflyer from the Phoenix Suns, Larry Nance refused to back down from the competition. Nance dunked his way into the final round, where he faced "Dr. J" and left Denver, Colorado as the first-ever dunk champion.
Bigger is not always better. Atlanta Hawks guard Anthony "Spud" Webb stood much, much taller than his height of 5'7'' on this special night in Dallas, Texas. Facing his fellow Hawks teammate Dominique Wilkins in the finals, Spud gave living proof that good things come in small packages.
Who's the new kid? Kobe Bryant burst onto the NBA scene, and not just because he took singing sensation Brandy to his high school prom. Kobe entered the dunk contest during his rookie season and did so in spectacular fashion, defeating Michael Finley and Chris Carr. Not sure what Kobe will remember more about this contest, his dunk while wearing the Lakers' shooting shirt, his 'between-the-legs' jam, or the unforgettable pose and flex following a jam on his way to the title.
Robert Pack, Allan Houston and Shawn Kemp, among others, could not stop the hometown favorite, Minnesota Timberwolves guard Isaiah Rider. The Target Center in downtown Minneapolis was rocking as Rider introduced the "East Bay Funk Dunk" when he went through his legs, and struck the pose.
The Blake Griffin era begins. Clippers sensation Blake Griffin showcased his talents against fellow big man JaVale McGee in the 2011 NBA Dunk Contest. Both players were representing the "bigs" of the NBA during this "orchestrated" dunk final. Griffin relied on the Crenshaw Elite choir and his point guard Baron Davis to win.
"Pump it up."
Boston Celtics guard Dee Brown sure did, showcasing his black shoes during the 1991 dunk contest.
Brown outlasted Rockets guard Kenny Smith and the "Reign Man" Shawn Kemp to earn the dunk trophy. Brown's "no-look" special was preceded by pumping his fresh kicks.
This was the "let's respect our elders" competition. Jason Richardson, Steve Francis, Gerald Wallace and Desmond Mason were the finalists of the contest, which required some of the players to perform certain dunks based upon the categories of the spinning wheel. No really, I'm not kidding. Gerald Wallace made a name for himself with some high-flying tactics, but it was "J-Rich" who earned the win.
Never fear, Superman is here.
Dwight Howard feared no prop (see Gerald Green's cupcake trick) while bringing his own, (the classic Superman cape) during his run for the 2008 dunk title. Howard showed creativity by coming from behind the backboard for a jam, and much, much more to defeat Gerald Green, Jamario Moon and Rudy Guy for the trophy.
Before there was Linsanity, there was Vinsanity.
If you saw this contest, you remember exactly where you were when Vince Carter was hanging from the rim by his elbow.
Vince revolutionized the competition with ridiculous moves that had not been seen before. This contest was memorable, not only for Carter's creativity and sick jumping ability, but also for the reactions of his peers. Shaquille O'Neal and Kevin Garnett could not get enough footage of the 2000 dunk king.
Showdown in the "Windy City."
Former dunk champion Dominique Wilkins marched into current dunk champ Michael Jordan's backyard for a duel for the slam dunk crown.
This contest was the best performance ever because it included two of the games best players, and each doing what he was know best known for at the time—jaw-dropping jams.
You don't get the nicknames "Air Jordan" and "The Human Highlight Film" by obeying gravity.
Every round of this epic contest was filled with drama. Wilkins earned two perfect scores of 50 and a 45 on his last attempt of the final round. Jordan scored a 50 and a 47 on his first two attempts and soared from the free-throw line on his final dunk for the win. Regardless of the alleged "hometown favoritism" theory, MJ's final dunk deserved its score, 50.