Baltimore Ravens Free Agency: Tracking 2012 Signings, Targets and Rumors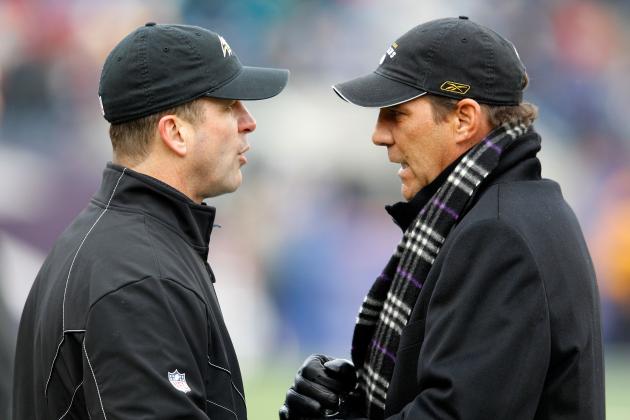 Rob Carr/Getty Images
Baltimore Ravens Head Coach John Harbaugh (left) and Owner Steve Bisciotti (right)
We want this to be your go-to resource for Ravens free agency news. We'll extensively cover the Baltimore Ravens activity in the 2012 free agency period, which begins on March 13 at 4 p.m. ET.
We'll start this off by looking at Baltimore's cap number as well as the holes in their roster they'll be looking to fill. We'll also look at the Ravens' current free agents, their average annual dollar amount and whether or not the Ravens will re-sign them or let them go.
Based on the Ravens' potential cap number after re-signings take place, we'll list which free agents from other teams would fit best in Baltimore and how much the Ravens may offer those players.
Lastly, we'll analyze which positions the Ravens still need to draft for and which players the Ravens could be targeting in the 2012 NFL draft.
Let's go!
Begin Slideshow

»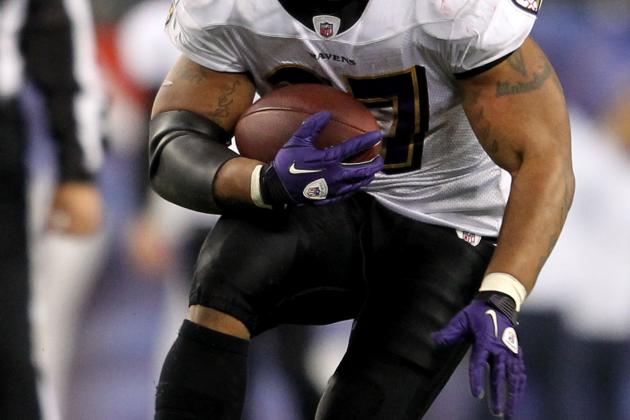 Jim Rogash/Getty Images
Ray Rice received 36.7 percent of the Ravens' offensive touches in 2011.
Here is where you can find information on which Ravens have been re-signed to the team, which free agents the Ravens have signed from another team as well as any other roster moves.
April 19, 2012: According to the Baltimore Ravens' website, the Ravens have signed former Colts quarterback Curtis Painter.
The 26-year old Painter will be coached by Jim Caldwell once again. Caldwell, now the quarterbacks coach in Baltimore, was Painter's head coach in Indianapolis for the last three seasons.
Painter has started just eight games in his three-year NFL career, completing an average of 51.7 percent of his passes.
April 5, 2012: Per NFL.com, the Baltimore Ravens have signed cornerback Lardarius Webb to a six-year, $50 million deal. Jason LaCanfora reports the deal includes $20 million in guaranteed money.
"Lardarius is an important player for the Ravens and we're very happy he will be with us for a long time," General Manager Ozzie Newsome told the team's official site.
"We have a good history of completing second contracts for targeted players we want to keep for the long haul," Newsome added.
Webb was a restricted free agent, which would've guaranteed him a one-year deal worth $2.74 million. He is quickly becoming a staple of the Ravens defense, as well as an asset in their return game.
In 2011, Webb was third in the league is passes defensed (25), and also posted 15 more tackles (67) and one more interception (5) than Darrelle Revis.
March 23, 2012: The Baltimore Ravens have announced the signing of a one-year deal with Sean Considine, a free agent strong safety who will be a back-up/special teams player.
Considine was a member of the Arizona Cardinals in 2011. In the last two seasons, Considine has played in 12 games (no starts) and has recorded nine combined tackles.
Before John Harbaugh came to Baltimore, he coached Considine in Philadelphia from 2005-07.
According to the Ravens' website, they have re-signed middle linebacker Jameel McClain. After losing their defensive coordinator and four other defenders (two starters) this offseason, this move is something Ravens' fans needed to see. McClain reportedly signed a three year contract with the team.
In the last two seasons, McClain has made a total of 155 tackles in 31 starts. He will turn 27 when training camp starts in late July, so it seems he's just entering his prime. Said McClain, "Baltimore is home."
ProFootballTalk is reporting the Ravens have signed CB Corey Graham to a 2 year contract. Although he didn't make a single start in 2011, Graham played in every game and made (a career high) three interceptions.
Graham will turn 27 at the beginning of training camp, and will bolster the Ravens' special teams unit, as well as provide depth to an already talented defensive backfield.
PFT is also reporting the Ravens will re-sign LB Brendon Ayanbadejo. Like Graham, Ayanbadejo spent significant time with the Bears before moving to Baltimore.
Ayanbadejo has spent the last four years with the Ravens, and is reportedly signed for three more seasons. He too will provide veteran depth on the special teams and on defense.
March 12, 2012: Garrett Downing of baltimoreravens.com reports Ravens center Matt Birk has worked out a new three-year contract.
Birk will be 36 when he begins his 15th NFL season in September. He remains in Baltimore after contemplating retirement at the end of last season.
March 12, 2012: Jason La Canfora of NFL.com is reporting via his Twitter that the Ravens have given a first round tender to cornerback Ladarius Webb and a second round tender to cornerback Cary Williams.
March 5, 2012

According to the Baltimore Ravens' twitter handle, they have officially terminated the contract of Domonique Foxworth, due to a failed physical.
Foxworth has only one tackle in two games played in the last two seasons. He's missed most of that time due to a recurring injury to his right knee. Foxworth missed all of 2010 after injuring his right knee in a non-contact portion of training camp.
In 2011, he was placed on injured reserve, just three weeks into the regular season he worked so hard to make happen as a player rep.
The Ravens would've owed Foxworth $8.3 million in 2012.
March 2, 2012
According to the Ravens website, the team has given running back Ray Rice the franchise tag. He is expected to make about $7.7 million next season according to the report.
According to their Twitter handle, they have also released veteran wide receiver Lee Evans and put running back Ricky Williams on the reserved/retired list.
If Williams decides to return to the NFL, the Ravens hold his rights. Therefore, if he returned to active status, he'd be a Raven unless released.

March 1, 2012
Spotrac.com has reported that the Baltimore Ravens have released cornerback Chris Carr.
Carr was a Raven from 2009-11. He started in 21 games of the 41 games in which he played for Baltimore. In that time, he totaled 124 tackles, five forced fumbles, four interceptions and two and a half sacks.
The Ravens bought out the remaining one year on Carr's contract for $3.75 million.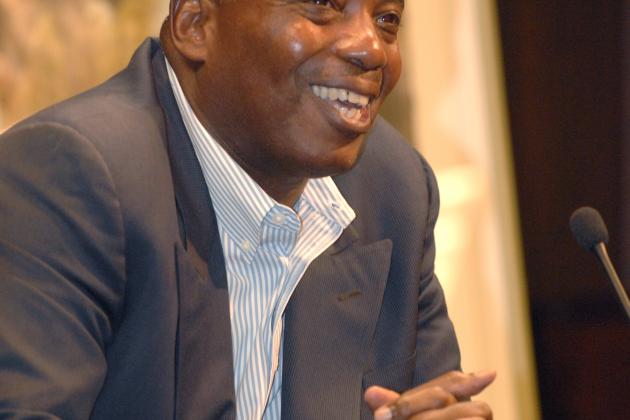 Mitchell Layton/Getty Images
Ravens General Manager & Executive Vice President Ozzie Newsome
Ravens' 2012 Cap Room
Spotrac, a sports contract-tracking website, states the Baltimore Ravens currently have monies totaling $115,397,953 that will count against the salary cap in 2012.
This year's cap has been set at $120.6 million.
But as of April 11, according to an NFL source via Aaron Wilson, the Ravens are $1.878 million under the salary cap.
While that's not a big number, especially considering the stars the Ravens would like to re-sign, other team are are in much worse shape and need to cut salary just to be under the cap.
Problematic Cap Hits
The player that will count most against Baltimore's cap is defensive end Haloti Ngata, who has a cap figure of $17.9 million. Unfortunately for the Ravens, he just signed that contract last offseason, so re-negotiation isn't an option.
Another player who is of All-Pro caliber but is going to cost the Ravens a lot of money is Terrell Suggs. The 2011 Associated Press Defensive Player of the Year is slated to earn just under $11.2 million in 2012. Like Ngata, Suggs is in a position of total leverage, as he joined Ray Lewis" href="http://www.nfl.com/player/raylewis/2501750/profile">Ray Lewis and Ed Reed as Ravens who've been named the NFL's best defensive player.
Speaking of Reed, he's the last member of the team who's cap figure is over $10 million ($10,025,000). Reed will play in 2012, but that may be his last year, due to constant caution of exacerbating a nerve impingement he's been dealing with for over six years.
In other words, while that won't help the Ravens in this upcoming year, 2012 will be the last year on Reed's contract.
Two players the Ravens have released that freed up cap space are cornerback Domonique Foxworth and wide receiver Lee Evans.
Foxworth has played in two games and made one tackle in the last two seasons.
Evans made four receptions for a total of 74 yards last year.
Value Contracts
Defensive back Jimmy Smith ($1,695,500), wide receiver Torrey Smith ($765,725), tight end Dennis Pitta ($613,667) and defensive end Pernell McPhee ($501,140) all had strong performances in 2011. Everyone except Pitta (second season) was a rookie this year.
The cap figures for those four players combined is $3,575,532. Jimmy Smith and McPhee combined for two interceptions, six sacks and 43 tackles. Torrey Smith and Pitta combined for 90 receptions for 1,246 yards and 10 touchdowns.
When you get that type of production that early in players careers, and are paying them less than $900,000 on average, that's value.
Other Major Cap Questions
Ray Rice will probably receive the franchise tag ($7.73 million is the average salary of the top five highest paid running backs) and Joe Flacco will hopefully be re-signed by this time next year (when he will become a free agent).
That leaves Ben Grubbs as the player the Ravens need to figure out.
Grubbs earned a little over $3.7 million in 2011, but that number will have to be higher if the Ravens want to retain Grubbs, as he's shown he's among the best guards in football.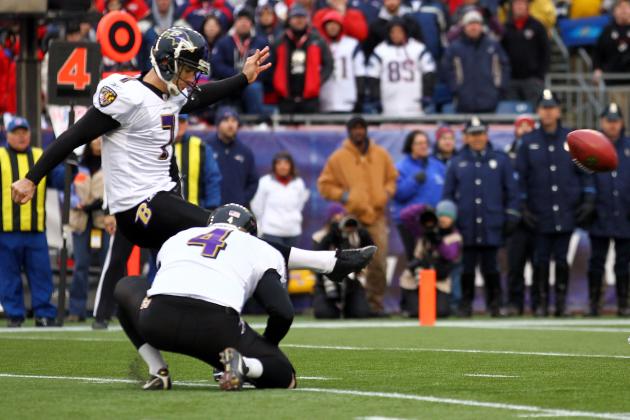 Al Bello/Getty Images
Ravens Kicker Billy Cundiff
Naturally, for a team that was seconds away from the Super Bowl, there aren't many holes to fill.
There are five positions in which the Ravens should address in order to maximize their potential for success in 2012.
Offense
Center
Matt Birk will return to the gridiron in 2012, per his agent Joe Linta. Although that gives the Ravens another option, the fact remains they will need to find Birk's replacement soon.
Unfortunately, although Andre Gurode went to five straight Pro Bowls when playing center for the Cowboys, he's an unrestricted free agent this year.
Running Back
I believe Ray Rice is the best all-around running back in the NFL. When you look at running inside, running outside, pass receiving and pass blocking, durability and endurance, he's the total package.
That said, he's going to need a backup.
Ricky Williams did well in that role last year, but he recently retired. Anthony Allen is the next in line, but he's still an unknown, as he's only carried three times for eight yards in his NFL career.
Defense
Middle Linebacker
Ray Lewis is entering his 17th NFL season, and three other inside linebackers on the team are all free agents (Brendon Ayanbadejo, unrestricted; Dannell Ellerbe, restricted; Jameel McClain, unrestricted).
Special Teams
Kicker
Billy Cundiff converted 75.7 percent of his field-goal attempts last year (one percent less than his career average). He was 1-of-6 from 50 yards or longer and missed a crucial 32-yard attempt in the closing seconds of this year's AFC Championship game that would've likely sent the game to overtime.
In 2010, Cundiff was the AFC kicker in the Pro Bowl, after he converted 89.7 percent of his field-goal attempts and recorded a league-high 40 touchbacks.
Kick Returner
David Reed fumbled twice in the Ravens' 22-17 loss at Seattle in Week 10. In my opinion, that is more of a negative than his career 29.5 yards per kick return average is a positive. By the way, he missed the last week of 2011 as he was placed on injured reserve due to a torn ACL.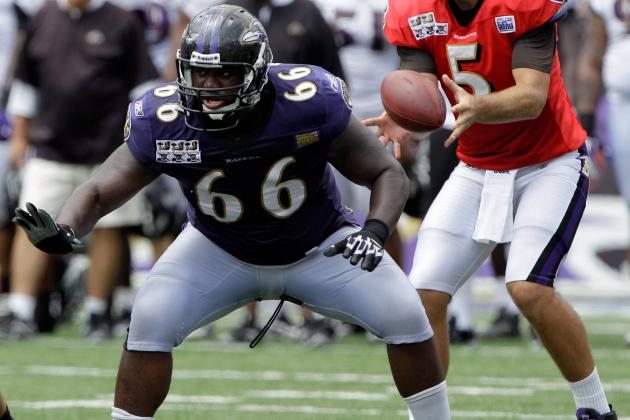 Rob Carr/Getty Images
Ravens Left Guard Ben Grubbs and Quarterback Joe Flacco
According to the Baltimore Ravens' website, there are 13 players who will become unrestricted free agents (UFA) on March 13. That means that player can sign with any team they want to once the free agency period begins.
Here are those players:
A restricted free agent (RFA) is a player who the Ravens can offer a one-year tender, with draft picks attached. If another team wants to sign that player, they must match the Ravens' offer and send the corresponding draft pick(s) to the Ravens.
Here are the Ravens that are scheduled to become restricted free agents in the 2012 league year:
Update: Jason La Canfora of NFL.com is reporting via his Twitter that the Ravens have given a first round tender to cornerback Ladarius Webb and a second round tender to cornerback Cary Williams.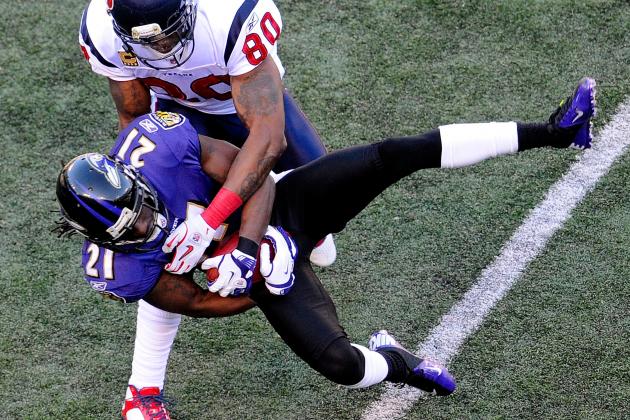 Patrick McDermott/Getty Images
Lardarius Webb intercepts T.J. Yates in the divisional round of the 2011 NFL playoffs.
With much success comes expectations.
The Ravens have 17 total free agents, four of which I believe must be re-signed (Rice, Grubbs, Webb and Williams). They have worked for so long to galvanize their offensive line and their defensive backfield, meaning signing Grubbs, Webb and Williams are bigs priorities.
Of course Ray Rice is the priority, but he will probably be franchised.
In the interest of being thorough, here are all of the Ravens' restricted and unrestricted free agents, and what their value should be on the upcoming free-agent market.
Unrestricted Free Agents
Brendon Ayanbadejo: $1.25 million (estimated)
Adam Schefter of ESPN is reporting the Saints have signed guard Ben Grubbs to a five-year deal reportedly worth $63 million.
Andre Gurode: $3.25 million (estimated)
Kind of like Ayanbadejo, Gurode has proven versatility and multiple Pro Bowls to his name.
Including the postseason, Gurode played in 16 of the Ravens' 19 games last season. He'll turn 33 on March 6, and still looks to have a solid three or four years left.
If the Ravens don't want to spend the money on Grubbs, signing Gurode could be a really nice option until they get a potential draft pick up to speed.
Jarret Johnson: $4.5 million (estimated)
From 2007-11, Johnson started every regular season game for the Ravens. In that time, he recorded (on average) 59 combined tackles, three sacks and three pass deflections per season.
He's played a lot of tough football over the years, in college at Alabama and in the NFL with the Ravens. His last contract paid him an average of $4.34 million per year, and I think he's earned at least that amount for his next contract.
Edgar Jones: $330,000 (estimated)
Although sparingly used as a tight end, Jones has spent most of his time in the NFL as a defensive end. Still, he's played in only 41 games over five seasons, totaling 22 tackles.
I doubt the Ravens have him in their long-term plans.
Jameel McClain: $3.4 million (estimated)
His 155 tackles over the last two seasons shows you Jameel McClain is entering his prime.
His progression has been trending upward over his four NFL seasons, as he's added at least 13 tackles each year to his prior year's total.
Not only that, but watching the Ravens, you can see his swagger and appetite to, one day, lead this Ravens defense and help it continue to be the best in the NFL.
March 23, 2012: Adam Schefter of ESPN is reporting that the Ravens have re-signed LB Jameel McClain.
Brandon McKinney: $1 million (estimated)
McKinney played well for Baltimore in 2011, filling in along the interior of the defensive line. He's not been asked to play a high volume of snaps, so he doesn't have much leverage to ask for more than the $1.2 million he's been averaging over the last three years.

Haruki Nakamura: $1.5 million (estimated)
Whether it's free safety, dime back, punt returner or special teamer, Nakamura is another one of those players who will do whatever you ask of him, as long as he gets to hit somebody. Unfortunately, he only had 12 tackles in 15 games last year.
So teams may like what they see on tape, but may also be hesitant to offer him a lot of money.
Cory Redding: $3 million (estimated)
Redding has recorded 85 tackles and 7.5 sacks in his two seasons in Baltimore. He's certainly worth starters money, and has proven he belongs among the starters on the Ravens' defense, which is saying a lot.
The downside for Ravens' fans is that new head coach of the Colts, Chuck Pagano, may look to sign Redding. Obviously, the Colts have two outstanding defensive ends in Dwight Freeney and Robert Mathis.
However, Pagano runs a 3-4 defense, and either Mathis or Freeney will have to become an outside linebacker, as they are not near the typical size of a standard 3-4 defensive end. Redding could fill that spot well.
Ray Rice: Update: According to the Ravens website, the team has given running back Ray Rice the franchise tag. He is expected to make about $7.7 million next season according to the report.
Kris Wilson: $500,000 (estimated)
He had a key touchdown in the Ravens' playoff win over the Houston Texans, but that was his first reception all year. Wilson was mostly a blocker in "heavy" or goal line situations.

I'm not saying he's not valuable. However, the market for a player like Wilson isn't a big one.
His most productive year was 2007 with the Chiefs, in which he caught 24 passes for 180 yards and one touchdown. He'll be 31 by the time the 2012 regular season starts, and I don't think teams will ask him to try to duplicate those numbers.
Tom Zbikowski: $2 million (estimated)
He's returned kicks and filled in at multiple positions on defense. Like Nakamura, Zbikowski is aggressive and diverse in his talents, but hasn't been proven to handle the workload of a starter on a consistent basis.
One plus is that even for NFL players, Zbikowski is a special athlete. During the lockout last offseason, he put the NFL world on notice as he advanced his professional boxing record to 3-0 on March 26, 2011.
Obviously boxing skills don't directly correlate to football skills, but being successful in that arena figures to improve his free agency stock.
Restricted Free Agents
There are three types of tenders a team can offer their restricted free agents (approximate values according to the NFL and the NFLPA's new collective bargaining agreement):
$2.72 million tender, the right of first refusal and a first-round selection
$1.927 million tender, the right of first refusal and a second-round selection
$1.26 million tender, the right of first refusal and a draft pick corresponding to the round which the player was drafted in (i.e. if the player was selected in the third round, the pursuing team must offer a third-round pick in exchange).
Any team matching or holding on to the qualifying offer must pay that number as the player's base salary for that season.
Dannell Ellerbe: One-year, $1.26 million (undrafted, estimated)
Ellerbe was exposed in pass coverage when the Ravens played the Patriots in the AFC Championship game on January 22. Whether it's been injuries or a run-in with the head coach, Ellerbe hasn't gotten going in his NFL career.

Matt Lawrence: No contract offered (estimated)
Lawrence has four career rushes in eight career games (all in 2009 with Baltimore).
I can't imagine the Ravens offer him a contract.
Lardarius Webb: Update: Jason La Canfora of NFL.com is reporting via his Twitter that the Ravens have given a first round tender to cornerback Ladarius Webb.
Cary Williams: Update: Jason La Canfora of NFL.com is reporting via his Twitter that the Ravens have given a second round tender to cornerback Cary Williams.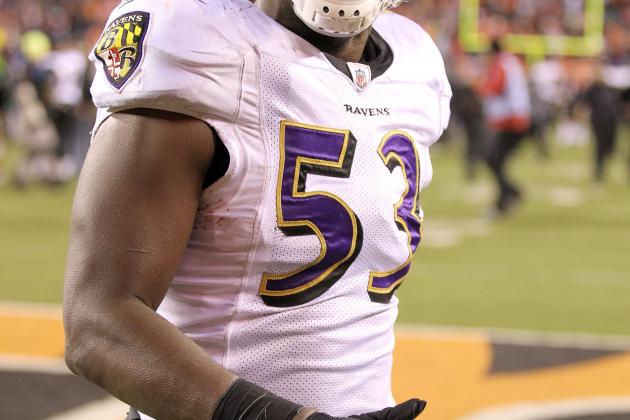 Andy Lyons/Getty Images
Ravens Inside Linebacker Jameel McClain
The Ravens are one of the few organizations that if they lose a player, they're able to replace them without much losing much production.
While there are a few free agents who must be re-signed this year, there are other players next year (Joe Flacco) that need new contracts, too.
So what will they do? Who should they sign and who should they release?
Reports are that Flacco's agent (Joe Linta) and Ravens personnel have began preliminary contract negotiations at the NFL Combine. Flacco currently makes an average of $6 million per year, but is looking for (and I believe he absolutely deserves) at least twice that amount per year.
Here is who I think the Ravens should re-sign (for how much), and who I think they should let go.
Unrestricted Free Agents
Brendon Ayanbadejo: Re-signed
For what Ayanbadejo will end up getting compared to how versatile his skill set is, he's a keeper. He's a special teams ace that can play linebacker in a pinch.

Estimated contract: Three years, $3.75 million

Matt Birk: Update: Garrett Downing of baltimoreravens.com reports Ravens center Matt Birk has worked out a new three-year contract.
Ben Grubbs: Update: Adam Schefter of ESPN is reporting the Saints have signed guard Ben Grubbs to a five-year deal reportedly worth $63 million.
Andre Gurode: Re-signed
As mentioned above, letting Grubbs go would free up room for other value players. Gurode is a perfect fit for the Ravens. He won't demand a ton of money, and if both Birk and Grubbs are let go, he's proven he can play at a high level at both positions.
Two for the price of one.
Estimated contract: Four years, $13 million

Jarret Johnson: Released
Simply put, I don't think the Ravens will be able to offer Johnson what the Colts or any other team in re-building mode will offer him.
The Ravens want him back, but with Paul Kruger and the hopeful emergence of Sergio Kindle, the weak-side linebacker position may see a different starter besides No. 95 for the first time in over five years.
Edgar Jones: Released
Jones hasn't done enough, in my opinion, to merit another contract with the Baltimore Ravens.
I'm not saying he's not a good player. Of course, the coaches see him in practice and on tape, and know how much they might need him. However, I can't see the Ravens risking cap space to keep him.

Jameel McClain: Re-signed
McClain is a very good player. He's held his own playing next to Ray Lewis for the last two years.
Lewis will be back, but to lose McClain and have to groom another inside linebacker on the fly to play in Dean Pees' 3-4 defense is not a good idea. The Ravens are close to a Super Bowl, and releasing McClain would be too risky.
Estimated contract: Five years, $16 million

March 23, 2012: Adam Schefter of ESPN is reporting that the Ravens have re-signed LB Jameel McClain.
Brandon McKinney: Re-signed
Although he's not a starter, McKinney is a valuable asset to have on the defensive front. He knows the system and is capable of standing up to the pressure of playing in the AFC North.
He won't get a lot of glory, but he's a good football player.
Estimated contract: Two years, $2 million
Haruki Nakamura: Re-signed

I feel like the Ravens only have room for one safety, between Nakamura and Tom Zbikowski.
That said, I think Nakamura is a better fit for Baltimore. In the event Ed Reed needs a backup, Nakamura plays the same position (free safety), and is able to run on any special teams unit. He's also the personal protector on the punt team.
Estimated contract: Three years, $4.5 million
Cory Redding: Released
The Ravens would really like to keep Redding in 2012, but as far as I can tell, the numbers don't work out.
He's averaging 11 starts, and over 42 tackles and four sacks over the last two seasons. He's also able to take up blockers and bat balls down. He's a good veteran presence to have while the Ravens continue to build toward the future.
If he will accept significantly less than the $3 million per year he's been getting, then it's a different story. Otherwise, it'll be really tough for the Ravens to keep Redding.
Ray Rice: According to the Ravens website, the team has given running back Ray Rice the franchise tag. He is expected to make about $7.7 million next season according to the report.
Kris Wilson: Re-signed
I think the Ravens and Wilson both know what they're getting here. Wilson is getting a minimal deal, but he won't be asked to do much more than be a third tight end and block in short-yardage situations.

Estimated contract: One year, $500,000

Tom Zbikowski: Released

The Ravens can't afford to keep Zbikowski, Nakamura and re-sign all the other players they'd like to keep.
If Bernard Pollard wasn't on the Ravens' roster, they would think twice about keeping Zbikowski. But Pollard played well in 2011, which may be a good think for Zbikowski, as it may allow him to start for and get paid well by another team.
Restricted Free Agents
Dannell Ellerbe: Released
Ellerbe was okay this season, but was frequently beaten is pass coverage in the AFC Championship game. He's injured more times than he or the Ravens would've liked, and they will probably only keep him or McClain.

Matt Lawrence: Released
Lawrence hasn't had an NFL carry since 2009, and the Ravens have stated they will address the running back position this offseason.
That's not good news for Lawrence.
Lardarius Webb: Update: Jason La Canfora of NFL.com is reporting via his Twitter that the Ravens have given a first round tender to cornerback Ladarius Webb.

Cary Williams: Update: Jason La Canfora of NFL.com is reporting via his Twitter that the Ravens have given a second round tender to cornerback Cary Williams.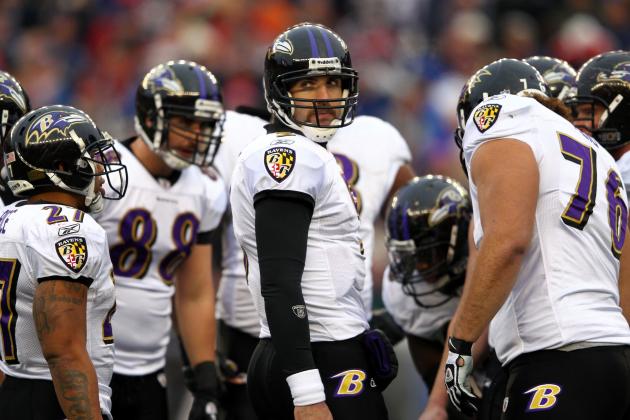 Al Bello/Getty Images
Ravens Quarterback Joe Flacco
Available Cap Space (projected): -$ 2.16 million

The Ravens current cap figure, according to Spotrac, is $108,059,286.
Subtract the estimated yearly salaries from the players I projected them to re-sign, and the remaining available cap space (projected) is -$2,161,286.
Obviously, that's puts them over the cap. But keep in mind there are teams that are starting this free agency period many millions of dollars over the salary cap, and the Ravens aren't in a position where they need a bunch of cap room, because their roster is already stacked as is.
Of course, if this is to take place, the Ravens will have to release more players, or offer players less money that I projected. My projections were based on a five percent cap inflation, but the cap remained basically identical to last year, and is set at $120.6 million for 2012.
Caveats
These projections are based on yearly money paid to a player, not accounting for bonuses, which wouldn't count against the cap. In other words, the Ravens will probably end up with more cap room than I've projected them to end up with.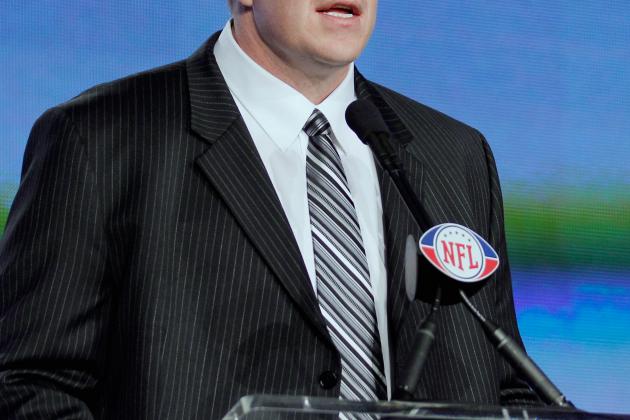 Rob Carr/Getty Images
Ravens Center Matt Birk
Offense
Center/Guard
Even with the projected re-signing of Andre Gurode, the Ravens will need another center or left guard to stabilize the interior of their offensive line.
There's a good chance that will be their top choice in April's draft.
Running Back
As good as Ray Rice is, the retirement of Rick Williams accelerated the search for Rice's backup.
Anthony Allen may be the guy, but we don't know that yet. That's not an indictment on Allen, but we simply haven't seen him play on a consistent basis.
Whoever the Ravens bring in to join Rice, Allen and Damien Berry (practice squad in 2011), that player won't necessarily be a "change of pace" back.
And by the way, if Rice is grinding out yardage and wearing defenses down, why would you want to change the pace?
Wide Receiver
Anquan Boldin and Torrey Smith are really good players. Bringing in another wide receiver would multiply the options offensive coordinator Cam Cameron has to work with.
Boldin can play split end or in the slot (where his strength is better utilized). Bringing in another wide receiver could help Boldin stay in the slot, solidifying the structure of the Ravens offense.

Defense
Free Safety
Ed Reed is still an outstanding intellectual football player. His coverage is still elite. His tackling is not good.
He has enough left in the tank to where, if the Ravens draft or sign a free safety, that player could learn from Reed when he's still playing at a Pro Bowl level.
Middle Linebacker
Like Reed, Ray Lewis is close to the end of his career.
What more can you say about Lewis? He may go down as the greatest football player of all time (at least, defensively).
You can't replace him, but you're going to have to try.
I see the Ravens drafting a middle linebacker in the draft. Even if the player they draft is half as good as Lewis, that's still going to be a really good player. Furthermore, even if that player only has one year to learn from Lewis, that's a huge advantage over every other rookie in the NFL.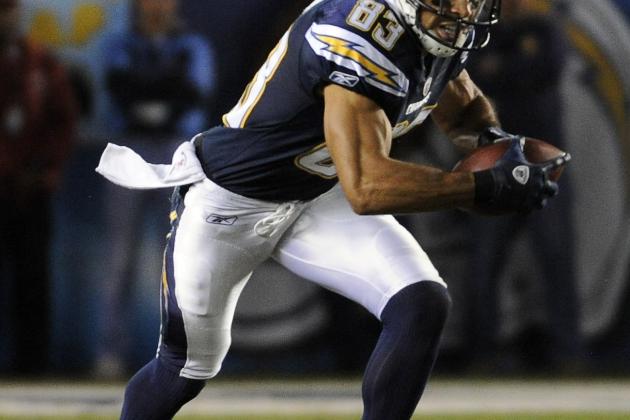 Harry How/Getty Images
Chargers Wide Receiver Vincent Jackson
Offense
Running Back
2011 stats: 256 carries, 977 yards (3.8 yards per carry), seven touchdowns; 37 receptions, 418 yards (11.3 yards per reception), one touchdown

2011 base salary: $2,610,000
Bush shined when he got the chance in Oakland. Although he probably won't want to be a backup again, signing with the Ravens will give him as good a chance to win a Super Bowl than signing with any other team would.
Sure, he'd like to start. But he'll get plenty of work and will have a great chance to win.
2011 stats: 15 carries, 51 yards (3.4 yards per carry), one touchdown; 14 receptions, 82 yards (5.9 yards per reception), one touchdown

2011 base salary: $1,500,000
McClain was drafted by the Ravens in 2007, and played well before he signed with the Chiefs a year ago.
He actually made the Pro Bowl in 2008, which was Ray Rice's rookie year. If he signs with Baltimore for a second time, he won't get as many touches, but he will get many more than a few.
Wide Receiver
2011 stats: 60 receptions, 1,106 yards (18.4 yards per reception), nine touchdowns

2011 base salary: $1,142,400
The only thing that may deter the Ravens from signing Jackson is the money. His size and skill are tremendous. But odds are he'll command much more money than the $1.142 million he made in base salary a year ago.
Jackson at split end, Torrey Smith at flanker (opposite Jackson) and Anquan Boldin in the slot (not to mention Ray Rice and Dennis Pitta)?
Wow.
UPDATE March 13, 2012: Adam Schefter of ESPN is reporting that the Buccaneers have signed Vincent Jackson to a 5 year, $55.55 million dollar contract with $26 million dollars guaranteed.
2011 stats: 80 receptions, 1,143 yards (14.3 yards per reception), eight touchdowns

2011 base salary: $3,000,000
Colston had the benefit of playing with Drew Brees" href="http://www.nfl.com/player/drewbrees/2504775/profile">Drew Brees, a truly elite quarterback. Colston had a few more drops than he would've liked to have had, but the catches he did make were often in tight spaces before he suffered big hits.
He's also a good person to have on the team, as you never see him act out. However, he's kind of like a younger version of Boldin. In other words, the Ravens wouldn't be able to stretch defenses as much if they signed Colston than if they signed Jackson.
UPDATE March 13, 2012: Colston has re-signed with the Saints.
Middle Linebacker
2011 stats: 65 combined tackles, one sack, one pass defensed

2011 base salary: $685,000
McIntosh only started in eight games last year, but from 2007-10, he averaged 95 combined tackles per season.
Like Lewis, McIntosh was a middle linebacker at "the U." You know that's going to be extra motivation for McIntosh to sign with Baltimore.
2011 stats: 57 combined tackles, three passes defensed, one interception

2011 base salary: $4,000,000
Ruud only played in nine games in 2011, due to a groin injury. In his four prior seasons (with Tampa Bay), he averaged 128 combined tackles and five passes defensed per season.
The drawback is his salary. If he's healthy, he's worth the $4 million, but he's coming off a season in which he barely played in half of it.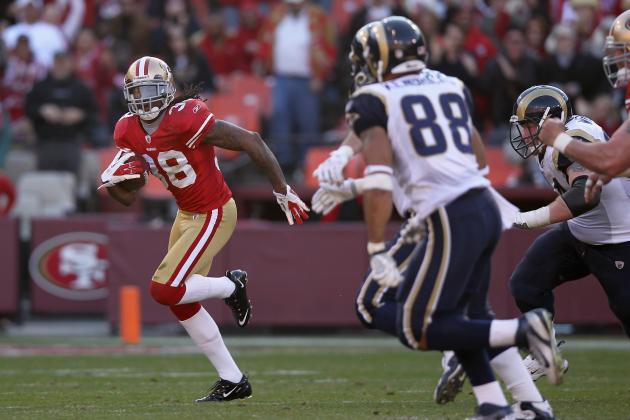 Ezra Shaw/Getty Images
49ers Free Safety Dashon Goldson
Here are free agents they Ravens may pursue, that would fit well within their schemes:
RB Michael Bush
RB Le'Ron McClain
WR Vincent Jackson
WR Marques Colston
MLB Rocky McIntosh
MLB Barrett Ruud
Based on the Ravens' current cap situation, and with the projected five percent increase of the cap, they'd have a little over $15 million to work with.
That isn't taking into account any cuts they may make or any bonuses they may offer, which would increase the probability of a player signing with the Ravens.
Here is what I think each free agent the Ravens may be targeting could sign for if they choose to play in Baltimore (factoring their past performance, future potential and what other teams may offer).
RB Michael Bush:Two years, $6 million

RB Le'Ron McClain: Two years, $3 million

WR Vincent Jackson: Four years, $22 million

WR Marques Colston: Four years, $16 million

MLB Rocky McIntosh: Four years, $6.25 million

MLB Barrett Ruud: One year, $3.5 million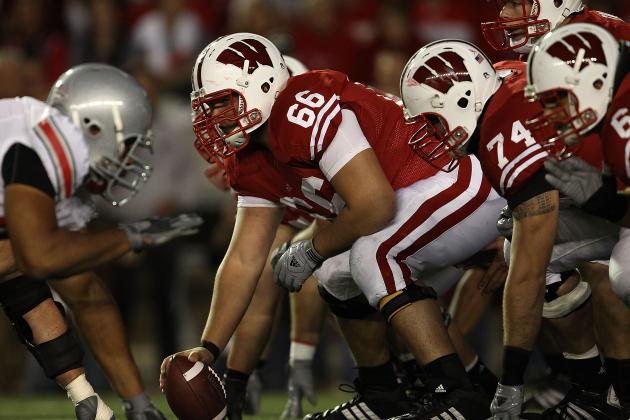 Jonathan Daniel/Getty Images
Wisconsin Center Peter Konz
The players the Ravens sign or release via free agency before the draft shouldn't affect their draft strategy too much. The nucleus is in place in Baltimore.
The Ravens know what they need, and their draft strategy over the years is second to none. Since the Ravens entered the NFL in 1996, they've drafted more All-Pro players (13) than any other team.
To decipher which positions the Ravens will draft for in April, look at who is aging and where they are lacking.
Center/guard, middle linebacker, running back/kick returner, wide receiver, free safety and kicker are the positions I'd target (in that order) if I were Ozzie Newsome. While they may sign some of those position players in free agency, we don't know which free agents they'll look at for sure.
Positions they should not draft are quarterback, cornerback and outside linebacker. At each of those positions, the Ravens have proven, young talent and either have a Pro Bowl player (Suggs) or a potential Pro Bowl player (Flacco, Webb).
As I've said, the Ravens are one of the few NFL teams that will reload instead of rebuild in 2012. They ought to do what they've always done: trust their board and draft the best player available.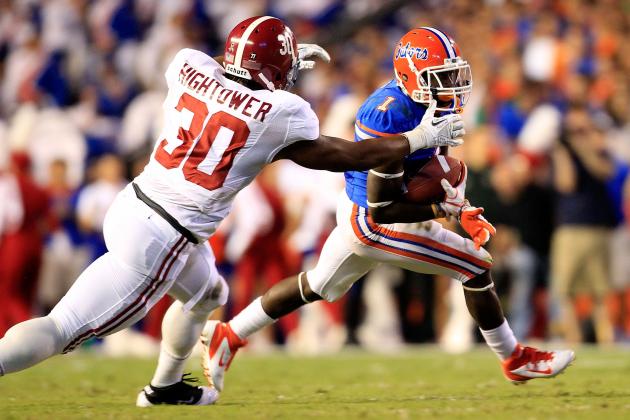 Sam Greenwood/Getty Images
Alabama Middle Linebacker Dont'a Hightower
There are a handful of players the Ravens might have their eye on that may be available when they make their selection in the upcoming draft.
Obviously, the probability of Baltimore picking all of these players is very small. And these players may not even be available when the Ravens are on the clock.
Still, these are some names to keep your eye on if you're a Ravens fan.
Center: Peter Konz, Wisconsin
Wisconsin is among the schools who perennially put out the best offensive lineman in the draft. Konz should certainly go in the first round, and would fit well with the Ravens, as he and Baltimore are at their best playing in a run-first offense.

Middle Linebacker: Dont'a Hightower, Alabama
The leader of the nation's best defense, and one of the best defenses in college football history, Hightower has NFL linebacker written all over him.
Whatever the award, he's either won it or been a finalist for it. He did sustain a torn left ACL in 2009, but since then, has played like it never happened.
You must understand how rare it is that a player not only stands out but becomes the leader of a Nick Saban defense. I don't know of a college coach that demands more out of his players than Saban. The Crimson Tide defense and the Ravens defense are very similar, which would make Hightower a nice fit in Baltimore.
Running Back/Kick Returner: LaMichael James, Oregon
Like Hightower, James went through serious injury in college, but remained a top threat at the running back position.
As a sophomore, he won the Doak Walker Award (given to the nation's top running back). James also became the first player in school history to be named a consensus All-American twice.
As far as his on-field accomplishments, James racked up over 5,000 rushing yards and over 50 rushing touchdowns in his three seasons at Oregon. He also averaged 11.5 yards per reception in that time.
Wide Receiver: Tommy Streeter, Miami
If you watched the Hurricanes play over the last four years, you know the quarterback position was not one of consistency. Thus, Streeter's numbers weren't what they could've been.
Despite the inconsistent play of the Miami quarterbacks, Streeter managed to lead the team in both receptions (46) and receiving yards (811) in 2011.
Moreover, he's 6'5", 215 pounds and ran a 4.40 in the 40-yard dash at the NFL Combine over the weekend.
I'd say he's certainly worth a mid-round selection by the Baltimore Ravens.
Free Safety: Neiko Thorpe, Auburn
Last season, Thorpe moved from cornerback to safety, which is where he'll probably play in the NFL. In 2011, Thorpe recorded 102 combined tackles, six passes defensed and three interceptions.
Once he settles into the safety position and gets good coaching, I think his athletic ability will prove right the team that drafted him.
If the Ravens take him, they wouldn't need him to start right away, allowing him to continue growing into the safety position, while learning from a future Hall of Famer (Ed Reed).
Kicker: Dave Teggart, Connecticut
Named to the preseason Lou Groza Award (nation's top kicker) list, Teggart had a strong career for the Huskies. In 129 career extra-point attempts, he's only missed once.
In 2010, he was named to the Big East's first-team, as he helped UConn to an appearance in the 2011 Fiesta Bowl.
Last year, Teggart converted all four his field-goal attempts from 50 yards or more. The only drawback is that he went 8-of-14 from between 40 and 49 yards.
Still, I think he'd be worth a late-round selection. I think it's safe to say the time has come for Billy Cundiff and the Ravens to part ways.