Sacramento Kings: 4 Bold Predictions for the Second Half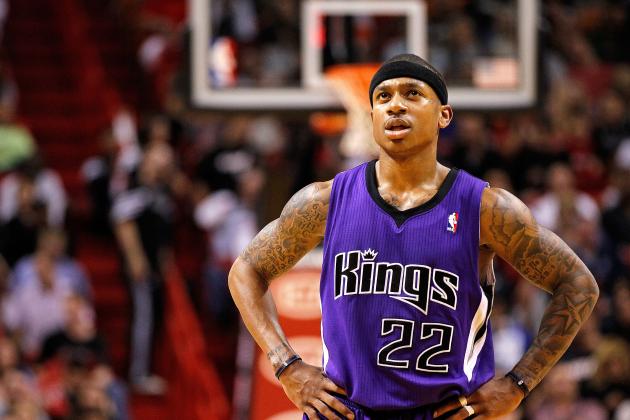 Mike Ehrmann/Getty Images

The Sacramento Kings are preparing to have a big second half of the season.
No one expected the Kings to make the playoffs this season. They had too many ball stoppers and no true point guards. Their roster was flawed.
The team was dead under former head coach Paul Westphal. After a slow start and a baby fit with DeMarcus Cousins, Westphal was fired and the Kings turned to assistant coach Keith Price.
With Smart as head coach, the Kings' losing ways have continued but have found some positives to their season.
Cousins has really taken off and rookie point guard Isaiah Thomas has been playing out of his mind. Their improved play will lead to a big second half for the Kings.
Here are four predictions for Kings going into the second half:
Begin Slideshow

»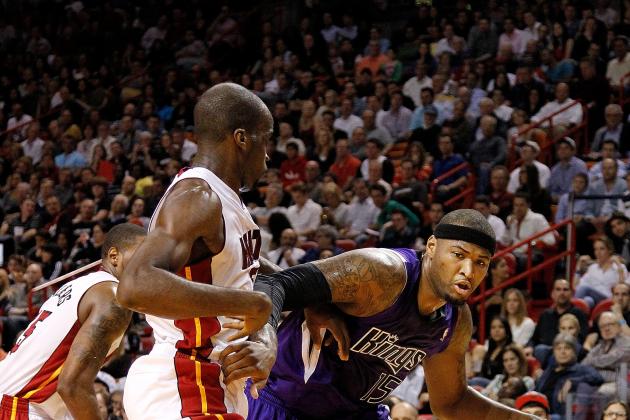 Mike Ehrmann/Getty Images

DeMarcus Cousins has been on a tear.
In February, Cousins has averaged 18.8 points and 11.8 rebounds. Other than two disappointing games, February has been his month. He's has had five games where he finished with over 15 rebounds. In four games, Cousins has scored over 25 points.
Cousins' February production is not a mirage. He's learning to play at a high level every night. Cousins has always been capable of scoring at a high rate and grabbing a lot of rebounds. For several different reasons, either lack of playing time or inefficiency, he hasn't always produced.
New head coach Keith Smart has done a great job working with Cousins. It's no secret that Cousins and former Kings coach Paul Westphal never got along.Their sour relationship ultimately prevented Cousins from reaching his true potential. Under Smart, Cousins has been playing with more confidence, which has led to a vast improvement in his game.
Expect him to put up big numbers for the rest of the reason and emerge as a young NBA star.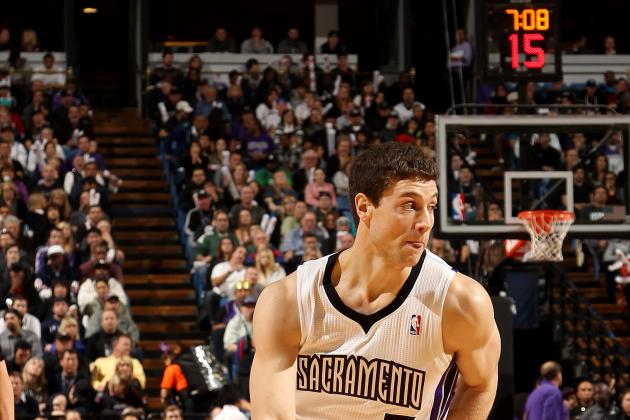 Ezra Shaw/Getty Images

With the emergence of Isaiah Thomas, Jimmer Fredette is beginning to get lost in the shuffle.
What's worse, at this moment, Fredette deserves to be lost in the shuffle.
Fredette struggles to defend both guard positions. On offense, it looks like he is playing outside of his comfort zone. Fredette's lack of confidence is also hampering his game. In college, Fredette was never afraid to make plays. Now, it looks like he's just trying not to make mistakes.
Fredette could, and likely will, develop into a nice niche player off the bench. He's just currently not ready to play big NBA minutes—especially at point guard.
Fredette's woes will continue until he can find a way to contribute on a regular basis. Just because he was the 10th pick in the draft, doesn't mean he deserves playing time.
Fredette needs to give Coach Smart a reason to put him in.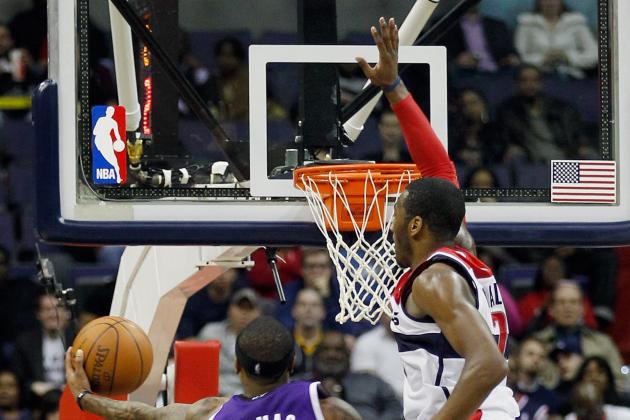 Rob Carr/Getty Images

While Fredette has been a disappointment, the Kings other rookie point guard Isaiah Thomas has been a blessing.
All Thomas wanted was a shot to show a team he had what it takes to be a good NBA player. The Kings gave him that shot, drafting him with the last pick in the 2011 NBA draft.
In training camp, Thomas wasn't even guaranteed a roster spot. He made the team after impressing everyone as a good practice player. Thomas wasn't expected to get many minutes. But the Kings struggled to get production from their point guards, so Thomas got his shot.
Thomas has scored double-digits in his last five games. He's becoming the Kings' new Bobby Jackson. Whenever he's in the game, he makes things happen. After his big game in a win over the Washington Wizards, he said:
"I'm just out there playing. I'm not trying to score. I'm not trying to get my teammates involved. I'm being aggressive to make plays," Thomas said. "One thing my college coach always told me was to make winning plays. Just go out there and try to make the right play."
Thomas is already becoming a team leader. The second half of the season will be interesting. Not to see if Thomas can continue to play well, but how much will he continue to improve?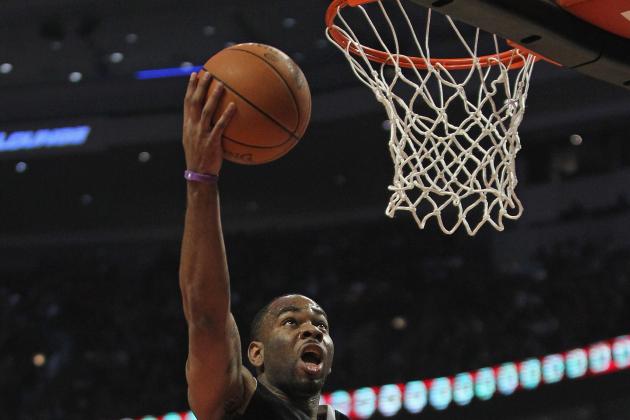 Jonathan Daniel/Getty Images

The Kings have definitely improved under head Coach Smart. They are capable of beating any team in the NBA on any night. What the team lacks is consistency.
Thomas' emergence at that point has let Evans play his more natural shooting guard position. Evans is too much of a ball stopper to play point guard efficiently. Since Thomas has taken over at point guard, Evans can focus on what he's good at—scoring.
Only two things will hold back Cousins from developing into a star player—his attitude and his teammate Evans. It's no secret that Cousins can be very immature. But he needs to grow up if he wants to be the team's go-to guy. He's done a better job since Smart took over.
Evans could hold back Cousins because of his selfish play. Evans isn't on an Allen Iverson level of selfishness. He can be a very good team player from time to time. But there are too many times when it seems like Evans gets the ball at the top of the key and decides he's going to score himself no matter what. That's a bad basketball habit. One that will hold back this young Kings team from developing into something special.
If the Kings don't show any improvement in the second half of the season, management may have to consider if their young core is talented enough to ever develop into something special.