UFC on FX 2 Info and Predictions for the Entire Card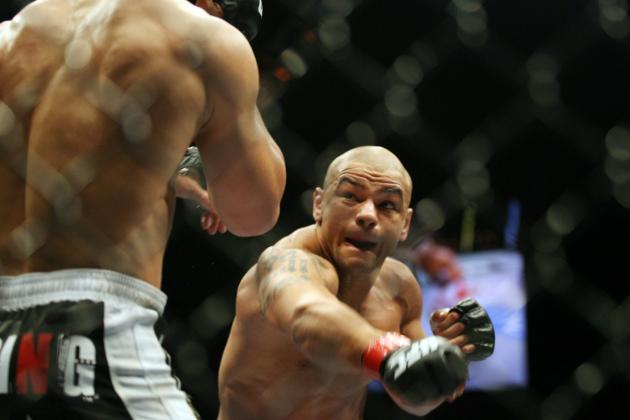 Tasos Katopodis/Getty Images
Thiago Alves
This Friday night, Thiago "Pitbull" Alves and Martin "The Hitman" Kampmann will come off of recent wins in 2011 to face each other at UFC on FX 2 live from the Allphones Arena in Sydney, Australia.
Featuring Ian McCall vs. Demetrious Johnson and Joseph Benavidez in the UFC Flyweight Tournament semifinals, as well as Court McGee vs. Constantinos Philippou, and a fairly-loaded undercard filled with international talent, UFC on FX 2 in Sydney looks to pick up where UFC on FX 1 in Nashville left off.
As usual, we're pretty amped up for this card and we like the ways this could turn out, but as is protocol for us in the MMA world, there's a little bit of information that we might need to keep in mind as we look ahead to this card.
The predictions are on the house. Here's hoping they turn out better than the first attempt.
Begin Slideshow

»
We've seen Shawn "The Savage" Jordan progress slowly but surely from a raw talent from LSU into one of MMA's most underrated Heavyweight prospects.
Jordan went 1-1 in two recent Bellator appearances (4-1 overall in Bellator) and 1-1 in two Strikeforce appearances and now makes his debut in the UFC against fellow newcomer and former UCMMA Heavyweight Champion Oli Thompson.
Thompson's submitted three of his last five opponents by rear-naked choke, but that doesn't mean the dude can't land bombs.
In his win over Ben Smith, Thompson pinned Smith against the cage, controlled his wrists so that Smith couldn't defend any of the punches Thompson aimed to throw. He cut him open in the process and actively worked for submissions despite looking fatigued at times. He forced the tap in the second round against Smith.
Jordan's gone from showing raw potential to showing explosive wrestling and power in his hands. Unless we see some grade-A kickboxing from Thompson or unless something causes Jordan to abandon his wrestling skills, Jordan will find himself more than able to use his gifts to his edge in securing a successful and clear debut win in his Octagon premiere.
Winner:Shawn Jordan by second-round TKO (Elbows and punches)
Interesting of note: both Daniel Pineda and Mackens Semerzier are 1-0 in the UFC, but due to the ending of his UFC on FOX 1 bout with Robbie Peralta, Semerzier has one no-contest on his record.
Still, it doesn't hurt the type of fighter Semerzier is, and at 6-3 with one no-contest as a professional, Semerzier still has the credit of a submission win over Alex Caceres to his name.
Semerzier's always been seen as an exciting fighter regardless of whether he won or lost a fight. The only three men to have beaten Semerzier are Deividas Taurosevicius, Cub Swanson, and "Showtime" Javier Vazquez, the only man to have finished "Mack Da Menace".
After Friday night, it's possible that the experienced veteran Pineda might be the fourth man to hand a loss to Semerzier, but with the way Pineda likes to stay on his opponents after hurting them, that goal might be a bit tough to accomplish.
Now, those of you who have seen the previous version of my *attempted* predictions for this Friday's card probably know that despite the late opponent switch, I anticipate a difficult fight for Semerzier, albeit one in which he responds well to the task of a new opponent.
However, I never said that I'd expect Semerzier to run through the 16-7 up-and-comer. The reason? Because while Semerzier might respond well to the challenge, Pineda will step up in a big way, dictating the action and forcing Semerzier to fight according to Pineda's wants before taking the fight unanimously over "Mack Da Menace"
Winner: Daniel Pineda by Unanimous Decision (29-28 x3)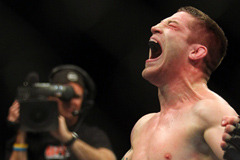 (Jake Hecht-Tom Szczerbowski/US Presswire)
Some will argue that Jake Hecht arguably lost the first round when he took on Rich Attonito at UFC 140, but he came through and made the most of the second in a big way, dropping Attonito quick with an elbow.
Hecht followed it up by mentioning a loss to Che Mills in the post-fight interview, as well as how he sensed a similar game plan to the one Mills implemented in order to beat him.
In short terms, TJ Waldberger is a fighter who has flown under a few good radars. He's not a guy that likes to take a lot of punishment.
Unless Hecht opts to do something stupid, or unless he opts to out wrestle Waldberger, Waldberger is going to get hit hard and may even find himself out on his feet before Hecht goes in for the kill and improves to 2-0 inside the Octagon.
Winner: Jake Hecht by TKO (Punches) in Round 1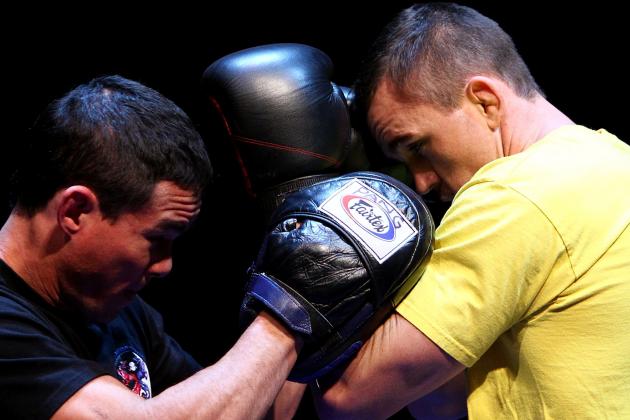 Mark Nolan/Getty Images
Kyle Noke (right)
Andrew Craig is a Team Tooke product standing at 6-0, and if you learn anything at all from seeing the kid fight, even if you only watch one fight from Craig's career, let one of those things be his ability to adapt to the strengths of his opponents.
Before his bout with William "Bubba" Bush, Craig even admitted that Bush's biggest strength was his biggest weakness, referring to Bush's wrestling game.
But Craig overcame that and finished Bush in the fifth round.
If wrestling is still Craig's biggest weakness, wrestling is one less problem for Craig as he faces Kyle Noke, as the Australian submission wizard is crisp with his jab but lacks in his wrestling.
Noke's versatile and he's a skilled grappler, plus he's in his hometown and should therefore make quick work of the new kid in the division. For all Noke might be, he's not Chael Sonnen nor Rousimar Palhares. Nor is he the 2012 version of what Demian Maia was in the early part of his UFC career.
Noke should get it done on his home turf just because he's on home turf. If ever there was a night for a spoiler, it would be Craig's night to play that role, and as difficult an opponent as Noke will be, Craig will ensure Noke has a long night and a rough homecoming.
Winner: Andrew Craig by unanimous decision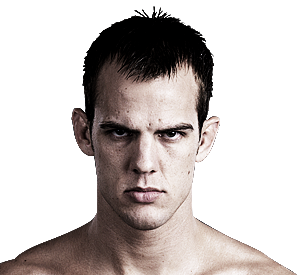 By UFC records only, Cole Miller (7-3 UFC, 18-5 MMA) is the veteran, but by MMA experience, "Super" Steven Siler holds more the edge.
That's a bit awkward to say since Siler (19-9 MMA, 1-0 UFC) is a relative UFC newcomer by way of Season Fourteen of The Ultimate Fighter, but the facts are the facts.
As it stands right now, Siler has never lost on the scorecards, and Cole Escovedo is the last man to have submitted Siler. Chad Mendes is the last man to have knocked out (as in, LITERALLY knocked out) Siler.
Cole Miller may not be one of the sport's most devastating knockout artists, but the guy is a finisher, and he does have a history of submitting people once they decide to leave something unprotected.
Do you like Siler's chances of surviving that type of obstacle?
Yeah, neither do I
Winner: Cole Miller by Submission (guillotine choke) in Round 1
On the surface, Anthony Perosh is on a roll
Sure, he's 2-3 in the UFC, but Perosh is still a very competent fighter with a good submission game, and it earned him two straight wins by rear naked choke against Tom Blackledge and Cyrille Diabate.
That, plus he's on his home turf for UFC on FX 2 and facing the debuting Nick Penner, so on the surface, he's supposed to steamroll through Penner, right?
Well, not exactly true.
Penner presents a great submission offense and explosiveness in his kickboxing game, which is something that even the submission specialist Perosh has had trouble with in the past.
Will Friday be any different?
Don't count on it, but do count on seeing one of Canada's finest coming into Perosh's backyard and putting on a spectacular debut that likely airs on FX after wowing the FUEL TV-oriented audience.
Winner: Nick Penner by KO (Head Kick) late in Round 1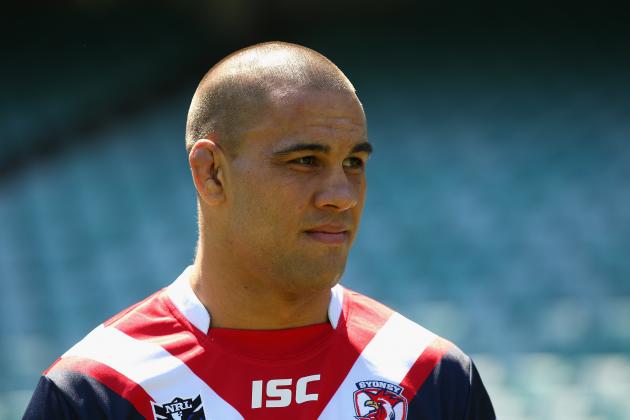 Cameron Spencer/Getty Images
James Te Huna
James Te Huna was born in New Zealand but has called Australia his home for MMA, fighting all over the country and recently having lost to Alexander Gustafsson at UFC 127 in the UFC's last trek to "The Oz".
Te Huna wants to capitalize on the strength of a recent rebound against Ricardo Romero at UFC 135 in Denver, which marked Te Huna's first fight and win outside of Australia.
The only problem is that Aaron Rosa stands in his way, and Rosa is coming off of his own rebound against Matt Lucas. Rosa's a big boy who has found himself once again at Light Heavyweight after a take-and-give performance against Joey Beltran at UFC 131.
It resulted in a loss for Lucas.
Te Huna might be giving up some size to Rosa, but what he may lack in size, he makes up for in the feet in respect to his movement.
Not only that, but any man who faces Rosa needs a good pair of hands to break Rosa, and Te Huna has exactly that.
Besides, Te Huna lost the last time he was in Australia to a rising star in Alexander Gustafsson, and as tough as Rosa will be to finish, he's not Gustafsson.
Winner: James Te Huna via split decision (29-28, 30-27, 27-30)
Court McGee knows how to do damage with his hands and Constantinos "Costa" Philippou knows how to score knockouts with his hands.
McGee trains with the legendary John Hacklemann at The Pit, and Philippou trains with the Serra-Longo Fight Team with Matt Serra.
The difference?
McGee beat Dongi Yang in September and this fight will be his first in six months, while this fight will be Philippou's first since UFC 140 when he knocked Jared Hamman out.
What does that mean?
It could mean anything, but for McGee, it means the chance to show that he's been using that time to stay in shape and step his game up against Philippou, who is coming into his own as a fighter and remains a prospect still under the radar.
Besides, look at Court's beard.
Tell me that you wouldn't want to see that beard make it to the top of the division.
Exactly, and neither does Philippou, but against Court McGee's 73-inch reach and his submission prowess, not even Philippou will be able to withstand McGee for three full rounds while coming out a winner.
Winner: Court McGee by unanimous decision (30-27 x3)
Ian McCall is the number one Flyweight in MMA for a reason.
He presents speed, footwork, strong technical striking, and submission awareness like none other.
Plus his pace is so fast that not even Jussier da Silva—formerly the premier fighter at 125 pounds aside from fellow outsider Yasuhiro Urushitani—could match it.
The wide belief is that Demetrious "Mighty Mouse" Johnson, who, with his foe for Friday, shares a distinction of a loss to UFC Bantamweight Champion Dominick Cruz, has just the pace to match McCall in a Flyweight contest.
We already knew from the WEC days that Johnson has the wrestling, the submission mastery, and the striking needed to topple some of the best of the best. We had it figured that Johnson wasn't likely to beat Cruz at UFC on Versus 6 only because of how undersized he was for 135.
In that respect, he's not so unique from McCall—who also lost his "0" to a submission from Charlie Valencia—nor is he much different from fellow "Flyweight-at-Bantamweight" Joseph Benavidez, whose only two career losses came in close bouts with Cruz.
Whose pace will be too much for the other to overcome?
Depends on who you have winning when this one is all said and done. Just know that with the Flyweight bouts getting "sudden victory" rounds, both of them are likely to be tougher fights than expected, and if they do hit the sudden victory rounds, McCall could take the hardest-fought win of his career on the UFC stage.
Winner: Ian McCall by unanimous decision (Split Draw after 3—McCall 29-28, Johnson 29-28, and 27-27 even; McCall wins the fourth 10-9)
Benavidez has never fought in the Flyweight ranks, but he darn sure looks like one.
That's probably what makes his Bantamweight run and his bouts with Dominick Cruz all the more impressive. After a great show against Eddie Wineland at UFC on Versus 5, "The Beefcake" is making the drop to the division many feel he should be at.
And he's getting the man who has always been somewhere in the top five of flyweights in Yasuhiro Urushitani.
Benavidez has yet to face a slick counter-striker like Urushitani, but just the same, Urushitani has yet to deal with the speed of a guy like Benavidez. Putting all personal preferences aside, even the experienced Urushitani—who has six draws—might be in for a real test come Friday night.
If this goes all three rounds and ends in a draw, Urushitani could steal the sudden victory round and become the first fighter not named Dominick Cruz to beat Benavidez.
If Benavidez gets his offense going early—and I'm giving Benavidez the chance to do so at 125—he might become just the second man to finish Urushitani at 125 pounds.
Yuki Shoujou, eat your heart out.
Winner: Joseph Benavidez by Submission (Triangle Choke) late in round 3—after two very close rounds
De Souza scorecard before the finish: 20-18 Benavidez, but Urushitani likely makes a case for evening it up after the second and after looking good in the first.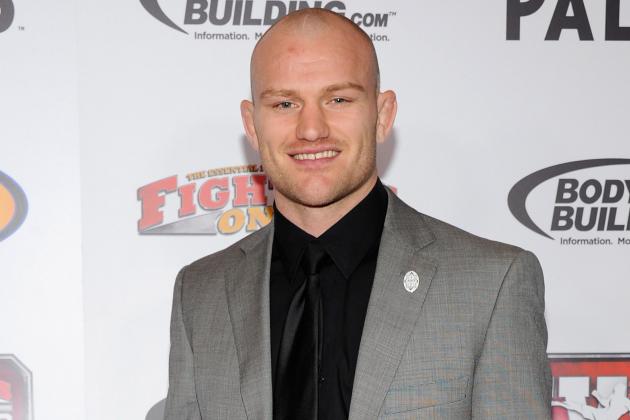 Ethan Miller/Getty Images

Kampmann beats Alves?
Alves beats Kampmann?
The easiest part of predicting this bout is predicting a finish, but the hardest part is deciding who will be on the receiving end of the victory.
Thiago Alves is one of Muay Thai's real wrecking machines, and despite what one might think about his KO power, the pain he delivers doesn't change regardless of who he faces.
His striking and his budding takedown game are integral elements that have helped Alves find success, but the same could be said for Martin Kampmann's mix of striking and grappling.
Kampmann doesn't have the knockout power that Alves has shown in the past, or at least, his record may say so on the surface, but Kampmann is a very precise striker with a fast-acting submission game.
Alves has shown weaknesses from off his back before, but he's also been able to break down guys like Kampmann by being technical with his striking and by using his leg kicks to throw his opponents off-track.
If that should happen here, Kampmann will once again feel the sting of defeat—except this time, there will be no doubt about whether Kampmann lost.
Winner: Thiago Alves by TKO (Leg Kicks and Punches) in Round 2.
Fight of The Night: Ian McCall vs. Demetrious Johnson
Submission of the Night: Joseph Benavidez
Knockout of The Night: Nick Penner