The 4 Biggest Keys to Green Bay Packers' 2012 NFL Free-Agency Strategy
Ronald Martinez/Getty Images

As Ted Thompson and the Green Bay Packers ponder what to do when the NFL 2012 free-agency season begins on March 13, they must continue to stay true to their past. The results have been more than acceptable.
Thompson came back to the Packers from the Seattle Seahawks in 2005 to become Vice President, General Manager and Director of Football Operations for the Packers.
Thompson got his regime off to a great start by making QB Aaron Rodgers his first ever draft pick in 2005, and he followed that by selecting S Nick Collins next.
However, the 2005 season did not go as well. Under head coach Mike Sherman, the Packers finished the season 4-12.
Thompson fired Sherman after the 2005 season, and after an extensive interviewing process, hired Mike McCarthy. Thompson helped his new coach a bit by adding two key free agents before the 2006 season. They were CB Charles Woodson and DT Ryan Pickett.
Since the McCarthy era started in 2006, the Packers have been 63-33 in the regular season, 5-3 in the postseason, have appeared in two NFC Championship games, winning one, and have also won Super Bowl XLV.
The reason? Thompson has stayed true to his formula. Thompson has built the roster of the Packers primarily through the use of the draft. Thompson has also re-signed free agents on his own team, as opposed to signing players from other teams, although he will at rare times.
Thompson is better known for signing "street" or rookie free agents. Players like CB Tramon Williams, CB Sam Shields, QB Graham Harrell, TE Tom Crabtree, DL Howard Green, LB Robert Francois and S Charlie Peprah fall into this category.
Whatever Thompson does usually works. The proof is in the pudding. Thompson must stay true to his philosophy in 2012 as well. He also must stay true to his past experiences, especially the ones that have led to success.
Sometimes, Thompson will take risks. It was somewhat risky when he signed Woodson in 2006. It was definitely risky when he traded Brett Favre in 2008. It was also risky when he traded three draft picks to move up to select Clay Matthews in the the first round of the 2009 NFL draft.
All of those risks have paid off. Just remember that as we move forward towards free agency and the draft.
I see four key elements for Thompson as he and his staff strategize about putting together the 2012 Green Bay Packers.
Begin Slideshow

»
Jamie Squire/Getty Images

The Packers being able to sign TE Jermichael Finley to a new two-year contract was a great way to start the 2012 offseason. Now, the Packers must decide what to do with their remaining free agents.
I will address the Matt Flynn situation in the next slide. I see the Packers re-signing DB Jarrett Bush for sure, and I also believe that C Scott Wells will also get re-signed, even though both sides seem to be at an impasse right now.
I believe that QB Aaron Rodgers will go to bat for Wells in the front office, much like he did for WR James Jones in 2011.
In terms of clearing cap space for free agency and the draft, the Packers are also restructuring the contract of WR Donald Driver, and there may be a couple more candidates who will be asked to do the same.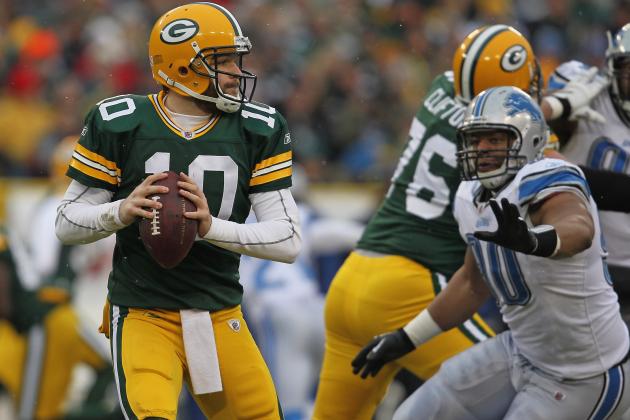 Jonathan Daniel/Getty Images

I believe Matt Flynn will get the franchise tag. OK, what are the risks if the Packers do place the franchise tag on Flynn?
Flynn would be guaranteed $14.4 million once he signed the agreement. That contract would be $1.7 million dollars more than QB Aaron Rodgers currently makes. Plus, Rodgers will only earn $8.5 million in 2012, so there would be a $5.9 million differential...at least in 2012.
The Packers can't afford to be paying $22.9 million to just two QBs, including the higher amount to the backup. The total cap for the entire team is expected to be $120 million. You can't tie up almost 20 percent of that number with Rodgers AND Flynn.
That's why the Packers have to have a trustworthy trading partner who they can trade Flynn to after he is franchised. After the trade, the $14.4 million would be taken off the Green Bay books.
The Packers need to look back in recent history for a reference point. The New England Patriots franchised QB Matt Cassel in 2009 and later traded him to the Kansas City Chiefs for an early second-round draft pick. Why? The Chiefs had just hired Scott Pioli as the new general manager.
Pioli had been in the front office of the Patriots from 2000-2008 and had worked closely with Bill Belichick on personnel issues. After the Cassel trade was made, the Pats were able to wipe away the franchise amount they had given Cassel, plus the Chiefs were able to sign Cassel to a long-term extension later on.
Thompson has three trustworthy candidates (Miami, Cleveland and Seattle) who ALL have obvious needs at the QB position and who also have key figures in their organization who have had close relationships with Thompson himself (Joe Philbin, Mike Holmgren and John Schneider). That's why I believe that Thompson will indeed franchise Flynn and work out a trade with one of these three teams.
Whoever does agree to a trade with the Packers will have to work out the basics of an arrangement with Flynn and his agent on a new long-term deal. Only then will a trade be consummated.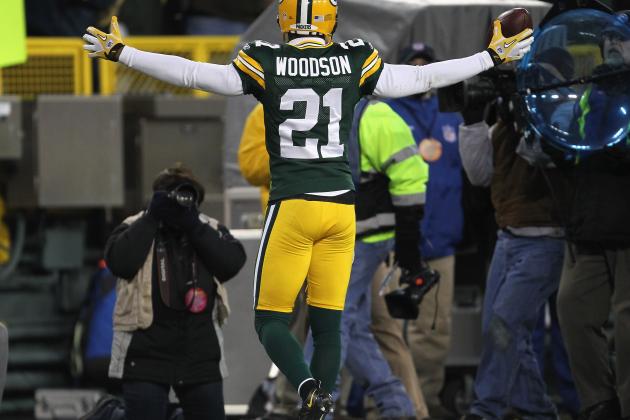 Jonathan Daniel/Getty Images

In 2006, Thompson decided to help his new head coach (Mike McCarthy) out. Besides the draft, Thompson signed two key free agents when he signed CB Charles Woodson and DL Ryan Pickett. Both of those signings have paid off big time.
Both Woodson and Pickett are still with the team. Pickett has been steady as a run stopper since 2006. It was his assist on a tackle in Super Bowl XLV, along with Clay Matthews, that caused a key fumble in the game at the beginning of the 4th quarter.
That play may have been the biggest of that game, as the Packers were hanging on to a 21-17 lead when the play occurred. The Steelers were driving in Green Bay territory too. The Packers recovered the fumble and scored another TD, plus hung on to win the game.
What can you say about Woodson. Since his arrival in Green Bay, Woodson has 37 interceptions, nine of which were returned for TDs. Woodson also has averaged almost 85 tackles per season, plus has 10 sacks, forced 14 fumbles and also recovered one that he returned for an additional TD.
Woodson was also the 2009 NFL Defensive Player of the Year.
Thompson also signed LB Brandon Chillar in free agency in 2008. When healthy, Chillar was very effective, especially in pass coverage. Chillar played three years in Green Bay before being released before the 2011 season due to a shoulder injury.
Will Thompson pull the trigger on another key free agent in 2012? I think he might. He and Russ Ball are doing everything they can to add plenty of cap space to make a big move. Well, I mentioned the name Mario Williams in an article about seven weeks ago.
Then, a little over a week ago, I had an interesting conversation. I talked with Chris Landry of FOX Sports on the Steve Dueming show on 620 WDAE in Tampa. I started the conversation with Chris, asking him his assessments of Nick Perry, Whitney Mercilus and Vinny Curry regarding the 2012 NFL draft.
After Landry gave me his takes on the three college prospects, all of whom he likes, he talked about a free-agent possibility for the Packers without prompting from me. Landry said that Mario Williams of the Houston Texans would be a perfect fit for the Packers defensively—not as an OLB though, but as a DE.
The addition of someone like Williams would be akin to the signings of Woodson and DE Reggie White, who are the biggest free-agent signings in the history of the Packers, if not the entire NFL.
Williams has 53 sacks in his six-year career in Houston, plus has forced 11 fumbles. Williams missed 11 games in 2011 due to a torn pectoral muscle.
I know the odds of signing someone like Williams are slim, but the fact that someone as well connected as Landry would mention that scenario made me think about the possibility.
Time will tell.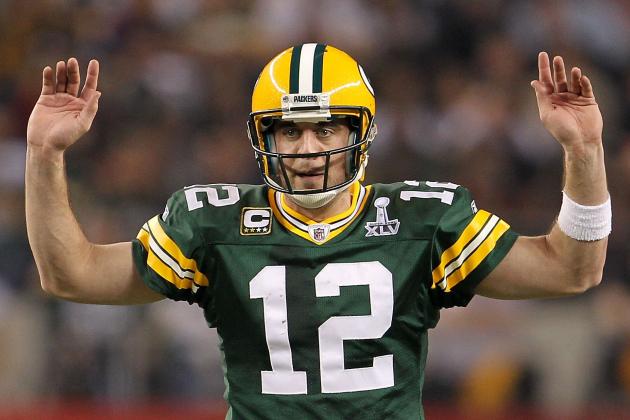 Jamie Squire/Getty Images

When the Packers opened the 2011 NFL season, the team had 32 out of 53 players on their roster who were drafted. The others were acquired by free agency, trade or waivers.
That means almost 60 percent of the Green Bay roster beginning the year in 2011 were players who were drafted. That is an outstanding figure in today's NFL. The key player being QB Aaron Rodgers—the first draft pick Ted Thompson ever made in 2005.
I see more of the same in 2012. When it's all said and done, I believe the Packers will have perhaps as many as 11 or 12 picks in the 2012 NFL draft, thanks to trades and compensatory picks, along with the seven picks the Packers already have.
I see Thompson being aggressive like he was in 2009 and trading up when he needs too, much like he did when he selected Clay Matthews with the 26th pick of the first round that year. That was after Thompson had already selected B.J. Raji with the ninth overall pick of the 1st round.
Thompson has built the Packers mostly through the draft. That will continue in 2012.