UFC 144 Results: What We Learned About Benson Henderson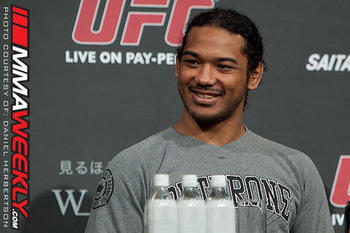 Benson Henderson/ Daniel Herbertson for MMAWeekly.com
In a "Fight of the Night" worthy performance, Benson Henderson became the UFC's new lightweight champion, outpointing Frankie Edgar in a close and contentious battle at the Saitama Super Arena in Japan
Henderson silenced his critics and detractors who deemed the WEC imports unworthy contenders in the UFC's talent-laden 155-pound class.
Now, after having turned in another memorable performance, here is what we've learned from the "Smooth" one.
Benson Henderson/ Daniel Herbertson for MMAWeekly.com
WEC Guys Can Hang with the Best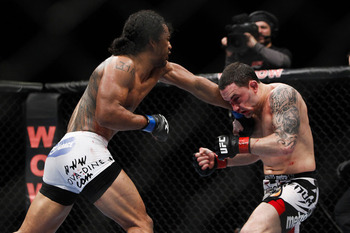 Henderson and Edgar (right)/ Esther Lin for MMAFighting.com
A former WEC lightweight champion, many pegged Henderson as a man who was all bits talented, but because of his stint in the "minor leagues," critics believed that the Arizona fighter simply couldn't hang with some of the division's best, especially in the UFC.
After suffering a decision loss to Anthony Pettis in December of 2010, Henderson had gone undefeated in the UFC, defeating the likes of Mark Bocek, Jim Miller and Clay Guida in succession before he met with Edgar this weekend.
In his battle with Edgar, Henderson fought for every inch of the fight, whether it was on the feet or on the ground, proving that he is more than worthy of his position as the top dog of the lightweight class.
Five Rounds Is Smooth for Henderson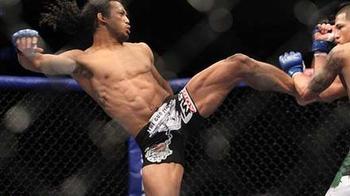 Henderson (left)/ Scott Petersen for MMAWeekly.com
Coveted as the spark plug of the lightweight division, Frankie Edgar found a man that can match his pace and then some.
Henderson was in Edgar's face for every minute of the fight and never wilted under the relentless pressure and movement from the champion, proving that his cardio is one of his biggest assets.
Henderson Will Be Around for a Long Time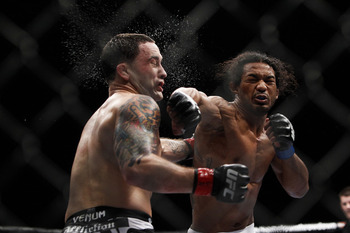 Henderson (right)/ Esther Lin for MMAFighting.com
After an unlikely and quick ascension through the lightweight ranks, in just four fights Henderson has become the UFC's new lightweight champion.
In dethroning a man of Edgar's caliber, who has twice-defeated the legendary BJ Penn and recently knocked out out rival Gray Maynard, Henderson has proven that he has the skills that will keep him atop the 155-pound class for a long time.
The division is stacked with notable opposition, and although a battle between Anthony Pettis and Henderson seems like a forgone conclusion, the litany of talent that remains will provide good tests for Henderson, who looks to be up to the challenge.
Keep Reading