Chelsea vs. Bolton: Frank Lampard and Michael Essien Must Play for Blues Success
February 26, 2012

Christopher Lee/Getty Images
Chelsea snapped their five-game winless streak Saturday with a 3-0 victory over Bolton at Stamford Bridge. However, it was not quite done the way Chelsea manager Andre Villas-Boas may have wished.
At this point in the season, Villas-Boas would have expected his revolution/evolution to have taken hold at the club, and would be competing for a league title with a quick indirect play of creativity and style. Instead, he was forced to resurrect the contentious dispositions of Frank Lampard and Didier Drogba to keep his team in the hunt for a fourth-place finish.
It is no secret now that what Villas-Boas is hoping to accomplish at Stamford Bridge will take more time than fans had hoped. The poor run of form the squad has had over the past few weeks has dropped them to the lowest point they have been since owner Roman Abramovich bought the club a decade ago.
The "pure footballing" game Villas-Boas imagined was not to come about this season, despite his best efforts.
On the contrary, his tactics and philosophy have created a schism within the clubhouse and amongst the fan base never so evident as it was today.
When Lampard's name was announced, a roar over took the Bridge that had not been heard this season. Whether it was in respect of the legend who finished the game with a goal and an assist or simply a sigh of relief that the routinely inept Raul Meireles would not be clogging up the midfield, it was sign of Villas-Boas' failure thus far.
Today's win over Bolton will probably not be one that springboards them to glory by the end of the season. It may only be a small consolation given the tough weeks they have ahead which will inevitably decide the boss's future.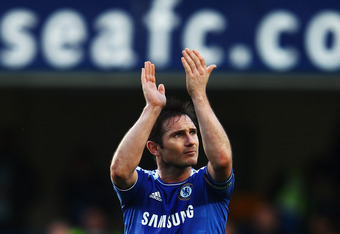 Clive Mason/Getty Images
But it did prove that any success Chelsea can hope to have this season will be with a veteran squad on the field playing their type of game.
What has really been the issue Chelsea has suffered from all season has been a lack of a definite starting 11. Whether it be due to injuries, international duty or simply Villas-Boas' selection, it would be impossible for any fan to accurately predict the starting squad for any given game.
Many would be able to predict the back line to some degree, as well as the forwards with good accuracy. However, the three players that will link them up in the middle has been nothing short of head-scratching.
Meireles has been a player to feature in the midfield often, but has also come under the most pressure and performed on a level you would expect of a reserve squadder.
Ramires has by far been the most consistent by far and is always a relief to see in the lineup.
Lampard's playing time has been spotty, but he still leads the team in goals.
Michael Essien, since his return from injury, has worked himself into a regular and seems to find his form more and more every game.
Oriol Romeu and Jon Obi Mikel have found time here and there and mostly performed well, but have fallen out of favor recently.
And Florent Malouda has seems to get the start at the oddest of times.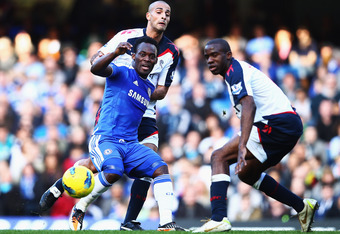 Clive Mason/Getty Images
Seven players for three spots—of course there are going to be problems, especially when there is no chemistry between half of them.
What we saw Saturday was Villas-Boas ceding to pressure of losing. He finally overcame his Portuguese bias and left Meireles out. He got over his odd love for Malouda and kept him on the bench. Romeu did not even dress and Mikel was there only for an emergency.
What we were left with was a midfield that we have been clamoring for all season, one that may not mimic the smooth free-flowing form of Barcelona, but can replicate their results.
Essien and Lampard both played their best games on Saturday because it was the first time they had started together all season. Finally the two Chelsea legends, who have arguably been the two best midfielders at their positions over the past decade, gave the appearance that indeed there still was some chemistry in the Chelsea center half.
The two moved the ball with ease as they were both well aware of the roles they were expected to perform and how if one went one way a near-telepathic connection, developed over years of being teammates, moved the other exactly where he needed to be.
It was sublime and nostalgic all at once—words Villas-Boas never imagined would describe his team's play.
But in the end, more than anything it was effective, and no one can argue with that.
The future of the likes of Lampard and Essien are uncertain—more so for the vice-captain, who admitted to soccernet.com expressing disagreements with the manager's philosophy over the past few weeks has strained their relationship:
I think, from the outside, you can probably see that it's not been ideal but the important thing is not to focus on individual relationships too much. It can only be negative and people do like to play on negatives.

I've been here a long time, I'm 33, I'm realistic. It doesn't mean I want to play every game but, if I sit on the bench, I want to see Chelsea win.

I'm sure we're all frustrated at the minute, everyone who's involved - especially people who have got Chelsea in their hearts, who have been here a long time and want to see us performing as we should do.
Some see these kind of back-handed comments and childhood mimicry of "I'm right and you're wrong" as being nothing but infectious to an increasingly uneasy clubhouse. For this some see Lampard's time at the Bridge up for the future sake of the club.
But for now he is a Chelsea player, and that is not going to change by the end of the season. So despite his comments being a bit malicious in tone, you cannot argue the fact that when he plays alongside teammates he knows and can play with, they win.
No matter what Villas-Boas plans for the future he must realize that that future is uncertain if he cannot produce results now. As much as it may pain him and some fans, the future of the club requires the sacrificing of his philosophy now.
Lampard and Essien must play.
Follow me on Twitter: @thecriterionman