5 Moves the Capitals Are Going to Execute Before Tomorrow's Deadline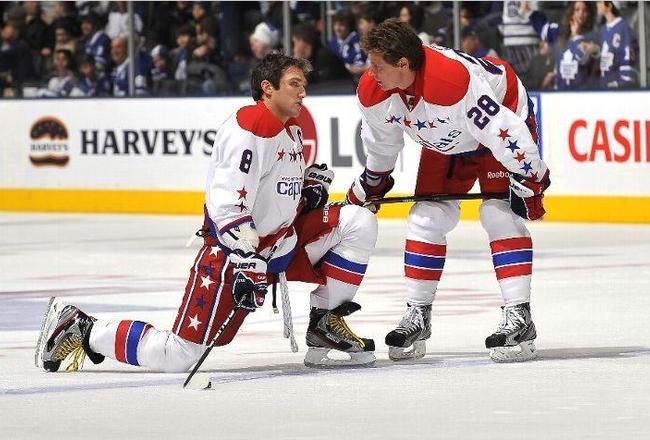 Sitting on the outside looking in, the Washington Capitals are currently one win away from not only entering the playoffs, but going from the ninth seed to the third seed.
With the Winnipeg Jets and Florida Panthers swapping positions, the Capitals are looking to make a few moves before Monday's trade deadline to ensure they capture a playoff position and aren't sent home early for the first time since 2007.
Sell: Mike Knuble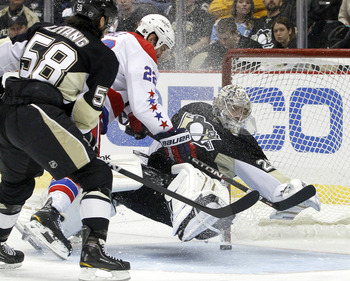 Justin K. Aller/Getty Images
Saturday's game against the Maple Leafs marked the fifth game in February Knuble was held out of the lineup.
Knuble has voiced his opinion on what should be done with him if he is not in the Capitals' plans for the future, including the upcoming postseason.
Sell: Roman Hamrlik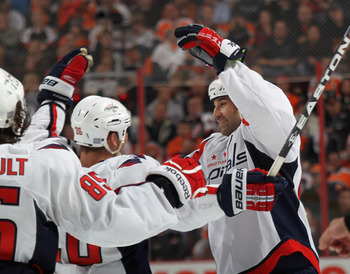 Bruce Bennett/Getty Images
Going into Monday's deadline day, Hamrlik will have been a healthy scratch for three games in a row.
Hamrlik recently had a falling out with Caps' bench boss Dale Hunter and has faced his wrath as a result.
Roman and his $3.5 million salary which includes a veteran 35-year-old clause, which the Caps are on the hook for for this year and next, will be shopped to anybody who is interested. St. Louis is rumored to be the most serious buyer for his services.
Name a No. 1 Goaltender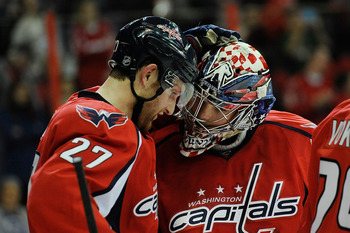 Patrick McDermott/Getty Images
Last year's starting goaltender Michal Neuvirth's stock has skyrocketed.
Free agent acquisition and de facto No. 1 net minder Tomas Vokoun's has plummeted.
The Caps' past two games on their Canadian road trip saw Neuvirth post dominating and convincing victories against the Toronto Maple Leafs and Montreal Canadiens. Neuvirth let in three goals in both games combined and made several brilliant saves to keep his team rolling.
Meanwhile, Vokoun's past two games saw get scored on a whopping 10 times by the Ottawa Senators and Carolina Hurricanes.
Last year Neuvirth was good enough to push the Capitals past the New York Rangers in the first round of the playoffs before succumbing to a sweep by the Tampa Bay Lightning. Neuvirth can hardly be blamed for the losses against Tampa, but one needs to take a long hard look at the future of this franchise and decide if they truly believe Neuvirth can go on to win future series for Washington.
Sign or Sell: Alexander Semin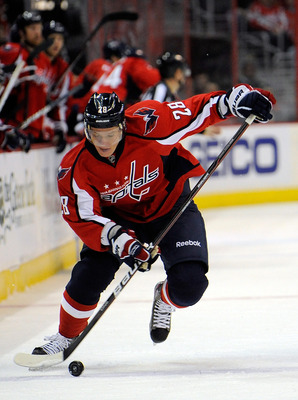 Patrick McDermott/Getty Images
This season seems like the last for Alexander Semin in Washington.
Getting paid a whopping $6.7 million to score less than 20 goals is not what the Capitals had in mind when they re-upped Semin to another one-year deal last season.
Since Semin would be a rental player it is unlikely that anyone but a contender would be interested in his services. Even at that point, if Washington does find a suitor for the enigmatic Russian, they will want to send him out West.
The most plausible things for the Caps to do is trade Semin for another roster player or two.
If Semin is not re-signed to a long-term deal before or on Monday, this season will surely mark the last time we see him in a Caps uniform.
Buy: A Top 6 Center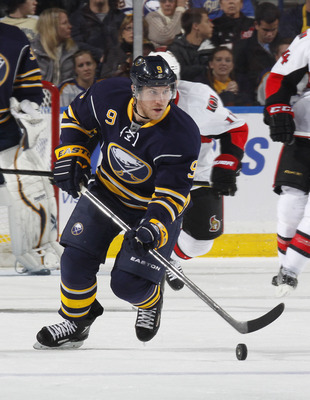 Dave Sandford/Getty Images
So many options, not so many sellers.
With top center Nicklas Backstrom's return questionable for the regular season, Washington will acquire another center to take his place on the top line with Alexander Ovechkin.
Derek Roy (pictured above) is the most attractive option for Washington. Although his price tag will be hefty, Roy is a gifted center who has been on a tear lately.
Roy currently has an extra year left on his contract, but comes at an affordable $4 million per. The Buffalo Sabres, who have collapsed under their huge expectations will look to unload some salary after an extremely disappointing season.
Western teams currently out of contention include the Columbus Blue Jackets and Edmonton Oilers, who have reportedly dangled Derick Brassard and Sam Gagner respectively. Unfortunately for deadline buyers, Brassard might be coming off the table sooner than later with the trade of Jeff Carter to Los Angeles.
With so many bubble teams the Capitals will have a hard time finding Backstrom's replacement.
Keep Reading

Washington Capitals: Like this team?