UFC 144 Results: Does Jake Shields Need to Change His Style?
February 26, 2012

Jake Shields got the win over Yoshihiro Akiyama at UFC 144, but he was lucky that the judges gave him the decision and that his opponent couldn't stop his game plan.
That is because Shields is something that can be dangerous in the cage.
He is predictable.
For the first two rounds, Akiyama was able to stop his takedowns and measured well against his striking. While Shields ability on his feet had evolved since his embarrassing debacle with welterweight champion Georges St-Pierre, he still has leaps and bounds to go before he can consider it a viable plan B.
Shields went for the same strategy he always has, which is to take his opponent down and pressure them. The fact that it hasn't changed over the years meant that Akiyama was prepared and able to nullify the takedowns.
Shields needs to learn to switch up his attacks because opponents are getting wise to his takedown attempts. He may not be a young fighter at 33, but he does need to be willing to learn new tricks and skills if he wants to improve his record and have a second shot at the title.
It would also improve his standing with the fans.
Shields is a fighter who, for most of his career, was victorious but, much like Jon Fitch, didn't endear himself to viewers. He got the win, and he did it in a way that put him in as little risk as possible.
It has boxed him in, making him not only a less-than-exciting fighter, but one that opponents can easily prepare for.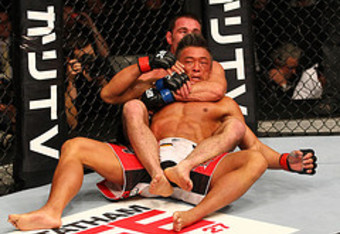 Akiyama knew that Shields was going to try and take the fight to the ground and that is why the first two rounds were so close. Shields finally started scoring with his attempts in the third, but by then the judges might have given the first two rounds to Akiyama.
They didn't though, and Shields should take the close scare of almost losing three fights in a row to evolve his game.
Because, if he doesn't, he is going to find his opponents stopping him from going to the ground. Then they will punish him on his feet.
And there won't be anything Shields can do about it.