NBA Slam Dunk Contest 2012: Why It Showed a Misunderstanding of Creativity
February 26, 2012

Mike Ehrmann/Getty Images
Recent NBA Slam Dunk Contest participants have taken the thought of being creative with a dunk to a level of shenanigans and horseplay.
There is a huge misunderstanding as to what is meant by a "creative dunk." The year 2012 was again filled with misunderstanding of the word.
Creative was when Vince Carter put half of his arm in the rim. That was the first anyone had ever seen such a thing. Or when J.R. Rider took the ball through his legs for the first time.
The props have taken away from the wow factor.
It has become a show, almost as if you were watching a fixed episode of World Wrestling Entertainment. The focus has shifted away from the art of dunking towards the art of entertainment. 
Many analysts, critics and fans are going back and forth about what it takes to fix the contest. All it comes down to is simplifying the system: Remove props.
Props distract the fans and judges from what is important, which is the quality of the dunk. Blake Griffin's dunk does not look that special without a car there. In actuality he does that dunk all the time.
Paul George's Glow-In-the-Dark Dunk looks a lot different with the lights still on. However, the difficulty is the same.
Would we really be impressed with Chase Budinger's dunk and Jeremy Evans' dunk if they had jumped over people of the same height that were not celebrities ?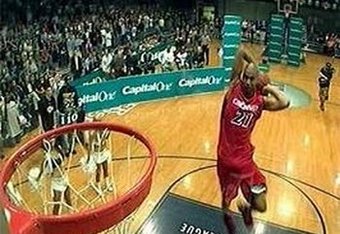 The three main factors that should go into an impressive dunk are elevation, difficulty of dunk and power of dunk. Props just glorify a dunk, making it prettier. They don't necessarily make it harder.
Make it simple again and the NBA Slam Dunk Contest will return to prominence.
The last amazing dunk contest I was a witness to was the 2006 NCAA slam dunk contest, where James White jumped from behind the free-throw line to throw it down with TWO hands, not one.
Following that was Rodney Carney jumping from just past the free-throw line and putting the ball between his legs. There will be someone who will come to the NBA and find a new way to put the ball through the hoop without needing a fancy bike/car or celebrity to make themselves look more impressive.
The art of dunking is beautiful because it is graceful and powerful at the same time. When the dunk contest started to become about flash, it began to decline. Players stopped trying to be creative and just focused on what shiny object they could jump over next.
My favorite dunk of the night was Derrick Williams' 360-degree dunk off of the lob from the side of the backboard.
Simple is better.