Toronto Maple Leafs: Where Did GM Brian Burke Go Wrong?
March 2, 2012

Bruce Bennett/Getty Images
The Toronto Maple Leafs are a team with an identity crisis on their hands, and fans have only one person to blame for that: Brian Burke.
When Burke took over as President and GM in Toronto, he promised "proper levels of pugnacity, testosterone, truculence and belligerence."
"Our teams play a North American game," Burke said during his introductory press conference in Toronto on Nov. 29, 2008. "We're throwbacks. It's black-and-blue hockey. It's going to be more physical hockey here than people are used to."
Sounds great, right?
Just one problem—the Leafs are anything but the Broad Street Bullies of 1970s Philadelphia.
So, where did it all go wrong? What caused Burke to deviate so far from his original plan?
The answer: A change in philosophy.
Take fighter Colton Orr, for example.
When Burke chose to send Orr to the minors, he justified the decision by claiming that one-dimensional players no longer have a role to play in the NHL. The league's current brand of hockey apparently demands agile players who boast speed and skill above all else.  
Good on Burke for recognizing evolution within the NHL and for building what has been, at times, the fastest team in the league.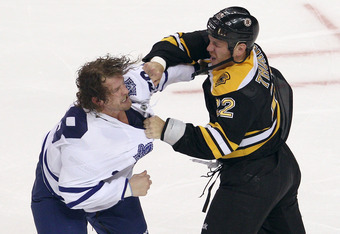 Elsa/Getty Images
However, not all players fit the new mould, and therein lies the problem.
If Orr got the boot because he was one-dimensional, why do others still remain?
Tim Connolly, Colby Armstrong and Mike Komisarek are neither agile nor fast—two qualities that seem to be Burke's latest prerequisites for all Toronto players.
I could list more Leafs who don't fit the fill, but you get the idea.
In fairness to Burke, it is difficult to argue against the building blocks that are currently going up. Toronto is the second-youngest team in the NHL, and has a plethora of talented prospects that seem poised to assume full-time duties with the big club.
The future is bright to say the least.
However, Toronto's GM promised a quick turnaround when he took the job, and his impatience got the better of him.
Rather than wait for players to develop within the organization, Burke turned to the free-agent market in an attempt to fast-track his team towards success, and signed some horrid contracts as a result.
Granted, critics have the advantage of hindsight, but signing slow players to play on a fast team is a recipe for disaster in any city—and unfortunately for Toronto fans, this is exactly what Burke has done.
Connolly, Armstrong and Komisarek do not have the ability to play the uptempo style of play that is necessary for the Leafs to play in order to be a successful team on a consistent basis.
Again, these are just a few examples. But can the players be blamed, or were they poorly picked by the impulsive actions of a GM?
For a few simple reasons, I argue the latter.
Since his tenure began, Burke has embraced not one, but two different philosophical approaches to team building.
He has brought in a variety of players, each with his own unique skill-set. But if the last 11 games are any indication, there are certain players that just don't fit.
In the future, perhaps Leafs management should pick one formula and stick with it.
If Burke wants a big and tough team, then he should avoid small and weak players—and if he wants a fast and agile team, then he should avoid slow and lethargic players.  
Until the principles of careful player selection are fully embraced, Toronto's team will remain in a state of constant flux, and Leafs Nation will continue to suffer with little relief in sight.
Follow Matt Wiseman on Twitter for up-to-date NHL news and analysis.