Hitmen: The NHL's Toughest Enforcers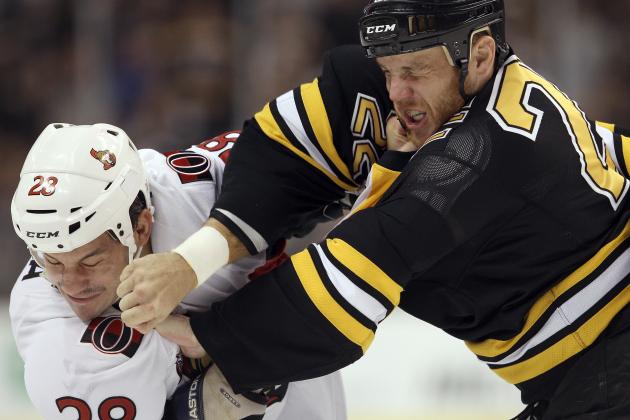 Elsa/Getty Images

There aren't as many enforcers in the NHL as there used to be, but the ones who excel in this role are always going to be coveted by teams looking to add some toughness to their roster.
These tough guys fill many roles for teams, some of which include being bodyguards for the more skilled players, responding to the opposition after a dirty play, and drawing penalties.
Even though the role of the enforcer has lessened since the lockout, hockey still has many of these physical guys who play an important part of each game.
Let's look at the 10 best enforcers in the NHL.
Begin Slideshow

»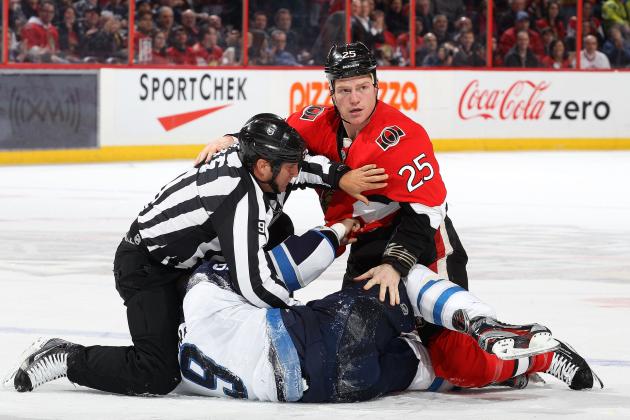 Jana Chytilova/Freestyle Photo/Getty Images

Chris Neil of the Ottawa Senators is one of the toughest players in the NHL and is always willing to go after an opponent who hits one of his teammates in a dirty way.
Neil is also one of the best fighters in hockey, and since the 2003-04 season he has fought 85 times, which is an average of 11.875 times per season.
Neil is one player that you certainly don't want to mess with on the ice.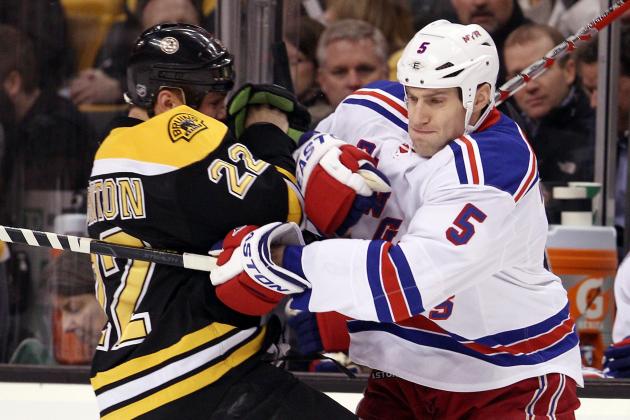 Elsa/Getty Images

Shawn Thornton is one of the most effective fourth-line players in the NHL and is always willing to stick up for his teammates.
Thornton often gives the Boston Bruins an emotional boost by fighting the opponent's best enforcer when the team lacks the proper amount of energy. He's second in the league in fights with 16, one behind league leader Zenon Konopka.
The Bruins' enforcer also does a tremendous job of walking the fine line between being physical but not playing too rough so that he takes penalties.
Thornton is also a capable offensive player, and has 30 points since the start of last year.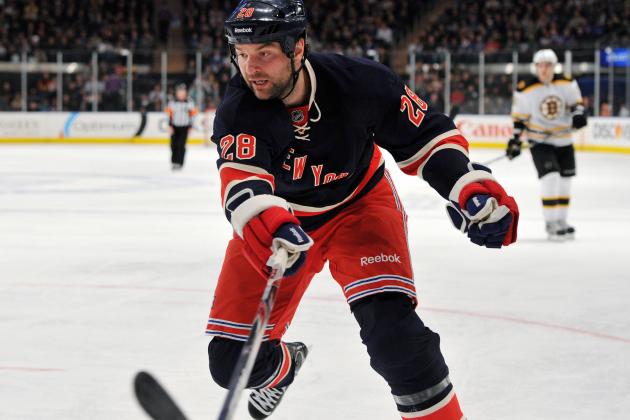 Christopher Pasatieri/Getty Images

John Scott is 6'8", 270 pounds and is not afraid to use his amazing size to set a physical tone for New York Rangers.
The Rangers did not make many moves before the NHL trade deadline, but they did acquire Scott from the Chicago Blackhawks for a fifth round pick.
Scott's physical presence will help the Rangers in the playoffs against some big, strong teams like the Boston Bruins and Philadelphia Flyers. Scott isn't afraid to fight anyone and always sticks up for his teammates.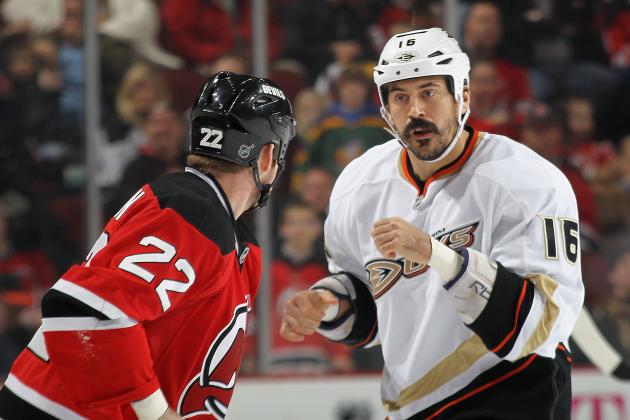 Bruce Bennett/Getty Images

Anaheim Ducks forward George Parros not only has the best mustache in hockey, he's one of the toughest enforcers as well.
At 6'5", 250 pounds, Parros is a huge force who isn't afraid to fight the other team's best enforcer to energize his teammates and get the crowd into the game.
Parros had an astounding 27 fighting majors last season, which led the league, and has nine of them this year.
Despite all the strength and toughness, Parros is also one of the smartest players in the NHL, and is a graduate of the Ivy League school Princeton.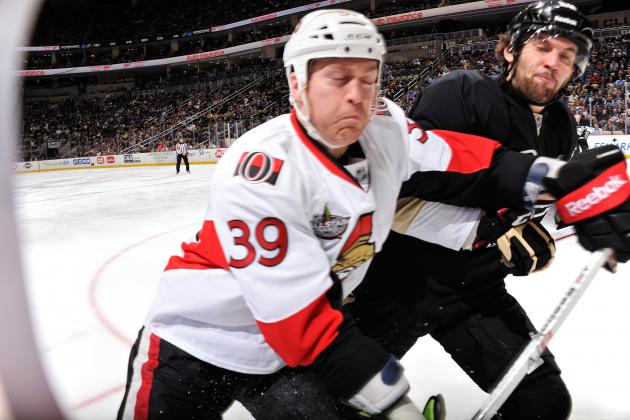 Jamie Sabau/Getty Images

Ottawa Senators enforcer Matt Carkner is a heavyweight tough guy and isn't afraid to mix it up with the best fighters in the NHL to stand up for his teammates.
Not only does Carkner challenge the league's toughest players, he usually defeats them when they fight.
If you take an illegal shot at one of the Senators' top forwards, then expect to see Carkner come after you on your next shift.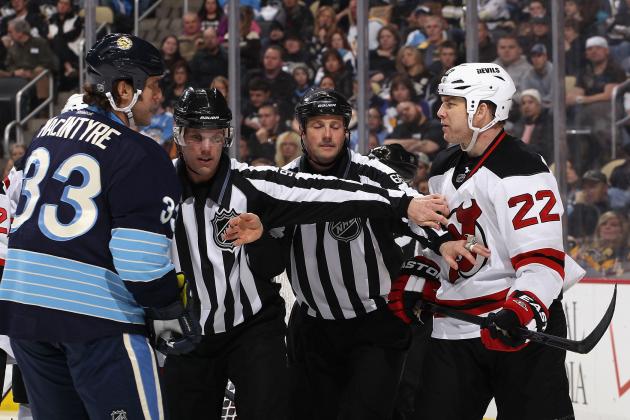 Christian Petersen/Getty Images

He's only played in 11 games this season, but Pittsburgh Penguins forward Steve MacIntyre is one of the league's best enforcers.
MacIntyre has protected Penguins stars such as Sidney Crosby and Evgeni Malkin, and won't back down from a fight if challenged.
At 6'5" and 250 pounds, MacIntyre has the size and strength that opposing players don't want to mess with.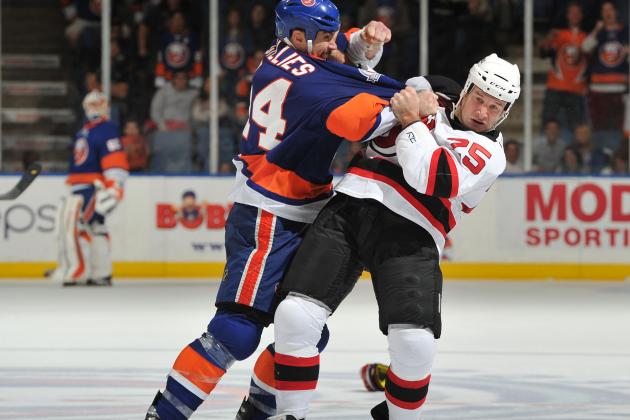 Christopher Pasatieri/Getty Images

Trevor Gillies did not have an easy road to the NHL, but when he arrived, he quickly let the league know that he was going to throw his size and strength around. His fighting skills are also very good.
Gillies is one of the most dedicated enforcers and always has his teammates' backs. If you go after one of the better New York Islanders players, Gillies will come after you.
He's been suspended and fined before in his NHL career, but that doesn't stop Gillies from fulfilling his role as the Islanders' top enforcer.
Some people think he's a dirty player, but there's no questioning that Gillies is one of the toughest enforcers in hockey.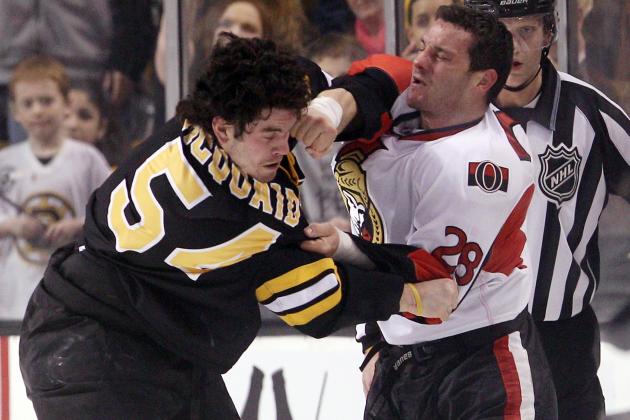 Elsa/Getty Images

Zenon Konopka is an NHL heavyweight and one of the top enforcers in hockey. He won't back down from a fight against anyone, and he usually wins his bouts no matter the opponent. Konopka has beaten several of the top enforcers in his career, including Boston Bruins tough guy Shawn Thornton.
The Senators have a lot of tough guys, but Konopka is one of the few that has some real value on the ice outside of being an enforcer since he's a good faceoff man.
Konopka leads the NHL with 17 fights this season, 11 of which have come on the road.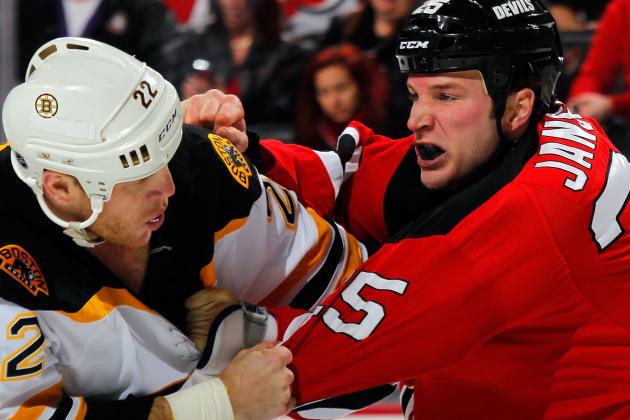 Paul Bereswill/Getty Images

Cam Janssen is one of the better fighters in the NHL and if you agree to battle him, be prepared for a long bout. Janssen has tremendous stamina and is able to withstand a ton of punches while still finding the strength to throw some effective ones of his own.
Janssen is very good about sticking up for his teammates and does a fine job of protecting New Jersey Devils forwards Zach Parise and Ilya Kovalchuk.
Janssen is a tough customer and fills the enforcer role very well for the Devils, who are playing some great hockey in the month of February.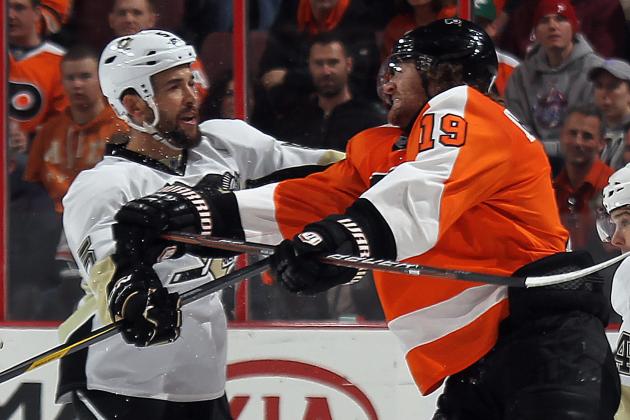 Bruce Bennett/Getty Images

Deryk Engelland quickly earned respect for himself when he was not afraid to challenge heavyweights as a rookie and since then has become one of hockey's top enforcers.
Engelland is a fantastic fighter despite not being the biggest of enforcers, and he is always willing to stick up for teammates and make sure no illegal hit goes unpunished.
While playing the enforcer role well for the Penguins, Engelland is also not a liability on the blueline since he excels defensively in his own zone.