New Jersey Devils Rescue Marek Zidlicky from Wild, Hope for Defensive Scoring
February 26, 2012

Jeff Gross/Getty Images
Marek Zidlicky made it well known of his displeasure working with Minnesota Wild head coach Mike Yeo.
Unhappy with the youth movement and lack of a significant role, Zidlicky eagerly waived his no-trade clause and made it known to GM Chuck Fletcher that the team he wanted to be moved to was the New Jersey Devils.
Zidlicky and his agent, Larry Kelly, were very crafty here and saw that the blue-liner fit exactly what the Devils needed; a puck moving, slick-skating backliner who can shoot the puck, jump in the play and quarterback the power play.
Zidlicky replaces Kurtis Foster, who returns to Minnesota, providing the right-handed shot to compliment Kovalchuck on the power play point. Expect a heavy dose of one-timers from these two. 
Zidlicky will instantly step into a top-four role for Pete Deboer's club, playing first line power play and adding much desired depth to the Devils defense that has been hit by the injury bug for what seems like the entire season.
Zid's capable heavy workload will have a positive trickle-down effect on the rest of the D-men, particularly will lesson the burden on rookie Adam Larsson.
When analyzing this trade, you must realize that these are not your old trapping defense-first Devils. Make no mistake, this team is built around their excellent collection of skilled forwards.
Therefore, it is vital the Devils have capable puck-moving D-men who can get the puck up to the forwards and join in on the rush. Something the Devils have severely lacked since the glory days of Brian Rafalski and Scott Neidermayer.
Now it's unrealistic to expect Zidlicky, who will wear No. 2 for his new club, to be Rafalski, however, he does possess a similar skill set. Along with Andy Greene and rookie Adam Larsson, Zidlicky will now provide a puck-moving backliner on each pairing, if Coach Deboer chooses to go that route.
Critics of this deal will say at age 35 and with no goals on the season, how much does he really have left in the tank? Not to mention Zidlicky has a steep $4 million cap hit next season.
To those critics I say a change of scenery and high expectations in a playoff race will bring out the best in Zidlicky. The Devils, with Brodeur on what could be his last run and the uncertainty surrounding their captain's future, are a win-now team.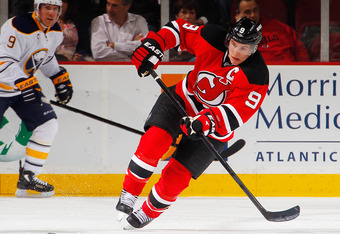 Paul Bereswill/Getty Images
The cap hit will be addressed in the offseason and one would be delusional to think Lou Lamoriello would make this move if this would in any way negatively impact Zach Parise being signed long-term.
The Devils' most glaring need going into the trade deadline was an offensive puck-moving defenseman. Lamoriello has filled that need by adding Zidlicky to aid the Devils towards a successful playoff run.