New England Patriots Position by Position Offseason Preview: Linebackers
February 26, 2012

Elsa/Getty Images
How can a team replace half of their sacks from the previous year? In the worst case scenario, that might be what the New England Patriots will have to do.
New England's top pass-rushers, DEs Andre Carter and Mark Anderson, had 10 sacks apiece. That's 20 sacks combined, exactly half the sacks the Patriots had as a team.
They are also free agents, making the productive duo very appealing to other teams.
Another complication could be the defensive alignment. Over the years head coach Bill Belichick preferred a 3-4 defense over a 4-3. Carter, who already said he would like to return, strongly prefers playing in a 4-3. Anderson said the alignment doesn't matter to him.
If Belichick goes back to a 3-4 defense, will that turn Carter off from returning? Carter asked and was given his release from Washington because he didn't feel comfortable playing linebacker in the Redskins' 3-4. Would he feel the same way about New England's odd front?
Belichick would hate to lose the 11-year veteran. Carter is a four down performer, able to defend the run and rush the passer. Belichick always desires versatile players who don't have to leave the field.
What works in the Patriots' favor is the defense's flexibility to play either front. That would allow Carter to play like a defensive end/linebacker hybrid. It could be the compromise that satisfies the player and the defense.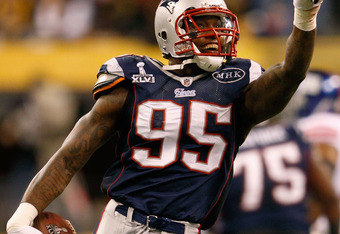 Rob Carr/Getty Images
Without Carter and Anderson, New England will have a tough time getting to the quarterback. Rob Ninkovich is a solid all-around OLB, but isn't a game-changer as a pass-rusher. Jermaine Cunningham has been a disappointment in two years and might be facing his last shot.
The remaining OLBs haven't even made a name for themselves.
New England almost never spends big money on another team's free agents. But they did twice for OLBs: Rosevelt Colvin in 2003 and Adalius Thomas in 2007. It's enough history for analysts to suggest the Patriots would go after Houston's Mario Williams.
A player that could be of interest is Baltimore's Jarret Johnson. He's an underrated player overshadowed by Terrell Suggs, but Johnson is a solid, selfless, all-around 'backer that would buy into the Patriot Way from day one.
How free agency goes will determine New England's urgency in the draft.
Belichick never drafted an OLB in the first round. With depth available, Belichick might wait until the second round to draft one. That could mean trading out of the first for a selection early in the second.
New England might have to settle for either Carter or Anderson. Anderson is more appealing to the rest of the league because he's four years younger. But he would be an easier loss because Anderson was a situational pass-rusher, even after Carter was lost for the season.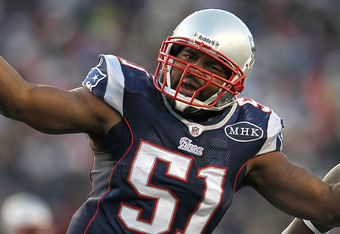 Jim Rogash/Getty Images
The Patriots can afford to dedicate so much attention to outside linebacker because they are set inside. New England has no worries with Jerod Mayo and Brandon Spikes manning the middle. While they each have their strengths (Mayo a sideline to sideline playmaker, Spikes a thumping run defender), there isn't anything they can't do.
Where New England gets into trouble is the depth behind the starters. Gary Guyton fell out of favor by season's end. Dane Fletcher shows flashes, but is over-aggressive, sometimes leading to missed tackles. By the end of the year, special teams player Tracy White was the top reserve on passing downs.
White got the job done, but there's room for improvement at the position. There are enough in-house candidates to develop so the Patriots don't have to look outside for help.
Questions? Comments? Send to talktome@randolphc.com.