Big East Showdown: Syracuse Orange vs. Connecticut Huskies Live Blog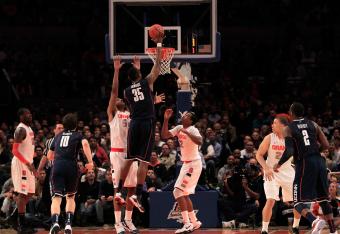 Chris Trotman/Getty Images
I'll be here providing in-game updates and analysis throughout the game, so tune in at 9 p.m. Tweet your questions @dioselev or leave a comment below.
Goats of the Game:
Connecticut's bench - Despite 9 shot attempts split between 4 players, the Huskies bench couldn't contribute a single point. The starters played well, but when you're facing a team with as much depth as Syracuse you need contributions from everyone.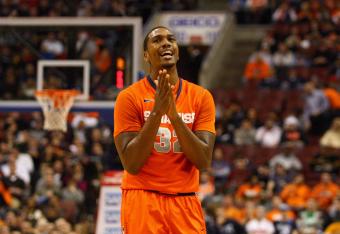 Players of the Game:
Kris Joseph, F, Syracuse - Joseph led all scorers with 21 points and was a stud down the stretch, hitting shots when the Orange offense was in a funk. The senior also chipped in 7 rebounds and 2 steals.
Andre Drummond, C, Connecticut - The freshman center had perhaps the biggest game of his career tonight, dominating the paint to the tune of 17 points, 14 rebounds (7 offensive) and 3 blocks. Drummond outplayed Fab Melo and kept the Huskies in the game.
Fab Melo, C, Syracuse - Drummond may have got the better of him, but that shouldn't take away from what Melo did for his team. He scored 11 points on 5-6 shooting and also grabbed a team-high 9 rebounds with 3 blocks. It was a complete game for the sophomore against his toughest competition of the season.
Post-game reactions and analysis in a few.
WOWWWWW!! Game-saving block by Fair on top of absolutely suffocating defense for the Orange. Syracuse walks away with the win, 71-69
That Fair shot may have gone down without Melo's help, but better safe than sorry. Also, incredible block by Waiters on that last play to take away the three. Let's see what the Huskies do here.
Melo with the slam! Connecticut to take the final shot with 13 seconds left. Timeout Huskies. Syracuse 71-69.
Connecticut ties it again with 47 seconds left! This one's going down to the wire
The Orange have an uncanny ability to turn it on late in games. But they still don't have an answer for Drummond, who now has 15 points, 13 rebounds and 3 blocks. 69-67 with a minute to go.
The Orange trio of guards (Triche, Jardine, Waiters) is a combined 0-for-8 from three despite 21 total points. Syracuse as a team is shooting just 25 percent from deep. Connecticut's not much better at 31.6 percent.
Smooth move by Joseph to get the lead back. He's ready to put the team on his back, but something's bothering him. 67-63 Syracuse
Looked like goaltending but OK. Guess the Orange really have to earn this one. Tie game with 4 minutes left.
The Orange lead has shrunk to 4. A little over 5 minutes left and Connecticut gets the ball back after another Syracuse turnover. This is getting ugly.
Does Boeheim have like a remote control for Jardine and he just flips the switch when the game gets close? This is getting spooky.
How difficult is it to box out? All the Syracuse players do is watch the ball and pray that it bounces in their direction. That's not how rebounding works! They teach this stuff in high school, don't they?
Btw, Syracuse rebounding edge just 34-31 now. It was 21-13 at the half.
Melo takes a charge and the Orange will have the ball and an 8 point lead. Syracuse is struggling on offense but the defense is holding for the time being.
Melo playing much better in the second half. Strong on defense and grabbing boards on both ends. Does have 3 fouls though so he has to be careful. 61-53 with 8 minutes left.
MONSTER block by Melo leads to a Syracuse fast break and two points for Jardine. Lead back to 11.
Napier telegraphed that pass right to the Orange defense. Joseph at the line. 57-49 with 11 minutes left.
Also, Keita may be the worst offensive player in Syracuse history. He couldn't convert a six-inch shot from right under the basket, and I wasn't even slightly surprised.
Incredible series of plays by Drummond and then Lamb, both of whom are future lottery picks. The lead is down to 8 and the Orange are struggling to get anything going on offense. The rebounding gap has closed to 30-25 as Drummond has already collected 12 so far.
Waiters on the floor after a hard fall on his dunk attempt. But he hits both free throws to stretch the lead back to 10. 56-45 with 12 minutes left.
Drummond is up to 9 and 9 and absolutely dominating in the pain. Meanwhile, Boatright hits his fourth three. The Orange lead is down to 9 with 14 minutes to go. We might have a game here.
On the other hand, Melo has not looked very good on defense. Drummond has jumped over him for easy scores three times now. That should never happen to a 7-footer.
6 points, 6 rebounds for Melo. 7 points, 7 rebounds for Drummond.
Melo with a nice jumper to bring the Orange to 50. It's not a shot he looks for very often, but he's got pretty decent range. He's also an above average free throw shooter, adding to the reasons of why he could be a potential lottery pick.
Connecticut looks completely hopeless right now. I hope the selection committee is watching because this is not a Tournament team. Then again, they came out of nowhere to win the national championship last year so who knows.
This article is
What is the duplicate article?
Why is this article offensive?
Where is this article plagiarized from?
Why is this article poorly edited?

Syracuse Basketball: Like this team?