6 Bold Predictions for Tonight's Skills Competition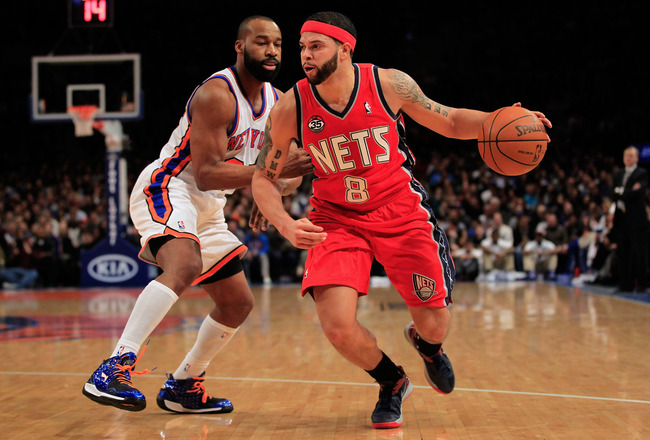 Chris Trotman/Getty Images
Tonight, six of the best point guards in the game will be facing off in the 2012 Taco Bell Skills Challenge.
Of all the contests that are featured on Saturday night, this one might not get the most attention, but it does get the most stars.
In fact, you can make a solid argument that if you were to put all the players in all the contests together, six of the seven biggest stars who will be competing in the various challenges on Saturday night will be in this one contest.
The Skills Challenge is a timed contest. Contestants dribble through three obstacles, then they are required to pass a chest pass into a net, a bounce pass into a net, make a 20-foot jump shot, complete another long pass into a net, move between two more obstacles and complete a layup.
Whoever does it in the fastest time is the winner of the contest.
Following are this year's contestants and the order I'm projecting them to finish, along with their finishing times.
Tony Parker, 36.18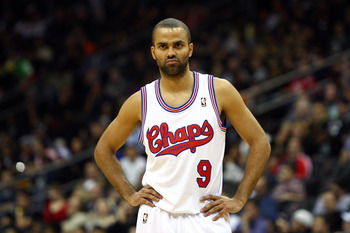 Chris Chambers/Getty Images
Tony Parker is an elite point guard.
In many ways, I believe he is one of the most underrated players in the NBA. He's fast, but he's not elite fast, like John Wall or Derrick Rose. He's crisp, but he's not Chris Paul crisp.
The problem Parker has is his brilliance is so much between his ears. It's not making great passes, it's making right passes.
His talents and abilities aren't well translated in this contest, and I expect him to have the worst time of the first round.
John Wall, 35.33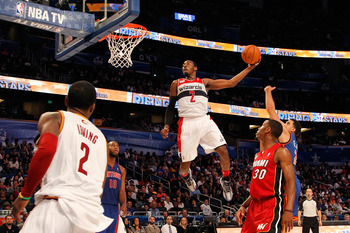 Mike Ehrmann/Getty Images
John Wall is a fantastic young talent, but he doesn't have a lot of maturity.
What I see happening with Wall is trying to rush through it. His edge is speed, but he'll get bogged down at one of the passing or shooting obstacles.
That's going to slow him down. Apart form one hitch, he'll do great, but that one hitch will be enough to keep him form the second round.
Kyrie Irving, 33.61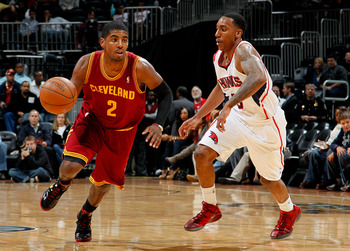 Kevin C. Cox/Getty Images
Kyrie Irving actually has a chance to win this, but I don't think he will. I do think he'll have a very efficient time though.
I expect him to methodically go through the course quickly but not rushing. He won't be perfect.
There'll be a second pass or shot somewhere which will be enough to keep him out, but he'll win the contest between he and Wall, which is a victory in and of itself.
Deron Williams, 31.21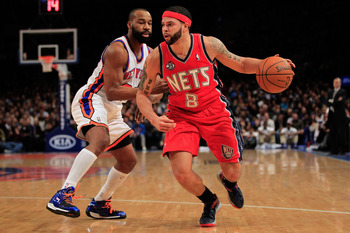 Chris Trotman/Getty Images
Deron Williams is the course record holder. This will be the third time that he is in the contest. The last time was 2010.
Williams certainly has the skills to win this, but I'm not sure he's really going to want to win it. I mean, he might want to, but not want to.
He'll represent himself well and complete the course effectively and efficiently, but I don't think he'll push himself, and that's going to just barely cost him the second round.
Rajon Rondo, 26.17, 38.47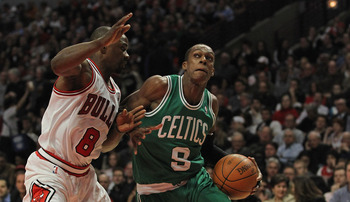 Jonathan Daniel/Getty Images
Rajon Rondo will have an absolutely brilliant first round and complete one of the fastest rounds in the history of the course. Then he'll have a total disaster in the second round as he clanks balls off the front of the rim from 20 feet away.
For Rondo, the one thing that he's not arguably the best at in the contest is the shooting part, and the first time, he'll just get the ball to fall on the first shot, and as a result, he'll be a very effective.
The second time, he won't get so lucky though, and the more he presses, the worst it'll get.
Russell Westbrook, 29.45, 27.23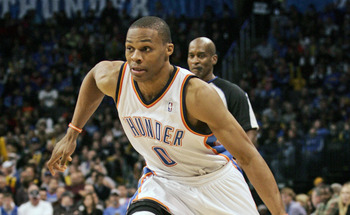 Brett Deering/Getty Images
This is Westbrook's third foray into the contest.
The first time, he finished last. The second time, he finished second. This time, he'll finish first. Look for Westbrook to be effective and move smoothly through the course in both rounds.
In part, his great second-round time will be the reason that Rondo presses, and ultimately, fails in the second round.
Westbrook will be the winner of the 2012 Taco Bell Skills Challenge.
Keep Reading