WWE Fantasy: No Way Out 2/19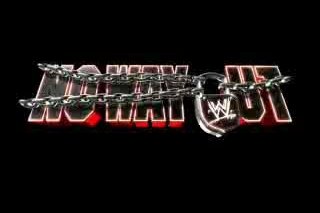 Image Courtesy of: wwesmackdownvideo.com
This is Fantasy No Way Out brought to you by me and the new co-GM of SmackDown Raffaele Spano, who wrote up a few of the matches for tonight and will be helping out from now on.
For those who haven't, check out this week's SmackDown here.
Now, onto the night, which will be main-evented by a monstrous WWE Championship Elimination Chamber match where the winner will go on to face Daniel Bryan at WrestleMania XXVIII.
The pay-per-view card:
Cody Rhodes (c) vs. Matt Striker: Intercontinental Championship match
Air Boom (c) vs. Los Maestros: WWE Tag Team Championship match
Christian (c) vs. Zack Ryder: Cruiserweight Championship match
Death Rey vs. Gail Kim
Daniel Bryan vs. Dean Ambrose
CM Punk (c) vs. Dolph Ziggler vs. the Miz vs. Jeff Hardy vs. Curt Hawkins vs. Tyler Reks: WWE Championship match inside the Elimination Chamber
The intro rolls, then we see the normal PPV promo intro video with the music of This Mean War by Nickelback.
Begin Slideshow

»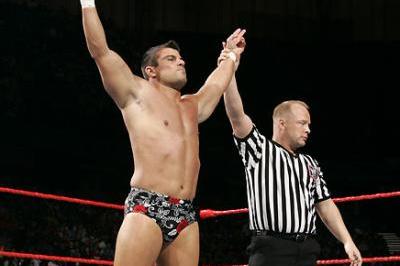 Image Courtesy of: catch-wwe08.skyrock.com
Matt Striker makes his way to the ring to a decent pop, as expected. He makes his way down to the ring as Josh Matthews greets us and mentions that he will be alone on commentary for this match.
Cody Rhodes is greeted with a chorus of boos. He makes his way down to the ring with a cocky grin, and he shows off his Intercontinental Championship before giving it to the referee.
The two stare each other down before they tie up. Matt Striker arm drags Rhodes not once but twice, and Rhodes slides out of the ring. Frustrated, Rhodes paces around the ring for a short while and uses the steps to get back into the ring.
Rhodes charges at Striker who drop toe holds Rhodes and slaps him in the back of the head. Striker lets Rhodes up, and Rhodes uses a thumb to the eye. Striker stumbles back into the ropes and Rhodes follows up only to be thrown over the top rope. Rhodes seething on the outside, kicks the steel steps. He gains composure and slides back into the ring.
Matthews: "I can't believe that my colleague at the announcer table is out-wrestling the current Intercontinental Champion. Wow, what great wrestling by a man who has hardly been in the ring for the past several years."
They go to tie up and Rhodes kicks Striker's knee, dropping Striker. Rhodes grabs a firm hold of Striker's leg and lays a few more boots to it and drops an elbow onto the knee. Rhodes will not let go of Striker's leg. He drags Striker over to the corner, slides out of the ring, and smashes Striker's leg into the ring post. Striker who is now writhing in agony tries to crawl away from Rhodes.
Menacingly, Rhodes slides into the ring smiling from ear to ear. Rhodes snaps a suplex and follows up with a quick pinfall. 1...2 – Striker kicks out. Rhodes pick up Striker and Irish whips him into the turnbuckle hard enough for Striker to bounce off and Rhodes follows up with the bulldog.
Another pinfall by Rhodes gets another near fall. Rhodes helps Striker up to his feet and Irish whips Striker into the ropes and hits a hard dropkick. Striker seems to be bleeding from the mouth after the dropkick. Rhodes turns his back to Striker who's crawling over to the ropes to rev up the crowd.
He turns his attention back to Striker who is now up to his feet. He quickly moves over to Striker who welcomes him with a right hand, followed by another one but Rhodes ducks under and picks up Striker in the Alabama Slam position. Striker slides down and now has the pin on Rhodes. 1…2- Rhodes kicks out. The fans are coming alive again and getting behind Striker.
Matthews: "I really want to hear this crowd if Matt wins this. They are so behind him that we could have a truly electric moment."
Striker runs toward the ropes and Rhodes follows him and clotheslines Striker over the top rope. Rhodes climbs to the outside to continue the attack. He pulls up Striker in the Cross Rhodes position and Striker adjusted himself to drive Rhodes into the announcer table. Rhodes goes for another clothesline attempt and Striker ducks. Rhodes quickly throws a right hand that knocks him down.
Striker throws Rhodes back into the ring and slides in after him. Rhodes is on one knee as Striker makes his way over to him only to find himself again in the Alabama Slam position. Rhodes connects this time and swiftly positions Striker for the figure four leg lock.
Screaming in pain, Striker holds on and makes it to the ropes. Rhodes stalks Striker as he's sluggish to get up to his feet. Rhodes goes for the Disaster Kick, but Striker ducks and rolls up Rhodes. 1…2 – Rhodes kicks out to huge sighs of disappointment by the crowd.
Matthews: "If Matt wins this, will I be working with an active champion each week? Is that allowed? I mean, I hope so. Can't think of anybody else that I could work with."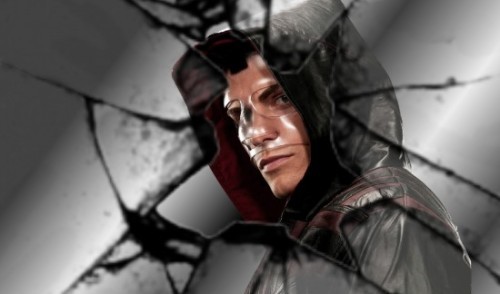 Image Courtesy of: wwephotos.org
Both men are now on their feet and Striker attempts a back body drop over the top, but Rhodes holds on. Rhodes follows up with a right and tries to launch himself over the top rope. Striker catches him and hits a top rope swinging neck breaker. Striker hooks the leg 1…2 – Rhodes barely gets his shoulder up.
Matthews: "Oh, come on! Go Matt! Am I being too biased here? Well, I don't care. There's no one here to keep me in check."
Striker breathing heavily looks over at the referee, shocked. Striker pulls Rhodes up and gets him positioned for an inverted overdrive. Rhodes counters and hits Rhodes out of nowhere. Rhodes gets an arm over Striker. 1…2 – Striker instinctively placed his foot on the rope.
Rhodes now angrier than ever turns to the referee, he has the ref backed up in the corner. After wasting time with the ref, Striker catches his breath and as Rhodes has his back turned pounces on him and locks in the rear naked choke. Striker has a firm hold around Rhodes. Rhodes is trying ever so hard to make it to the ropes and can't.
The fans are going crazy as they can sense a title change coming. Instead Rhodes improvises, side steps, and raises Striker up for a backdrop but instead lets him down hard on the top rope. Rhodes follows up with the Beautiful Disaster turning Striker inside out and hooks the leg. 1…2…3!
Tony Chimel: "The winner of this match and still Intercontinental Champion, Cody Rhodes." (Time of contest: 11:33)
Rhodes grabs his championship and stands over Striker, mocking him. He calls for a microphone. When he gets it, he leans down and talks right into Striker's face.
Rhodes: "How does that feel, announcer? Maybe you should have stayed behind the table. Now, you're fifteen minutes of fame are gone. Because I will not be overshadowed. Do you understand me? Listen to me!"
Striker is trying to get up, and Rhodes freaks out and attacks Striker. He grabs his leg and rams it into the mat. He then grabs the leg in DDT position and hits it hard on the mat. He beats on the leg with the microphone then applies the figure four leglock.
Rhodes: "When I talk, you listen. No one ignores me!"
Santino Marella's music hits, and he makes his way down to the ring. He goes right after Rhodes pulling him off Striker and beating him down. He hits him with a series of rights and then hits an inverted swinging neckbreaker.
Rhodes bails from the ring with his championship and angrily walks to the back. Medical staff are coming down to check on Striker. They help him to the back.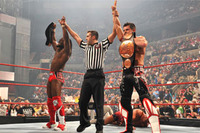 Image Courtesy of: wwe.com
Santino appears to have settled himself into the broadcasting table spot, and he begins speaking with Josh.
Santino: "Well, with the Striker injured and me having no match tonight, I felt it only best that I help you out... what is you name?"
Matthews: "It's Josh Matthews. And it's nice to have you here helping me out Santino."
Santino: "That is a very strange name, is it not? Being called Josh and Matthew? Very strange."
Los Maestros make their way to the ring with some mixed heat with their new theme Rapsusklei's Originalidad. They don't do the trampoline entrance anymore, but instead they just jump up onto the apron.
Air Boom receives a decent pop as they make their entrance. They come down the ramp energized but focused.
Evan Bourne starts the match up with Sin Cara Azul. Both men tie up, and Bourne goes behind. Sin Cara Azul uses a snapmare to gain control. He follows up with a hard to kick to the back of Bourne.
Azul presses down hard on the shoulders of Bourne trying to hold him down for the quick pinfall but Bourne powers out just as the referee counts the one.
Azul drags Bourne to his corner and tags in Sin Cara Negro. Azul stretches the arm of Bourne, and this allows Negro to follow up with a boot. Negro sends Bourne into the ropes and leap frogs over Bourne and follows up with a hard dropkick. Another quick pin and Bourne powers out again.
Negro tries to pull Bourne up, but Bourne has a firm grip on the tights and pulls Negro out of the ring. Negro hits the outside mat hard. Bourne steps out on the apron and dives off with a double knee attack to Negro. Kofi claps trying to get the fans behind Bourne.
Azul is now in the ring and flies through the ropes with a suicide dive to Bourne and lands on his feet. He shows off a bit and doesn't notice Kofi who is on the top rope. Kofi dives off and hits Azul with a picture perfect cross body. The fans applaud in appreciation of the rally of high-flying maneuvers they just witnessed.
Santino: "I can't believe the action I am witnessing. It is all over the place. They are jumping around like little jumping beans and flying like airplanes. It's all so exciting."
Matthews: "Well, these four are some of the most explosive high fliers we have here in the WWE. No one can fly like these men in the WWE."
Kofi slaps a few hands and throws Sin Cara Negro back into the ring. Bourne follows in and quickly makes the tag to Kofi. Kofi gestures to the crowd for the Boom Drop and connects for a near fall. Kingston Irish whips Negro into the corner and charges after him, but Negro back flipped out of it and followed up with a headscissors takedown.
Negro follows up with a springboard cross body. 1…2 – Kingston gets the shoulder up. Negro Irish whips Kofi in the corner where Azul is, and Azul hits Kofi from the outside with an elevated roundhouse kick. He gets the tag in and follows up with the cover only to get a long two count.
Azul lands a few kicks as Kofi gets to his feet. Kofi fires back with a few right hands and hits Azul with a superman clothesline. He gets the hot tag to Bourne who charges at Negro on the apron and drops him with a hard elbow sending Negro into the barricade. He hits a standing moonsault on Azul for two.
Back to their feet, Azul and Bourne trade forearms, and Azul goes low with a boot. Bourne down to one leg, and Azul charges at him with a hard Yakuza Kick followed up by a lionsault. 1…2 – And Kofi makes the save. Kofi goes to leave the ring and Azul pulls him back in by his hair.
Bourne grabs hold around Azul's waist and rolls him up. Azul rolls through, and Bourne launches Azul off. Trouble in Paradise connects on Azul. Kofi dives onto Negro on the outside. Bourne goes up top and hits a beautiful Air Bourne. 1…2…3 and Air Boom retain the titles.
Tony Chimel: "The winner of this match and still WWE Tag Team Champions, Air Boom." (Time of contest: 9:53)
Air Boom walks straight up the ramp celebrating as Los Maestros look at each other a bit frustrated.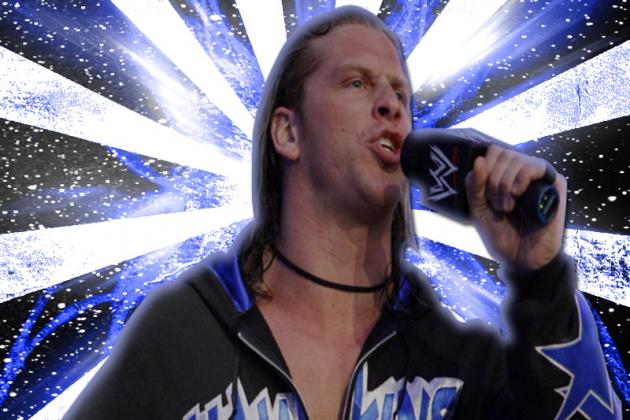 Image Courtesy of: cripplergfx.deviantart.com
Backstage, we see Curt Hawkins with Lilian Garcia.
Garcia: "Curt, tonight, you will be competed in your first ever WWE Championship match. Are you ready for a match like this?"
Hawkins: "Am I ready, Lilian? Am I ready? Do I look like I'm new at this? I'm no rookie. I have been at this about five years now. I have carried a tag team to gold and tried to carry other pieces of dead weight to the same goal. Never once in my five years have I gotten a legitimate opportunity to vie for singles gold."
"Never once have I been allowed to fight to show that I can be a star on my own, and you know what? That ends tonight. I am going to go into that Chamber...."
Tyler Reks enters the camera view, and Hawkins turns toward him.
Reks: "What are you doing, man? Out here, running your mouth without me?"
Hawkins: "Look, on Friday, I got a little bit worried about where your allegiances lie. You were acting like you were better than me."
Reks: "I was just trying to make a statement. I didn't fight you because we didn't need to fight. I did what was best for both of us and beat Punk."
Hawkins: "So you aren't going to go and steal my thunder tonight?"
Reks: "Tonight, we go in there, we dominate, and we get down to the final two. When it's you and me, then we can decide who's the true champion."
Hawkins: "Good thinking and I thought I was the only brain in the group."
Hawkins walks off with Reks.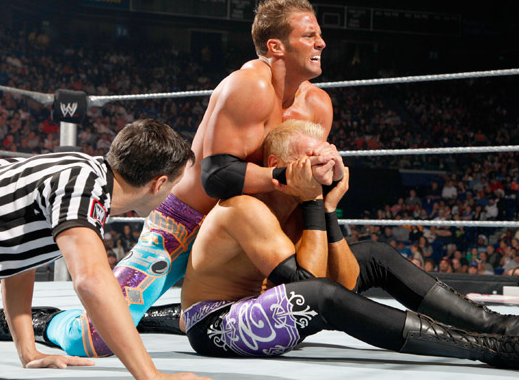 Image Courtesy of: forums.onlineworldofwrestling.com
Christian comes out first to a wave of boos from the crowd. He holds his Cruiserweight Championship high above his head as we comes down to the ring.
Zack Ryder is out next looking focused avoiding some of his usual taunts and gestures.
Matthews: "Zack seems focused. Not as upbeat as he usually is."
Santino: "It's that gold. It's a dangerous lady. One second, you think you have her and then, boom, she's gone. The Ryder wants her. He has never seen such gold. He needs her."
Matthews: "O...kay then."
Ryder stares down Christian in the middle of the ring and, as the bell rings, he comes at Christian in a flurry. Lefts and rights right to the champion. Ryder then backs up and hits a running knee. As Christian tries to rise, Ryder hits a flying forearm smash and covers for a short two count.
Ryder hits a leg drop and then goes to the top rope. He flies for a dropkick, but Christian bats it out of the way. Christian hits a fireman's carry gutbuster to Ryder. He goes to the top rope and hits a frog splash. He covers for a long two count.
Christian tries to pull Ryder to his feet, but Ryder meets him with a hard elbow to the gut. Ryder then bounces off the ropes for a running clothesline, but Christian is ready for him and hits a flapjack. Christian then stomps on Ryder and applies a headlock. The move doesn't last long as Ryder gets to his feet and battles out.
Ryder then hits a hangman's neckbreaker causing Christian to go reeling to a corner. Ryder comes at Christian as he rises, but Ryder takes a pendulum kick for his trouble. Christian then flies off the top rope only to take a dropkick.
Santino: "This action is so exciting. I can'ts even contain myself."
Matthews: "They are going at it full force. Something has gotten into them that just will not let up."
Santino: "I tolds you. They wants the gold. It is a seductress. I miss that gold around my waists. It is very... disappointing to be aways from it."
Ryder goes for the Broski Boot, but Christian rolls out of the ring before the impact. Ryder follows him and grabs Christian trying to get him back in the ring. Christian back kicks Ryder in the chest and throws him into the barricade. He then gets in the ring and calls for the referee to count.
At eight, Ryder is back in, but Christian goes right after him with a boot to the skull before Ryder can rise. Christian then hits a big implant DDT and covers: ..1..........2..... kick out.
Christian pulls Ryder up for the Killswitch, but Ryder battles out and hits a facebuster. He then goes to the top rope and hits a diving leg drop. He covers: ..1...........2...... kick out.
Ryder then presses the attack with a flapjack and then a DDT attempt. Christian reverses the DDT by pushing Ryder into the corner. Christian runs at him only to take double high knees to the face.
Christian reels, and Ryder charges and hits a bulldog. Ryder covers: ..1............2....... kick out.
Matthews: "Christian seems to be being outmaneuvered which is crazy because every time Ryder gives him space, Christian take control."
Santino: "The arts of the passion. It is very much a wrestler's trademark."
Matthews: "I don't... what does that even mean?"
Santino: "Oh, you wouldn't understands, Josh, or is it Matthew? You are not a wrestler, so you don't understand the lingos we use."
Christian reverses a move by Ryder into a tornado DDT. He then hits a diving European uppercut from the top rope. He sets up the spear. Ryder trips him though as he runs and hits a double underhook powerbomb.
Ryder goes to the corner. As Ryder is preparing the Rough Ryder, a mysterious assailant comes from behind and slams Ryder's head into the turnbuckle. The attacker has short red hair in a style similar to Christian's.
Matthews: "Is that Heath Slater?"
Santino: "What is he doing here? Is he a Christian too?"
Slater smiles as Ryder bounces off the ropes and is intercepted by a Spear from Christian who pins Ryder for the three count.
Tony Chimel: "The winner of this match and still Cruiserweight Champion of the World, Christian." (Time of contest: 8:33)
Slater grabs the Cruiserweight Championship and hands it to Christian in the ring. Christian looks on with a strange, somewhat disturbed look as Slater celebrates Christian's win. Ryder looks angry as he stands on the outside feeling cheated.
The short haired Slater puts his hand to his forehead and looks out over the crowd. He tries to get Christian to join him as he pounds his chest in Christian's signature way. Christian just looks on with a look of confusion even disbelief not sure what to make of the entire scene.
Christian exits the ring quickly followed by Slater.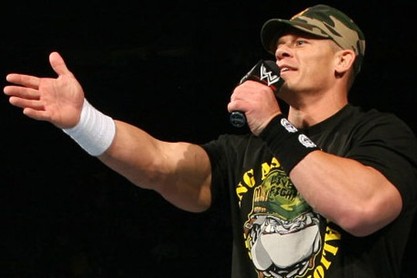 Image Courtesy of: zurmat.com
John Cena's music hits, and he comes out to a big negative reaction. He comes down to the ring and grabs a microphone before getting inside.
Cena: "I'm here to interrupt your scheduled programming. Why? Because I heard what the next match was, and I knew you people needed a lift before a 'Diva's' match. Honestly, can you believe that I am not supposed to even be here tonight?"
"Let's be honest, with a show of hands, how many of you came to see two women wrestling tonight? Yeah, I didn't think so. In truth, you all bought those tickets wondering what the big draw, what the face of this brand and company, John Cena would do."
"I know what they are all saying backstage. I've lost my integrity. I'm not a good guy anymore. I'm just throwing around my authority, but really I haven't changed a bit. I'm still all for you fans. I want to show hustle, loyalty, and respect. And I feel you guys deserve better than what you are getting."
"So I hustled out here because I am loyal to each one of you fans and respect you enough to stop a women's wrestling match from happening in place of seeing the big star. So what say you all? Should we get a match going here or what? I've got it. How about John Cena vs. Daniel Bryan for his Money in the Bank briefcase?"
"What? He's competing later tonight. Well, how about CM Punk? He can prove he really is the best in the world by putting that title on the line against me. Oh, he has to defend it later in the night. Well, I guess I could wait. Just play it cool and wait the Elimination Chamber match is over."
"Then Punk and I can have a match of the century as we battle for that one opportunity to headline WrestleMania as WWE Champion. I know you all want to see it, right?"
The crowd is really against Cena at this point. Suddenly, The Rock's music hits. The crowd goes wild as the Rock appears on the titantron.
Rock: "John, John, John, how are you doing? Oh, wait, it doesn't matter how you're doing! Now, why don't you get out of that ring and stop boring the crowd before the Rock comes down to that ring and lays the SmackDown on your candy ass."
Cena: "Oooooh, look who we have here, folks. It's Dwayne Johnson. He's back via satellite, and he's going to bring it. Really, Dwayne? You do know that when I look at you up there all I see is another fresh celebrity pretending he's a wrestler. You can't beat me. Truth is you never could have beaten me."
"I'm in my prime, and I'm better than you were during your entire career. And you know you aren't fooling anyone with your words. Sorry, but you are probably talking to me from another side of the world filming Tooth Fairy 3: Journey to Become a Real Actor."
Rock: "Hahaha, you're a funny guy, John. But you know what? I wasn't joking because I'm here tonight."
The video goes dark, and The Rock hits the ring to a huge reaction. He comes down to the ring and stares down Cena. Cena looks shocked and instead of fighting bails from the ring. The Rock grabs a mic as Cena retreats to the top of the ramp.
Rock: "Finally, the Rock has come back to Milwaukee, and he is back once and for all. And John, next time you don't leave this ring on me. Next time, I make you leave this ring if you smellllllll what the Rock... is cooking."
Cena looks on from the top of the entrance area as the Rock smiles.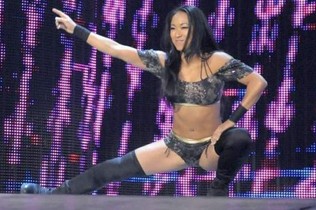 Image Courtesy of: wwedivasunleashed.forumotion.com
Gail Kim is out first to a small positive reaction with Natalya by her side. They both come down to the ring and wait.
Death Rey is out next with Kharma by her side. They come down to the ring with Rey looking at Kharma to stop her in her tracks. Rey gets in the ring with Kim while Natalya and Kharma are on the outside.
The two begin by locking up. Rey overpowers Kim who she presses to the mat, but Kim then moves her positioning into a monkey flip. Rey rises and shrugs off the shot. She tries to close the gap between her and Kim, but Kim trips her up.
Rey gets up and loses her cool, charging at Kim. Kim catches her for a tilt-a-whirl headscissors sending Rey to the outside. Rey glares down Kim then goes over to talk through the situation with Kharma. When she turns back toward the ring, a roar comes over the crowd as Kim launches herself with a suicide springboard plancha right into both women.
As Rey rises, she is met by a running clothesline takedown by Kim. Kim then grabs Rey and throws her back into the ring. She then glares down a rising Kharma before getting back in the ring.
Santino: "Wow, wow, wow, why are these ladies so aggressive? Nobody likes to see the Divas fighting. They all need to chillax right now. This is getting dangerous."
Matthews: "Santino, Gail was abducted and attacked by these two, months back. She hasn't been able to actively compete since. She is getting revenge for something that she has had to harbor for months."
Santino: "But it is just not right, Matthew. Don't you see? These ladies fighting, it is just too much."
Matthews: "Santino, you might just be the most clueless person I have ever worked with on commentary, and that is saying something."
Kim hits a running clothesline to Rey who is in the corner. She then hits Rey as she rebounds with a powerslam and covers: ...1...........2.. kick out. Kim then goes to the top rope and hits a front missile dropkick to a rising Rey and covers again: ...1.........2.... kick out.
As both ladies rise, Kim runs up the turnbuckle and bounds back for a flying crossbody which Rey catches. Rey then hits Kim with a bridging fallaway slam for an immediate cover: ...1...........2... kick out.
As Kim tries to rise, Rey pushes her to the mat with a front kick to the chest. She then hits a hip press and transitions into a single leg Boston crab. Kim eventually makes it to the ropes to break up the move. Kim runs at Rey only to take a koppou kick. Rey then lifts Kim up and hits a northern lights suplex hold into a cover: ...1..........2....... kick out.
Rey waits for Kim to rise then goes for a running headbutt. Kim ducks it and trips Rey so that she bounces off the ropes. Rey comes right into the arms of Kim who hits her with an over the shoulder back to belly piledriver. She covers: ...1..............2........... kick out.
Kim then latches on a dragon sleeper to Rey who falls to one knee. She looks to be having trouble and looks ready to tap, but then she regains her footing and slams Kim to the mat. Rey then hits an axe kick to Kim and covers: ...1............2....... kick out.
As Rey tries to pick up Kim, Kim blocks it by grabbing Rey's arm and gets her foot on Rey's face. Kim goes for the Eat Defeat, but Rey rolls through it and launches Kim into the turnbuckle. Rey then grabs Kim and hits a Samoan Drop. She follows it up with the Royal Butterfly and covers: ...1.............2.............3
Tony Chimel: "The winner of this match, Death Rey." (Time of contest: 9:10)
Rey tells Kharma to get in the ring as they gloat over Kim. Natalya comes in and helps Kim up and out of the ring. Natalya helps Kim to the back with a single look back with a conflicted facial expression.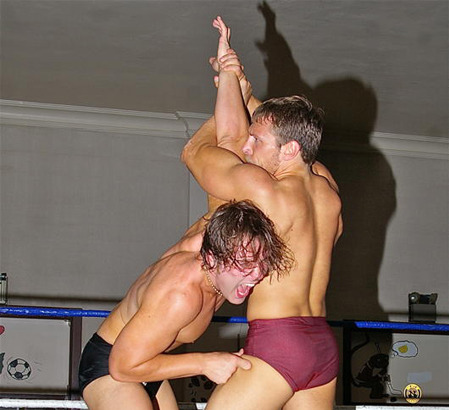 Image Courtesy of: hwaonline.com
Matt Striker starts coming down to the ring. He looks to be hurt, but he goes over to the table and picks up a headset.
Striker: "Thank you for filling in for me, Santino. I can take it from here, thanks."
Santino: "Well, it was very nice working with you, Mr. Josh and Matthew. I very much appreciated you as a talking partner."
Matthews: "Thank god!"
Striker: "Oh, it wasn't that bad, was it?"
Matthews: "You have no idea."
Daniel Bryan comes out to a nice reaction with Kurt Angle by his side. Bryan waits in ring staring straight toward the entrance area.
The lights go out. Dean Ambrose's music hits, and the lights begin to illuminate his way straight down the entrance ramp to the ring. Ambrose has on his typical hoodie as he makes his way to the ring and gets inside. He takes off the hoodie as the lights go on.
As the bell rings, Ambrose circles with a devious grin. Bryan tries to get in close, but Ambrose keeps pulling back. When Bryan corners him, Ambrose puts his body behind the top ropes forcing the referee to pull Bryan back. The circling starts to frustrate Bryan who charges at Ambrose.
Ambrose dodges it and bails from the ring. Ambrose appears in charge, focused, but he also a jumpy quality to his movement as if taunting Bryan. Bryan goes for a suicide dive, but Ambrose catches him and elevates him into a powerslam on the barricade.
Angle looks on a little nervous as Ambrose smiles at him and grabs Bryan. He throws Bryan back into the ring and then gets in. Ambrose hits a vertical suplex powerbomb then locks on a crossface chickenwing. Bryan tries to roll through it, but Ambrose keeps it latched on.
Bryan eventually gets to the ropes, causing a break up, but Ambrose hardly lets up any separation immediately coming in with a boot sending Bryan through the middle rope to the outside. Ambrose follows and picks up Bryan. He hits an Irish whip to Bryan straight into the steel post.
Bryan turns around right into a roundhouse kick by Ambrose. Ambrose then holds his arm up in the Straightedge way, and then he throws Bryan onto the apron. Ambrose hits a running knee drop to Bryan and then rolls him into the ring before following.
Ambrose oddly circles Bryan then lowers himself to clamp up on what looks like the Anaconda Vise. Bryan though reverses it into a LaBell Lock. Ambrose tries to keep his composure as he tries to get to the ropes out of the move. Bryan pulls back further with Ambrose looking ready to tap.
However, Ambrose gets a finger around the bottom rope, and the referee forces Bryan to break the hold. Bryan rises and grabs Ambrose's back for a belly to back suplex, but Ambrose holds onto the ropes and pushes back sending Bryan rolling backward behind him.
When Ambrose turns around and moves away from the ropes, he is met by a running leg lariat by Bryan. Bryan then pounds on Ambrose before transitioning into a surfboard. Ambrose is crying out in pain as Bryan stretches him out with Bryan eventually letting go and going to the top rope.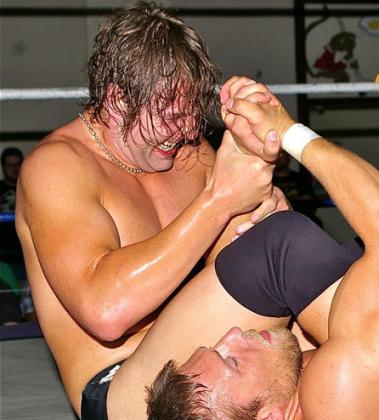 Image Courtesy of: hwaonline.com
Bryan tells Ambrose to get up. When he does, Bryan hits him with a missile dropkick and then gets pumped up. He hits a series of kicks to the chest of Ambrose in a sitting position and then goes for a side kick to the head which Ambrose ducks.
As Bryan flips around in a circle from missing the kick. Ambrose gets up and quickly hits a jumping hammerlock twisted into a short-range lariat. He covers: ...1...........2........ kick out. As Bryan sits up, Ambrose hits a shining wizard and covers again: ...1............2............ kick out.
Ambrose then goes to the top rope, but Bryan catches him before he can fly. The two fight in the top with Ambrose gaining the upper hand and hitting a superplex sending both men crashing to the outside.Both men have to use almost the entire ten count to get back into the ring, but they both make it.
Ambrose works his hand through his hair as he rises with a pained expression on his face. He then sees Bryan starting to rise and does the signature GTS taunt. He grabs Bryan and puts him up on his shoulders, but Bryan battles out and falls into a guillotine choke.
Ambrose has trouble in the move but eventually gains composure enough to run Bryan into the turnbuckle. As Bryan loses his grip, Ambrose throws Bryan toward the other corner and runs at him. Bryan though does a complete back flip up the turnbuckle and over Ambrose's head.
Ambrose turns around right into a European uppercut followed by a running big boot, bouncing off the ropes. Ambrose goes down, and Bryan prepares some move. As Ambrose rises, Bryan gets him position for the dragon suplex. Ambrose fights out with a series of elbows and then turns around as Bryan tumbles looking the other way.
Ambrose hits an inverted Frankensteiner and again goes to the top rope. Once again, he is caught by Bryan. Ambrose hits Bryan hard with several shots to the back and sets up what looks like a diving double underhook facebuster from the top.
Bryan though battles out by throwing Ambrose over his head to the mat. Bryan then hits a diving headbutt and covers: ...1..............2.............. kick out.
Bryan then tries to adjust the move and again latches on the LaBell Lock. Ambrose is in the move for about thirty seconds as he struggles to make headway to the ropes. He stops for a second and looks ready to tap then keeps moving forward. He eventually again reaches the ropes forcing a break.
Ambrose then goes to the outside. As Bryan rises, Ambrose smiles and grabs Bryan's Money in the Bank briefcase. Angle sees this and tries to intervene, but Ambrose walks past him knowing Angle can't get involved without losing Bryan the match.
Ambrose gets in the ring and hands the briefcase to Bryan. He then gets out of the ring and walks up the ramp backward pointing to his head as if saying be smart. Bryan looks shocked and confused as Ambrose turns around and leaves. The count reaches ten, and the referee calls for the bell.
Tony Chimel: "The winner of this match by countout, Daniel Bryan." (Time of contest: 13:10)
Bryan is left in the ring out of sorts. He stares down at the briefcase and then over at Angle. Bryan then gets out of the ring and walks away separate from Angle.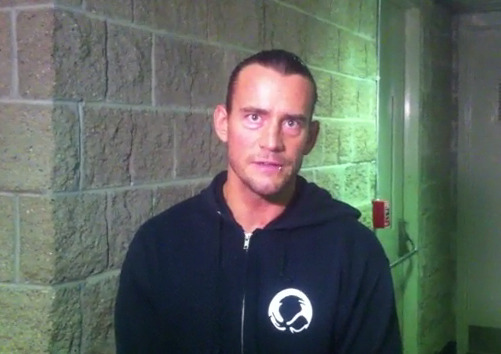 Image Courtesy of: hiphopstan.com
CM Punk is backstage with Lilian Garcia.
Garcia: "Punk, I talked with Curt Hawkins earlier in the night, and he seemed fairly confident he would win this match. Do you truly feel that you can win inside that Elimination Chamber?"
Punk: "Lilian, I am the best in the world. I don't need to brag about it. I don't need that label to follow me around because honestly, I prove it every night. It is why I am champion. It is why I have been champion for almost three months now."
Garcia: "But, you did get pinned on Friday. How do you reconcile that?"
Punk: "Lilian, everyone loses. Everyone has that moment where they just can't keep going on the night, but the true wrestlers know when that loss is okay and when it is simply unacceptable. On Friday, I lost and am now forced to be one of the first two entrants on the Chamber."
"Is that a disadvantage? Yes. Is it too much? No. Because I can be first or I can be last. I still know one thing. Every other man in that Chamber will have to break me in half before I quit. Before I give up the title that is mine. Miz, you know that I can still win after you've put me on one leg."
"Hardy, we've warred enough for you to know that I win when it matters most. Hawkins and Reks, you sound confident, but you've never been there. You've never been inside a structure like this or even been in a high pressure situation of this magnitude. Do you honestly believe that you can make this your moment so quickly?"
"And Ziggler you beat Cena. You earned your spot, but don't think that one win can create a legend. You will need to bring even more to beat me, even more to become champion, because I'm fighting for my title, for WrestleMania, for the chance to headline a show that honestly deserves to be headlined by me and Daniel Bryan."
"Do you know why, Lilian? Because we have struggled. We have broken ourselves in half for this business. Unlike Dwayne, I didn't just kiss ass to make it to the top then go off so I never had to see someone else at the top. Unlike Cena, I don't need to be the main event, the star of the show."
"I make myself the show because I'm the best in the world. When I win tonight, I want to face down Daniel Bryan on the Grandest Stage of Them All where talking is cheap, where the lights are low, and all that matters is who's the better man."
"And nobody, not The Miz, not Jeff Hardy, not Curt Hawkins, not Tyler Reks, not Dolph Ziggler, not Dean Ambrose, and not even Daniel Bryan himself will stop that. Because that is what I have always hoped for. What I have fought for since the first day I began wrestling in the Lunatic Wrestling Federation."
"I wanted to be on that stage, be that final match. And if I win, no, when I win tonight, I will go on to main event WrestleMania. I will not be second fiddle to anyone."
Lilian: "Thank you, Punk."
CM Punk takes his title from his waist and puts it on his shoulder. He then makes his way toward the ring for his match next.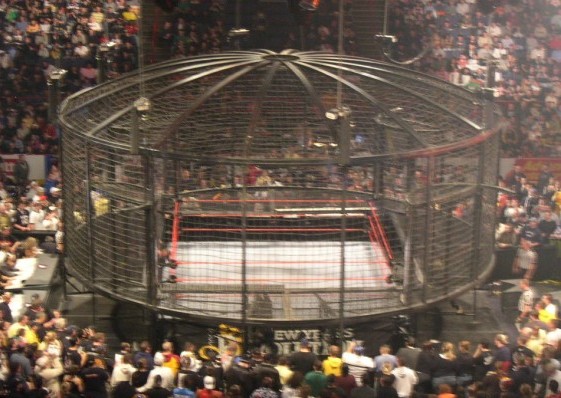 Image Courtesy of: wwedvdnews.com
After a promo video is played highlighting the Chamber, WrestleMania, and the participants, we return to see the chamber around the ring.
The Miz is the first out, and he gets a fairly loud negative reaction. He stops and looks over the chamber for about ten seconds before entering and getting in the far left (from entrance ramp) pod.
Curt Hawkins is out next with a confident grin as he taunts the crowd until he looks down the ramp at the Chamber. His grin falls off his face directly into a look of apprehension, possibly fear. He slowly makes his way into the ring and gets in the far right pod.
Jeff Hardy comes out to a huge pop from the crowd. Hardy stares down the Chamber almost as if challenging it. He makes his way over to the closer right pod.
Tyler Reks makes his way out and down the ramp looking intense and focused. As he is about to step into the chamber though, he lets out a sigh, and his facial expression changes to one that is slightly less confident. He gets in the final pod.
Dolph Ziggler bursts out of the back to a pretty good reaction. He looks at the Chamber, and a slow, sick smile goes across his face. As he makes his way into the Chamber, he seems to be warming up and stretching out. He waits in the ring.
CM Punk is the last man out to a monstrous ovation by the crowd. He stares down the Chamber with a confidence staring straight past the Chamber toward his opponents. He raises his Winged Eagle WWE Championship high as he makes his way into the ring.
After the championship has been moved out of the Chamber, the door is locked, and the bell rings. Ziggler immediately challenges Punk to a test of strength. They lock hands, and Ziggler gains the advantage forcing Punk to move back to a corner to break it. Ziggler smiles as Punk recoups.
Ziggler waits and offers another lock up. Punk shakes his head and puts up his fists. Ziggler does the same. They circle one another dodging punches until Punk extends too far with one and Ziggler takes him down to the mat with a fireman's carry takeover. Ziggler latches on a headlock and does a headstand while applying the hold.
When Ziggler looks to come back down though, Punk catches the release of pressure enough to roll through into the ropes. Ziggler lets go, and they both rise.
Punk runs at Ziggler which Ziggler leapfrogs. When Punk comes back around, Ziggler catches him for a sit out facebuster which Punk then counters into a swinging neckbreaker. He covers: ...1.........2.. Ziggler flips the move into his own cover: ...1..........2.... kick out.
Both men rise, and Ziggler runs at Punk only to be sent clear over the ropes and to the outside. Ziggler lands hard on the Chamber floor. Punk goes to the outside and picks Ziggler up. He tries to throw him into the chain, but Ziggler blocks.
Ziggler then throws Punk into the chain and hits an inverted body slam on the rebound. Ziggler then gets in the ring and goes to the top rope next to Hawkins' pod as Hawkins looks on seemingly unimpressed. Ziggler flies off the top rope with a diving crossbody, but Punk catches him and launches him into the chain.
As Punk tries to get Ziggler back in the ring, the clock comes up with 30 seconds before the next entrant. Punk covers: ...1............2......... kick out. Punk is on his knees recalculating in his head. He looks to hit a falcon arrow when the clock hits zero.
The lights go out, and the random selection chooses Hawkins' pod. Curt Hawkins is the next man into the match.
Hawkins looks hesitant to leave his cell. As the door is opened, Hawkins motions for them to shut it again. He seems to be telling them that someone else should go first. Ziggler and Punk are still in the ring fighting as Hawkins waits with his pod door open.
Punk hits a bulldog on Ziggler then looks over at Hawkins and shrugs him off. Punk goes to the top rope to hit a diving elbow drop, but Ziggler is up. Instead, Punk hits a diving crossbody which Ziggler rolls through and hits a fireman's carry gutbuster. He covers: ...1..............2....... kick out.
Ziggler grabs Punk and drags him through the ropes to the outside. Ziggler winds up and launches Punk straight into the chain. Punk goes down hard, and Ziggler turns his attention to Hawkins. Hawkins tries to ward him off with his hands raised in a sign of peace.
Ziggler will have none of it and motions for Hawkins to step out of the pod. Hawkins makes short steps forward then grabs the door and tries to close it quickly. Ziggler catches it and opens the door. Ziggler then goes after Hawkins beating him down in the pod.
With Hawkins out in the pod, Ziggler turns around right into a roundhouse kick. Ziggler falls onto the chain, scraping his head against the chain as he falls, and lands hard on the floor. Punk tries to pull Ziggler's dead weight into the ring. When he finally succeeds, he covers: ...1...............2........ kick out.
Punk transitions into the Koji clutch with Ziggler trying to fight out, a couple times getting Punk's shoulders on the mat for a one or two count. He eventually reaches the ropes, and both men break it up and rise. As they look prepared to keep going, the clock starts again at 30 seconds.
Ziggler hits a kick to the chest and then backs up for a leg drop bulldog. When he runs and jumps, he is caught for an attempted GTS, but Ziggler fights his way out landing behind Punk. When Punk turns around, he has immediately dodge a Zig Kick. Both men back up as the lights go out again.
The randomized lights stop at Hardy's pod. Jeff Hardy is the next man in the match.
Jeff Hardy runs right into the ring and goes straight after Punk in a flurry of punches. Ziggler watches as the brawl occurs and stays out of it. From out of nowhere though, Hawkins grabs Ziggler and slams the back of his neck against the top rope. Hawkins gets in the ring and stomps on Ziggler.
Hawkins then grabs Ziggler by the legs and catapults him to the outside. Hawkins goes out after him as Hardy has Punk backed into a corner. Hardy goes for the Hardyac Arrest, but Punk ducks under and Hardy barrels right into the ring post legs first.
Punk gets Hardy sitting up with his legs still stuck above the bottom rope and hits a neckbreaker. He covers: ....1..............2...... kick out.
On the outside, Hawkins takes Ziggler and drags his face along the chain. Ziggler battles out of it with a series of elbows then grabs Hawkins by the head and throws into a glass of Miz's closed pod. Miz glares at Ziggler who takes Hawkins and scrapes his face across the glass before throwing him into the glass one more time.
In the ring, Punk hits a flying elbow drop on Hardy, and he covers: ....1..............2..... kick out. Punk pulls Hardy to his feet and hits a snap suplex. He goes to the outside and prepares a springboard clothesline. When he flies, he is caught by a Hardy with his own clothesline with both being sent to the floor.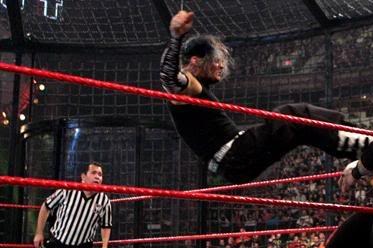 Image Courtesy of: xtreme-jeff.piczo.com
Ziggler comes in as Hardy starts to rise, and he gets ready to hit the Zig Zag. Hardy sees it coming though and rolls out of the ring. Ziggler is left alone in the ring with everyone else on the outside. The clock begins counting down.
There is a bit of a standoff as everyone rises to their feet and gets up in a different section of the Chamber. Ziggler looks around feeling surrounded, but he is not sure what to do. Just as Hardy seems poised to get in the ring, the lights go out.
The randomizer chooses the Miz. The Miz is the next man into the chamber.
He gets out of his pod, and he is in the same area as Hawkins. They look at each other, and both get in the ring together. They go right after Ziggler with Ziggler fighting them both off until Hawkins clips Ziggler's knee. Just as both men start taking out the downed Ziggler though, Hardy and Punk get in.
They fight off the two and send them reeling. Miz bails from the ring with Hardy after him. Hawkins is fighting Punk as Ziggler slowly gets to his feet. Punk hits a tilt-a-whirl backbreaker. He then catapults Hawkins into Ziggler causing both men to fall hard.
Hardy hits a mule kick to Miz on the outside sending him reeling back into Hawkins' pod. When Miz recovers and tries to get out, he is met by Hardy who uses the top of the pod to hit a dropkick. Hardy leaves the pod with Miz out of it inside.
Back in the ring, Punk reverses a possible fireman's carry takeover into a hammerlock legsweep DDT on Ziggler. He covers: ...1............2....... kick out. Punk then tries to pull Ziggler up, but Hawkins comes in with a running clothesline. He then lifts up Punk and hits a spinning spinebuster.
Hawkins mocks Punk's GTS taunt and waits for him to rise. Hawkins then goes for the Taste of Pain which Punk reverses into a takedown and the Anaconda Vise. Hawkins is screaming out in pain as he looks ready to tap, but he inches toward the only unopened pod.
The clock begins counting down as he yells out for Reks to get in here already. He inches toward the ropes, but he is making little progress. Hawkins is yelling out more and more as the clock winds down. It is at ten seconds, and Hawkins begins to fade.
The lights go out, and the light shines over Reks' pod. Tyler Reks is the final man in the Chamber.
Reks comes in with a flurry almost ripping Punk off Hawkins and then throwing him over the top rope. Reks hits a big boot to Hardy as he comes into the ring and then a shoulder block to Ziggler. Reks then takes Ziggler and lifts him above Reks' own head.
Reks then throws Ziggler over the ropes splashing on the Chamber outside. Reks yells at Hawkins to get to the outside as Reks goes to where Ziggler is on the outside. He picks up Ziggler and hits an overhead gutwrench backbreaker rack flipped into a DDT on the steel below.
He then pounds on Ziggler while Hawkins gingerly makes his way over to Reks. When Hawkins gets there, the two hit a powerslam/neckbreaker combination. They then take Ziggler and throw him right at the pod used by Hawkins. Ziggler goes through the glass of the Chamber and appears to be out cold.
Reks and Hawkins look at one another and smile as they get back in the ring. When they do, they see Hardy and Miz up in the ring. They look at each other, and Hawkins decides to go after Hardy while Reks goes after Miz. Reks makes quick work of Miz with his superior size body-slamming him to the mat and hitting an elbow drop.
On the other side, Hawkins is being outmaneuvered by Hardy. He tries a suplex, but Hardy fights out and hits the Whisper in the Wind. Then Hardy goes to the top rope to try and hit the Swanton Bomb. When the crowd cheers, Hardy decides to go to the top of the pod for the move.
As he executes the move though, Hawkins ducks out of the way sending Hardy crashing to the mat below. Hawkins smiles and forces the dead weight of Hardy up for the Taste of Pain. Then he has Reks come over who hits the Burning Hammer.
Hawkins covers: ....1..............2.............3. Hardy has been eliminated.
Hardy is having trouble moving as he is being told to exit the Chamber. When he can't move fast enough, Reks pulls him up onto his shoulder and gets out of the ring almost throwing Hardy into the hands of the officials on the outside. Hawkins and Reks smile again.
Surveying the scene, Ziggler is still out in Hawkins' broken chamber. Punk is trying to rise, and Miz is seemingly hurt on the outside. Punk gets to his feet, and he looks straight at Hawkins and Reks. He gets in the ring and motions for them to come after him.
Reks charges at him, but Punk hits a drop toehold to the middle turnbuckle. Hawkins was following suit, but he backs off as Reks goes down. However, Hawkins came too close to Punk who hits a roundhouse kick. He covers: ....1...........2....... kick out.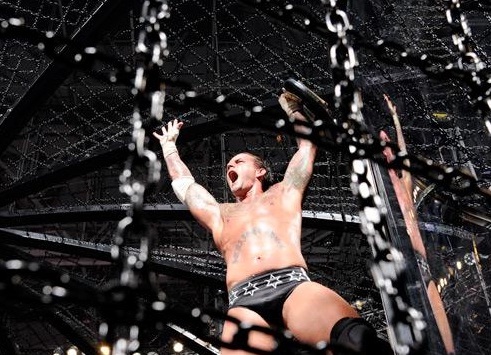 Image Courtesy of: wrestlingvalley.org
Punk immediately takes Hawkins up and hits a double underhook backbreaker. Reks breaks up the pin attempt though. Reks then get Punk in position for a reverse STO on the turnbuckle, but Punk battles out and a DDT of his own. He then goes to the top rope.
As Reks rises, Punk comes off with a corkcrew diving neckbreaker. He covers: ....1................2........ kick out. As Punk rises, Hawkins is up again, and Reks grabs Punk's leg allowing Hawkins to come in with an STO. Hawkins tells Reks to get up, and he does.
Reks goes to the top rope as Hawkins tries to hold down Punk. Punk though hits a kick from the mat to the back of Hawkins's head causing him to lose focus for a second. Punk gets up and trips up Reks on the top.
Punk then grabs Reks and uses the turnbuckle for leverage as he gets Reks on his shoulders. Ziggler comes in and hits a Zig Kick to Hawkins before Hawkins can save Reks. Punk hits the GTS. Punk covers: ...1...............2............. kick out.
Punk can't believe it. He tries to shake it off and waits for Reks to rise. Ziggler comes from behind as Reks rises though and latches on a sleeper hold. Ziggler gets his legs around Reks' chest fully committing to the sleeper hold. Reks is fading, and Punk is watching Hawkins to make sure he doesn't get involved.
Suddenly, Reks gains his composure enough to move around and reverse the sleeper hold into a jawbreaker. Ziggler bounces off his shoulder to the mat as Reks tries to gain his composure. When he does though, Reks is met by a roundhouse kick from Punk.
Reks wheels around from the shot into a Zig Kick by Ziggler. Then Miz runs in as Reks is still barely standing and hits the Skull Crushing Finale. Punk goes to the top rope and hits a diving elbow drop and covers: ....1.................2..................3. Tyler Reks has been eliminated.
During that time, Ziggler runs and hits Hawkins with a clothesline sending him clear over the top rope. A small bit of blood can be seen coming from Ziggler's skull from his earlier bump through the pod, but it seems minor for now. Ziggler goes to the outside to fight Hawkins.
Punk and Miz are in the ring. They stare each other down with Punk threatening kicks to Miz every time Miz closes in on him. Miz starts trash talking Punk saying insulting his claim to being the best in the world. This aggravates Punk who comes in closer, allowing Miz enough to space for a discus punch.
As Punk rises from the shot, Miz forces him up more for an inverted facelock backbreaker followed by a neckbreaker slam. He covers: ...1.........2...... kick out.
On the outside, Ziggler and Hawkins trade blows. Hawkins reverses an attempted swinging neckbreaker into a twisting flipping leg hook belly-to-back suplex. Hawkins then takes Ziggler by the skull and bashes him head first into the Chamber floor several times.
When Hawkins pulls Ziggler back up, blood can be seen on the steel. Ziggler's cut on his forehead has become more pronounced as the blood is getting closer to his eyes. Hawkins throws him to the mat one last time.
Hawkins then gets up and looks around only now fully realizing that his partner is gone. He looks over at Miz and Punk fighting and decides to stay out of it. It sits down next to Ziggler and waits, taunting Ziggler as he moves slightly but not enough to get up.
Punk comes in for a step up high knee in the corner which he hits followed by a bulldog. He covers: ....1...........2....... kick out. Punk then goes to the top rope. When Miz rises, Punk flies off the top for a diving crossbody which Miz ducks causing Punk to skid down and land just barely with his feet on the mat.
Punk turns right into a big boot then as Punk sits up he gets hit with a snap DDT. Miz covers: ...1.............2......... kick out. Miz then stalks Punk for a Skull Crushing Finale. Hawkins decides to come into the ring at this point. When Miz goes for the Skull Crushing Finale, Punk flips him over his head.
As Miz tries to regain his composure, Hawkins is behind Miz and hits the Taste of Pain. He then covers with both legs hooked: ...1..........2............3. The Miz has been eliminated.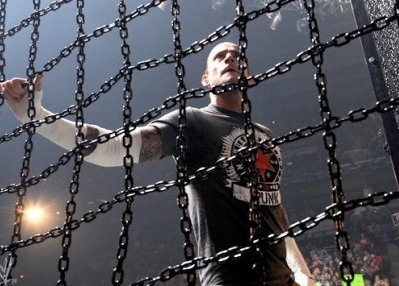 Image Courtesy of: ac-wwe.com
Miz is irate as he rises. He gets out of the ring toward the doorway, but Miz stops. He pounds on the nearest pod, freaking out with Punk waving good bye to Miz as Hawkins celebrates his elimination. Miz gets out of the Chamber as they shut the door again.
Hawkins and Punk stare down and lock up. Punk gains the advantage and takes down Hawkins with a headlock. He transitions into a Koji clutch. Miz is still on the outside seething and goes over to the announce table. He grabs a headset.
Miz: "Do you guys think that it's funny that I got eliminated from this match? Do you find it amusing that I was cheated? Well, don't talk. I'm going to make everyone pay for this."
Miz throws down the headset and goes to grab a steel chair. Miz makes his way over to the officials and yells at them to open the door. When they refuse, Miz takes out each one with the chair. He then unlocks the door and makes his way inside. Punk and Hawkins are rising.
Miz goes in and bashes Hawkins on the back with the steel chair two times to take him down. Miz then turns to Punk. Punk sees him and tries to kick the chair out of Miz's hands. Instead, Miz ducks it and bashes the leg with the chair. He then raps the chair around Punk's leg and rams it into the mat.
Miz then pulls Punk to the outside and sets him up laying against the Chamber standing up. Miz snaps the chair right into Punk's head sandwiching him between the Chamber and the chair. He then does it again to a now sitting Punk. Finally, Miz grabs Punk's head and drags it down across the steel.
Miz feeling satisfied with the carnage leaves. Hawkins gets up slowly and sees his opportunity. He goes to the outside and grabs Punk, He pulls Punk into the ring who is bleeding from his forehead. Hawkins covers: ....1..............2.............. kick out.
Hawkins can't believe it. He argues with the referee about the call and then goes to grab Punk. Punk though rolls through the hold into a roll up: ....1...........2...............3. Curt Hawkins has been eliminated.
Hawkins can't believe what happened, but he makes his way slowly out of the Chamber. As he leaves, he stares down Ziggler who is finally able to get to his feet. Ziggler gets in the ring and stares down Punk. Both men have blood covering their face.
Striker: "This is it. The final showdown. These men both wear the scars of this match upon their faces. The crimson mask. Only one of these two men will be able to reward their own sacrifices and hard work with a trip to the main event of WrestleMania."
Ziggler offers a test of strength one more time. The two lock hands, and this time Punk is the stronger. Ziggler though is able to roll through it into a bridging German suplex. Ziggler then goes for his leg drop bulldog, but Punk catches him and hits a GTS. He covers: ...1.............2.............. kick out.
Punk looks at the crowd and points to the top of Reks' pod. He then goes all the way to the top of the pod. As he does though, Ziggler gets up. Ziggler climbs to the top and actually get all the way to the top of the pod. The two brawl on the top with one punch almost sending Punk off.
Punk holds on though, A second shot has him reeling more. As Punk begins to lose his balance though, he locks in a headscissors and both go crashing to the floor below. After a pause, Punk is first up to his feet. He calls for another GTS. He gets him up though Ziggler reverses it into a Zig Zag and falls into the cover: ....1.................2................. kick out.
Ziggler again sets up the leg drop bulldog and this time hits it. He then waits for Punk to rise not even trying for the cover. As Punk does, Ziggler slaps on the sleeper hold. Punk slowly fades in the move, but he manages to eventually shift Ziggler's weight to get him up on his shoulders. Punk hist another GTS and covers: ....1..................2................... kick out.
Punk can't believe it. He shakes it off and waits for Ziggler to rise. As Ziggler does, Punk goes for a roundhouse kick. Ziggler hits a Zig Kick at the same time. Both men are out on the mat. When they come to, Ziggler is actually the first up.
He goes for the Zig Zag one more time, but Punk pulls him off. As Ziggler is reeling, Punk hits the GTS again and covers: ....1..................2.......................3.
Tony Chimel: "The winner of this match and still WWE Champion, CM Punk." (Time of contest: 44:23)
Punk nearly collapses to the floor exhausted. Both Ziggler and Punk are still bleeding. Medical staff come down to help out both men. Daniel Bryan's music hits. He comes down to the ring and faces down Punk with the briefcase in hand.
As Punk is being handed his title, he looks up at Bryan and glares, ready for Punk to cash in. Instead, Bryan offers his hand. They shake hands and look over at the WrestleMania sign, ready for their coming match. The show ends with them looking up at the sign.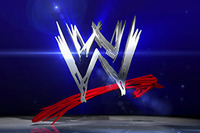 And that's a wrap!
After finishing up, leave a rating for the PPV out of 10, so we can learn from our mistakes and keep working with our successes.
Also, leave any other direct suggestions, comments or any other statements that you feel are necessary and can help out the system. Remember that some of this is about transitioning in a new GM so leave feedback and how well you thought matches flowed together and such with a new GM.
Finally, keep checking back for Fantasy Raw and SmackDown. Fantasy SmackDown will be released this week at 7:00 p.m. on Friday night.
Thanks for reading!