NHL Trades: Breaking Down the Best Recent Deals Heading into Deadline
February 25, 2012

Harry How/Getty Images
Although the trade deadline to finalize rosters for the remainder of the season is still two days away, teams from all levels of the standings are not wasting any time with their wheeling and dealing. Some are bolstering their roster in anticipation of a long playoff run, and others are just tweaking one or two small needs.
Then there are other teams who have written off this season and are attempting to build for the future. The trade deadline is not entirely for the teams who have hopes of lifting Lord Stanley's Cup later this spring. Many bottom dwellers feel that they will be able to nab a few bright prospects and utilize high draft picks in future years in order to begin constructing a team that will compete over the long term.
There are still predictions that a few blockbuster deals will be made in the next 48 hours, but in reality, there have been some significant trades over the past few days that will re-shuffle the order of power in both conferences.
Let's take a look at the deals that have gone down in just the past few days.
Florida Panthers and New York Rangers
Just this morning, the Florida Panthers acquired forward Wojtek Wolski. In exchange, the Rangers received defenseman Mike Vernace and a third-round pick in 2013. Here are two teams that have a great shot at finishing in the top three in the Eastern Conference.
While it would be a stretch to consider Florida among the elite in their conference, a weak division could see them hosting the sixth seed in the first round, and a player like Wolski will give them depth if they are matched up against a team such as the Philadelphia Flyers.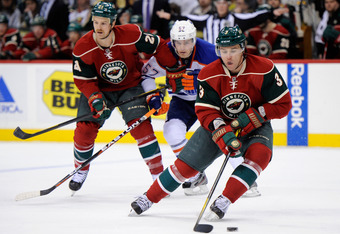 Hannah Foslien/Getty Images
On the other side, the Rangers know they will be one of the favourites to represent the East in the finals, so it makes sense to add another body to their defensive core for a lengthy playoff run. This trade certainly benefits two teams who are gearing up for postseason hockey.
New Jersey Devils and Minnesota Wild
In a classic example of two teams with a different set of needs, the Devils got defenseman Marek Zidlicky, and the Wild obtained a host of old and young talent in defenseman Kurtis Foster, and forwards Nick Palmieri and Stephane Veilleux. They also picked up a second- and third-round draft pick in 2013.
The New Jersey Devils feel they can make a deep playoff run with their current lineup, but adding defensive depth is never a poor move. All too often, bright teams go in with high hopes but get too depleted and become thin on the blue line. The Devils are trying to ensure this does not happen to them.
On the other hand, the Wild will likely not be playing in to the second week of April this season and are looking ahead to the future. After a hot start, they fell off the radar quickly. If they can make a few changes to their roster for next season, they will be able to compete in what is an overall weak division.
Los Angeles Kings and Columbus Blue Jackets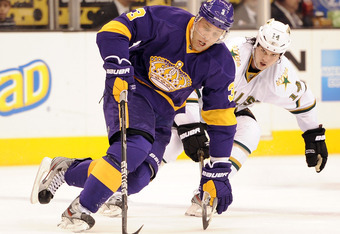 Harry How/Getty Images
This was the biggest transaction of the week. The blockbuster saw forward Jeff Carter heading to the Kings, with Columbus getting defenseman Jack Johnson and a conditional first-round pick in 2013.
Los Angeles has an impressive defensive record this year, so adding a player of Carter's status will give them a great chance of making a late run at the playoffs. The battle for the eighth spot is fierce, and the Kings must beat out both Calgary and Dallas if they wish to still be playing in the postseason. Even if they are not successful this year, having a player like Carter will be a huge asset for them next season.
Columbus clearly has an opposite strategy. They are once again at the bottom of the standings and must do something to give off the impression they are trying to improve. Johnson is a solid defender, and if their first round-pick comes to fruition, they will have a base to build off. However, with the quality of their division, it sure does not look bright for the Blue Jackets.
Phoenix Coyotes and Columbus Blue Jackets
This past Wednesday, Phoenix acquired forward Antoine Vermette, and in exchange Columbus received goaltender Curtis McElhinney and second- and fifth-round picks in 2013. Again, like the above trade, the Coyotes are going all-in to ensure a playoff spot come April.
The Coyotes have been on fire lately, winning nine of their past 10 games, and they may pass the Chicago Blackhawks within the next week. If they can continue their stellar defensive play, no team will want to face them in the first round of the playoffs. Vermette will only increase their offensive output and add more balance to their roster, which is already performing at a high level.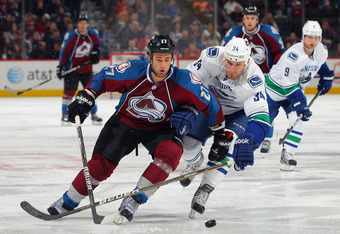 Doug Pensinger/Getty Images
The Blue Jackets clearly have their rebuilding strategy in full force, and they will have a slew of picks over the next couple seasons to discover their new superstar. If their management does a quality job scouting young talent, they have a shot at surprising the league within the next few years.
Detroit Red Wings and Tampa Bay Lightning
Earlier this week, the Wings got defenseman Kyle Quincey after initially being dealt from the Colorado Avalanche, with the Lightning getting defenseman Sebastien Piche and a first-round pick in this year's draft. This trade definitely helps both teams.
The Detroit Red Wings are poised to return to what seems like a routine Stanley Cup appearance for them. Kyle Quincey will help shore up what has been a decent defense this season. Once Datsyuk returns, so will their amazing scoring pace. Securing a player like Quincey will help them on the blue line if they were to match up with the San Jose Sharks or Vancouver Canucks along the way.
Tampa Bay is still on the outside looking in, but with a surge during March, they could see themselves steal an eighth-place finish in a conference that does not seem all that motivated to secure the final playoff spot. They have potential, and the first-round draft pick in this year's draft will only strengthen their team over the next few years. While this trade will not satisfy all their team needs, it will undoubtedly benefit them over the next couple years.
Other Potential Moves
With players like Rick Nash and Corey Perry still potentially up for grabs, there is great reason to believe a few more All-Stars will be suiting up for different teams in only a few day's time. It is certainly an exciting time to be a fan of the NHL.