Seattle Seahawks: How Is Ryan Tannehill the Next Best Thing at QB?
February 27, 2012

Bob Levey/Getty Images
Most often in life this is at best a backhanded compliment, but for Texas A&M quarterback Ryan Tannehill, it could be the best thing ever.
With Andrew Luck and Robert Griffin III slated to go 1 and 2 in the upcoming NFL draft, Tannehill has somehow been given the Bronze in some circles.   
Sports Illustrated's Don Banks this past weekend penned a lengthy feature on Tannehill providing his rationale...
"In a league where quarterbacks rule, Tannehill is widely viewed as the third-best passing prospect in this year's draft. And despite a limited track record of collegiate experience at the position, Tannehill could wind up cracking the top 10 or 12 in the first round, becoming the first choice of all those quarterback-seeking teams that weren't fortunate enough to pick either first or second and land the top prizes of Luck and Griffin."
For Seahawks fans, such statements are certainly curious, especially if you read Banks' latest Mock Draft 2.0, where he virtually mocks himself by sending Tannehill to the Seahawks at No. 12.
"An immediate disclaimer to hopefully ward off frantic calls from Seattle radio stations: I don't know for a fact that Pete Carroll is high on Tannehill, but I do know the Seahawks have to find competition for Tarvaris Jackson in the first or second round (barring a big signing in free agency), and more NFL scouts all the time tell me that Tannehill will end up in the first round before this thing is done. I'm connecting dots here, folks."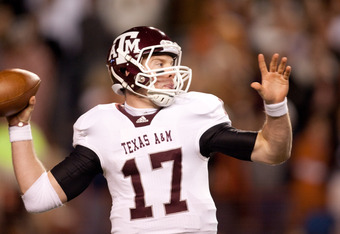 Darren Carroll/Getty Images
Perhaps, Banks has connected the dots but didn't GM John Schneider urge caution stating mid month on Seahawks.com, 'I just know if you panic at the position, it can set the organization back. So we're not going to do that.'
Yet, just a few days ago Yahoo Sports Shutdown Corner contributor Doug Farrar shared this nugget from Schneider regarding Tannehill...
"'One personnel executive who agrees that Tannehill is on the right track is Seattle general manager John Schneider, who pointed to Tannehill this week as the perfect example of the kind of player he wants running his offense—as much an athlete as a quarterback.
'First and foremost, that's what we're looking for," Schneider said on Thursday. "Especially at that position. Guys that have always been in the quarterback schools, the special camps, and all that kind of stuff. They make me a little nervous to a certain extent. This guy is a real football player. He played defense. You could see him last year when he stepped in, he just went out and played. He had this natural toughness about him that the players really rallied around and went on a winning streak and he did a great job. I felt like this year, he had well over 60 drops. He did a nice job.'"
At the end the day, talk is cheap, and the majority of the statements we hear from the combine are pure draft-speak. Still, in an age where qualitative and quantitative evidence is factored in to even the most mundane decisions in life, I fail to see how Tannehill has managed to earn this level of acclaim.
While I personally tend to lean on the side of "intangibles" more often than not, I also appreciate what metrics and numbers can show in part helping generating a more accurate picture. 
It baffles me how someone who missed the Senior Bowl and can't physically compete at the combine has been given a first-round grade by more than a fair share of experts while half a dozen other quarterbacks are fighting to earn a second round grade in Indianapolis.
Understand I'm not here to debate whether Tannehill is good or bad, it's the fact that we really can't that proves so vexing here. Ultimately though, it seems the panic that Schneider would like to avoid is what seems to be driving the current situation as Banks found out in his discussion with Greg Cosell on Tannehill...
"'I like him, and I think he's the next quarterback who goes in the first round after Luck and Griffin,' said Greg Cosell, an analyst for NFL Films and the NFL Network. 'Just look at history. All you need to do is go back one year. Last year (Florida State quarterback) Christian Ponder gets drafted 12th, and (Washington quarterback) Jake Locker went higher (No. 8) than we thought, too. Quarterbacks are always going to go higher.
'Ponder was not a guy with elite quarterback talent. I would say that Tannehill's talent level might be a little higher than Ponder's. But because he shows enough positive attributes in the film I saw, teams will see him as an ascending player in this draft.'''
Essentially it goes back to the old saying we heard as children from our elders, "If your friends jumped off a bridge, would you?"
Just tweak that now with "If your fellow GMs drafted the likes of Christian Ponder, would you take Ryan Tannehill?"
Until he can show us all something on his Pro Day on March 29th, that's one very big question.
For now Seahawk fans, John Schneider said he wouldn't panic, and for the moment, we have no choice but to believe him.