NHL Trade Rumors: Toronto Maple Leafs Should Add Evgeni Nabokov for Stretch Run
February 26, 2012
Jim McIsaac/Getty Images
The Toronto Maple Leafs are third in the Northeast Division with 65 points. They are hovering around the final spot in the Eastern Conference.
Toronto is 28th in goals against and 29th on the penalty kill. Goalies are unquestionably the greatest penalty killers on any team, and second-year player Jonas Gustavsson hasn't been stellar this season.
If the Maple Leafs plan on making the playoffs, they must add New York Islanders goalie Evgeni Nabokov before the trade deadline. Terry Koshan of the Toronto Sun believes that the veteran goalie is in the mix.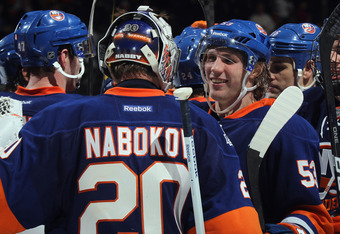 Bruce Bennett/Getty Images
Gustavsson is 16-12-2 with a GAA of 2.89 and save percentage of .905 on a winning team. Nabokov is 15-14 with a GAA of 2.26 and save percentage of .925 on a losing team.
Adding Nabokov would give them a veteran presence in the cage to help down the stretch. He played in every postseason from 1999 to 2010 for the San Jose Sharks—78 career postseason starts. He understands the battles of playing a seven-game series in the playoffs.
Does Toronto feel comfortable with Gustavsson down the stretch? I wouldn't feel comfortable at all. It doesn't seem like the Toronto organization are comfortable, either.
"We need somebody to take the lead and after that everybody will follow," Francois Allaire said. "We are not at that point right now. We are coming, but we are not at that point.

"We are trying to be really positive. When you look at games played (between the two), we don't have more than (160). So we have to be positive. We have to ask them to keep going, working no matter what. The guys are responding really well. I don't have an issue with the way they work, the way they try. But it is not always easy for a kid who does not have a lot of experience in the league to say, okay, I have to go for three or four good games in a row."
All you have to do is make the postseason to have a legitimate opportunity to win the Stanley Cup in the NHL. You don't have to be the best team during the regular season, you just have to be the hottest when it matters most.
Goaltenders can carry teams come playoff time. They are the biggest difference makers when teams move to a tight, checking type of game.
I would feel much better if Nabokov were in between the posts. He brings experience, has played well this year and wants a chance to compete for the Stanley Cup.
Toronto has to make this deal if they want to give their team the best opportunity to win down the stretch. He's not the greatest goalie in the league, but he would be better than what they have at this point.