Nick Diaz Talks Loss to Carlos Condit, Failed Drug Test, Retirement and Boxing
February 25, 2012

According to 5thround, Nick Diaz has finally spoken out on his loss to Carlos Condit at UFC 143, the failed drug test that followed, his retirement from MMA (Mixed Martial Arts) and a possible transition to boxing.
Thus far, the Stocktonian has remained quiet—content to sit back and allow the media and fanzines to debate the aftermath of the Las Vegas main event.
On the Loss to Condit
The fight per se, was shrouded in controversy, as Diaz felt he'd done enough to capture the interim welterweight title, however, the judges saw the fight differently and therefore awarded Condit the win via unanimous decision—a verdict which led to calls for a rematch.
"Honestly, I felt it was smarter to play it safe and go ahead and push forward and win the rounds," he expressed. "I've lost fights before where I'm landing more punches and I'm moving away from the guy. So, the way that they score things at the end doesn't seem very consistent to me.

"I come back and I learn from my mistakes from last time and it doesn't really make a difference in the end. So, if anything I proved that this isn't really working out. Because of all these fights I've lost, I'm usually winning the fights. You watch the guys taking more damage.

"It's just kinda irritating to me that we're awarding people in mixed martial arts for trying to move away and not finish the fight."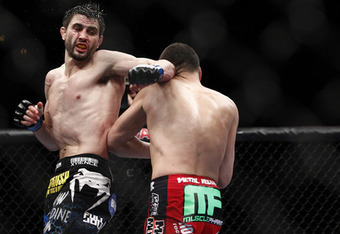 On His Failed Drug Test
Following the bout, it was pronounced that the Californian had tested positive for marijuana metabolites in a post-fight drugs test, and was subsequently banned by NSAC (Nevada State Athletic Commission).
Though thereupon, the Commission voted unanimously to overturn the ban to a temporary suspension, giving NSAC ample time to conduct its own investigation with regards to the legitimacy of his license for using the drug for medicinal purposes.
When the Commission reconvenes sometime later this year, Diaz will be required to provide information regarding his 2007 match with Takanori Gomi (he was banned for six months) where he tested positive for marijuana.
In addition, Diaz needs to disclose his full purse for the UFC 143 event and any other information that they deem is necessary to the outcome of the case before passing down a sentence.
"I'm under instruction not to talk about that, or any of this," Diaz told Spike TV's "MMA Uncensored."
On His Retirement from MMA
As a consequence of the judge's decision to grant Condit the win, Diaz forthwith announced his retirement from professional MMA.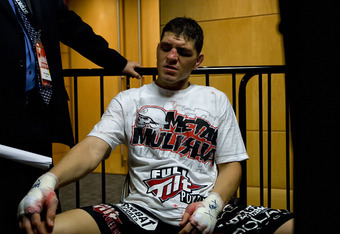 "I've had what feels like a week or so to think about any of this … but I haven't really put much thought into it. It just feels good to get some workouts in and just try to act normal, I guess."
On Boxing
In the past, the 209 son had intimated he harbored thoughts of pursuing a boxing career (in his first and only foray into pro ranks of boxing, he won a unanimous decision over Alfonso Rocha) entwined with MMA, however when that question was put to him, he set the record straight.
"Well, I never said anything about pursuing boxing," he stated. "I [haven't] really said much about anything about what I'm gonna be doing in the future.
For additional information, follow Nedu Obi on Twitter.