Oklahoma Football: Sooners' 2012 Run Game Teeming with Potential
February 25, 2012

Wesley Hitt/Getty Images
The Oklahoma Sooners have plenty of reasons to be optimistic for 2012. Landry Jones returns for his senior season and will be joined by plenty of returning talent. Although not extraordinary last season, one of the most promising areas figures to be the rushing attack. 
First, there's Dominique Whaley. The walk-on sensation exploded in 2011, rushing for 664 yards and nine touchdowns in six games, good for a 5.5 yard average, before suffering an excruciating ankle fracture. Although he won't participate in spring practice, it's reasonable to believe he'll be ready to go by fall. And provided he makes a full recovery, the sky is the limit for the senior, who showed dazzling ability last season. 
The Sooner rushing attack obviously took a hit with the loss of Whaley, but Roy Finch and Blake Bell stepped up nicely. Finch rushed for at least 80 yards in five consecutive games, and Bell scored 13 touchdowns, taking full advantage of his size near the goal line.
Bell, who could be the No. 1 quarterback right now if not for Jones' decision to return, should continue to thrive when given opportunities to run the ball. Although rotating quarterbacks can inhibit the development of offensive rhythm, offensive coordinators Josh Heupel and Jay Norvell should continue to rotate Bell in, especially in the red zone; he has too much ability to sit on the bench.
The coaches could even consider going to Bell in short-yardage third-down situations, as this tends to be an area of weakness at times for the Sooner offense. It's hard to prevent a determined 6'6," 245 pound mammoth from getting one to three yards when he needs them most.  
Brennan Clay and fullback Trey Millard didn't make much noise in the rushing department last season, but they could get more opportunities next season. The Sooners would be wise to give Millard more opportunities; he dropped jaws with his 61-yard touchdown scamper against Kansas State.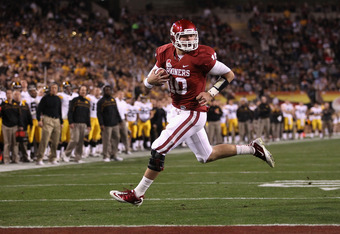 Christian Petersen/Getty Images
Add to this considerable talent pool incoming recruits Alex Ross and Damien Williams. Ross, at 6'1," 205 pounds, was an Under Armour All-American and Oklahoma state champion in the 200 meter dash. He has the potential to contribute immediately if he isn't redshirted.
As for Williams, who will be the biggest Sooner tailback at 6'1," 215 pounds, he could realistically play immediately as well. A JUCO player from San Diego, he rushed for just shy of 2,000 yards at Arizona Western College.
The Sooners also signed David Smith, a 3-star recruit who puts OU in line to have eight tailbacks on the roster.
All things considered, there will be plenty of talent at the Sooners' disposal in the rushing game, and it's in the team's best interest to utilize that potential to the fullest, allowing for a balanced and potent offensive attack. Last season, OU averaged 162.9 rushing yards per game, 50th nationally. With the talent available, the team should see a stronger output next season.
Furthermore, a well-developed run game will foster offensive balance and ease the pressure on Landry Jones, which should lead to a potent offensive attack considering the prospects for success in the passing game.