Tallon Promises a Quiet Trade Deadline for Florida Panthers, Maybe
February 25, 2012

Bruce Bennett/Getty Images
Panthers fans, don't expect much activity before the trade deadline.
Unlike last season, when GM Dale Tallon cleaned house in order to generate cap space for a summer shopping spree which resulted in 13 new faces opening day, this time around, if anything, Tallon indicated he will be a buyer just to tweak a few parts but remaining attentive to the long-range objectives.
Just like the strategy in his successful rebuilding of the Blackhawks, Tallon will not mortgage the future for short-term gains.
Earlier in the season, Tallon looked like a genius, given the Panthers' quick start and the great performances of new acquisitions such as Brian Campbell, Kris Versteeg and Tomas Fleischmann, the resurgence of Jose Theodore in goal and the improved performances of D-men Jason Garrison and Dmitry Kulikov.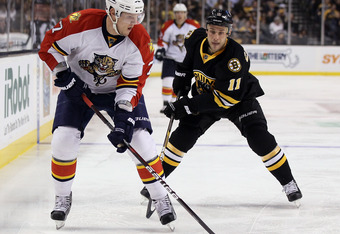 Elsa/Getty Images
Then the injuries hit and reality set in. At one time, seven starting forwards were on IR. Then Garrison, Kulikov and veteran defender Ed Jovanovski went down with extended injuries, forcing the team to enlist a host of rotating AHL fill-ins while they trod water.  Despite the hype about the longevity in first place in the weaker Atlantic Division, they were never much more than a shootout loss from a non-playoff position.  They are a dismal 4-12 in overtime, with a 3-7 shootout record.
Tallon repeatedly uses words like "patience" and "big picture" in assessing his strategy, considering the stockpile of draft picks and prospects such as scoring whiz Jonathan Huberdeau in juniors and goalie heir apparent Jacob Markstrom in the AHL. 
Given that assessment, the Cats can certainly still use a scorer now to bolster their anemic offense beyond the top line and break the 10-year playoff drought. Tallon has not indicated he will join the Rick Nash sweepstakes, however, with the Panthers coming off of four straight losses at home (three regulation, one shootout), during which they scored a total of five goals.
Tallon might now be rethinking his policy of avoiding rental players. He acquired veteran center Jerred Smithson from Nashville for a low-round draft pick, then picked up Wojtek Wolski from the Rangers. Neither are breakout offensive threats, but Smithson carries a 55 percent faceoff success record and Wojtek is as good or better than any of the Panthers' shootout specialists.
One intriguing possibility would be bringing back Panthers' all-time leading scorer Ollie Jokinen as a rental.
Last season at this time, the Panthers were hopelessly out of playoff contention, so a sell-off was in order. Buyers this time of year are usually looking for insurance or a missing piece for the playoff thrust in return for an expendable part. Despite Tallon's silence on the issue, look for him to pull the trigger again.