Chicago White Sox: 7 Reasons Why the Robin Ventura Experiment Will Work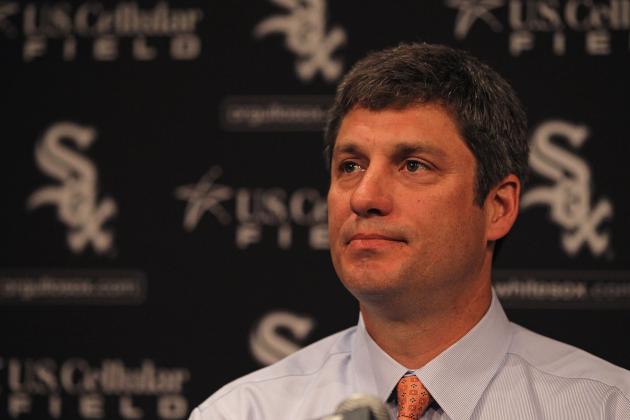 Jonathan Daniel/Getty Images

The hiring of Robin Ventura last fall by White Sox GM Kenny Williams created quite a stir.
The decision by Williams has not been popular with fans, and some question whether or not the experiment will work. The main reason seems to be Ventura's experience, or lack thereof. Many have argued that the White Sox need a more seasoned skipper at the helm during what appears to be a rebuilding period.
Ventura replaces the very popular, if not controversial, Ozzie Guillen, who led the team to its first championship in 88 years in 2005.
What will Ventura bring to the table as manager? Will he be able to replicate Guillen's success? If so, how long will it last? These are some of the questions that will ultimately be answered.
Here are the seven reasons why the Ventura experiment will work.
Begin Slideshow

»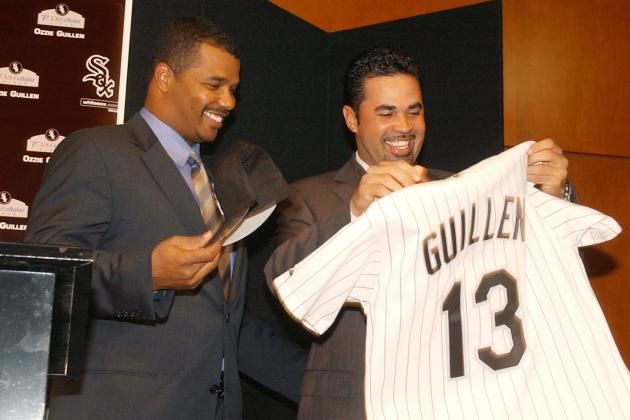 Jonathan Daniel/Getty Images

White Sox GM Kenny Williams likes to take risks—case in point Ozzie Guillen.
Guillen had never managed a game on any level of professional baseball prior to being hired skipper. His lack of managerial experience didn't seem to affect the White Sox as they compiled a respectable 83-79 record during his first season in 2004.
Williams' huge gamble ultimately paid off in year two, as Guillen would guide the White Sox to a 99-63 regular season record and their first World Championship in 88 years. Most people consider the Guillen hiring a success despite the frequent clubhouse and off-the-field distractions throughout his tenure.
Will his gamble on Ventura pay off as well?
Williams certainly thinks so.
"I wanted someone who met very specific criteria centered around his leadership abilities," said Williams in a Fox News article. "Robin Ventura was that man. His baseball knowledge and expertise, his professionalism, his familiarity with the White Sox and Chicago and his outstanding character make him absolutely the right person to lead our clubhouse and this organization into the seasons ahead."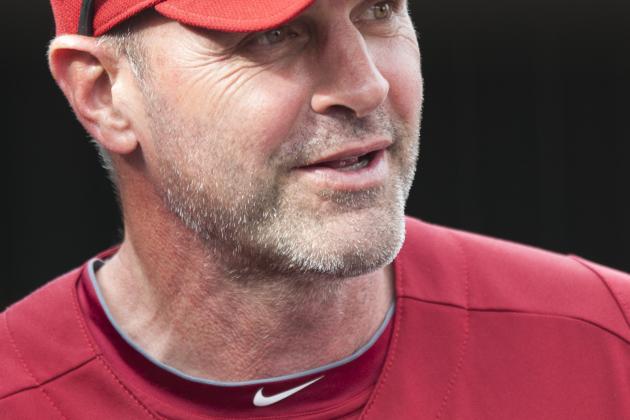 Rob Tringali/Getty Images

First-time managers have experienced varying levels of success over the years. In recent times, there seems to be less reluctance from owners and general managers to go with the fresh-faced greenhorn versus the wily veteran.
This strategy has been very successful in recent years.You don't have to look much further than Arizona Diamondbacks skipper Kirk Gibson. With no previous managerial experience, Gibson was appointed manager halfway through the 2010 season. He would immediately change the clubhouse culture and lead the Diamondbacks to a surprising 94-68 record in 2011.
His stewardship would be recognized by sportswriters as he was awarded the 2011 NL Manager of the Year.
Can Ventura do the same with less talent and no experience?
White Sox chairman Jerry Reinsdorf thinks so.
"I don't think we're rebuilding because rebuilding is when you get bad in order to get good," he said in an ESPN article. "We fell short last season but we didn't fall a lot short. I think we could very well contend for the division if Adam Dunn and Alex Rios bounce back. And a guy I think will really bounce back is Jake Peavy because that's the history of guys the second year following injuries."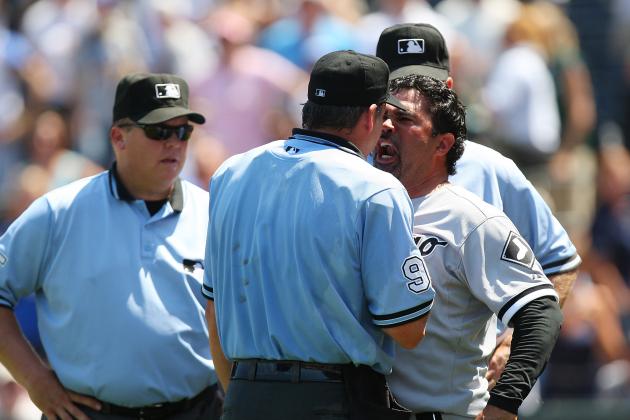 G. Newman Lowrance/Getty Images

It was time for a change
If you look at Ozzie Guillen's body of work as a whole he had a successful run as Chicago White Sox manager. He accomplished something that hadn't been done in 88 years—brought a World Championship to the South Side of Chicago.
His act, however, eventually became old.
His frequent media outbursts and clashes with players and management would ultimately lead to his demise.
Will the White Sox be better off with Ventura rather than Guillen?
White Sox hurler Gavin Floyd thinks so.
"I think he's a great fit for this team,'' Floyd said in a Sun Times article. "He's going to lead this team real well. I think he's going to be a good encourager and motivator. He's going to manage the ballgame well. I have no doubt about that. From the times I've met him, he's been a class-act guy.''
.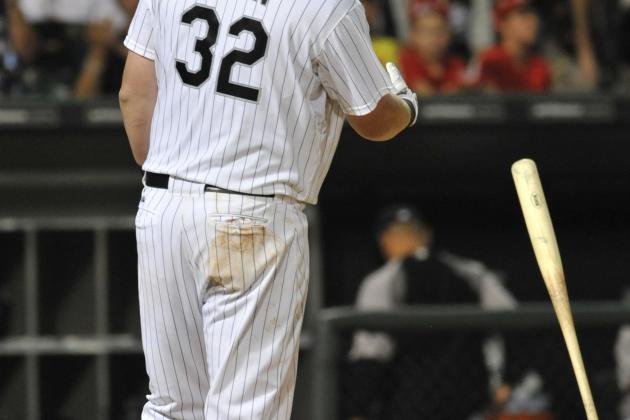 David Banks/Getty Images

I think it is safe to say that no one expects the 2012 White Sox to contend—except Ventura.
"I don't know if (we're) flying under the radar," Ventura said in a Chicago Tribune article. "We still have the same goal — to win games. And we have to figure out a way to do that. Detroit has kind of earned that (favored status) doing what they did last season and signing some players this year, but it's not going to change the way we approach anything. We're not going to concede anything."
The White Sox will need to improve from last season's 79-83 record. However, with a wild card added to each league, its safe to say its now a reasonable expectation.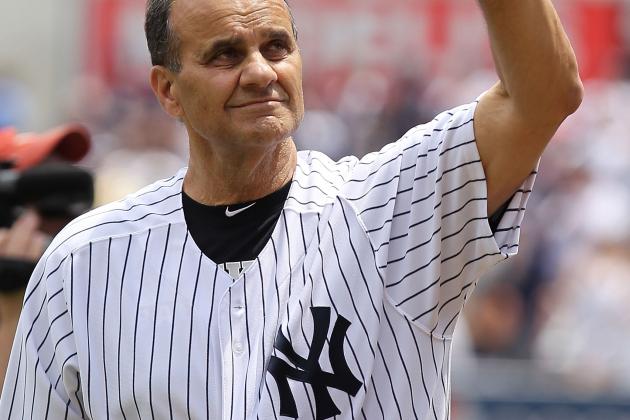 Al Bello/Getty Images

What do Jeff Torborg, Gene Lamont, Jerry Manuel, Bobby Valentine, Joe Torre and Jim Tracy all have in common?
They all managed Robin Ventura at one point during his 16-year career.
The managerial styles and successes of the men listed above are as diverse as the different neighborhoods that surround US Cellular Field. This should provide a good base of experience for Ventura to draw from. When asked specifically about what type of style he plans to draw from his experiences, Ventura seemed to give credence to all his mentors.
"I've seen and played for different people and you take different things and hopefully I can bring a lot of those things I like," he said in an ESPN Chicago article. "But as far as being a manager, you want to be honest, up front and excited to be there -- and not screw up, don't make any mistakes. But if you don't make any mistakes you're not trying, either. I want guys to enjoy coming to the ballpark, that want to come to the ballpark, and play hard."
The real question is whether or not Ventura will match the success of Torre, who won four World Championships or Torborg, who had a sported a sub-par .469 winning percentage.
Scott Olson/Getty Images

New York, Chicago, Los Angeles.
Ventura has played in all three of these locations.
Obviously, there is a different skill set needed for a player/manager to deal with the day-to-day pressures that come with a large market organization. Case in point—Art Howe, who successfully managed the small market Oakland A's teams of the early 2000's. He was hired by the New York Mets in 2003 and was not able to replicate his previous success, posting a dismal 137-186 record in two seasons.
Howe is currently without a job—and some believe it because of how he dealt with the pressures of managing in New York—a large market club.
Ventura seems to be handing the Chicago media well to this point. He was very frank with reporters during his first spring training interview. He seemed to express his philosophy well.
"My way? My way or highway? Well, you would like to have it to where you have a way and it's beyond your big league level," Ventura said in an ESPN Chicago article. "You want your minor league to feel that way, too, that there is, 'this is just the way we play baseball, this is what we expect of you' from the minor leagues to the big leagues."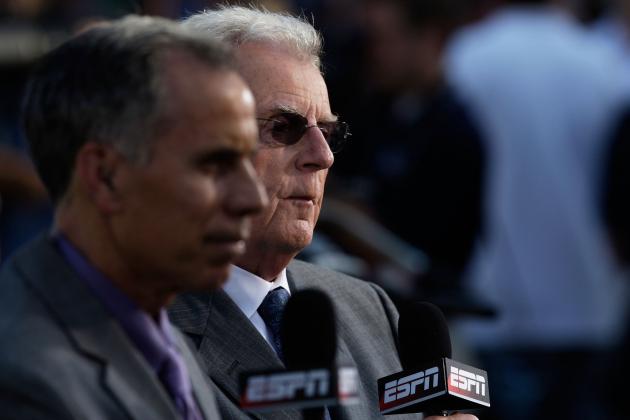 Jamie Squire/Getty Images

Many successful managers have spent time in the broadcasting booth. Some who have been successful include Joe Torre, Bob Brenly and Lou Pinella to name a few. After retirement, Ventura spent some time behind the mic covering baseball on the Little League and collegiate levels for ESPN.
Being in the broadcast booth provides a completely different perspective of the game. Broadcasters spend countless hours researching their subjects to find tendencies—strengths and weaknesses. This should translate well from the broadcast booth into the dugout.
Being in broadcasting also allows the cultivation of relationships in the sports media world. Many successful managers find the transition from booth to field much easier because of this.
Ventura's experience behind the mic should help him as he embarks on his first season as White Sox skipper.