UFC 144: 3 Questions We Have About Frankie Edgar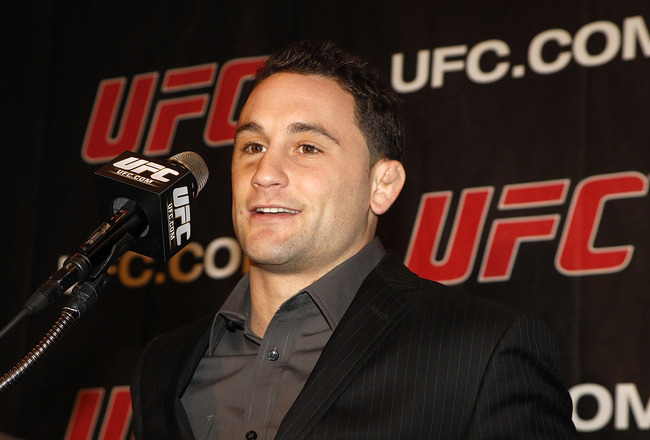 Michael Cohen/Getty Images
In April of 2010, Frankie Edgar earned a unanimous decision victory over B.J. Penn, to capture the UFC lightweight crown. However, his victory was not without controversy.
Many MMA fans and pundits argued that B.J. was the true victor, having landed cleaner and more effective counter-strikes during the exchanges. Frankie Edgar was slated to face B.J. in a rematch.
In their second meeting, Frankie silenced his critics, earning a resounding unanimous decision victory over Penn. Frankie dominated Penn, but his lightweight reign was anything but undisputed.
A former opponent of Frankie's waited in the wings for a second chance to prove himself the better fighter. Gray Maynard wanted to prove that his victory over Edgar in 2008 was not a fluke. Edgar welcomed the rematch as a chance to erase the lone blemish on his professional record.
Frankie and Gray went to war, but after five rounds their bout was scored a draw. Frankie was to face Gray again, in yet another rematch.
In their third meeting, Frankie put all doubts to rest, stopping Maynard with strikes at 3:54 in the fourth round.
Edgar is finally considered the favorite, and the truly undisputed champion. With his fifth championship fight only hours away, we must consider three vital questions as he prepares to face Benson Henderson.
Can Frankie Overcome the Size Difference?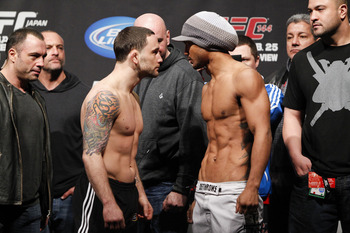 It is no secret that Edgar is an undersized lightweight compared to hulking fighters like Benson Henderson. Edgar reportedly walks around at 160 pounds while Benson Henderson cuts from around 175 pounds.
The weight cut has not been kind to Benson in the past. After his first bout with Donald Cerrone, Benson stopped sweating due to tremendous dehydration and had to be rushed to the emergency room to be re-hydrated.
Edgar might have trouble defending against Benson's clinch game and stifling side control due to the size discrepancy.
While Edgar's skills are solid, he may be worn down in being forced to carry Benson's massive frame.
Can Frankie Land a Double Leg on Benson?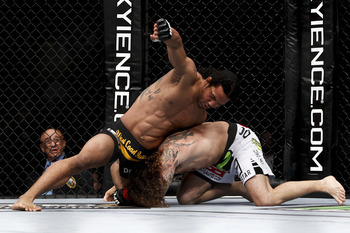 Benson's nickname is "Bendo" for a reason. That man can sprawl, scramble, and stretch his way out of nearly any take down or submission attempt. If Benson is able to stifle Edgar's shot, what will that mean for Edgar?
Edgar's double leg shot is an essential tool to his striking game. He changes levels to throw off his opponent, gets them to respond to the threat of the shot, and then counter strikes and switches angles.
He used this strategy against B.J. Penn and Gray Maynard. Time and time again, you can see Frankie fake the shot, circle to his left and land the jab or straight right.
If Benson isn't afraid of Edgar's shot, or is able to sprawl out of it, it may drastically change Edgar's game-plan.
Can Frankie Win in the Scrambles?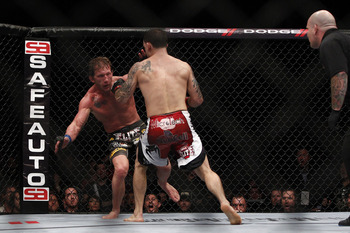 When this fight hits the ground, and it will hit the ground over the course of five rounds, Frankie must win the scrambles.
Edgar has shown a stout wrestling base, and a dynamic grappling game in his previous bouts. He has acute awareness of his opponent's body positioning, and is able to adjust to the slightest movement and capitalize on that opening.
In his third fight with Gray Maynard, Edgar was rocked early. Yet, he was able to snatch a single leg on Grey, turn the corner to his left and escape Gray's blows.
Frankie must be aware of Benson's underhooks, whizzers, overhooks and leg sweeps if he is to maintain dominant positioning on the ground and win the fight.
Follow Kyle Kelly-Yahner on Twitter.
Keep Reading