Philadelphia Phillies: 25 Players to Fixate on During Phillies' Spring Training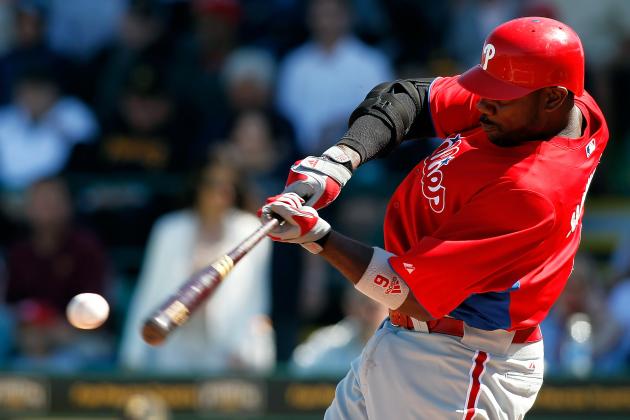 J. Meric/Getty Images

In Philadelphia, there's a certain buzz in the air, and it is definitely sports related.
Could it be the fact that the surprising Philadelphia 76ers are one of the strongest teams in the NBA? No, that's not it. What about the Broad Street Bullies? After standing pat at the trade deadline, the Philadelphia Flyers need to get their act together, but that's not it either.
It's Spring Training.
The first day of official workouts has become something like a holiday in Philadelphia, and with that date having come and gone, the anticipation for a new baseball season, packed to the brim with high expectations, continues to grow in what has truly become a baseball town.
But now that the first official workout has come and gone, we can finally get down to business.
Underneath that shiny, exterior layer of All-Star caliber names on the Philadelphia Phillies' roster exists a number of concerns. Who is injured? Who is healing?
It's not all doom and gloom though. There are plenty of exciting questions as well. Which players will be battling it out for a job this spring? Which non-roster player is going to jump out and surprise us?
Consider this slide show your guide to everything related to Phillies' Spring Training. Let it serve as a primer as players to keep an eye on this spring. After all, they could mean the difference between World Series and bust in 2012.
Begin Slideshow

»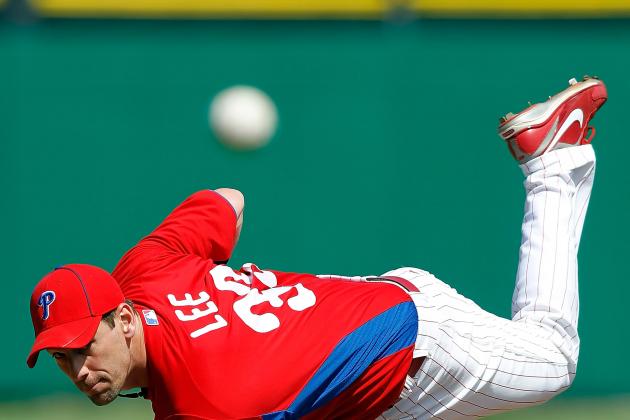 J. Meric/Getty Images

Spring training has been an eventful time for Cliff Lee in the past.
Most fans will remember that after the Phillies sent him to the Seattle Mariners prior to the 2010 season, the lefty struggled with an abdominal issue in camp that sidelined him for a few starts in April.
So when the words "abdominal," "skipped," and "Lee" are put together in the same sentence, you get a statement that raises a few concerns from a few people, especially when they're about a pitcher of Lee's caliber (and price tag).
The Phils' second ace brushed off injury concerns early in camp, saying that he was just feeling a bit uncomfortable in the abdominal region and was playing it safe, and during the first weekend of spring training, threw in a bullpen.
He's slated to throw live batting practice on Tuesday.
Ruben Amaro Jr., the Phillies' GM, said Lee is good to go, but it's something to keep an eye on regardless.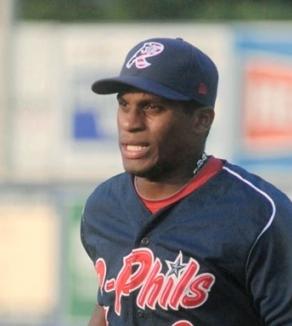 www.republicanherald.com/sports
Harold Garcia may be a name way off the radar for a number of Phillies' fans, but once upon a time, this man was thought of as the heir-apparent to current second baseman Chase Utley. In fact, he may still be.
After missing nearly all of the 2011 season with a torn ACL, the Phillies want to see just where Garcia stands moving into 2012. Once a top prospect with good contact and on-base skills, Garcia fell off of a lot of top prospect lists after proving unable to stay healthy.
In that regard, 2012 is going to be a big year for the second baseman. He'll have a chance to impress the right people this spring before going back to Reading to prove that he's healthy. It may not be long before he's knocking on the door to the MLB.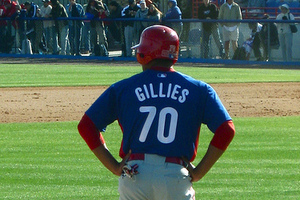 With Shane Victorino slated to become a free agent at season's end, Tyson Gillies may be the closest center fielder to the MLB in the Phillies' farm system, so if you think he doesn't have much to play for in 2012, think again.
Though the chances of Gillies taking over in center field in 2012 are slim to none, the prospect does have a lot to prove this season regardless. Acquired in the deal that sent Cliff Lee to Seattle, Gillies was expected to become a top prospect but struggled with injuries and off-the-field issues.
Now, focused on baseball and healthy for the first time as a member of the Phillies, Gillies will have an opportunity to showcase his talents this spring and then go back to the minors and refine his craft.
Kevork Djansezian/Getty Images

The Phillies want to know just what Antonio Bastardo is capable of doing for their club in 2012.
Sure, it's easy to pencil him in as one of Jonathan Papelbon's set-up men this season for those of us looking at his 2011 season statistics as a collective. For most of the year, Bastardo was nearly untouchable, stepping up in a big way for the Phillies.
In the month of September, he took a major step backwards, and though the Phillies have enough bullpen depth to overcome a shaky Bastardo, the powerhouse lefty who was around for most of the season certainly changes the whole dynamic of the Phillies' bullpen.
Which one shows up?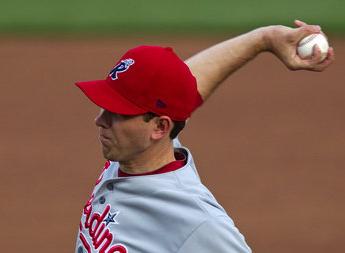 Joe Hermitt / The Patriot News
When you think about promising starting-pitching prospects in the Phillies' farm system, Austin Hyatt isn't usually one of the first names that comes to mind. In fact, he's not even considered a real "prospect" in some realms of the baseball universe.
However, after making 28 starts in AA Reading last season and winning 12 games, Hyatt opened a few eyes. A change-up specialist, Hyatt comes into camp knowing that, realistically, he has no chance at making the big league club.
What Hyatt will be given the opportunity to do is show that his 2011 campaign wasn't a fluke, and that he could provide legitimate pitching depth at AAA Lehigh Valley in the event of an injury.
Hyatt will start the first exhibition game of the spring for the Phillies in their annual game against the Florida State Seminoles, and anyone interesting in young pitching should follow along.
Including Hyatt, the Phillies will send a number of promising prospects to the mound, including Jake Diekman, Jeremy Horst (acquired from the Cincinnati Reds in exchange for Wilson Valdez,) and Phillippe Aumont, according to Philly.com.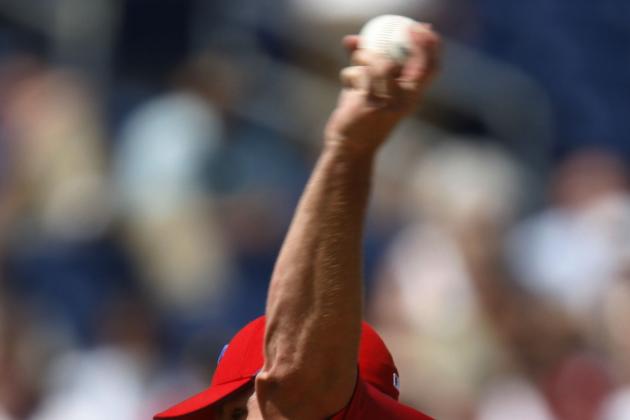 Eliot J. Schechter/Getty Images

Anyone who has followed the career path of Joe Savery knows that it has been a wild ride. He went from being one of the best players Rice University had to offer to Phillies' draft pick. He struggled on the mound and went to play some first base. Then back to the mound. Then to the DH position before finally returning to the mound, but this time, in the bullpen.
So far, so good.
Savery was impressive working as a lefty specialist in the Phillies' organization last season and earned a cup of coffee with the MLB club in the month of September. Now, heading into spring training, he has an outside shot of making the club as the team's second lefty.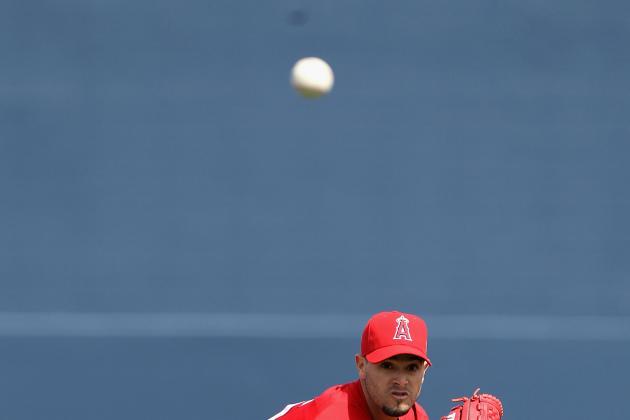 Christian Petersen/Getty Images

Believe it or not, just a couple of seasons ago, the seemingly magical talents of St. Louis Cardinals' pitching coach Dave Duncan had transformed Joel Pineiro into one of the National League's top starters. Pineiro would then test the free-agent market and after a so-so pair of seasons with the Los Angeles Angels, signed a minor league deal with the Phillies.
Though the Phillies' starting rotation is full, Pineiro will be an interesting pitcher to keep an eye on this spring. Because of his MLB service time, he has the right to reject an assignment to AAA, and if he doesn't make the club out of spring training, he could test the free-agent market.
Would that give the Phillies some incentive to keep him around should there be an opening in the rotation (or even in the bullpen, for that matter), or would the club explore other options, like that guy current sitting at home in Weir, Mississippi?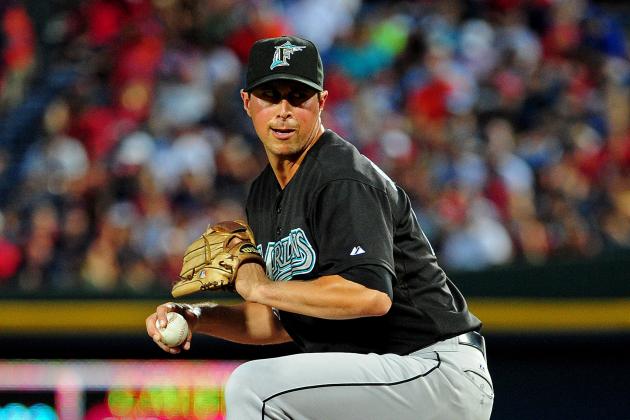 Scott Cunningham/Getty Images

Having big league experience is always a positive heading into spring training as a non-roster invitee. Having a funky but effective delivery as a reliever is another plus, so Brian Sanches is heading in the right direction.
After signing a minor league deal with the Phillies in the offseason, many pundits have tabbed him as a sleeper with the potential to make the big league club. With a strange, right-handed delivery, Sanches has been very effective against right-handed hitters in his MLB career and hasn't been too shabby against lefties either.
With an impressive spring training, Sanches could throw his name right into the bullpen mix. Though there are guys with more upside, very few have the amount of experience that Sanches does, having spent parts of the last six seasons in the MLB. Again, that is a plus.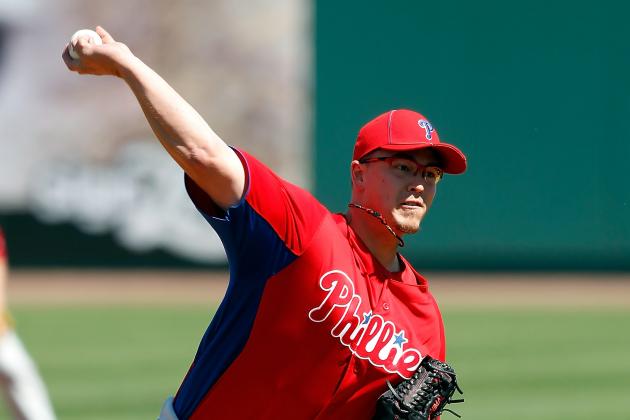 J. Meric/Getty Images

The "sophomore slump" hasn't been kind to promising rookies in recent seasons.
Maybe it's a jinx, maybe it's not, but those with strong superstitions ought not to be reminded of the fact that the top three vote receivers for the 2010 National League Rookie of the Year Award each took a step back in 2011.
Between Buster Posey's leg injury and the leveling out of statistics for Jason Heyward and Jaime Garcia, Phillies' starter Vance Worley, who finished third in the 2011 NL Rookie of the Year Award voting, had better be looking both ways for black cats, throwing salt over his shoulder and doing whatever it takes to stay at the top of his game.
On a serious note, advanced statistics indicate some statistical regression for Worley in 2012, and just how far he regresses, if at all, will be something to keep an eye on this spring.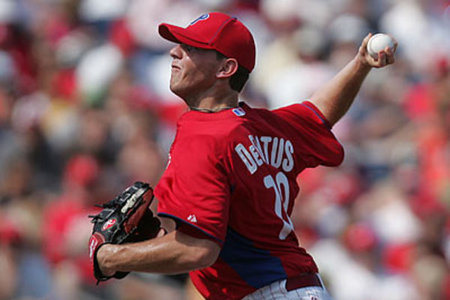 David Swanson / www.articles.philly.com
After evaluating the Phillies' roster from top to bottom for most of the winter, if there were one prospect that, if forced, I would have picked to make the Phillies' roster out of spring training, it would have been right-handed reliever Justin De Fratus.
The man has excellent control of a very good fastball and a complementary slider that has many scouts projecting him as an MLB set-up man.
Now, just a week into spring training, arm concerns would have me second guessing myself. De Fratus has been shut down for a while as he deals with soreness in his throwing arm. To date, this has not been diagnosed as a serious injury so much as a minor setback, but we should be watching to see if this develops into a more troubling issue.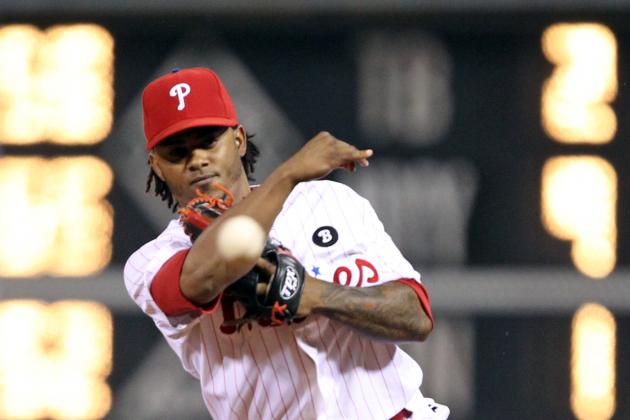 Hunter Martin/Getty Images

For most of last season, Wilson Valdez and Michael Martinez played the same role for the Phillies.
The front office must have thought so as well, because they moved Valdez to the Cincinnati Reds for a fringe lefty (Jeremy Horst) and a couple hundred thousand dollars in salary relief, opening the door for Martinez to step in and play a big part in 2012.
It's hard not to like Martinez's potential to become a good super-utility man. He plays five, possibly six positions and has the skill to play each of them well. His defense isn't much of a question.
It's everything else.
Last season, he was a non-factor at the plate and couldn't do any of the "small things" (bunting, base running, etc...) well. He'll need to show that he can do those things in spring training if he wants to make the club. Otherwise, he is extremely replaceable.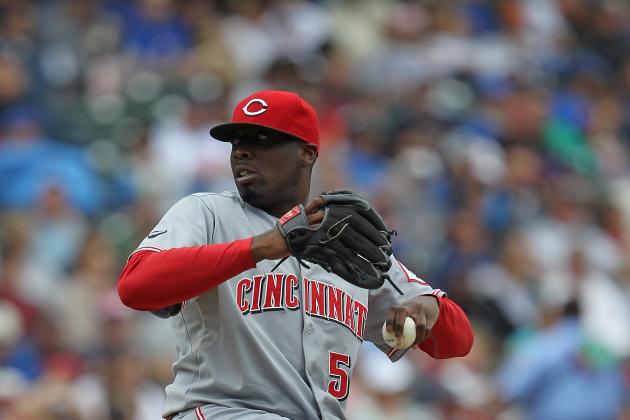 Jonathan Daniel/Getty Images

A quick glance over Dontrelle Willis' statistics shows that he has been absolutely dominant against left-handed hitters throughout the course of his MLB career, thanks in large part to his unique left-handed delivery, leading most people to believe that he'll make the Phillies' club as a lefty specialist this spring.
Not so fast.
Willis has never pitched out of the bullpen before, and his non-guaranteed contract makes him less than a sure thing coming out of camp. We'll need to keep a watchful eye on him this spring to see his effectiveness on the small things, like coming into a game on back-to-back, maybe three consecutive, days.
If he's anything less than stellar, taking a lefty like Jake Diekman or Joe Savery could save the Phillies a bit of money to pursue other endeavors.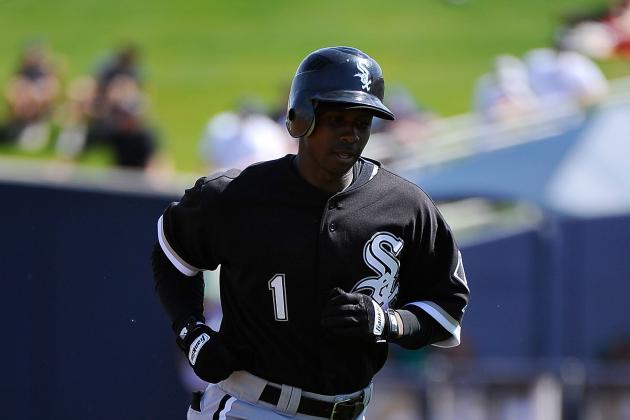 Kevork Djansezian/Getty Images

Juan Pierre provides something that the Phillies' bench has been sorely lacking the last couple of seasons: speed.
With that being said, however, Pierre hasn't exactly been the best base runner over the last couple of seasons, posting alarming caught-stealing percentages and running into more outs than he should.
But that's the beauty of this agreement. It's a minor league deal. If the Phillies feel as though Pierre has nothing left, he can either go to AAA Lehigh Valley or back on to the free-agent market, but if the Phillies feel as though there is enough speed left to make him an effective bench player, he breaks camp with the club.
Now, all that remains to be seen is exactly what Pierre can provide.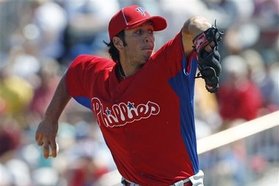 AP Photo
Mike Stutes is a guy to keep an eye on this spring for many of the same reasons listed on Antonio Bastardo's slide.
After coming up to the MLB as reinforcement for the injury-plagued Phillies' roster, Stutes stepped right in and became a go-to guy for skipper Charlie Manuel. As the season wore on, Stutes began to struggle with his command and found himself relegated to the middle innings and mop-up duty.
Stutes has the potential to change the landscape of a good potential. If he struggles, or perhaps even doesn't make the club, the Phillies will still have a good bullpen. If he's pitching at full strength and up to his potential, the Phillies will have an excellent bullpen.
What some perceive as a subtle difference could go a long way for the Phillies. They need players who aren't making millions upon millions of dollars to step up and contribute.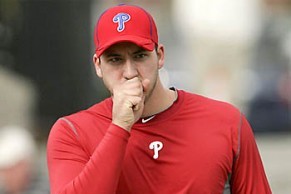 www.phillygameday.com
Anyone who has been following Phillippe Aumont throughout the offseason and up to this point in camp knows that he looks and sounds like a completely different pitcher than when the Phillies' acquired him prior to the 2010 season—that's because he is.
After making the transition from starting pitcher to full-time reliever and finally excelling in that role last season, Aumont is beginning to exude the confidence that you would expect to see from a man with the potential to be an MLB closer. Though he's blocked at that position by Jonathan Papelbon, Aumont knows what it will take to make the camp now.
First and foremost, he is going to have to have an excellent spring training. He'll need to show that he can locate all of his pitches, strike out hitters from both sides of the plate and most importantly, show that there are no better options in a crowded mix of relievers.
Aumont has all of the potential in the world to be an excellent reliever, but can he come into camp and win a job?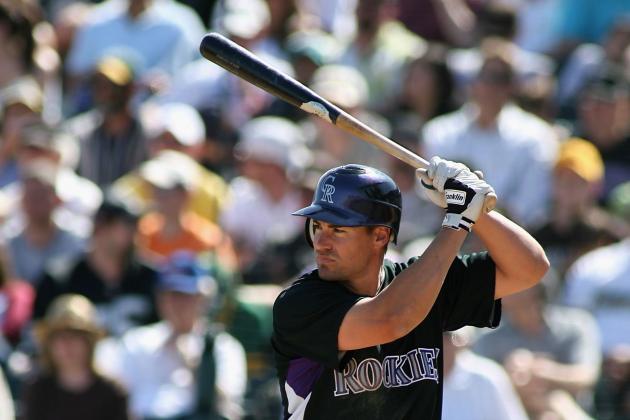 Christian Petersen/Getty Images

The Phillies are going to have very few position battles this spring, but one of the more interesting ones could be a battle of speedy outfielders vying for a spot on the bench between Scott Podsednik and Juan Pierre.
While Pierre has been playing in the MLB with the Chicago White Sox the last couple of seasons, Podsednik has been dealing with foot injuries. He spent the 2011 season with the AAA Lehigh Valley IronPigs and signed a new minor league deal this winter.
Now fully healthy, Podsednik is a dark-horse candidate to crack the Phillies' bench, at least while Ryan Howard is on the disabled list.
Podsednik has good range in the outfield and speed on the base paths, and over the course of his career, he has been a very good base runner.
The biggest question is whether or not he's healthy. If he is, he could give Pierre a run for his money.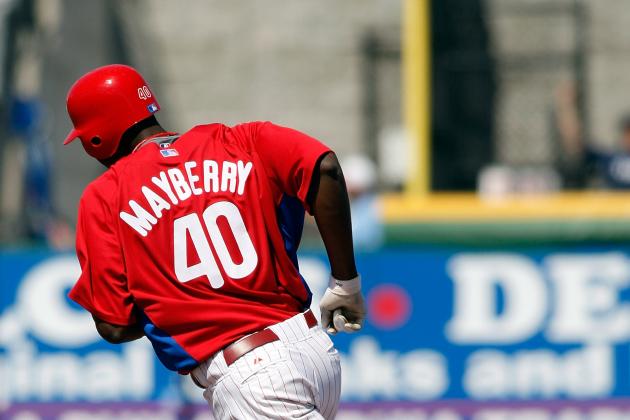 J. Meric/Getty Images

What's next for John Mayberry Jr.?
The outfielder has become one of the greatest sources of optimism for the Phillies in recent months, putting together what some consider a miniature "breakout" season in 2011, but many more would like to see the real thing in 2012.
Let's not forget, it wasn't all too long ago that Mayberry was on the shuttle between Lehigh Valley and Philadelphia, and fans had all but given up on him. Now, Ruben Amaro Jr. (and most of the fan base) believes that the left field job is his to lose.
Mayberry has an excellent shot at keeping that job, but he'll have a number of outfielders right on his heels trying to take it away from him. That will be something to keep an eye on this spring. Left field could develop into one of the club's few position battles.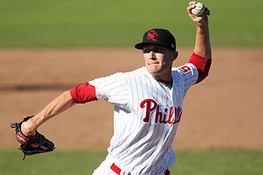 Each spring, a player you would have otherwise written off catches the right person's eye and develops into a serious candidate to make the roster. This spring, that player is Jake Diekman, who thus far has impressed just about everyone who has seen him pitch, including Phillies' pitching coach Rich Dubee.
Impressed with his funky, side-arm, sling-like delivery, Dubee believes that Diekman has the potential to be an effective weapon against left-handed hitters. Armed with a good fastball, the development of the lefty's slider could have him pitching out of the Phillies' bullpen on Opening Day.
Dubee was impressed, and according to Mandy Housenick of the Allentown Morning Call, said, "You've got to love Diekman's arm. He's got a tremendous, high ceiling."
If you're looking for a sleeper prospect to make the cut, look no further.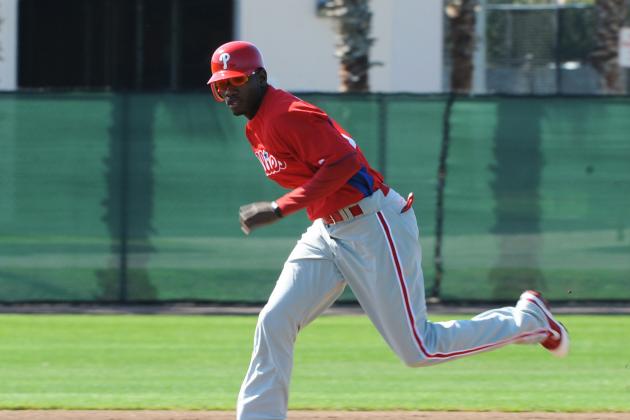 Al Messerschmidt/Getty Images

Just a few workouts into spring training, Domonic Brown is impressing all the right people so far.
After Ruben Amaro Jr. told the media that he'd like to see the former No. 1 prospect spend a full season in AAA, something seems to have clicked in Brown's head. His conditioning is much better. He seems to be more focused. For the first time since that impressive debut in Philly, he seems committed to playing in the MLB.
All of that is great, but we'll need to see a few things out of Brown this spring.
First and foremost, can he play a satisfactory left field? Let's be honest here. The Phillies aren't looking for him to win any Gold Gloves out there. The club has two World Series titles in its history. The two, starting left fielders on those clubs? Greg Luzinski and Pat Burrell.
The Phillies need to see that Brown isn't going to be a liability for their pitching staff, and that's one of the reasons it's easy to prefer John Mayberry Jr.
However, we know that Brown can hit. The fractured hamate bone really seemed to slow him down last spring, but early reports out of camp in 2012 suggest that he has found his source of power again.
If he tears the cover off of the ball this spring, it wouldn't be shocking to see Brown make the club, with Ryan Howard going on the disabled list. Consider it an extended battle between he and Mayberry.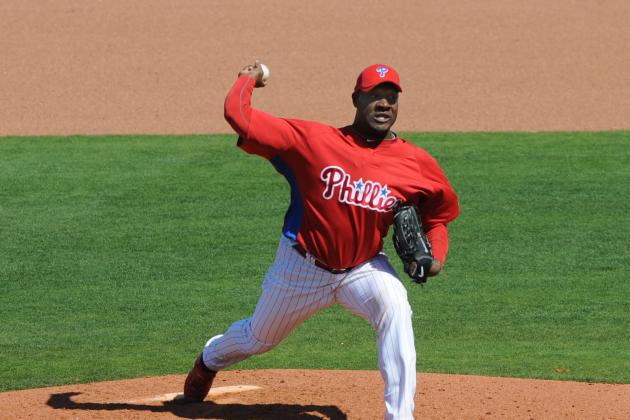 Al Messerschmidt/Getty Images

Though the Phillies found ways to overcome the loss of Jose Contreras in 2011, that loss was certainly felt.
After years of being a starting pitcher, the "Big Truck" seemed to be coming into his own as a late-inning reliever in his second year with the Phillies, becoming Charlie Manuel's first choice of a closer to replace the injured Brad Lidge.
Contreras went on the disabled list just a short time thereafter, and the rest is history.
After having exploratory surgery in the offseason, Contreras has come to spring training in good health, throwing a couple of bullpen sessions and reporting no problems.
If he can keep this up through the spring and take over as Jonathan Papelbon's set-up man, the Phillies will have one of the strongest bullpens in the National League. If he's unable to go, the complexion of that bullpen is very different.
Al Messerschmidt/Getty Images

What's left in the tank for Placido Polanco?
The Phils' third baseman had more injuries in 2011 than that poor guy from the Operation! board game, leading the club to consider upgrades at the position over the offseason, but with it having come and gone, Polanco is still the man for the job.
So the question becomes: What's left? How much can Polanco contribute in 2011?
Quite honestly, no one can say. He's come into camp feeling healthy for the first time in a long time, and that may mean something—but don't put it past a professional athlete to over-exaggerate the state of his health either.
Polanco could be one of the most important parts of the Phillies' lineup in 2012. When he's at his best, he is the prototypical No. 2 hitter. When he's not healthy, Polanco can become something akin to a black hole at the plate.
Which man shows up on Opening Day?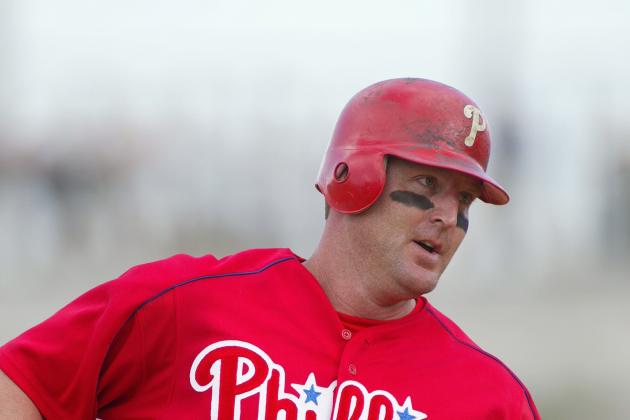 Rick Stewart/Getty Images

Now that the nostalgia and things of that nature have settled, we can finally focus on what exactly Jim Thome is gong to provide for the Phillies in 2012.
Well, now that I think about it, we can't actually do that, can we?
The truth is the simple fact that we don't know what Thome can provide. There are certain things we know to be true. In his mind, the man still knows how to play first base. He is still a very productive hitter with a ton of power. He is still one of the best guys in baseball and will have an impact on the Phillies' clubhouse in that regard.
But what can he do on the field?
Charlie Manuel still seems to think that Thome will only be playing the field on rare occasions, and that is a thought process shared by a lot of people, including the slugger. Despite spending the winter doing Pilates and keeping his body in shape, Thome knows that he'll serve primarily as a pinch-hitter.
Expect Thome to provide plenty of power off of the bench and play a little first base this season, but as the spring progresses, just what he'll be doing should become even clearer.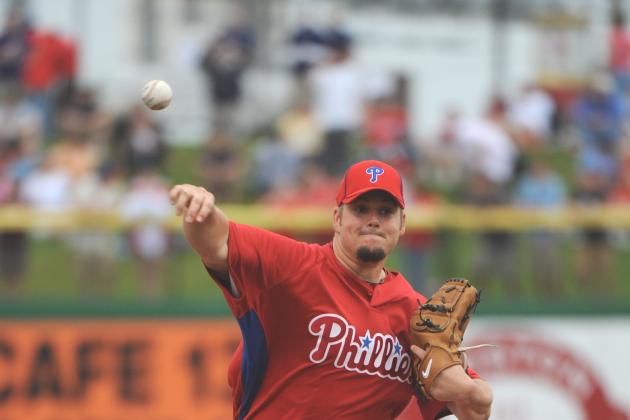 Al Messerschmidt/Getty Images

Joe Blanton is going to be under the microscope this spring, and the Phillies aren't going to be the only team closely observing him. Everyone wants to know whether or not he's healthy.
From a Phillies' perspective, the team wants to know whether or not he is operating at full strength and can be counted on to pick up some innings at the back-end of the starting rotation. After missing nearly all of last season and unable to jump back into the rotation at the end of the year, the Phillies want to know where Blanton stands.
Then again, so do a lot of other teams. While Blanton's contract has been mocked by fans over the last couple of seasons, there are more than a handful of teams that wouldn't mind having a solid innings-eater at the back of their rotation for about $5 million, assuming the Phillies would eat some of the contract.
Again, that is all dependent upon Blanton's health.
Another guy who might have his eye closely fixated upon Blanton's situation is one Roy Oswalt, who is waiting for an opportunity to jump into the right situation.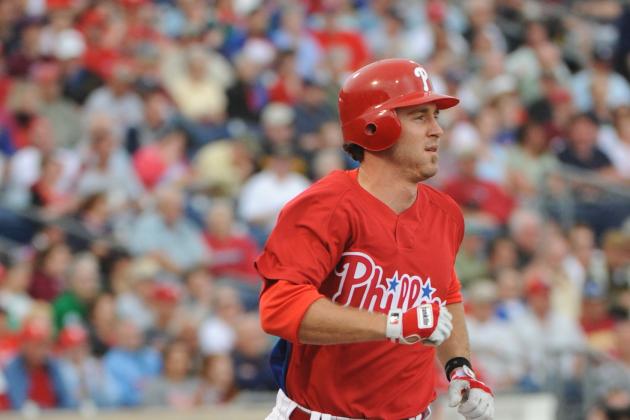 Al Messerschmidt/Getty Images

Keeping Chase Utley on the diamond drastically changes the dynamic of the Phillies, and by proxy, that makes him one of the most important players to keep healthy during spring training.
The Phillies know that. Charlie Manuel knows that. Utley knows that.
The Phils' skipper has been adamant about limiting Utley's workload this spring, but the second baseman is ready to take on his chronic knee condition in stride. Though he doesn't intend to change the way he plays the game, he does intend to take his condition more seriously.
Throughout the winter, Utley has worked on strengthening his lower half, hoping to improve on his 2011 season. Utley's health is what's most important. As last season showed, an Utley operating at about 80 percent is still one of the best second baseman in baseball.
The Phillies need him to stay on the field, and keeping him healthy during spring training—and throughout the regular season, for that matter—is a top priority.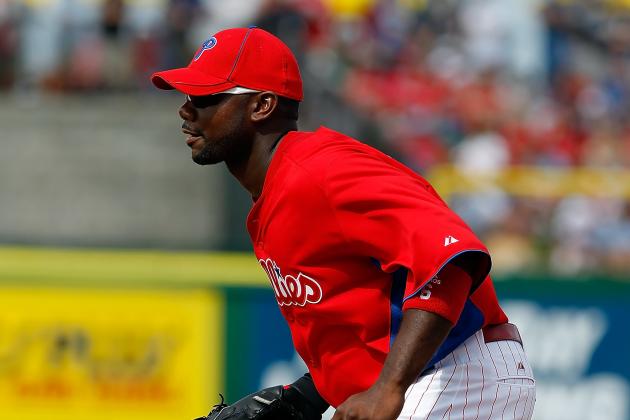 J. Meric/Getty Images

Even after a small infection where doctors made the incision to repair his torn Achilles tendon, it is no secret that Ryan Howard is well ahead of the schedule that most people had set for him as he stumbled down the first base line as Game 5 of the NLDS ended.
Though there is serious doubt that he'll be ready for Opening Day, Howard's actual return has been up in the air. General manager Ruben Amaro Jr. would like to see him back in May. Charlie Manuel thinks he can be ready before that. Howard isn't even sure himself.
Howard's progression during spring training should be the best indicator. Working out with the team since day one, keep a note on just how many Grapefruit League games the first baseman gets into this winter, as well as updates on his health.