NBA Trade Speculation: Could Cavaliers, Hawks Talk Sessions, Jamison Trade?
February 25, 2012

Kevin C. Cox/Getty Images
With the NBA trade deadline quickly approaching, one trade conversation that could pick up is a deal between the Cleveland Cavaliers and Atlanta Hawks.
Cleveland finds themselves at 13-18 and on the outside looking in at the playoffs, whereas Atlanta sits in sixth place in the East with a 20-14 mark.
As much as Cleveland would like to improve their future, Atlanta should look to improve their present with a deadline deal.
Here's one that may work for both teams:
Cleveland Receives: SF Marvin Williams, PG Kirk Hinrich, 2012 first-round pick
Atlanta Receives: PG Ramon Sessions, PF Antawn Jamison
Why it Works for Cleveland: 
The Cavs should be sellers at this year's deadline.  Despite only being a game-and-a-half out of the Eastern playoff race, Cleveland will be without starting center Anderson Varejao, arguably their most valuable player, for the next two-to-four weeks while he recovers from a wrist injury.
Players like Antawn Jamison and Anthony Parker are veterans in the last year of their contracts and have no foreseeable future with the team. Ramon Sessions has been a bright spot, but can opt out of his contract after the season concludes.
Cleveland is still a few young players away from building a perennial playoff contender. Adding the Hawks' 2012 first rounder (currently 20th overall) would help with the rebuilding process.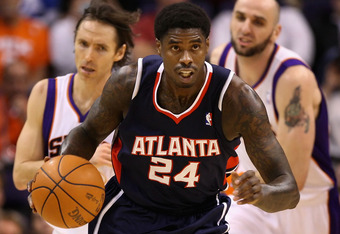 Christian Petersen/Getty Images
Kirk Hinrich is in the last year of his contract and could be bought out or used as a veteran off the bench to help with the development of Kyrie Irving. Either way, his deal would be used for cap relief at season's end.
Marvin Williams, unbelievably, is still just 25 years old and presents a lot of upside.  With Omri Casspi disappointing this season, adding Williams to compete for minutes with Casspi could provide just enough fire to ignite both players.  Williams can play either forward position at 6'9", and he has a very reasonable contract at two years and $16 million with a $7.5 million player's option for 2013-2014.
Cleveland deals two players that likely won't return next year anyway, and in the process, they add an additional 2012 first-round pick and a good (and still young) player in Marvin Williams.
Why it Works for Atlanta:
The Hawks have a nice team, but they will need an extra push to make it past a team like the Miami Heat or Chicago Bulls in the playoffs.  Jeff Teague has been okay this season at point guard, but an extra play-maker like Sessions would make a huge difference.
Antawn Jamison would provide offense off the bench and playoff experience for the Hawks for this season, and $15 million of cap relief after it's over.
Giving up Hinrich shouldn't hurt, as he's missed most of the season due to surgery anyway.  Williams has spent his whole career in Atlanta but has been moved in and out of the starting lineup in previous seasons, and he has seen his minutes decrease each of the past five years.  He's currently averaging the lowest minutes, points and shooting percentage since his rookie year. This could call for a change of scenery.
Playoff teams like Atlanta have always sacrificed draft picks in order to win now, so giving up what would likely be a late first rounder would definitely be worth a deep run in the playoffs.
This is a deal that would help both teams—the Hawks with a playoff run this year, and the Cavaliers with their future rebuilding plans.