Syracuse vs. UConn: 5 Things Huskies Must Do to Pull off Upset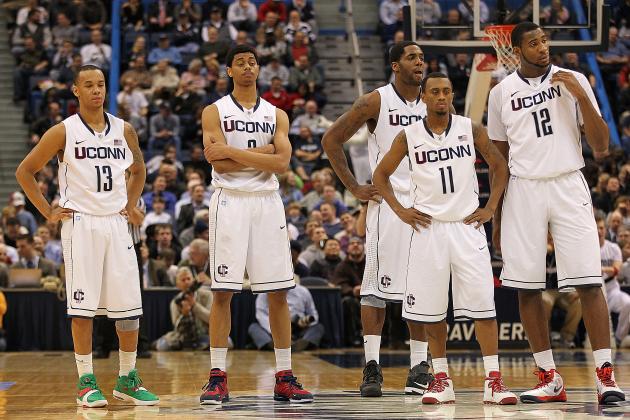 Jim Rogash/Getty Images

The Connecticut Huskies are walking on egg shells with the tournament committee. The Huskies sit at 17-10, with a 7-8 record in the Big East. If the NCAA tourney began today, the committee would give the Huskies the benefit of the doubt because of their RPI of 23 and first ranked strength of schedule.
That fine line the Huskies are walking on could become much wider tonight, as they play the 28-1 Syracuse Orange.
Syracuse is arguably the most dominant team in the nation, right next to the Kentucky Wildcats. If the Huskies can find a way to pull the upset, that will likely all but solidify a tournament spot for them.
Fortunately for the Huskies, their strength of schedule is a prime incentive to the tournament committee. With that said, they better exploit the opportunity to polish it.
It will not be an easy game tonight by any means, and these are five things the Huskies must do to pull off the upset.
Begin Slideshow

»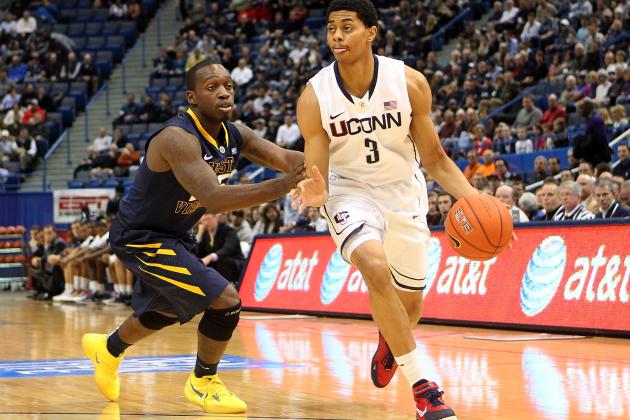 Jim Rogash/Getty Images

Since Kemba Walker has departed from the UConn Huskies, this team has became Jeremy Lamb's.
Lamb hasn't been able to produce as well as Walker did, but he is still the Huskies' best player without a doubt.
Averaging 17.9 points per game and hitting 48 percent of his field goals, Lamb is the key to the Huskies' offensive success versus Syracuse. As he has been all season, Lamb has to be the difference-maker for the Huskies. In his last four games, he's scoring 21.8 points per game and hitting 52 percent of his field goals.
Not only must Lamb make his presence known, but Shabazz Napier must as well.
While Lamb is the quintessential piece to the Huskies' puzzle, Napier, in essence, saved UConn's season with a near-half-court shot to beat Villanova in overtime five days ago.
When Lamb and Napier are hitting on all cylinders, they are hard to defend. Point-blank and simple, if Lamb and Napier get hot early, the Huskies certainly have a chance to win on their home floor Saturday.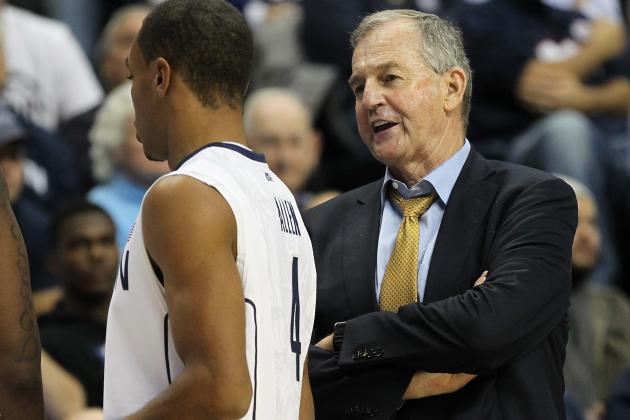 Jim Rogash/Getty Images

Connecticut is notorious for its great basketball program and its many tournament appearances, so for it to be on the bubble right now isn't a familiar feeling.
The Huskies understand their position, and how an extraordinary win over a 28-1 team would likely propel them into the tournament with no doubt.
Something that could give the Huskies motivation to win Saturday's game is to take that realization and run with it, the realization that they need a marquee win.
With just three victories in the last 10 games and a losing conference record, the Huskies know they need something big or they may be settling for the NIT.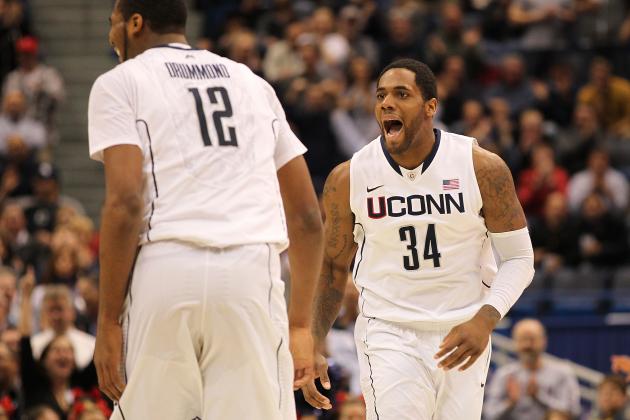 Jim Rogash/Getty Images

A big key in Saturday's matchup is going to be UConn's ability to crash the boards for second-chance points.
The Huskies may not obtain as much skill as Syracuse, but they do rank 34th in the country in rebounds to the Orange's 127th ranking.
Just like in football, when your defense can't stop the opposition's offense, the goal is to keep your offense on the field for as long as possible. The same logic applies here. UConn needs to use its rebounding ability to create extra offensive possessions and score second-chance points.
The Orange have one of the best defenses in the nation, so odds are that UConn will need to create extra possessions for scoring opportunities.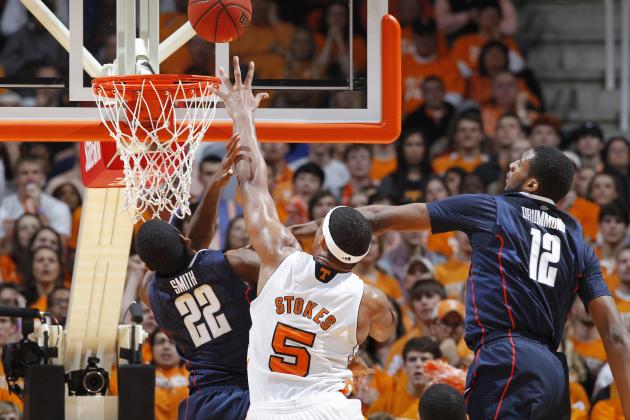 Joe Robbins/Getty Images

Andre Drummond has been a very dominant player for the Huskies this season, no doubt about it.
At 6'10", 270 lbs., Drummond is averaging 28 minutes a game, 9.9 points per game and an astounding 7.6 rebounds per game. The freshman is also hitting 53 percent of his shots and is a big reason for UConn's rebounding success this season.
Drummond will have a very tough matchup against Syracuse C Fab Melo. Melo has a couple inches on Drummond, but Drummond outweighs him by about 15 lbs.
It is crucial that both Drummond and Alex Oriakhi get going in the low post. Oriakhi stands at 6'9", so he has the body to be able to both defend and work offensively in the paint.
A big key in this game will be UConn's ability to not only rebound, but be able to score down low and contain Melo on the defensive end.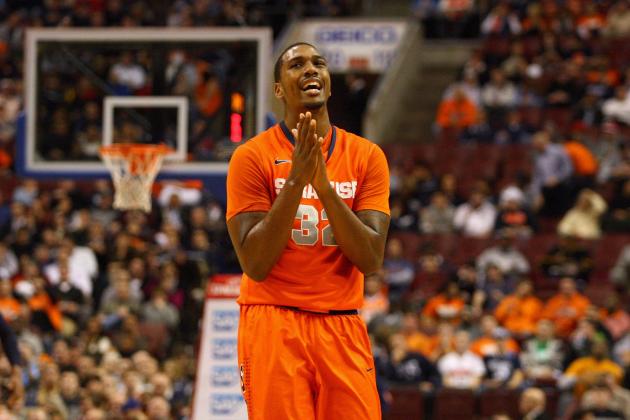 Chris Chambers/Getty Images

Syracuse likes to spread the wealth. This is indicative of nobody on its offense averaging more than 15 points per game. This isn't to say that the Orange don't have premier players offensively.
The Orange have a pretty good duo going for them, being Kris Joseph and Dion Waiters. Joseph is averaging 14 points per game and Waiters is averaging 11.9.
The concern UConn has here is the same concern all Syracuse's other victims have had this season going into the game, and that is trying to defend Fab Melo and the duo of Joseph and Waiters.
It's no secret that Melo is a big body that draws a lot of attention, sometimes so much attention that defenders forget about other scorers on the floor.
The Huskies must keep a defensive wrap on Melo, but at the same time not forget about Joseph and Waiters.
It's going to be a tough game for UConn, and it must bring its A-game. That, and the reminder that if the Huskies lose the committee may not give them the benefit of the doubt any longer.