Paul George: Indiana's Swingman Is More Than Just a Dunker
February 25, 2012

Kevin C. Cox/Getty Images
Die-hard NBA fans already know all about Indiana's Paul George. The rest of the world finds out tonight.
In addition to showing off his hops during tonight's Sprite Slam Dunk Contest, the Pacers second-year swingman got his All-Star weekend started by contributing 23 points on 10-for-17 field goals in a Team Chuck victory during the Rising Stars Challenge Friday evening. He can dunk. He can score. He can also defend. Still, he isn't getting enough credit. Yet.
There has been a lot of talk about the lack of star power in the dunk contest (silly, since it's a dunk contest, and it's about dunks not about superstars), but this weekend could serve as the coming out party for George.
While those who do know of George typically think of him as a dunker, his athleticism is only part of why the Pacers nabbed him with the 10th overall pick in the 2009 NBA draft. With just one season under his belt, he's already showing glimpses of everything else that he has to offer.
George now stands just under 6'10" after growing nearly two inches during this past offseason. He has a wingspan greater than 6'11" and his standing reach is 8'11". He is long and wiry and he is drilling three-pointers like that's his job, shooting 40.2 percent on the year thus far. Coach Frank Vogel compares his second-year guy to a player who was a big-time scorer in his prime.
"When you have the size that he has at 6'9 like a Tracy McGrady, you can get your shot off a lot easier than little guards can."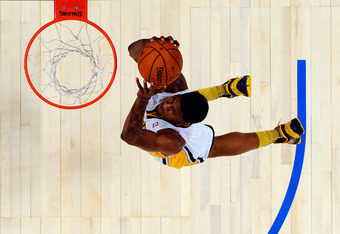 Pool/Getty Images
The improved range on his shot is a source of pride for George, who says he dedicated his summer to it after being asked to do so by his coaching staff.
"That's the reason why I'm shooting well this year," George said. "I think if I was able to knock down some shots, we'd be in a different situation in the playoffs last year. This summer, I put an emphasis on knocking down shots and being a spot-up shooter."
In addition to being able to knock down that shot from beyond the arc, George has also continued to improve defensively. This is something he says he learned while finding himself matched up with Derrick Rose during the Pacers first-round series against the Bulls last season. 
"The playoffs was a way to understand what level I need to play at defensively," George explained. "It means a lot. Especially to have a year under my belt and playoff experience. Like I said, I know what level I need to play at now."
He knows what he needs to do and he's doing it. This is a swingman who can use his length to stifle his opponent defensively while also having the rare ability to guard multiple positions on the floor. George is a second-year player who is often assigned the task of keeping up with the best player on the opposing roster, a player that is sometimes the quickest, other times the smallest and often the most lethal offensively.
The defending champion Dallas Mavericks learned of George's potential during a 98-87 loss to Indiana where George scored 30 points, pulled down nine rebounds, dished five assists, nabbed five steals and recorded a blocked shot. He did this without committing any turnovers, connecting on seven of his 11 three-point attempts and showing off his defensive versatility when he went from guarding Vince Carter to Jason Terry without any hiccups.  Spending his summer training in Los Angeles, George has had a strong first half of the season and he's shown he is much more than just an athlete with potential. He hasn't shied away from throwing down some awe-inspiring slams, but has proven his worth and solidified himself as an integral part of Indiana's future. During his rookie season, Vogel raved about his potential.
Less than a year later, George is making the Pacers front office look great for taking a chance on the kid who had been a relative unknown at Fresno State only two years prior.
Because he plays in Indiana and because the Pacers haven't exactly been playing thrilling basketball in recent years, the average basketball fan is missing out on a lot of this. George and the rest of his squad are fun to watch, but even more important, they sit third in their conference and at the halfway point of the season, trail only the Miami Heat and Chicago Bulls in the East. George is one of five players averaging double figures with two other teammates topping nine points per contest. The Pacers are a team in every sense of the word and have bought in completely to Vogel's philosophy.
"Your attitude and your desire to get better is everything," Vogel said. "If you have potential but you don't have that [desire], you're going nowhere. The kid has that desire and that will. He's just a refreshing kid to coach. He's a sponge, he wants to learn and he'll do anything you tell him."
Vogel and George are members of the mutual admiration society, with George crediting his coach for his ever-growing assertiveness on the court.
"That's total confidence right there," George said about his relationship with Vogel. "I know that he trusts me to make the right plays, good plays. I feel comfortable. I feel free out there as opposed to last year where I was a little hesitant. He's given me the green light."
Thanks to the support of Vogel and his teammates in Indiana, George has slid into the driver's seat with ease and the athleticism that gave him his draft day allure is quickly becoming a footnote of his expansive skill set. While he will be one of four high flyers this evening, however things shake out in the contest, George's ascension has already begun.