Los Angeles Lakers: Rasheed Wallace, Good or Bad?
February 25, 2012

Christian Petersen/Getty Images
Yesterday, Fox Sports ran a report stating the Lakers were looking to sign Rasheed Wallace. At first glance, this was one of those moments where it left me with one thought, "Huh?"  All I could think was, if the Lakers are going to sign a veteran whose starting days are far behind him, why didn't they just sign Gilbert Arenas? Obviously, they play two different positions, but I can't seem to understand why the Lakers are so desperate to fill their bench that they would go out and sign a guy who supposedly retired in 2010.
The report also claimed that speculation would rise in Pau's future with the Lakers.
What?
So let's say the Lakers add Rasheed Wallace to the bench, there is no way they can expect him to fill the void Pau would leave if he were to be traded. I just can't help myself to ask, "Would Jerry West have ever done this if he were still GM?"
Then I began to look at it from a "if Pau stayed" perspective. The same report also noted that Rasheed Wallace was in good shape. So let's say, best-case scenario, Rasheed Wallace is able to put up the same numbers he did in 2010—22 MPG, nine PPG, four RPG—this would definitely help get Pau some much-needed rest. And since Josh McRoberts isn't really getting playing time, bringing a guy off the bench who could put up numbers like the kind mentioned above would be great for the Lakers, considering how much depth their bench actually lacks.
I spoke to a friend late last night who asked, "Would Rasheed Wallace fit in with the team?" to which I replied, "I don't see why he wouldn't, especially if he wants a shot in the league and a chance to win another ring, maybe."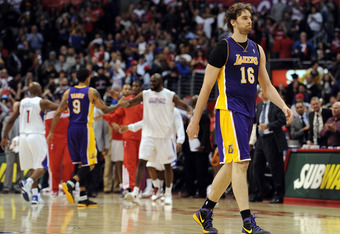 Harry How/Getty Images
Now, I am not privy to Rasheed Wallace's thoughts, but it isn't hard to imagine that a guy whose job is to be a basketball player wouldn't do his best to fit in with a team whose leader is Kobe Bryant.
With this in mind, I am pro-Rasheed Wallace under one condition: as long as it he isn't used as a justification for trading Pau Gasol away for anything less than a true superstar point guard. If Pau Gasol happens to get traded for anything less, this might be the front office's third big mistake of the year. The first being Mike Brown's hiring, and the second being trading Lamar Odom and getting no talent back in the transaction.
So Laker fans have to look at this from a glass-half-full perspective: Pau Gasol is 31 years old, his career average in minutes is 36 MPG; his 2011-12 MPG are 37.1 at the halfway point this year. In a normal season, this may not be so tough, but because of the lockout-shortened lockout schedule, it cannot benefit the Lakers come playoff time.
I want to give the front office the benefit of the doubt and say they are smart enough to possibly see how the second half of the season could be tough for the Laker forward should he continue to play so many minutes, but the trade deadline will truly be the final judge.
If things work out and Rasheed Wallace does join the Laker bench, he would join the likes of Steve Blake, Matt Barnes, Troy Murphy and the rookie Andrew Goudelock (who really are the only bench players playing effectively every night), which, on paper, could improve their bench stats overall.
However, should the Lakers do something crazy and send Pau Gasol somewhere in a questionable trade package that does not include a superstar, Laker fans everywhere will have to wonder, "What is the front office doing?"