WWE: Why Daniel Bryan's World Title Run Is Nearing an End
February 25, 2012

Daniel Bryan is being used as a transitional champion to get Sheamus over at WrestleMania and won't be holding the title. The WWE has put little stock in him and has been pushing Sheamus not just on their shows, but in media outlets as well.
I have mentioned as much in other articles, but the question remains, how did this happen?
How did someone like Daniel Bryan who has wrestled the world over suddenly get booked as a cowardly heel?
How did someone who touts submission wrestling and being able to make anyone tap go from capitalizing on mistakes to finding loopholes in fights?
It would be easy to say that because of Bryan's size, he has been discriminated against in the WWE, but that doesn't add up.
If the WWE didn't want Bryan to make it, they would never have given him a chance to be champion even if it was a passing one. He would have ended up like Kaval, never getting any forward momentum and losing to mid-card heels.
The WWE did give him a substandard push, not just by making him a heel, but by transforming him into someone who avoided confrontation and won by taking the easy way out.
Part of it has to do with his personality. He wasn't getting over with a majority of the viewing audience, and while this writer believes that the company should have taken a longer approach and built him as a hero, this has worked out as well.
But villains have to lose. In every moral play, they get punished in the end for their misdeeds and Bryan so far hasn't. While he may never have looked strong in any of his title defenses, he has been victorious.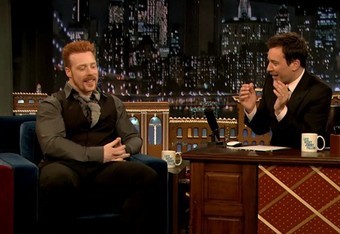 Now he is heading into WrestleMania and the third act of this particular play. In a typical story buildup, the main character either has to win a majority of the time and then lose, or he has to fail most of the time and at the end achieve success.
Bryan has experienced more of the former then the latter in the last few weeks and that is why he will fail when he fights Sheamus for the title.
Not because of his size, or Sheamus's look, but because at the end of the day, the story has to go there.
No matter how much fans might resent it.