Every MLB Team's Top Prospect Who Could Shock the Baseball World This Spring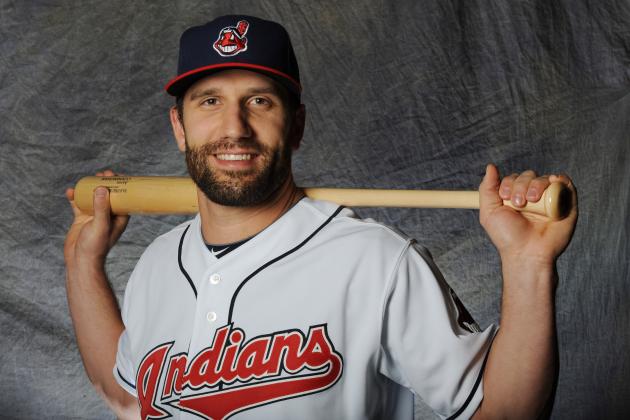 Rich Pilling/Getty Images
Russ Canzler, the 2011 International League MVP, has a massive opportunity in camp with the Indians.
In this modern age of technology, baseball encyclopedias online and Google, it's hard to shock the sports world. That's what makes it all the more delightful when players like Dave Sappelt come along.
Last spring, Sappelt, a journeyman farmhand with the Reds, tore through every pitcher he faced and became the feel good story of the preseason.
He didn't end up cracking the Opening Day roster, but he put on one hell of a show. He was rewarded for his efforts too, with a late-season call-up to Cincinnati.
There are very few Dave Sappelts, but there are many potential candidates, which brings us together today.
Here's a quick rundown of which players have Sappelt-like potential to surprise in spring camp, and a few who with strong showings could force their way on to the big-league roster.
Begin Slideshow

»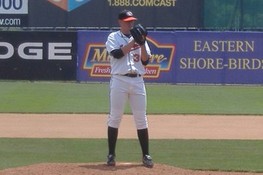 Drake's backstory is one of the best around. Formerly of the United States Naval Academy, he was ineligible to be drafted, due to the inevitable military commitment that comes after graduation.
Only a handful of teams realized that wasn't actually the case. The Orioles utilized a loophole that allows cadets to be drafted prior to their junior year and selected the right-hander in the 43rd round of the 2008 MLB draft.
Since signing, Drake has quietly moved up the ladder, showing uncanny control and the ability to eat innings like a workhorse. He tossed a career-high 162.2 innings last season. During the regular season, he dominated the High-A Carolina League (8-3, 2.14 ERA) and then got lit up in the Double-A Eastern League (3-5, 5.20). He made a brief appearance for Triple-A Norfolk and ended his campaign strong with Bowie, tossing 5.2 shutout innings in his final start.
Drake's performance was impressive enough for the O's to add him to their 40-man roster for the 2012 season. He could start the year in the Triple-A rotation, but the Tides figure to have a pretty stacked starting five, so don't discount him heading back to Double-A.
Then again, there's literally no spot that's secure in the big-league's starting five, so don't rule out Drake earning a spot there either. One thing he has going for him is his health. He's started at least 21 games in each of his three full seasons.
With Brian Matusz, Zach Britton and numerous members of the O's bullpen dealing with injuries, or coming back from them, Drake has about a 10 percent shot.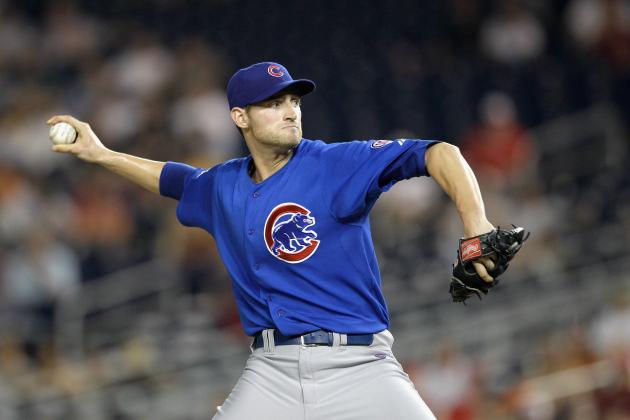 Rob Carr/Getty Images

The newest member of the Red Sox organization, Carpenter was the compensation that was finally agreed upon, once and for all, completing the deal that allowed Theo Epstein to move from Boston to Chicago.
Seeing as how the Red Sox have a couple of the most unproven fourth and fifth-starter candidates in the East, it only makes sense that Carpenter can throw his hat in the ring too. The other Carpenter made 10 appearances for the Cubs last year, posting a 2.79 ERA in 9.2 innings. Prior to 2011, however, he had been a fairly reliable starter, racking up 53 starts since 2009.
He made the move to the pen in 2011 in an attempt to get his arm onto the roster. Interestingly enough, Carpenter had by far his worst showing as a reliever, witnessing an increase of two and a half runs from his 2010 ERA.
Carpenter was drafted by the Yankees back in 2004, but refused to sign, instead heading to college. He's a dark-horse candidate for sure but definitely somebody who could impress in his debut in the AL East.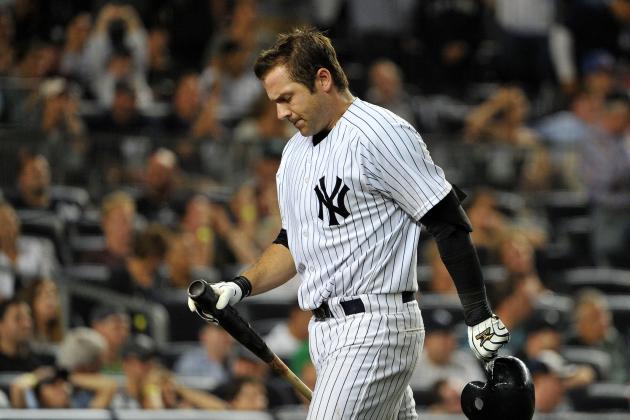 Christopher Pasatieri/Getty Images

Romine is in no way, shape or form a mediocre prospect. In fact, he's one of the top defensive catchers in the minor leagues.
Still, it would be a shock to see him force his way onto the Opening Day roster. Think, however, of all he has going for him. His immediate roadblock to the big-league job, Jesus Montero, was dealt to Seattle, and the Yankees other top catching prospect, Gary Sanchez, will be playing the 2012 season in High-A ball, two levels below Triple-A, where Romine will be.
If anything, that should give Romine some confidence, not to mention a little bit of breathing room.
With an incredibly impressive spring, Romine could force Russell Martin to the bench.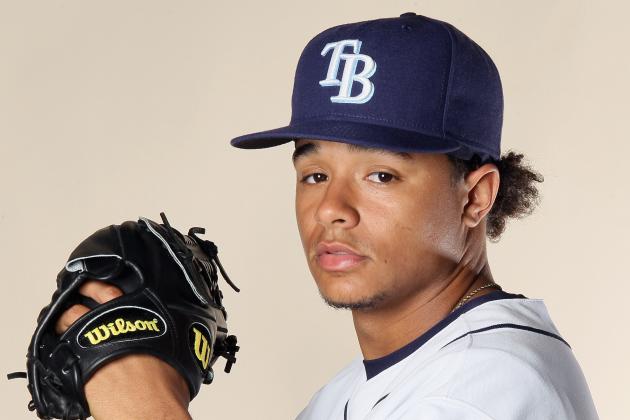 Elsa/Getty Images

Archer was a highly regarded prospect coming over to Tampa from Chicago late last offseason. Taking a closer look back at his performances, however, one can see that he benefited greatly from one stellar season, 2010, in which he went 15-3 and held down a 2.34 ERA. Prior to that season, his career ERA was closer to 5.00.
Not to mention the problem he's always had with walks. That problem, along with many others, reared its head last season, when Archer endured one of the roughest stretches of his career. He walked a personal-worst 86 batters in 147.1 innings. Batters teed off on him at the highest rate of his career. He also surrendered 11 home runs, after giving up just six the two previous seasons.
Despite all negatives of 2011, Archer still has sensational stuff. His fastball is one of the best in Tampa's system, and with a little control, he could be a vital piece of the Rays' future.
There are no spots open for debate in the Rays' rotation, which means if Archer wants to earn a role for 2012 in the big leagues it will have to be as a reliever. With his stuff, he could be a top-notch closer.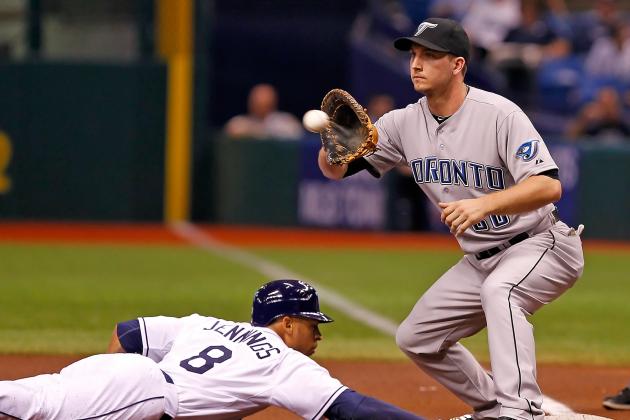 J. Meric/Getty Images

With Adam Lind coming off another fine season, it appears there's no competition for the first-base job in Toronto, leaving David Cooper ticketed back to Triple-A, where he tore apart Pacific Coast League pitching in 2011.
The 25-year-old hit .364, pacing the PCL. He also topped the circuit in on-base percentage and finished 15th in slugging percentage, despite slugging only nine home runs in 467 at-bats. He more than made up for his lack of home run power with 51 doubles—a number that led all minor leaguers in 2011.
Even more impressive than his batting average and doubles total was his plate discipline. He walked an astonishing 24 more times than he struck out. The fact that Cooper didn't win the PCL MVP was a travesty.
Defensively, Cooper is limited to first base, and even if he could manage to learn another position, he'd be just as blocked there as anywhere else.
With a strong offensive showing in camp, and a poor one by Lind, Cooper could make things interesting, especially with the team focused on youth.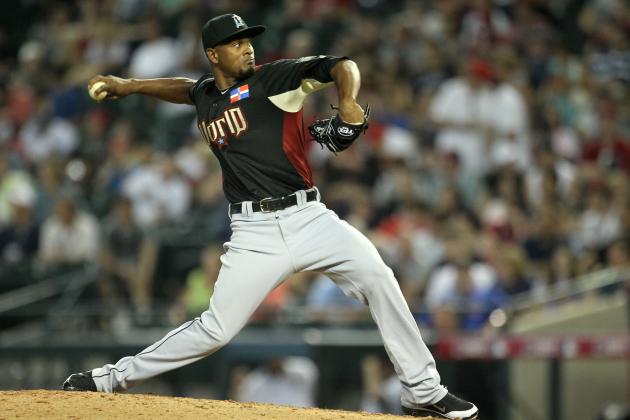 Jeff Gross/Getty Images

Marinez had an up-and-down six-year career with the Marlins before being sent to Chicago as compensation for Ozzie Guillen.
Despite reaching the big leagues in 2010, Marinez never got back, even after an impressive campaign with the Marlins' Double-A squad last season. The right-hander set career-bests in innings, strikeouts and victories.
In Chicago, Marinez appears to have an even worse chance at cracking the big-league squad's bullpen. He is, however, armed with a blazing fastball, has closing potential, and at this point, just needs a chance to prove his worth.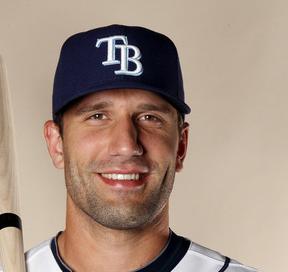 There would be no greater shock in all of baseball than if Russ Canzler, after eight minor league seasons and nearly 2,500 at-bats, was able to force his way onto the Indians Opening Day roster.
His timing, however, could not be better.
The 25-year-old is coming off the best season of his career, one in which he hit .314 with 40 doubles, 18 homers and 83 RBI. He was named to both the midseason and postseason All-Star squads and took home International League MVP honors in his first season at the Triple-A level.
In addition, he saw time at four different positions (LF, RF, 1B, 3B) during his time with the Rays, making him an incredibly valuable resource for a team looking for a versatile guy off the bench. Tampa itself didn't have room for him on their crowded roster, so they shipped him off to Cleveland for cash considerations.
Canzler certainly has the experience to challenge for a spot on the Opening Day roster. All he has to do now is light it up in spring camp.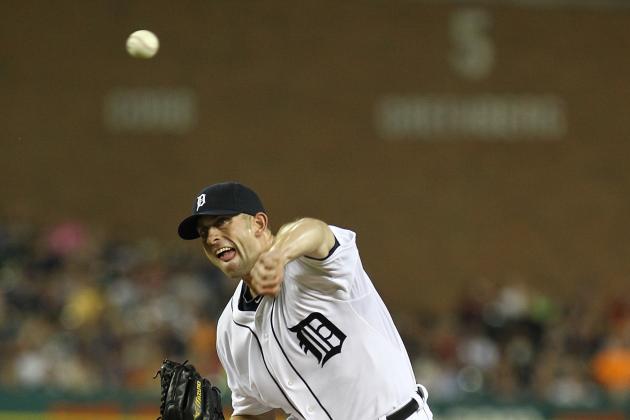 Dave Reginek/Getty Images

Below doesn't have the prospect pedigree of Jacob Turner, but there's a great likelihood that he will be the one who locks down the fifth spot in the rotation come Opening Day.
Just two years removed from Tommy John surgery that threatened to bring an end to his career as a starting pitcher, Below had a terrific campaign at Triple-A Toledo, where he went 9-4 with a 3.13 ERA and held batters to a .232 average. Against lefties, Below was devastating, holding them to a .168 average.
He earned his way onto the roster late in the season and even managed to make a few spot starts, although the majority of his appearances came out of the pen, where he saw action for the first time since 2008.
Below not only has the edge on Turner in age (at 26, he's nearly six years older), but also in experience. He's thrown over 600 innings in the minors, compared to Turner's 246.
Heading into the 2012 season with a run-creating dynamo at its core, Detroit will probably look to the pitcher less likely to screw things up, and while Turner might be the best bet in the long run, odds are the Tigers will turn to Below first.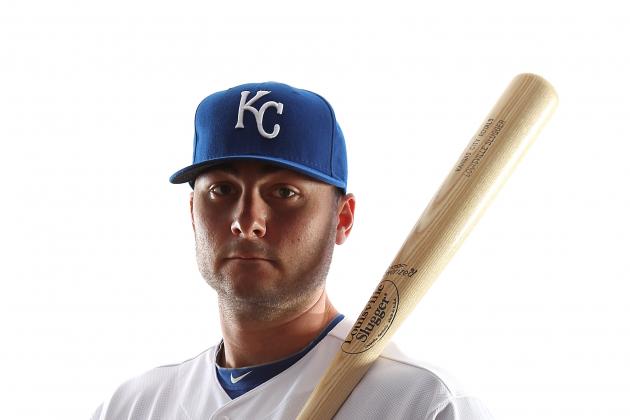 Jonathan Ferrey/Getty Images

Robinson making the roster would definitely qualify as a shock, considering his primary position is first base—the same spot that is currently occupied by 2011 AL Rookie of the Year candidate Eric Hosmer.
Still, over the past few years, Robinson has been one of the best hitters in the minor leagues. The past two seasons have seen the 27-year-old hit 76 doubles and 53 home runs, rack up 176 runs and 198 RBI, all the while maintaining a .330 average.
The Royals have a glut of corner infielders, many of whom have already been forced into corner outfield spots, leaving Robinson with little chance to make the team—even if he has a jaw-dropping performance this spring.
Still, greater longshots have made the Opening Day roster.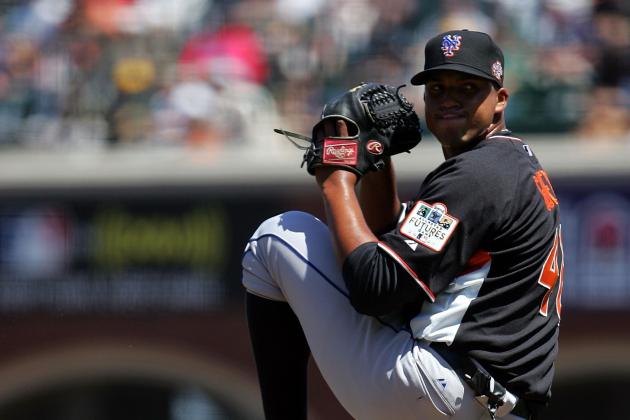 Jeff Gross/Getty Images

When Guerra was dealt to Minnesota in the trade that brought Johan Santana to New York, it was expected that he would be the centerpiece of the deal. Four years later, however, Guerra is the only member of that deal that hasn't reached the majors.
He's been set back by a couple of really bad seasons, and a three-year rut that left him stuck in High-A ball. However, he's finally found a role that seems to suit him better, as a reliever. For the first time in his six-year career, Guerra made the majority of his appearances in 2011out of the pen. And while he wasn't as successful as most would have hoped, he showed more than enough promise to warrant a spot in the Mets bullpen if he has a great spring.
Guerra's stuff is still plenty good, but starting is likely never going to be in the cards for him, even in a system like Minnesota's, which is lacking in just about every department.
The biggest thing he has going for him is his newfound control. After moving to the bullpen, he seemed to have an easier time controlling his fastball.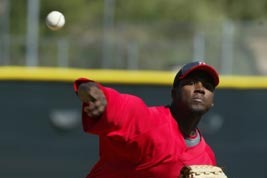 Given the level of competition, and the fact that the California League is the most hitter-friendly in all of the minor leagues, Ariel Pena performed incredibly well in 2011.
He struck out 180 batters in 151.2 innings, recorded 10 victories and held down a respectable (given the league) 4.45 ERA in 27 starts. His finest performance of the season came in early July, when he struck out 14 batters in a mere six shutout innings. During the month of July, as a whole, he was sensational, racking up 52 punchouts in 36 innings.
Pena is without a doubt, the best strikeout pitcher in the Angels' system, but starting doesn't appear to be in the cards for him. The Angels currently have a gold-mine rotation at the big-league level and a couple of other guys who will be challenging for spots in the Triple-A rotation. Pena won't be the first guy to get the call, especially as he enters his first season at the Triple-A level.
A better approach, might be to consider him as a potential reliever. He has a mid-to-high 90s fastball that would be excellent in the late innings and a slider that would be a great out pitch.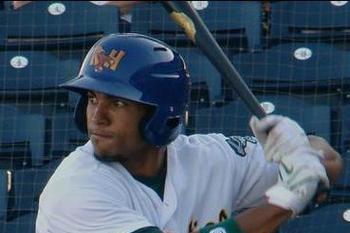 Mitchell had been an underachiever for the most of his five-year career before 2011.
Last season, however, he bested his previous career-high batting average by nearly 50 points. He also set personal bests in runs, doubles, triples, home runs, RBI and steals.
Mitchell is exactly the kind of guy who the A's look for. High on-base percentage. Lots of extra base hits. Very high walk total. The 27-year-old walked a career best 93 times in 2011. As an added bonus, he also has great speed, racking up more than 20 steals four times.
Mitchell nearly reached the majors in 2011, getting 56 games of experience at Triple-A Sacramento, during which he hit .302 with five homers and 28 RBI.
The A's already have more than enough outfielders and only three spots to fill. It's unlikely that Mitchell will win one of those spots, but with a strong spring, he wouldn't hurt his chances.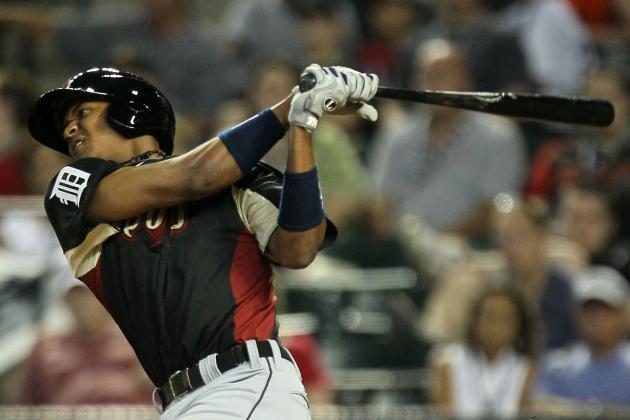 Jeff Gross/Getty Images

The Mariners have two young third baseman in Alex Liddi (23) and Kyle Seager (24), both of whom have a legitimate chance at unseating incumbent Chone Figgins, especially if Figgins has a terrible spring. One guy who no one is talking about, however, is Francisco Martinez—and for good reason.
Martinez has yet to reach Triple-A and has only 33 games of experience in the Mariners' system. What he does have, however, is more discipline at the plate than Liddi and a higher ceiling than Seager.
Martinez hit a combined .289 with seven triples, 10 home runs and 69 RBI. After coming over to Seattle from Detroit, he hit .310 with a .481 slugging percentage and 23 RBI in just 33 games.
There's about an 85 percent chance that Martinez starts the season back at Double-A Jackson, but there's a slight chance that with an absolutely jaw-dropping spring, the 21-year-old could conceivably force his way onto the Opening Day roster.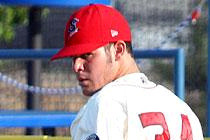 The Rangers have too many talented starting pitchers to risk taking a chance on Jacob Brigham. The 24-year old still has plenty of worth to the organization, however, especially with a recent move to the bullpen.
After moving to the pen in the middle of last season, Brigham shined, racking up 22 strikeouts in 16 innings while holding down a 1.69 ERA in July.
Brigham will make the jump to Triple-A in 2012, but whether he's going to make the move as a starter or reliever is yet to be known. He'll likely get some innings in spring camp out of the pen, and with all the transition the Rangers pitching staff has undergone since the end of the 2011 season, there's no ruling him out of making the opening day roster.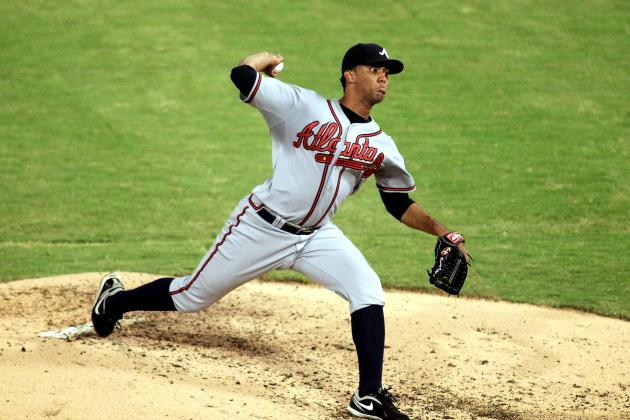 Marc Serota/Getty Images

Delgado making the roster wouldn't come as a total shock, especially with the injury-prone arms that the Braves currently have in their rotation. What would be a surprise, is if the front office decided to keep the right-hander's arm...in the bullpen.
The brass has consistently stated that Delgado is not on the market, and it wouldn't make much sense to keep him if they didn't have hopes of developing him as a starter. However, the team has many capable arms in their employ and more than a few prospects who could fill rotation spots if needed.
It would only make sense then, to try out Delgado in the pen and see if they have another electric reliever. Even if he eventually moved back to the rotation (a la Neftali Feliz), the big-league squad as a whole would be better for it.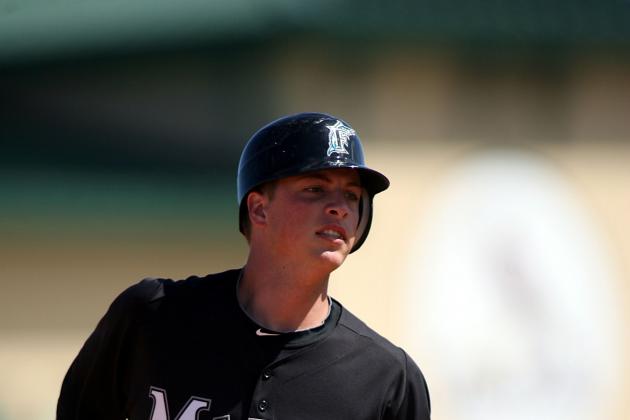 Marc Serota/Getty Images

Miami's signing of Jose Reyes, and the subsequent move of incumbent shortstop Hanley Ramirez to third base, pretty much signaled the death-knell of Matt Dominguez's career with the Marlins. The former first-round pick has been forced out of the infield spot that for so long was assumed to be his.
It's a darn shame, too, considering Dominguez is arguably the finest defensive third baseman in the minors. His bat, however, has been the question for many years and remains so. His average dipped to a near-career low (.249) in 2011, leaving him with a career .255/.325/.418 line in 470 minor league contests. That number would be somewhat acceptable if Dominguez was much of a home run threat, but with only 58 career longballs in five seasons, he doesn't appear to be much of a boon there either.
A position move is out, with the outfield corners blocked and a few more outfield prospects on their way up through the minors.
That leaves Dominguez little to no chance to crack the Opening Day roster, unless he somehow discovers a power stroke he's been lacking and bashes at least 10 home runs during March. That, combined with a positive attitude towards getting some playing time at multiple other positions (first base, second base and the outfield) could go a long way towards giving him one final shot.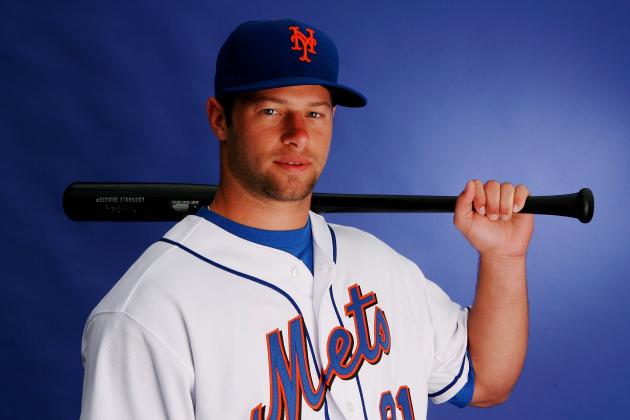 Doug Benc/Getty Images

The Mets have an abundance of outfielders, and unless something drastic happens, they're set at all three outfield spots: Jason Bay in left, Andres Torres in center and Lucas Duda in right. The one thing they lack, however, is a dynamic fourth outfielder. That position currently belongs to Scott Hairston.
For those of you with short memories, keep in mind that the soon-to-be 32-year-old Hairston hit .235 last year for New York and .210 the year before with the Padres. He doesn't offer much speed or power and isn't a specialist at getting on base. The one thing he does do is play all three positions, plus a couple in the infield.
Nieuwenhuis also has that ability to play each outfield spot, and unlike Hairston, he's a legitimate threat, both with the bat and on the basepaths. In two full seasons, he's slugged 35 home runs and swiped 30 bases, all the while maintaining a .278 average. He's also an extra-base hit machine, racking up 81 doubles from 2009-10.
The 24-year-old saw his 2011 campaign ended prematurely when he was diagnosed with a torn labrum in his non-throwing arm. He appeared in only 53 games, but with 17 doubles and six home runs, he was on pace for his finest offensive season yet.
There's no doubt in my mind that he'd make a better, more explosive fourth outfielder than Hairston, regardless of the former's big-league inexperience.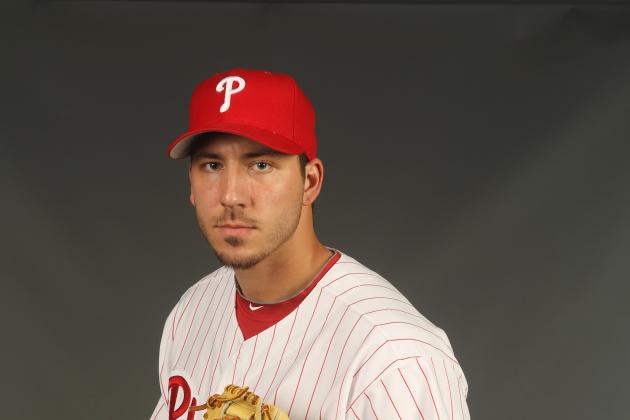 Nick Laham/Getty Images

Entering his fifth professional season, Aumont, a former first-rounder back in 2007, is finally on the cusp of securing a big-league job.
He ended the 2011 campaign in Triple-A for the first time ever. After bouncing around the minors, switching from starting to relieving, he finally appeared to find some success after two consecutive dismal campaigns. He finished with a combined 2.68 ERA after a strong finish at Lehigh that included a 37-to-14 K:BB ratio in a mere 22.2 innings.
Aumont has the stuff (mid 90s fastball) and the intimidation factor (6'7'' and 255 lbs) to be a closer in the majors, but it remains to be seen if he'll ever get the opportunity.
With a strong spring camp, however, he could force his way onto the Opening Day roster.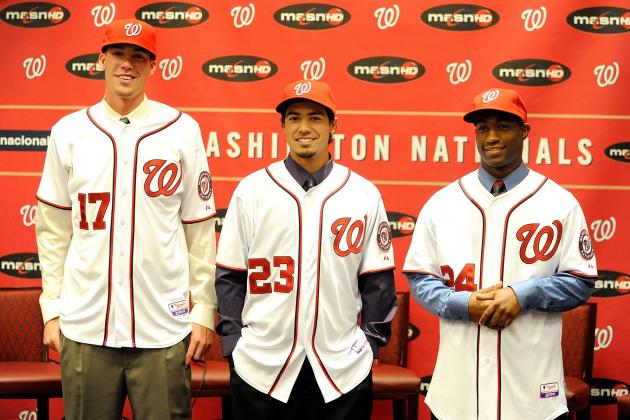 Greg Fiume/Getty Images

All the talk in Nationals' camp is going to revolve around Bryce Harper, and for good reason, but there's another highly touted prospect in camp who's really going to open some eyes—2011 first-round pick Anthony Rendon (center).
Rendon has an unbelievable college career at Rice, one that was prolific despite the infielder twice undergoing ankle surgery in the offseason. For his career, he racked up 52 homers and nearly 200 RBI. All in 187 games. More impressive than his lifetime .371 batting average was the fact that he walked an astonishing 176 times...compared to a measly 78 strikeouts. Even for college that's insane.
As good as he was at the plate, Rendon was even better in the field. Despite being limited by numerous nagging injuries during his junior year, he still showed enough at the hot corner to be labeled one of the top defensive third baseman to come along in quite some time.
Third base is obviously out, with Ryan Zimmerman recently signing a six-year, $100 million extension, which means Rendon will likely make the move the second base. It could happen as early as this spring, especially if he shows his bat is far and above the best in their system.
His complete profile (hitting and defense) will be impressive enough to eventually force Danny Espinosa over to shortstop, giving the Nationals one of the top offensive infields in baseball.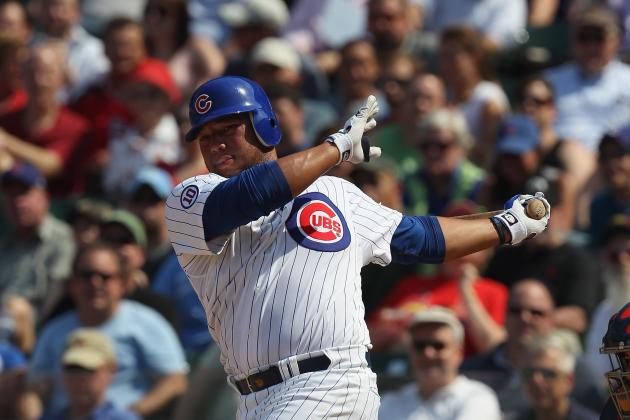 Jonathan Daniel/Getty Images

The case for Castillo making the Opening Day roster is practically the same as the argument for Geovany Soto NOT making it.
Consider the evidence. Soto has been one of the most inconsistent performers in the majors since coming up for good back in 2007. His 2008 rookie campaign (.285, 23 HR, 86 RBI) seemed to foretell of a promising future. The next season he slipped back into near anonymity, hitting a paltry .218.
He bounced back in 2010, slugging 17 homers while maintaining a .280 average. Things seemed to be on the up and up. Or not. In 2010, he once again dropped off the face of the earth, hitting .228 with a career-high 124 strikeouts.
Entering 2012, it's hard not to think of Soto as a gigantic question mark. Which player will he be in 2011? New "man in charge" Theo Epstein doesn't have the best track record with patience, so it wouldn't surprise me if he decides to make a change to up-and-coming prospect Welington Castillo, who has been a steady performer in the minors, hitting .270 with 28 homers and 95 RBI in 131 Triple-A contests.
Even if Castillo fails to unseat Soto in 2012, there will likely be a spot for him on the big-league roster as the backup, assuming he can beat out fellow prospect Steve Clevenger.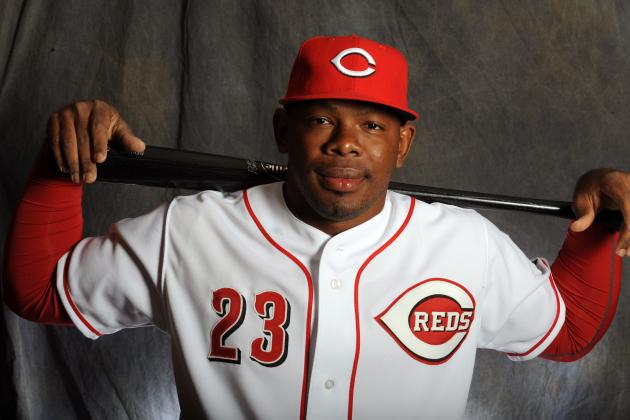 Rich Pilling/Getty Images

Last year's feel good story of spring training was Cincinnati's Dave Sappelt.
The then 24-year-old nobody raked at an impossible rate and nearly earned a spot on the Reds' Opening Day roster. This year's version is hard to predict, but there's a good chance that that player could be Phipps, the 26-year-old journeyman from the Dominican.
Phipps signed with the Reds back in 2004 and has methodically worked his way up through the chain. He reached Triple-A for the first time in 2011 and looked sensational. He's always hit for decent power and showed impressive speed, but last year, he seemed to get into a groove at the plate that never ended. He finished his 40-game stint in the International League with a .380 average.
His performance at Triple-A earned him a spot on the Reds' 40-man roster. More importantly, he's in spring camp, and with a Sappelt-esque performance, he too could become a fan favorite and potentially a fourth or fifth outfielder.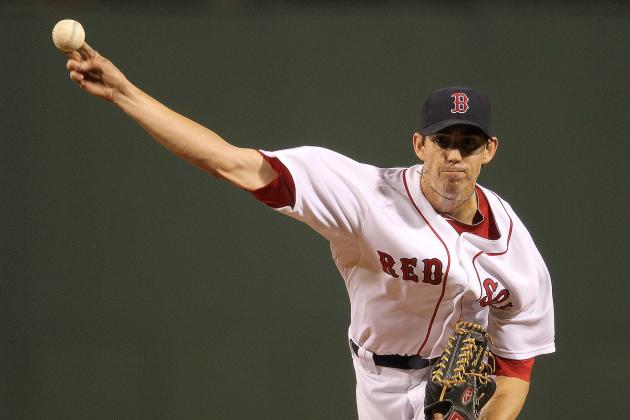 Jim Rogash/Getty Images

As it stands, Weiland is in a battle for the sixth or seventh rotation spot with the Astros. Seeing as how that many slots don't exist, if he wants on this roster he's going to have to do two things: pitch out of his mind and be content making the opening day roster as a reliever.
Weiland's 2011 campaign ended badly, but for the most part, it has to be considered a success. He made 24 starts at Triple-A Pawtucket, winning a career-high eight games, while posting a career-low 3.58 ERA. He also struck out close to a batter an inning and went deeper into games than ever before.
The ultimate victory came when the Red Sox called upon him in September to supplement a tattered starting rotation. He didn't perform too well, giving up 29 hits and 21 earned runs in 24.2 innings, but he did show some promise in his last outing of the season, pitching a perfect inning against Baltimore.
Maybe that successful relief outing was a sign for his future, because that's really the only way he'll crack the Opening Day lineup of one of the least impressive rosters in baseball.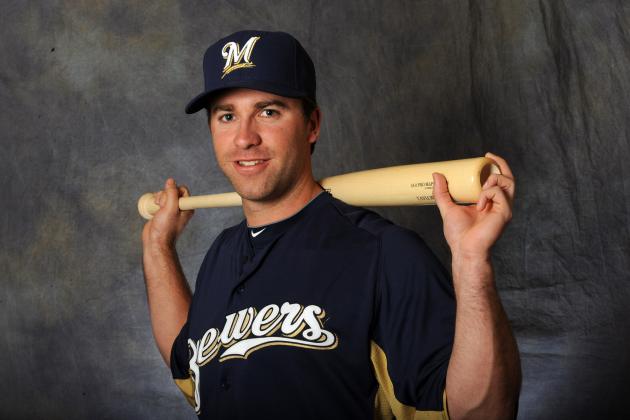 Rich Pilling/Getty Images

Losing home run threat and RBI man Prince Fielder to free agency puts a huge dent in Milwaukee's plans for 2012.
Enter Mat Gamel, the 26-year-old former third baseman who will finally be getting a shot at playing full-time in the majors.
Into Gamel's shoes, those of resident Brewers prospect who should probably be playing in the big leagues but is blocked at numerous positions steps Taylor Green.
Green saw some playing time in Milwaukee towards the end of last season and didn't fare too well, but his track record in the minors speaks for itself. He's averaged 14 home runs and 76 RBI in each of his full-season campaigns and has a career .291/.373/.458 line. Last year at Triple-A Nashville, he hit .336 with 22 homers and 91 RBI, by far the best performance of his career.
There is no real position open for competition in the infield or outfield, with each spot aside from third base, centerfield and shortstop being occupied by a player 29 years old or younger. Unfortunately, Green can't play center or shortstop, and Aramis Ramirez isn't budging from the hot corner.
Green's best bet is to spend the spring learning the outfield, where the ever-injured Corey Hart will inevitably miss some time. He might be able to force his way onto the roster as a more offensive option than Zelous Wheeler, Carlos Gomez, Eric Farris and Cesar Izturis.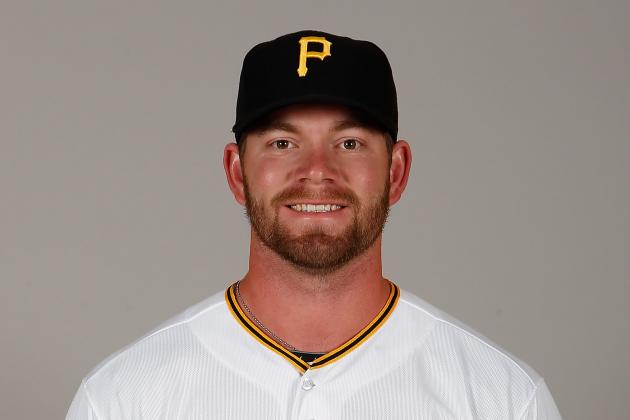 J. Meric/Getty Images

For the first time in a very long time, the Pirates will enter the season with a slew of returning pitchers in their rotation. Their top four (Jeff Karstens, Kevin Correia, Charlie Morton and James McDonald) combined to start 112 games in 2011. That's more than the combined number of career starts by the projected Baltimore starting five.
To further bolster the rotation, the Bucs inked lefty Erik Bedard to a one-year deal, although with his spotty health record, it's hard to imagine him making more than 20 starts for Pittsburgh. Fellow youngster Brad Lincoln is going to challenge Bedard for the fifth rotation spot, and don't count out 2011 draftee Gerrit Cole who is really going to open some eyes this spring, but a guy that no one is talking about is left-hander Rudy Owens.
Need I remind that of the team's projected starting five, the only lefty is Bedard, leaving quite a wealth of righties. Owens would break things up, and don't be fooled into believing that he's as bad as his 2011 stat line (5.05 ERA, 10 HR allowed) suggests. The year before, he won 12 games, posted one of the lowest ERAs (2.46) in the organization and struck out 132 batters in 150 innings. He walked a mere 23.
Owens has earned his stripes in the minors, and even if he can't break into the rotation, he could warrant a look in the bullpen, which happened to be one of the most underrated in baseball last year.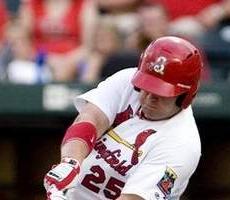 Rumor has it that the Cardinals have a opening at first base.
There is no replacing Albert Pujols though. The best the Cardinals can do, is to find several players who can take giant steps forward in 2012.
One of those will likely be Adams, who has hit 54 home runs the past two seasons, while maintaining an average well above .300.
Even more impressive is the fact that Adams, a product of Slippery Rock, has put up these kind of numbers in leagues that aren't exactly known for their offense.
Adams will never be mistaken for Mark Teixeira defensively, but he's held his own, posting fielding percentages of .986 and above for three consecutive seasons.
Adams is ticketed for Triple-A in 2012, but with a strong and powerful showing, it will be awfully tempting to send him down.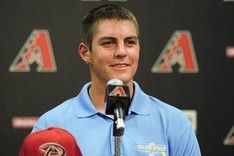 After the year that he had in 2011, it was almost a shock that Bauer didn't reach the majors before the end of the season.
After leading all of college baseball in innings pitched, strikeouts and complete games and then pitching another 25.2 innings after signing, Bauer got a well-deserved break. He didn't even make an appearance in the Arizona Fall League, meaning he's had five months of rest and should be raring to go by the time games start.
The former UCLA ace is going to be a dark horse to win a rotation spot out of spring camp, but considering his track record, at the very least, he's going to make it incredibly hard to send him to minor league camp.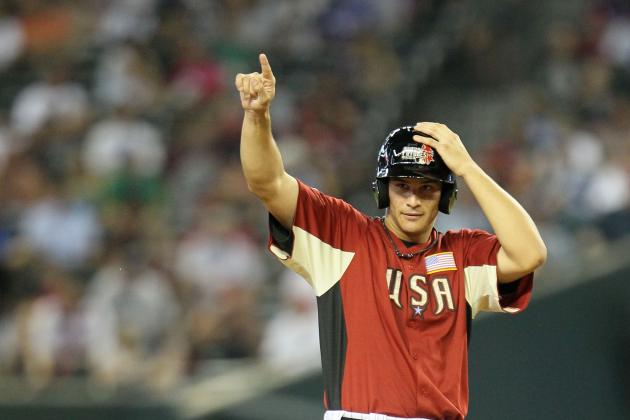 Jeff Gross/Getty Images

Arenado isn't even a member of the Rockies 40-man roster, but as they would say in the draft business, his helium is so high right now, and may never be higher.
He absolutely tore the cover off the ball in the hitter-friendly California League last season. He finished as the minor league RBI leader (122) and also slugged 32 doubles and 20 home runs. He maintained a solid .298/.349/.487 line and improved his defensive play to the point that scouts now feel like he'll have the range to stay at third base long-term.
After being named a Cal League All-Star, Arenado took his game to the Southwest, where he won League MVP honors in the prestigious Arizona Fall League. He was an offensive juggernaut, slugging six homers and driving in 33 runs, all the while maintaining a .388 average against the likes of Danny Hultzen, Trey McNutt, Sammy Solis, Tyson Ross and Jake Petricka.
A non-roster invitee to spring training, Arenado should move to Double-A this season, but with the momentum he's built over the past year, I wouldn't put it past him to be the best hitter in Colorado's camp.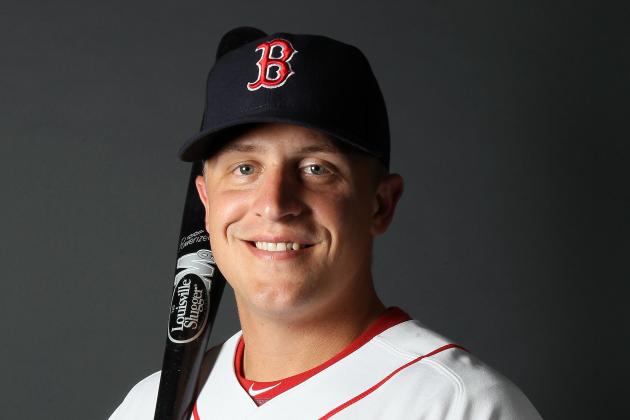 Elsa/Getty Images

On the surface, it doesn't appear that Federowicz has a legitimate chance to earn one of two catching spots on the big-league roster. The Dodgers already have two veteran guys on the roster—Matt Treanor and A.J. Ellis.
If you dig a little deeper, however, you'll see that "FedEx" is closer to achieving his lifelong goal than most think.
For starters, the supposed starter, Treanor, will be 36 in March and owns a career .225 average. In eight big-league seasons, he's mustered only 42 doubles and 16 homers, numbers that pale in comparison to some 162-game totals for some average major league hitters. Treanor is above average defensively, but it's hard to imagine him posting caught-stealing percentages anywhere close to the 47 percent he notched in 2006.
And then there's Ellis, six years younger than Treanor and owner of a career average nearly 50 points higher. The downside to going with him is that he's only made 87 starts in four seasons in the majors and hasn't played in more than 100 games combined since 2007.
Last, but not least, there's Federowicz. Not only does he have a proven track record of hitting for average and power in the minors, but he's also posted caught-stealing percentages above 30 percent in four consecutive seasons. He's widely regarded as one of the best defensive catching prospects in baseball.
If he can hit well enough in spring training, he could easily take one of the two spots belonging to the older...eh...more veteran gentlemen.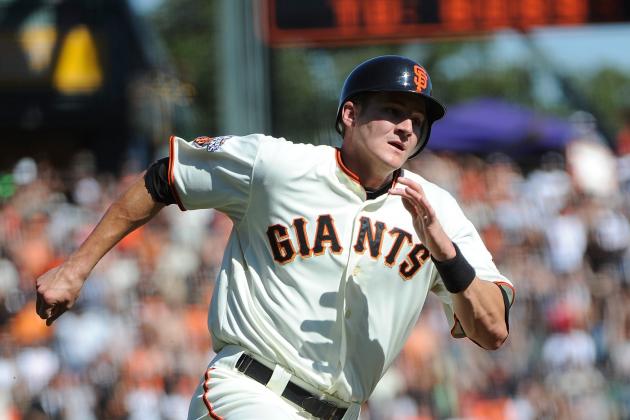 Thearon W. Henderson/Getty Images

Pill currently sits third on the depth chart at first base, behind veteran Aubrey Huff and hotshot Brandon Belt. There's virtually no chance that he ends up breaking camp with the Giants when they head north, however, he has a chance this spring to really open some eyes.
Despite having the frame of a first baseman (6'4'' and 210 pounds), Pill actually spent half of 2011 at second base, increasing his versatility. He also played a handful of games at third base and even left field. He could use this spring to get a few more innings in and with the help of an injury he might be able to crack the roster.
His bat is more than capable of surviving at the big-league level, that much is clear. He's a career .279 hitter who has averaged double-digit home runs every full season he's played. He's a doubles-machine who has excellent plate discipline and a steady run-producer.
The Giants would be lucky to have his bat in the lineup.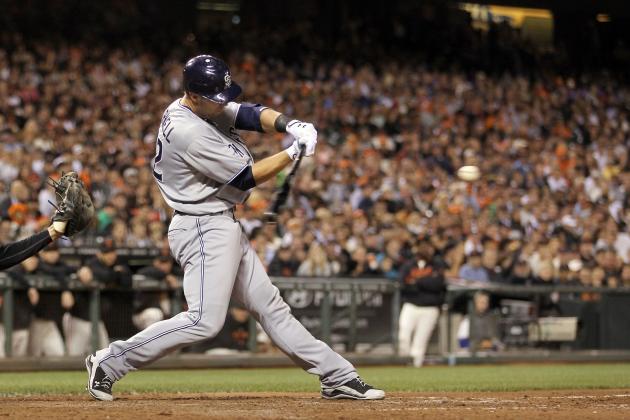 Ezra Shaw/Getty Images

Darnell isn't even the best third baseman in the Padres' system (that honor goes to Jedd Gyorko), but there's little doubt that he's a better offensive player than San Diego's incumbent third baseman Chase Headley.
Don't get me wrong, Headley is a perfectly adequate big-league hitter, but in the power department, he pales in comparison to Darnell, who slugged a career-high 23 home runs last season, and 20 back in 2009. A .302 career hitter in the minors, he's a pretty safe bet to be a better hitter for average as well.
Keep in mind also that prior to 2011, Headley was a career .265 hitter in the majors. Toss in the fact that his power numbers have dropped the past two years and I'd say there's at least a slight chance that Darnell gives Headley a run for his money.