UFC on Fox 3: Why Josh Koscheck Will Defeat Johny Hendricks
February 27, 2012

Tasos Katopodis/Getty Images
While all eyes will be on UFC on FX: Alves vs. Kampmann and Strikeforce: Tate vs. Rouse this weekend, UFC on Fox: Diaz vs. Miller is fast approaching and perhaps the most interesting story line to emerge from the upcoming broadcast television event, besides Nate Diaz and Jim Miller squaring off in a possible No. 1 contender bout, is who will come out on top in the co-main event between former No. 1 contender Josh Koscheck and fast-rising star Johny Hendricks.
Both fighters will be looking to prove they belong at the top of the division. Koscheck is coming off a less than stellar performance against welterweight division staple Mike Pierce, and this fight is his opportunity at redemption, and a chance to climb back to the No. 1 contender position after falling short in a five-round affair against current UFC Welterweight Champion Gorges St-Pierre at UFC 124.
Hendricks, like Koscheck, also holds a split-decision victory over the aforementioned Pierce in one of his more recent bouts. However few people remember it, as Hendricks was able to silence the critics after he quickly disposed of Koscheck training partner, and close friend, Jon Fitch at UFC 141, earning his second Knockout of the Night honors, and the disclosed 75-thousand dollar bonus that came with it.
Koscheck is not without his own stellar performances, however. Just two fights ago he put former-UFC Champion, and Hall of Famer, Matt Hughes to sleep in the closing seconds of the first round at UFC 135, earning a KOTN himself, also garnering a disclosed 75-thousand dollar bonus.
While Hendricks has earned KOTN twice, as well as Fight of the Night, he has yet to get the full hat trick, unlike Koscheck who has done so with FOTN performance against GSP, and his Submission of the Night against Anthony Johnson at UFC 106.
There is no doubt Hendricks is on a course to do even greater things, but Koscheck is in his own search for greatness, and to him, Hendricks is the roadblock, not the trophy, on that path.
If Koscheck defeats Hendricks in convincing fashion on May 5th, then there is little doubt he will become the de facto No. 1 contender, even before Jake Ellenberger, to face current interim-Welterweight Champion Carlos Condit, because everyone loves a comeback.
For Hendricks the loss will not set him back, but steer him on the correct path. Every great fighter's legacy is marred by stories of falling down, and getting right back up. The Hendricks we will see merge from this fight will be motivated, and determined like no other.
While some might say Hendricks has Koscheck's number now, and now is his time to shine based on his performance against Fitch, his overconfidence coming into this fight will be exactly what makes him lose it.
Koscheck is no stranger to getting knocked out, and as such has learned what not to do against a heavy handed hitter. He's also not one to get taken down easily, and more than capable of neutralizing Hendrick's wrestling with his own skill and expertise.
Once Hendricks realizes that putting his hands on Koscheck is harder than he though, he'll go for the take down. It won't take long for him to realize getting the fight to the ground isn't so easy, and he'll start head hunting in desperation.
This is where Koscheck will smell blood in the water, and after having learned from his own failures that banking on the take down and one-shot knockout is never a smart move, he will use razor-sharp combos and footwork to dismantle Hendricks before choosing to take the fight to the ground in the third round and hopefully finishing it there.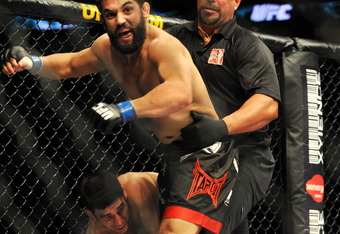 Jon Kopaloff/Getty Images
That is how a true professional and veteran of the sport approaches a fight where he has little to gain and everything to lose.
Hendricks will become a better fighter from the experience, but his age and determination will drive him to work his way right back to the lime light, but that day is not today, and that winning knockout to earn a title-shot will not happen this time.
And that's the bottom line.
_______________________________________________________________________________
Follow Justin Fuller on Twitter @JustinFullerMMA or like him on Facebook for the latest and greatest in...well...whatever, that's what. Just do it, he's hilarious.