NBA Slam Dunk Contest 2012: Ranking the 5 Best Dunks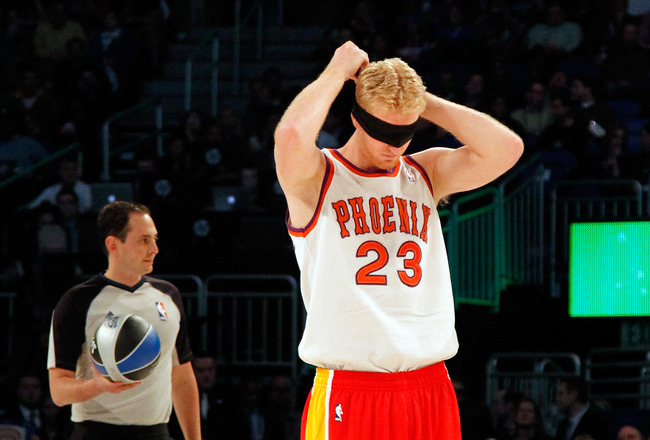 Mike Ehrmann/Getty Images
The 2012 Sprite Slam Dunk Contest was a bit lackluster. The star power wasn't there, MIT's dunk intensity meter needed to be recalibrated for basketballs instead of sniper bullets and the worst dunker of the night won.
But there were still some memorable slams, and I have graded my top five.
Each dunk was graded on a scale from one to five on four different dimensions: Originality, Difficulty, Polish and Wow-Factor.
Add them up, and here's what you get...
Derrick Williams' 360 Two-Handed Slam
Originality: 2
Difficulty: 3
Polish: 5
Wow-Factor: 3
Total: 13
Derrick Williams' second dunk of the night was one I had seen many times before, but the power and cleanliness were hard to overlook.
You can't ask for a better setup man than Ricky Rubio, either.
Paul George's Glow-in-the-Dark Finish
Originality: 3
Difficulty: 4
Polish: 4
Wow-Factor: 3
Total: 14
Paul George's glow-in-the-dark dunk in the second round was a little too busy for two reasons. First, it was too unoriginal in its attempt to be so original (if that even makes sense).
Second, the glow was so dim, I could barely even see the play! Was it clean? Was it powerful? I couldn't tell.
Chase Budinger Leapfrogs Diddy
Originality: 3
Difficulty: 4
Polish: 5
Wow-Factor: 3
Total: 15
Jumping over someone while dunking is far from original, but having that someone be Diddy and asking him to throw a perfectly timed ball gets you difficulty points.
The polish was perfect, as Chandler Parsons signaled exactly when to throw and Chase Budinger nailed it on the first time.
Jeremy Evans' Two-for-One Dunk
Originality: 5
Difficulty: 5
Polish: 3
Wow-Factor: 4
Total: 17
Jeremy Evans' double dunk in the second round got full points for originality and difficulty. I'm sure it has been done before, but I can't say I've ever seen it done with the passer not looking at the basket.
The polish was average since it was more of a "let's get these two balls into the basket quick" kind of slam versus a powerful slam. It also took Evans a couple tries. Overall, terrific dunk.
Chase Budinger's Blindfolded Reverse Dunk
Originality: 4
Difficulty: 5
Polish: 4
Wow-Factor: 5
Total: 18
The best dunk of the night was Chase Budinger's tribute to Cedric Ceballos' blindfolded slam in the 1992 Slam Dunk Contest.
Budinger missed on his first attempt in such a way that it was clear he truly couldn't see anything. He gave it another shot and added a reverse this time, nearly earning him bonus difficulty points when he nailed it.
It was the best dunk of the night to the should-have-been champion.
Keep Reading