Pittsburgh Steelers: Who Should Replace James Farrior If He Does Not Return?
February 25, 2012

Gregory Shamus/Getty Images
The days of James Farrior roaming around in the middle of the Pittsburgh Steelers' defense may be over, according to his agent, Ralph Cindrich.
Cindrich told 93.7 The Fan's Bob Pompeani that, if he had to guess, he did not think that Farrior would return to the Steelers next season.
Farrior is not ready to retire, but his days as a full-time starter are over.
The 37-year-old Farrior eclipsed 100 tackles seven times in his 10 years with the Steelers, and was a force in both run-defense and pass-defense while displaying the ability to rush the quarterback.
Farrior's age caught up with him the past few seasons, but after a bounce-back season last year, he struggled in 2011, finishing with only 78 tackles—the lowest total in his Steelers career.
After rarely coming off the field in his career, Mike Tomlin began to have Farrior split time with backup linebacker Larry Foote. The move was made to help keep Farrior fresh since his play had fallen off.
Now the Steelers face losing their defensive captain and the player who makes the calls in the defensive huddle. While this will be a big loss, Farrior's production no longer meets the standard, and the Steelers will need to upgrade.
Beyond his play, the Steelers could also save some much-needed cap room by releasing Farrior. If they do follow through and terminate the contract of their defensive leader, where will they look to replace him?
It is entirely possible the Steelers could re-sign Farrior later in the offseason at a reduced rate. However, expect the team to want to get younger and faster at the position.
The easiest transition would be moving Foote directly into Farrior's spot. He played there last season and has a deep knowledge of the defense. However, Foote is a run-defender and is a liability in pass-defense.
If the Steelers want more athleticism at the position, Timmons could slide over to Farrior's BUCK position, which would put Stevenson Sylvester at the MACK or vice versa. The problem with moving Timmons is he would have to learn yet another position. Timmons took several years to develop, and he did not have an impact last season, having to play on the outside due to injuries.
There would also be some question as to what Sylvester is capable of. While his athleticism would be an upgrade over both Farrior and Foote, Sylvester does not have the same knowledge of the defense as the two veterans.
In his third year, though, Sylvester will be more prepared than he ever has. He has the speed to run with the faster playmakers he would have to defend, but he will have to improve on his play recognition and overcome his lack of quickness in changing direction.
The Steelers could look into the free-agent market, but it is unlikely that they could find a good value player who could perform any better than Sylvester or Foote.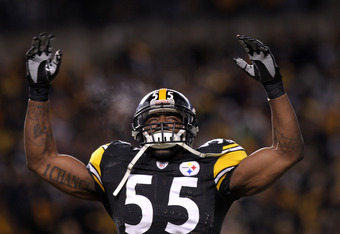 Nick Laham/Getty Images
The other logical solution would be using an early draft pick on an inside linebacker, and there should be some pretty good ones available at the 24th pick.
The top-rated inside linebacker, Luke Kuechly, figures to be off the board by the time the Steelers are up, but Vontaze Burfict and Dont'a Hightower could both be available.
Burfict has all of the athleticism you could look for in an inside linebacker and has the ability to be a big-time playmaker. His downfall is his lack of maturity, and he can be overaggressive. Burfict may not be a good fit playing alongside Timmons.
Hightower has limited athleticism, and there are questions as to whether or not he can cover backs and tight ends. Beyond that, Hightower is a smart linebacker who has plenty of experience in a 3-4 defense while playing for a big-time program.
Given the Steelers' needs along the offensive and defensive lines, the most likely scenario is they bring back Farrior at a reduced cost, or go with Foote or Sylvester.
Then again, they may decide to keep Farrior and save cap space with Foote. There is a lot of time between now and free agency, and a lot can happen. Stay tuned.