Carling Cup Final 2012: Liverpool Will End 6-Year Trophy Drought in Epic Fashion
February 25, 2012

Michael Regan/Getty Images
It's been six years since Liverpool's last trophy. For a historic club like Liverpool, they are well-overdue, but they will have a great opportunity to capture the 2012 Carling Cup on Sunday when they play Cardiff City at Wembley Stadium.
Liverpool will exercise their championship demons by putting on a clinic to win the trophy.
Cardiff City has played the lesser of competition to get to the championship game. They defeated Oxford United, Huddersfield Town, Leicester City, Burnley, Blackburn and Crystal Palace.
Liverpool defeated Exeter City, Brighton and Hove Albion, Stoke City, Chelsea and Manchester City.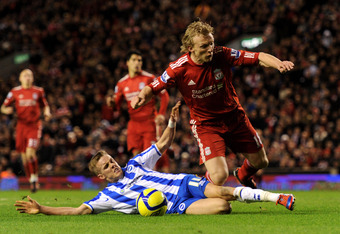 Michael Regan/Getty Images
Even though Chelsea hasn't been the same Blues squad we are accustomed to seeing, defeating Manchester City was highly impressive. Both victories were better than any victory Cardiff City had during the run. 
Having the much tougher road to Wembley will pay dividends in the final.
The talent level of Liverpool outmatches Cardiff City with ease. Luis Suarez always poses a threat to score goals by putting himself in the correct position. He has struggled to find the back of the net at times this season, but he will score at least once on Sunday.
It's time for Liverpool to make a statement. They haven't been the same Liverpool club we're used to seeing in recent memory, but this would be a great way to turn things around.
Maybe a victory would give them confidence heading into the latter stages of the English Premier League. They currently sit with 39 points, seven points behind Chelsea for the final UEFA Champions League position.
It's going to be difficult to catch Chelsea for the final spot while battling Arsenal and Newcastle, but a confidence-building victory in the Carling Cup could give them the confidence going forward.
They can't and won't let this opportunity slip away.
Prediction: Liverpool 4, Cardiff City 0