Philadelphia Eagles: Making Sense of DeSean Jackson and Robert Griffin III News
February 25, 2012

Jim McIsaac/Getty Images
Since the end of the Eagles season, all of the news regarding DeSean Jackson coming from those who work at the Novacare Complex has been nothing but positive. Andy Reid, Marty Mornhinweg, Howie Roseman and Jeff Lurie have done nothing but sing praises about their star impending free agent.
In fact, Howie Roseman just said the other day that he would be meeting with Jackson and his agent while in Indianapolis for the scouting combine and was "optimistic" that they could work out a deal.
Then, in the midst of the love fest for Jackson, Adam Schefter reports that "the Eagles are open to listening to trade offers for wide receiver DeSean Jackson, according to league sources."
So wait, the Eagles think Jackson is a great player and are excited about his future but are willing to listen to trade offers? Talk about mixed messages, right?
However, this is par for the course for the Eagles; it's how they operate.
When it comes to potential trade bait, the Eagles love to give off the impression that everything is hunky-dory and that the player is the greatest thing since sliced bread. Doing so allows them to feel they have the upper hand in any potential trade negotiations.
If the Eagles allowed the impression to get out that they were unhappy with Jackson, it would make it more difficult to trade him, thus lowering his trade value. Other teams would think that the Eagles would just end up releasing him, so why bother attempting to trade for him?
Plus, if other teams think Jackson is difficult to deal with, they might shy away from pursuing him.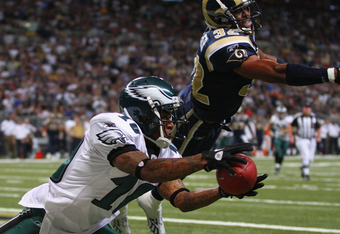 Dilip Vishwanat/Getty Images
This is all about posturing and putting themselves in the best position possible. If they re-sign Jackson, they've said all along how great he is. If they tag him and start listening to trade offers, they'll bargain from the position of "we like this player and want him, so therefore you will have to make us a great offer to pry him away."
See what I'm getting at here? They did the same thing with Asante Samuel last summer. They made complimentary comments about Samuel and said they love the idea of having three Pro Bowl cornerbacks—all while putting him on the trade block.
None of this means that Jackson will ultimately be traded or re-signed; it's all about the Eagles doing what Andy Reid tries to do every week with his players: put themselves in a better position.
With that said, I've maintained all along that I believe the Eagles will try their best to trade Jackson. I don't want them to, I just think that's what they will do. For a more detailed explanation of my thoughts on this, you can read here or here.
The Eagles will be open to trading Jackson for the right price; they won't just give him away. If they aren't getting what they deem as fair offers, you could just as well see them scrap the trade idea and re-sign him long term.
This will be the most intriguing storyline all the way up until we see how it finally plays out.
Speaking of intriguing, another tidbit of interesting news came out yesterday about the Eagles interviewing Baylor QB Robert Griffin III. 
"RG3," as many call him, is considered to be the second-best QB in the 2012 draft. He will very likely be a top-five pick in April's draft and could go second overall if the Rams decide to dangle their pick as trade bait.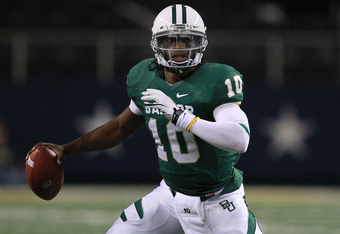 Ronald Martinez/Getty Images
So why would the Eagles, who sit at pick No. 15, seemingly waste their time interviewing a player who is out of their reach? The answer to that question is simply "due diligence."
The Eagles routinely interview several players every year that are seemingly out of reach in terms of their draft position and where that player is likely to be drafted. Last year, the Eagles showed interest in consensus top-five pick Patrick Peterson and in 2010 they did the same with Eric Berry.
Last year the Eagles also met with most of the top QBs like Jake Locker, Andy Dalton and Christian Ponder. They do their due diligence on many prospects just so they have the information they need if an opportunity arises where they can land such a player.
It's no secret that Andy Reid loves quarterbacks; it's the position he values most. Therefore, it's no surprise that the Eagles met with RG3. I suspect that they will also eventually meet with other QBs like Ryan Tannehill, Brandon Weeden and Brock Osweiler.
While I think it's highly unlikely that the Eagles will spend a high draft pick on a QB this year, it wouldn't be a complete shocker if they did. Back in 2007, nobody saw the Eagles spending a second-round pick on Kevin Kolb.
One thing is for sure: If the Eagles wanted RG3, they would have to give up quite a bit in trade compensation, including multiple draft picks from 2012 and likely even a 2013 first-rounder. That's a lot to give up for a player that would ride the bench during a Super Bowl-or-bust year in Philly.
But hey, stranger things have happened around here.