Oregon Football: Ranking the Top 12 Ducks Games in the Chip Kelly Era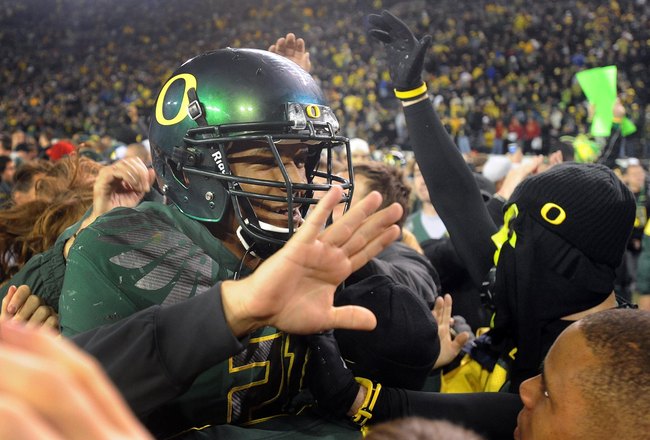 Steve Dykes/Getty Images
Oregon football is enjoying its greatest success under coach Chip Kelly. His arrival to Eugene in the autumn of 2007 marked a new era for Ducks football.
There have been many impressive wins for the Ducks in their quests for Rose Bowl wins and a national championship. Some of the games were turning points in shaping the Ducks and their continued progress. A few of these games were a perfect storm of the spread offense.
The following is a countdown of the 12 most impressive games in the Chip Kelly Era.
Four games were played at Autzen Stadium. Six games were played on the road. Two were bowl games.
Can you guess which appear on the list?
12. Thursday Night Bruin Bash (Oct. 21, 2010): Oregon 60, UCLA 13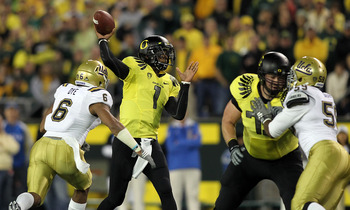 Jonathan Ferrey/Getty Images
Oregon headed into the game with its first ever No. 1 ranking and a Thursday night audience on ESPN. Earlier in the week, UCLA coach Rick Neuheisel said that eventually somebody would solve Oregon's offense.
Instead, the Ducks came out in their bumblebee uniforms and stung the Bruins. By halftime, the game was essentially over, as the Ducks raced out to a 35-3 lead. Cameras zoomed in on Neuheisel, who could only grimace in anguish and likely regret at his comments.
Quarterback Darron Thomas produced perhaps his finest game with 308 yards passing, three touchdowns and 48 yards rushing. The Ducks poured in 582 yards of offense.
"That was impressive," Neuheisel said after the game, according to the Associated Press, via USA Today. "I'll leave it at that. That was impressive."
This was the peak of the Ducks' 2010 momentum with the offense at its absolute best before injuries would slow down LaMichael James, Nate Costa and others.
11. Storming into SEC Country (Sept. 11, 2010): Oregon 48, Tennessee 13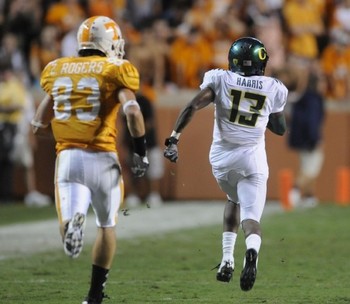 Tennessee packed Neyland Stadium with over 100,000 fans. They had a lot to cheer about in the first quarter as their giant offensive line bowled over the smaller Ducks, but they had to settle for a pair of field goals.
Then lightning struck, delaying the game for about an hour.
In the second half, it was Oregon's lightning speed that struck the Volunteers. LaMichael James reversed directions on a ridiculous 72-yard touchdown. Cliff Harris later added a pick-six touchdown, and the Ducks thundered ahead with three more fourth-quarter scores.
It would be Tennessee's worst loss of the year, and the Ducks would go on to their only undefeated season in program history.
10. Sacking Troy (Oct. 30, 2010): Oregon 53, USC 32
Harry How/Getty Images
ESPN's College Gameday set up shop at the Coliseum, and Lee Corso braved the boos as he danced around in his Duck head. The No. 1 Ducks marched into USC with storm trooper outfits and plenty to prove on the road.
USC defensive coordinator Monte Kiffen had two weeks to prepare, and many fans and media speculated about the schemes he would employ to slow down the Ducks.
A few days earlier, Ken Goe of The Oregonian reported demeaning comments about the Ducks from Trojans Ronald Johnson and Jurrell Casey. Casey said the Ducks "have a good running back and a good quarterback. Other than that, they're really not that good."
The first half featured plenty of scoring with the Ducks settling into a comfortable lead. In the third quarter, the Trojans scored quickly to take a 32-29 lead. It seemed the game would be a dogfight.
Oregon picked itself up behind two spectacular catches from wide receiver Jeff Mahel, and it regained its pace and rhythm to finish with 24 unanswered points. Mahel's contributions totaled eight catches and 145 yards.
Afterwards, many attributed the win to Oregon's superior conditioning and pace. The Trojans simply ran out of breath. Even Casey conceded to ESPN, "They're good. Can't doubt it."
9. Comeback in the Desert (Nov. 21, 2009): Oregon 44, Arizona 41 (2 OT)
Christian Petersen/Getty Images
For Oregon, it was a pretty ugly game with only 14 points early in the fourth quarter. Then when all seemed lost, and with the Zona Zoo students jumping onto the field, quarterback Jeremiah Masoli found tight end Ed Dickson in the end zone with six seconds remaining.
Even then, the drama was not over, as the Ducks nearly botched the extra point. Somehow, holder Nate Costa managed to reset the ball, and the extra point was booted into the uprights to send the game to overtime.
From there, the Ducks scored two touchdowns for the dramatic and important win. Masoli, who had struggled with Arizona pressure from its big defensive line, shrugged off three turnovers and sparked the comeback. He finished with six touchdowns, three in the air and three on the ground.
It was also a game with high stakes. Both teams sought the inside track to the Rose Bowl. For a few minutes, it looked like it would be the Wildcats.
But Masoli and the Ducks never quit playing. "Everybody on our team believed to the end," he said after the game, according to the Associated Press via ESPN.
8. A Tale of Two Programs (Sept. 26, 2009): Oregon 42, California 3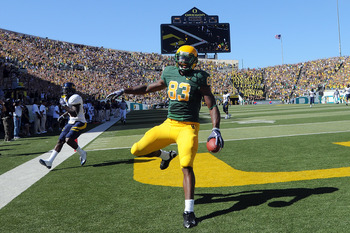 Steve Dykes/Getty Images
It was a warm autumn afternoon when No. 6 California cruised into Autzen Stadium. Several pundits called this a "prove it" game for California's BCS bidding, and it was broadcast on ABC.
By contrast, the Ducks had struggled to a 2-1 record under new coach Chip Kelly, and the program was still reeling from LeGarrette Blount's fiasco three weeks earlier at Boise St.
California kicked a field goal almost immediately, taking advantage of Oregon's opening muff on a kick return. That would be it.
Oregon responded with efficient passing from quarterback Jeremiah Masoli to tight end Ed Dickson, and the Ducks had already put the game in mothballs with a 39-3 score through three quarters.
It would prove to be a foreshadowing of the two programs. California never really recovered and has since been a .500 team.
For the Ducks, their high-octane offense was backed up by great team defense, a trick two-point conversion and a new brand of confidence that would catapult them into the first of three BCS bowl games.
7. Holiday Blowout on Big 12 (Dec. 30, 2008): Oregon 42, Oklahoma St. 31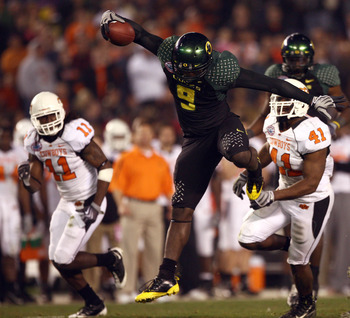 Donald Miralle/Getty Images
After a late-season surge, No. 17 Oregon rolled into the Holiday Bowl to take on explosive No. 13 Oklahoma St.
If it were not for running back Jeremiah Johnson's 76-yard touchdown run up the left sideline, the Ducks could have trailed more than their halftime 17-7 deficit. ESPN analyst Lou Holtz claimed the Ducks were playing poorly because they were too excited after scoring 110 points (it was actually 120) in their previous two games.
What?
Oregon went out in the second half and pounded the Cowboys, 35-14, with some physical running from quarterback Jeremiah Masoli and running back LeGarrette Blount. All told, Johnson, Masoli and Blount combined for 300 yards rushing against the bull-whipped Cowboys.
Coach Mike Bellotti rode off into the sunset following this final game before handing off the reins to offensive coordinator Chip Kelly.
6. "Statement! Statement! Statement!" (Oct. 2, 2010): Oregon 52, Stanford 31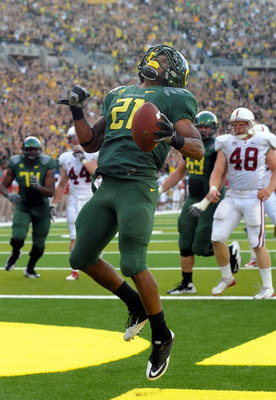 Steve Dykes/Getty Images
It was billed as Oregon speed versus Stanford power in an early-season collision of Pac-10 powers at Autzen Stadium.
Early on, it was Stanford who bulled through the Ducks defense for three touchdowns, taking advantage of kick returner Cliff Harris' fumble and quarterback Darron Thomas' interception. The Cardinal led 21-3 by the end of the first quarter.
Oregon finally responded with a touchdown, but the key play followed. Kicker Rob Beard executed a predetermined onside kick that he recovered for the Ducks. It seemed to energize the players, crowd and tempo of the game.
Two minutes later, the Ducks were back in the game, trailing only 21-17.
It took the second half for the Ducks to deliver the knockout blow, and it came from both offense and defense. The Ducks exploded for four touchdowns capped by LaMichael James' 76-yard touchdown run, prompting Ducks radio broadcaster Jerry Allen to finish by yelling, "Statement! Statement! Statement!"
Oregon's defense blanked the Cardinal offense, forcing a fumble recovery by Eddie Pleasant and two Cliff Harris interceptions of quarterback Andrew Luck. Stanford even failed to slow the pace with a couple of feigned injuries—something that Arizona St. and California would also attempt in their 2010 games versus Oregon.
The Oregon victory was the centerpiece of its drive to the BCS National Championship.
It would be Stanford's only loss on its way to winning the Orange Bowl.
5. Ruining Roses at Reser (Nov. 29, 2008): Oregon 65, Oregon St. 38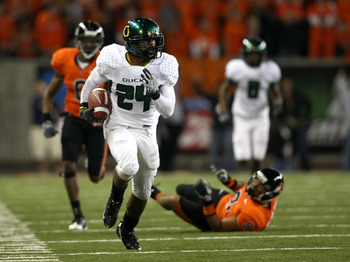 Jonathan Ferrey/Getty Images
Only the Oregon Ducks stood between the Oregon St. Beavers and their first Rose Bowl since 1965. The Beavers limped into Reser Stadium with injuries, most notably to star freshman running back Jaquizz Rodgers.
Still, the OSU faithful confidently held signs alluding to their Rose Bowl dreams.
It would quickly turn into a nightmare.
The Ducks, who were starting to peak late in the season, turned the game into a highlight package with a series of big plays and touchdowns. The numbers were staggering. There were eight total touchdowns including three rushing, three passing and two interception returns. They even added three field goals.
The offense rolled up 694 total yards—385 on the ground.
Beyond the numbers, it was a humiliating result for the Beavers in a rivalry game. They would go on to capture the Sun Bowl, 3-0, over Pittsburgh, but this would be small consolation to their wilted roses.
4. Bringing Down the Big House (Sept. 8, 2007): Oregon 39, Michigan 7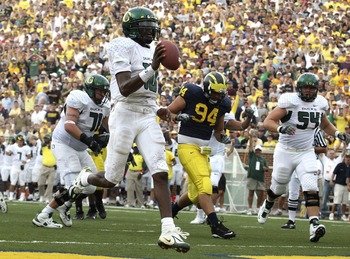 Gregory Shamus/Getty Images
If college football fans hadn't noticed Chip Kelly's transfer from New Hampshire to Eugene, they were now aware.
The impact of this game is what helped build one program and damage the other. It was much more than Oregon's 39-7 blowout win over fabled Michigan.
First, it was a nationally televised game that featured Oregon's flashy new spread offense.
Second, it showcased the turnaround and potential of Oregon's senior quarterback, Dennis Dixon. Dixon's legacy at Oregon was covered in a previous article analyzing Oregon's ideal spread offense quarterback.
Third, it created the kind of confidence Oregon needed to become a bigger football power. The Ducks would mostly blitz through the conference, including a huge win against USC, the decade's most dominant team.
Finally, Michigan's failure put more pressure on removing coach Lloyd Carr and hiring Rich Rodriguez to run its own spread offense. That did not work out quite as well for the Wolverines.
3. Fright Night at Autzen Stadium (Oct. 31, 2009): Oregon 47, USC 20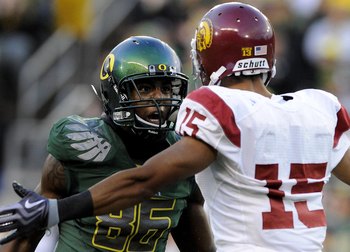 Steve Dykes/Getty Images
On Halloween night 2009, No. 5 USC rumbled into Autzen Stadium with a 6-1 record, ready to place its bid for the BCS title game. The Trojans were merely asserting their rights as the dominant program out west and for the foreseeable future.
Pete Carroll's dynasty was still the defending Rose Bowl champion and was riding high behind freshman phenom and quote-machine Matt Barkley, who remarked, "I hear it's loud and the fans are crazy. I'm not going to change anything I do, but I can't wait to go up there," according to OregonLive.com.
But Halloween had more than its share of tricks. Autzen's screaming spectators, decked out with black Fright Night T-shirts watched Jeremiah Masoli and LaMichael James crumble the Trojan defense with a season's worth of rushing highlights.
No better moment represented the shift in Pac-10 dominance and foreshadowing of the future than that of Chip Kelly boldly urging his offense to hurry up and score again just before halftime.
The Ducks' massacre of Troy was a change in power. The Trojans would stagger to a 3-3 finish, followed by an abrupt end to Carroll's regime at USC.
The Ducks have not looked back, steamrolling the Pac-10/12, joining the BCS conversations and gaining national prominence.
It would take two years for the Trojans to fight through unjust sanctions and exact their own revenge on the Ducks. Next year could be bigger than ever.
2. Ducks Rose to Luck's Challenge (Nov. 12, 2011): Oregon 53, Stanford 30
Thearon W. Henderson/Getty Images
ESPN's Lee Corso chose to wear a Stanford tree on his head for his College Gameday selection. Big mistake.
Brent Musburger and the ABC crew were in town to cover the Pac-12 game of the year. It had been mostly hyped as the Andrew Luck Heisman campaign, and with the undefeated and fourth-ranked Cardinal still a player in the BCS title game lottery.
It was a bit of a struggle for both teams in the opening quarter, but by halftime, the Ducks held a 22-16 advantage, thanks to a pair of big plays.
First, LaMichael James cut through a hole with some fancy footwork and blew past Stanford's defense for a 58-yard touchdown. Later, on 4th-and-7, De'Anthony Thomas took a screen pass from Darron Thomas and dashed down the right sideline for a 41-yard touchdown.
In the second half, the Ducks poured it on with two quick touchdowns, including wide receiver Josh Huff's ankle-breaking move on the slower Stanford secondary. It was too much for the Cardinal offense to overcome, and Stanford's fate was sealed with two late turnovers.
For Oregon, the win was crucial. Only the winner would play in the inaugural Pac-12 championship game and get a guaranteed shot at the Rose Bowl.
Without this win, there would have been no conference title three-peat.
1. Roses at Last (Jan. 2, 2012): Oregon 45, Wisconsin 38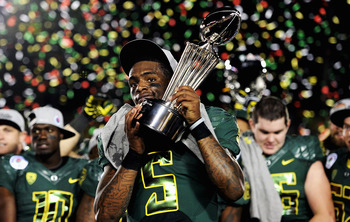 Harry How/Getty Images
Consider that the Ducks' previous Rose Bowl win was in 1917. World War I was still going. Babe Ruth had not yet played for the Yankees. The first radio station was still five years away. TV and the Internet were light years away.
Ducks fans hope it will not be another 95 years of waiting for another Rose Bowl win.
The real measure of the Rose Bowl win was the Ducks' persistence and effort in a see-saw battle of two explosive offenses. Oregon always responded to Wisconsin with big-play scoring, including De'Anthony Thomas' 91-yard touchdown for a Rose Bowl record.
Yet the game was equally as important as validation for Chip Kelly and his spread offense. Critics, media and even Duck fans questioned Kelly's system in big games when another great team had an extended time to prepare. The Duck offense piled up 621 yards and six touchdowns.
Doubts about Chip Kelly were wiped away. In many ways, it also illustrated the unreasonable pressure sports put on their coaches and teams. With or without the win, Chip Kelly is a rare success.
Quarterback Darron Thomas and running back LaMichael James also completed their storied careers as the two most successful winners in the history of the program.
Enjoy it, Duck fans.
Keep Reading

Oregon Ducks Football: Like this team?