Sean Armand's Massive Second Half Propels Iona to MAAC Regular Season Title
February 25, 2012

After compiling a 13-3 record in MAAC play, Iona found themselves in a position that they were familiar with from last year.
The Gaels twice found themselves needing to win just one game to secure both the MAAC tournament and CIT Championship, yet they were unable to win either title.
This time, the Gaels were playing at the Hynes Athletic Center against Fairfield, needing to win the game to win the MAAC regular-season title and at least a spot in the NIT.
Earlier in the season, Iona had defeated Fairfield 71-62 in Bridgeport. Yet, both teams were the hottest sides in the MAAC since their matchup on Jan. 27.
Fairfield had won their last seven MAAC games since then, while Iona had won five of their six games in conference play.
This game was highly hyped, and there was a huge group of people who waited outside before the game started to try to get tickets, with many of those fans failing to get admission.
Despite a boisterous student section, the Gaels were not able to please their fans in the first half, trailing throughout the first half, and the Stags led the home side 38-33 at the half.
The Gaels' offensive flair did not exist throughout the first half, with star point guard Scott Machado only registering four points and Momo Jones only getting two points of his own.
Early in the second half, the Gaels found themselves down by eight points to Fairfield. Machado was able to respond with a three-pointer to spark a 10-0 Iona run.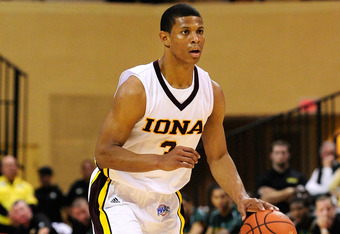 Sam Greenwood/Getty Images
Fairfield and Iona continued to play uptempo basketball, but it looked like everything was going to change when Machado picked up his fourth foul with just under seven minutes remaining.
Iona only held a two-point lead at the time, yet as he has done since his 32-point effort at Madison Square Garden against Siena, Sean Armand stepped up for the Gaels.
Armand scored the next nine points for the Gaels over the next four minutes to give Iona a 71-65 lead with just under three minutes to go.
Throughout this season, Armand has continued to progress into one of the most dangerous players in the MAAC. Armand has scored some important baskets this year, and his performance tonight was the most important effort that he has had for Iona in his short career.
This effort only recapped what was a fantastic effort from the sophomore guard from Brooklyn. Armand also registered three rebounds, two assists and two steals to propel Iona to the 77-72 win.
Outside of Armand, Machado registered 10 points and seven assists, while Michael Glover had 13 points and seven rebounds.
The Gaels will finish off their regular season with a game tomorrow against Saint Peters in New Rochelle, before playing in the MAAC Championships in Springfield, Massachusetts.
Iona will play either Marist or Saint Peters on March 3 to start off the tournament now that they have secured the No. 1 seed.
Follow me on Twitter @Andrew_Jordan