NBA Slam Dunk Contest: Top 20 Dunks of All Time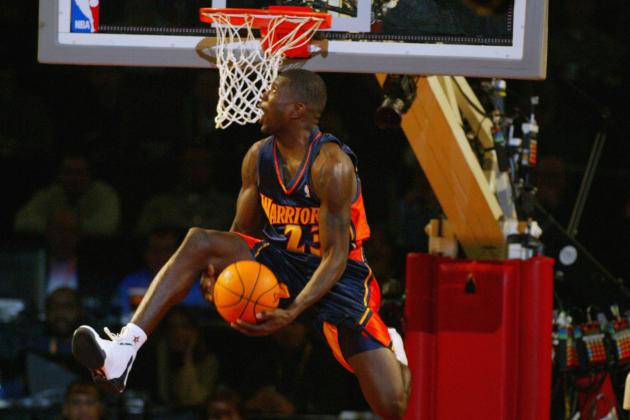 Jamie Squire/Getty Images

The NBA Slam Dunk Contest is always one of the most anticipated events of All-Star Weekend.
Although it occasionally disappoints, the dunk contest has a rich history that showcases the breathtaking athletic ability and creativity of some of the most spectacular leapers the league has ever seen.
Jeremy Evans, Derrick Williams, Chase Budinger and Paul George have recently been named as the four contestants who will take center stage on All-Star Saturday.
Needless to say, this is one of the most underwhelming lineups in recent memory.
But instead of complaining about the lack of star power in the upcoming contest, I decided to turn back the clock and enjoy some of the best dunks that have ever been performed.
Some of these dunks made the list because they are exceptional feats of athleticism. Some of them made it because they are extremely creative or innovative. Some of them are just downright iconic.
So here they are, the best of the best—the top 20 jams in dunk contest history.
Begin Slideshow

»
Year: 2003
Dunk: Left-handed between the legs
Desmond Mason is one of the most underrated dunk contest participants ever. In 2003, he delivered this absolute gem of a slam dunk.
It was so good, in fact, that Kenny Smith proclaimed that Mason had the flu because he was absolutely "sick." Walker was right.
Year: 2005
Dunk: Dominique Wilkins windmill tribute
You knew that Smith had something special planned as soon as he took out Dominique's jersey. He gets extra points for the level of respect that he displayed, but the dunk was also spectacular.
This picture-perfect windmill was memorable, to say the least.
Year: 2011
Dunk: Free-throw line
I think it's fair to say that Serge Ibaka got cheated on this attempt. Although it wasn't as smooth as Julius Erving's or Michael Jordan's, Ibaka took off from behind the free throw line and only received a 44.
Year: 1994
Dunk: East Bay Funk
Contrary to popular belief, Rider wasn't the first person to put the ball through his legs in a dunk. Orlando Woolridge did almost the same dunk way back in 1984. However, Rider made this dunk his own and paved the way for big names like Kobe Bryant and Vince Carter.
Rider walked away from the '94 dunk contest as champion after this spectacular effort.
Year: 2005
Dunk: 180 Alley-Oop off Steve Nash's head
It may not have been the most jaw-dropping display of athleticism, but in terms of creativity, Amar'e Stoudemire's dunk is way up there. This was a well thought-out and fun attempt.
It's not uncommon to include a teammate, but Nash and Stoudemire took it to the next level with this dunk.
Year: 2011
Dunk: Two-basket dunk
We've seen people dunk with two balls before, but never on two different hoops in the same jump. This attempt landed JaVale McGee a well-deserved 50, as the degree of difficulty was through the roof.
After the dunk, Reggie Miller raised an interesting point. It's possible that McGee is the only person on the planet capable of doing what he did.
How often does that happen in the dunk contest? Once every five or 10 years? That's what made this dunk special.
Year: 1991
Dunk: No-look dunk
An absolute classic.
Brown stole the show in '91 with this "cherry on the sundae." His name is synonymous with this slam, and it has been duplicated several times in subsequent contests (Cedric Ceballos did a variation of it the very next year, and Gerald Green did it whilst jumping over Nate Robinson in 2007).
Year: 2009
Dunk: Jump over Dwight Howard
Robinson is a seasoned competitor with three titles from four appearances in the dunk contest. I've always thought that he has done a lot of very good dunks, but never any truly great ones.
In this dunk, Robinson shows off his hops by jumping up and over the defending champion Dwight Howard. Although he needs a little bit of help to clear the 6'11" center, the amount of air that the little guy gets is unbelievable.
Credit must be given to Howard as well, who was kind enough to act as a prop despite competing against Robinson.
Year: 2008
Dunk: Windmill from behind the backboard
Trust me, the replay of this dunk doesn't do it justice. At 6'11", Dwight Howard makes a lot of dunks look easy. But the amount of hang time that is required to do this is insane.
Howard throws the ball off the back of the backboard and brings it back around to dunk it, kicking his legs for extra emphasis. Unreal.
Year: 1986
Dunk: One bounce reverse
I'm usually not a fan of short guys in dunk contests. While I can't deny that their leaping ability is simply incredible, I just don't appreciate them as much as I probably should.
This dunk from Spud Webb is the exception. The 5'7" guard lobs the ball from well beyond the three-point line, catches the ball at the peak of the bounce and throws it down behind his head. He also kicks his legs for extra emphasis, making the dunk look harder than it really is.
Year: 2000
Dunk: Honey dip
The crowd reaction says it all. Shaq doesn't know what just happened. Steve Francis realizes that he has no chance of topping Carter. Isiah Thomas has a laughing fit.
This dunk was simply a brilliant combination of freakish athletic ability and ingenuity. This was a dunk that we had truly never seen before.
After Vince had blown the competition away with his first few performances, we expected something great. But did anyone see this coming? I certainly didn't.
Year: 2006
Dunk: Oop from behind the backboard
It's no secret that Andre Iguodala was absolutely robbed in the 2006 contest. Nate Robinson took home the trophy after delivering an impressive final dunk. Although the dunk was nice, it took him all of 14 attempts to complete.
This dunk by Andre Iguodala was by far the best dunk of the competition. The degree of difficulty on an attempt like this was through the roof. He also had to hang in the air long enough to bring the ball back around the backboard.
Year: 1987
Dunk: Kiss the rim
There's a reason why Michael Jordan's nickname was "Air." When he pulled off moves like, it really looked like he could fly. In this dunk, Jordan elevates, turns his body sideways in midair and finishes with authority.
This dunk helped Jordan take home his first Slam Dunk Contest title and solidify his place as one of the greatest dunkers of all time.
Year: 2002
Dunk: Reverse bounce dunk
I may be a little biased here, because this dunk is one of my all-time favorites. In real time, this dunk is very impressive. However, in slow motion, this dunk is insane. Watch as Richardson catches the ball, turns his body 180 degrees and finishes behind his head. He gets extra points for delivering when the competition was on the line—this dunk won him the title.
There are also a lot of subtle things J-Rich does to make the dunk even better. The way he kicks his legs for extra emphasis and brings the ball around in a full circle makes this one of the 10 greatest slams in dunk contest history.
Year: 2011
Dunk: The Show Stopper
You could make an argument for every single contestant in the 2011 dunk contest that he deserved to win. Serge Ibaka leapt from behind the free-throw line. JaVale McGee dunked on two different hoops and then with three different balls. Blake Griffin dunked over a car.
Despite all this, I remain adamant that DeMar DeRozan should have been the winner (or at least advanced to the final round).
In my opinion, this dunk was the best of the competition. It was just a beautiful, perfectly executed dunk that didn't rely on gimmicks or props to be spectacular.
Year: 1976
Dunk: Free-throw line (starts 5:25 in video)
Technically, this dunk shouldn't be here. Julius Erving threw this dunk down in the ABA Dunk Contest way back in 1976, and this list only ranks NBA dunks.
However, there was no way I was leaving it off the list. It's simply too iconic, too memorable and too legendary.
Dr. J didn't invent the dunk, but he did take dunking to a whole new level. As the most influential dunker of all time, he gets a spot on this list.
Bonus points are awarded for the smoothness of the dunk and his cool afro.
Year: 2000
Dunk: Bounce through the legs
By the time Vince Carter threw this dunk down, the contest was already over. But what I find so amazing about his performance is that he kept finding ways to blow us away. Just when you thought it couldn't get any better, Vince pulled another trick out of his bag.
Assisted by his cousin Tracy McGrady, Vince took this ball off of the bounce and jammed it home after putting it through his legs. I don't think I have to justify the placement of this dunk.
Year: 1985
Dunk: Classic power windmill
I put Dominique Wilkins in the same boat as Nate Robinson. He has an impressive body of work and a lot of extremely good dunks, but never any legendary ones. I think the biggest knock on 'Nique is his lack of creativity compared to guys like Vince Carter or Dwight Howard.
Nevertheless, Wilkins is surely one of the greatest competitors ever, so I had to find a spot for one of his dunks. The power behind this windmill is jaw-dropping. It's almost as if the judges put up their 10s out of fear.
Year: 2008
Dunk: Tap off the glass to himself
You might think that this dunk is ranked a little too high, and I don't blame you. But to fully appreciate what Dwight Howard did, you have to try it for yourself. You don't even need a basketball hoop; just throw a ball off a wall, tap it to yourself and try to catch it with the other hand. All in one jump.
Harder than it sounds, right?
The sheer amount of hang time needed to complete this dunk is just ridiculous. For that reason, I believe that this dunk is incredibly underrated. We've also never seen anything like that before in a dunk contest, which makes it doubly impressive.
Dwight Howard's creativity is something to behold. It's disappointing that he's not in this year's dunk contest.
Year: 2004
Dunk: Off the glass through the legs
It amazes me that nobody has ever attempted to do this dunk in subsequent competitions. But then again, I can't think of five guys capable of pulling this off.
Jason Richardson failed to win the 2004 competition, but he did deliver the best dunk of the contest (and of every contest since then). In terms of hang time, creativity, degree of difficulty and athleticism, this dunk had it all.
The only thing preventing it from being ranked higher is that the next three dunks are a little more impressive and iconic.
Year: 1988
Dunk: Double clutch from the foul line
"They gave him a 50! They gave Jordan a 50!"
One of the most famous calls in dunk contest history was, fittingly, about one of the most famous dunks in history.
Julius Erving may have done it first, but Michael Jordan's free-throw line dunk was just as iconic. Needing a 48 to tie and a 49 to win, Jordan pulled out all the stops to win the 1988 dunk contest with this legendary dunk. Jordan's ability to fly through the air is unmatched even today.
Year: 2003
Dunk: Bounce reverse through the legs from the baseline
In terms of body of work, Jason Richardson may be the best dunk contest performer ever. He never had a single outstanding performance like Vince Carter in 2000, but from 2002 to 2004, he was the freakiest athlete in the competition.
In 2003, Richardson found himself in a similar situation to Michael Jordan. Needing a 49 to win with his final attempt, Richardson successfully pulled off one of the most outstanding dunks of all time. He lobbed the ball high from the baseline, took it off the bounce, put it between his legs (backwards instead of forwards) and finished behind his head. He landed with his arms outstretched, knowing that he had won the contest.
There's just so much to like about this dunk. It was a terrific combination of power and finesse, and it remains, to this day, the second-greatest dunk ever.
Year: 2000
Dunk: 360 windmill
No man in the history of the Slam Dunk Contest has ever won the competition on his very first dunk. Luckily for Vince Carter, he's half-man, half-amazing.
Over the years, we've seen some pretty darn good windmills and some pretty darn good 360s. But in just one dunk, Vince Carter delivered both a perfect windmill and a perfect 360.
I think Jason Richardson's dunk may have been a little more impressive athletically, but Vince's flawless execution and profound impact on the dunking universe vaults him into first place. This dunk kicked off the greatest performance in the history of the contest and was, in a sense, perfect.
Carter is considered by many to be the greatest dunker of all time. As you can probably tell, I completely agree.