The Top 10 Props Used in Dunk Contest History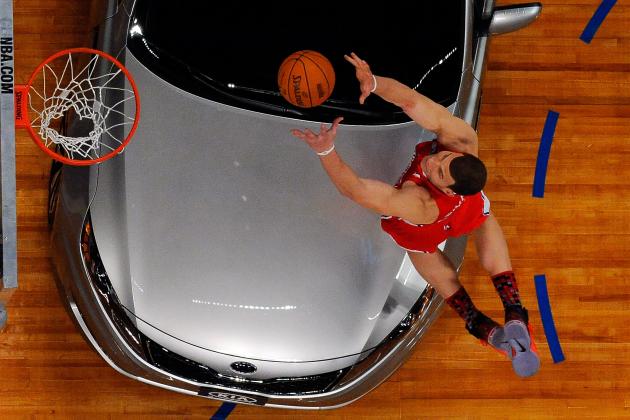 Kevork Djansezian/Getty Images

The 2012 NBA Slam Dunk Contest is upon us, and America can't wait to see what this year's dunk contestants have up their sleeves.
In recent years, props have become more commonly used in the contest to win over the crowd.
Whether it's a chair, a teddy bear or an automobile, players are one-upping each other with props and doing increasingly outlandish stunts to gain an advantage.
As we wait in anticipation of what they'll come up with next, let's take a look at the top 10 props used in Slam Dunk Contest history.
Begin Slideshow

»
Orlando Magic center Dwight Howard isn't lacking when it comes to drama, and this dunk sequence has almost as many props as the Macy's Day Parade.
The actual dunk isn't that intricate, but the Superman persona and the 12-foot rim are some of the biggest props we've ever seen in the contest.
Several contestants have dunked over chairs (and people sitting in chairs) over the years, but Gerald Green took it to the next level with his windmill dunk over a table in 2007.
He stole the show in Las Vegas that year, but this table dunk is only a taste of prop dunks to come from Green.
This sticker-slam was one of the most unique stunts in the contest's history.
Dwight Howard displayed exactly how high he can soar by slapping a sticker near the top of the backboard while jamming.
The finishing touch was having his teammates bring out the measuring tape to show that the sticker was 12'6".
After a splendid 2007 contest, Gerald Green appeared for an encore in 2008, using a ladder to demonstrate how high he could jump.
He took the ladder hand-off from Rashad McCants and windmilled the ball with authority. This prop usage and agile finish showed just how acrobatic Green is.
Oklahoma City Thunder forward Serge Ibaka has freakish athleticism, and he found a fun way to showcase it during last year's contest.
He exhibited his leaping ability by snatching a teddy bear off the rim with his teeth. It takes some intense focus and coordination to do that while dunking.
For most people, jumping over a car would be hazardous. Los Angeles Clippers star Blake Griffin makes it look easy.
This high-flying auto advertisement would have been ranked higher if he hopped over the sunroof of the car instead of the low hood.
As far as dunks go, it was rather underwhelming, but give Griffin a 10 for props and theatrics.
Washington Wizards tower JaVale McGee has a remarkable wingspan, and it was on full display last year when he threw down on two hoops simultaneously.
I think this makes the average American even more jealous of NBA athletes, because most of us can't dunk on one hoop.
Thanks for the confidence boost, JaVale.
Just as Kryptonite is the only undoing of Superman, KryptoNate is the only undoing of Dwight "Superman" Howard.
The diminutive Nate Robinson edged out Howard in the 2009 contest by jumping over him and slamming the green ball home.
Howard is the tallest human prop in dunk contest history, so it's awesome that one of the shortest NBA players hurdled him.
Check out the footage of Gerald Green blowing out a cupcake candle on the back of the rim while finishing the alley-oop.
What's next, showing off his hang-time by blowing out a whole birthday cake full of candles?
Green's creativity is almost as astounding as his athleticism.
20 years after Spud Webb stunned the world in the 1986 contest, Nate Robinson brought him out of the stands and jammed over him.
Robinson-over-Spud became an instant-classic and put Robinson on the map as the most lovable little guy in basketball.
The dunk featured phenomenal aerial skill and used the most historically relevant prop ever.