NFL Draft: The 32 Worst 1st-Round Picks Since 2000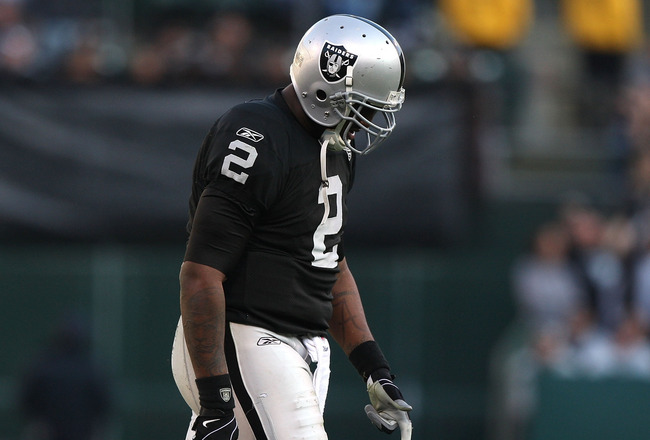 Jed Jacobsohn/Getty Images
Every team's biggest fear in the NFL draft is picking a player that turns into one of the all-time busts. It took the San Diego Chargers four years to recover from the Ryan Leaf debacle. The Oakland Raiders were set back many years when they elected to make JaMarcus Russell the No. 1 overall pick. And the St. Louis Rams' miserable stretch of seasons can largely be attributed to the poor play from 2009 No. 2 overall pick, Jason Smith.
About half of all draft picks bust. That's an alarming figure, considering the amount of scouting teams do and the amount of money that is given to rookie first-round picks.
I made a list of the worst NFL picks at each slot in the draft board. Only one player can make it for the 32nd spot, only one for the 31st, and so on. I was alarmed at the number of defensive ends and wide receivers, but as I proved in my recent article, these positions bust the most.
32. Patrick Ramsey, QB, Washington Redskins (2002)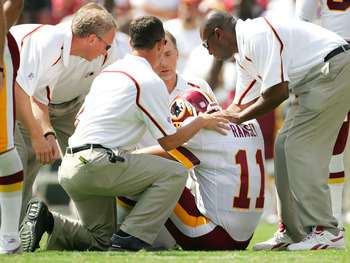 Jamie Squire/Getty Images
Patrick Ramsey isn't the first guy that will likely come to your mind when you think about first-round busts at quarterback but he was awful. Ramsey started just 24 games for the Washington Redskins before they traded him to the New York Jets, and they cut him before he took a single snap.
Ramsey was active in the NFL as recently as December 2010, when the Minnesota Vikings signed him. His career numbers aren't what the Redskins hoped for when they picked him 32nd overall: just 35 touchdowns, 30 interceptions and a 74.9 passer rating.
He was bad enough that the team used a first-round pick on Jason Campbell just three seasons later, although that didn't work out either.
31. Rashaun Woods, WR, San Francisco 49ers (2004)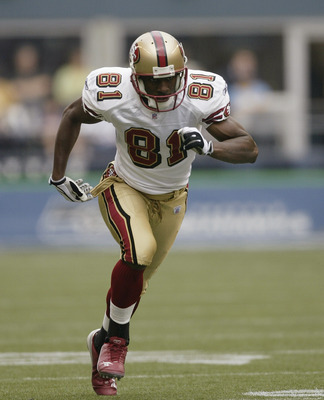 Otto Greule Jr/Getty Images
You could make a case for a lot of guys on here. The St. Louis Rams pulled off the dubious feat of selecting Trung Canidate and Robert Thomas with the 31st overall pick in consecutive seasons. And the Indianapolis Colts' pick of Jerry Hughes in the 2010 NFL draft may go down as an all-time worst.
But it's tough to be worse than Rashaun Woods. He caught seven passes in his NFL career. Seven. Woods played sparingly in his rookie season (catching all seven of those passes) before missing his entire second season with torn ligaments in his thumb. Woods was traded to the San Diego Chargers but failed to make the 53-man roster, and then failed his physical with the Denver Broncos.
Woods went on to play for the Toronto Argonauts of the Canadian Football League, and was out of professional football entirely a year later.
30. Craig Davis, WR, San Diego Chargers (2007)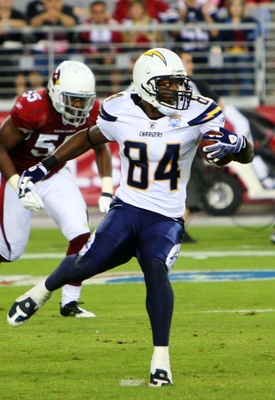 Christian Petersen/Getty Images
If Craig Davis had panned out, the San Diego Chargers would have had a pretty good group of playmakers with Vincent Jackson, Antonio Gates and LaDainian Tomlinson.
That wasn't the case though; Davis caught just 51 passes for 558 yards and two touchdowns in a miserable four-year career that concluded when he was mercifully released by the Chargers in the summer of 2011. He had a tryout with the Buffalo Bills in August of this past year but never got signed.
29. R. Jay Soward, WR, Jacksonville Jaguars (2000)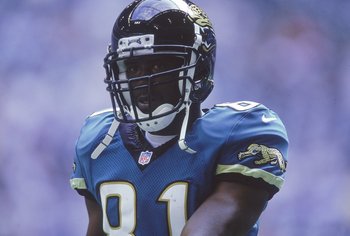 Ronald Martinez/Getty Images
Here's another wide receiver that didn't quite make it in the league: The Jacksonville Jaguars spent a first-round pick on R. Jay Soward in the 2000 NFL draft and were rewarded with 14 catches before he all but was banned from the league.
Soward couldn't stay away from drugs and was placed in the NFL's substance abuse program. It went so far that Jaguars coach Tom Coughlin would send a limo to pick up Soward every day for practice to ensure that Soward would actually come.
Soward never filed for reinstatement in the league and made a brief comeback four years later in the Canadian Football League, although that was more known for a popcorn celebration than anything else.
28. Lawrence Jackson, DE, Seattle Seahawks (2008)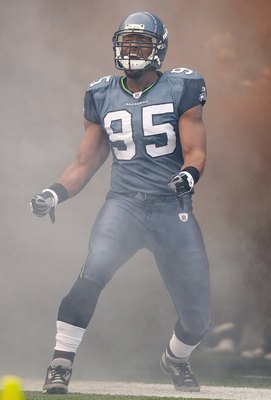 Otto Greule Jr/Getty Images
The Seattle Seahawks had to be hoping for more than 6.5 sacks in two seasons from Lawrence Jackson. They ended up trading him to the Detroit Lions for a sixth-round pick in the 2010 NFL draft, and he hasn't produced much better with the Lions.
Jackson won't go down as the biggest defensive end bust of that draft, thanks to Vernon Gholston, but he was still a miserable pick.
27. Mike Rumph, CB, San Francisco 49ers (2002)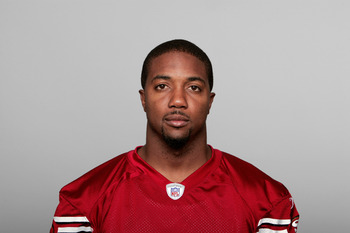 NFL Photos/Getty Images /Getty Images
Mike Rumph lasted just one season as a starter in San Francisco before the team switched him to safety largely due to poor man-to-man coverage skills.
Rumph missed 14 games in 2004 and 13 in 2005 due to injuries, and then the team traded him to the Washington Redskins. Rumph appeared in just seven games with the Redskins and retired in 2008.
26. John McCargo, DT, Buffalo Bills (2006)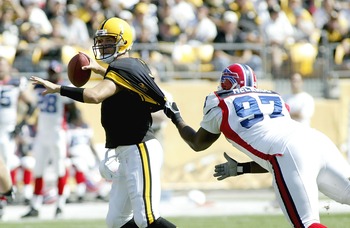 Rick Stewart/Getty Images
It's not all John McCargo's fault that he was such a bust—after all, he wasn't projected to be taken until the second or third round of the 2006 NFL draft, and the Bills jumped on him with the 26th overall pick.
McCargo lasted five seasons in Buffalo, although he started just one game. His NFL totals to date are 2.5 sacks and one forced fumble in 44 games.
McCargo just beats out Erik Flowers, Kwame Harris, Chris Perry and Dan Williams for the spot on this list.
25. Freddie Mitchell, WR, Philadelphia Eagles (2001)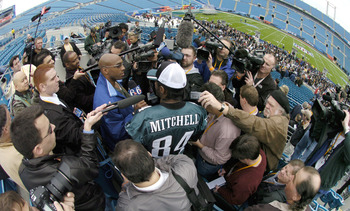 A. Messerschmidt/Getty Images
The Philadelphia Eagles thought they were giving Donovan McNabb a young playmaking wide receiver when they picked the UCLA standout 25th overall in the 2001 NFL draft.
Freddie Mitchell was never able to beat out James Thrash or Todd Pinkston for a starting spot—that tells you all you need to know. Before the 2004 Super Bowl, Mitchell trash talked New England Patriots safety Rodney Harrison; Harrison went on to record two interceptions while Mitchell had just one catch.
Sure, there were some good moments: the 4th-and-26 catch or the two touchdowns in the 2004 NFC Divisional Playoffs. But he wasn't even close worth a first-round pick.
Mitchell hasn't played in an NFL game since, although he reportedly was getting tryouts as recently as 2008.
24. Peria Jerry, DT, Atlanta Falcons (2009)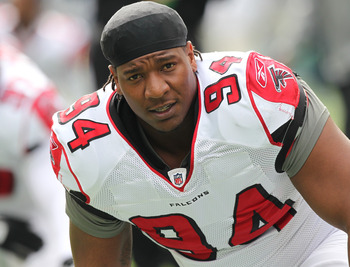 Otto Greule Jr/Getty Images
There's still a chance Peria Jerry could revitalize his NFL career, but it certainly doesn't seem like that's about to happen.
Jerry was picked in the first round of the 2009 draft with comparisons to Vonnie Holliday. Jerry missed nearly his entire rookie season with a knee injury, then lost the starting spot in 2010 to Corey Peters. As of now, Jerry has started just six games at defensive tackle and recorded a grand total of two sacks.
23. Marcus Tubbs, DT, Seattle Seahawks (2004)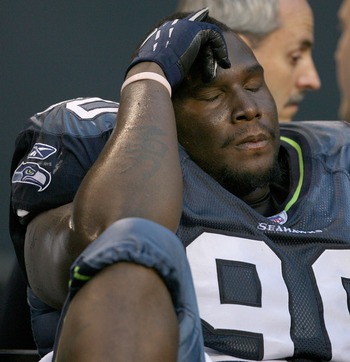 Otto Greule Jr/Getty Images
Marcus Tubbs never made close to the impact the team thought he would have when they selected him 23rd overall in the 2004 NFL draft.
Tubbs lasted four seasons, starting just 17 games and picking up only seven sacks. He was released in August 2008, and hasn't signed with any teams since.
22. Brady Quinn, QB, Cleveland Browns (2007)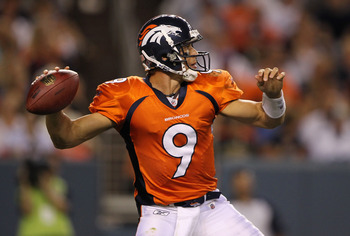 Doug Pensinger/Getty Images
Three separate quarterbacks could have taken this spot—Rex Grossman, J.P. Losman or Quinn—but I went with Quinn because he started the fewest games.
Grossman started 31 games in five seasons with the Chicago Bears, Losman started 33 games in five seasons with the Buffalo Bills but Quinn started just 12 games in three years with the Cleveland Browns. Quinn was probably viewed as the best of the quarterbacks coming out of college, and he went on to have the least successful NFL career.
Quinn has since joined the Denver Broncos, where he may get a chance to start if the Broncos bench Tim Tebow. But as of now, Quinn's 10 career touchdown passes in five NFL seasons give him the nod on this list.
21. Matt Jones, WR, Jacksonville Jaguars (2005)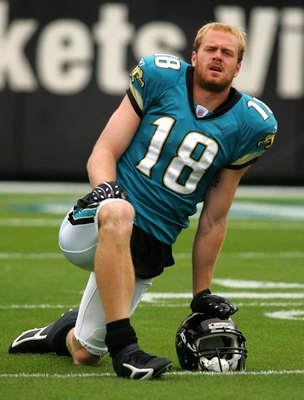 Sam Greenwood/Getty Images
The Jacksonville Jaguars never should have drafted this QB/WR in the first round, and Matt Jones was a colossal bust. He had incredible size at 6'6" and over 240 pounds, but he started just 15 games in four seasons before he was released.
If Jones and 2004 first-round pick Reggie Williams had panned out, life could have gone very differently for 2003 first-round bust Byron Leftwich.
20. Kenechi Udeze, DE, Minnesota Vikings (2003)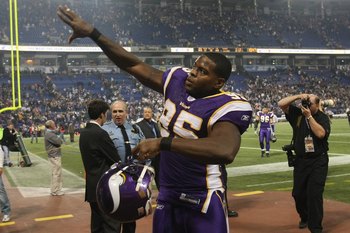 Jonathan Daniel/Getty Images
It's an absolute shame what happened to Kenechi Udeze after his NFL career, as he was diagnosed with acute lymphoblastic leukemia.
But he was a bust for the four seasons in which he did play, and he would have made this list even if he had stayed healthy. Udeze racked up just 11 sacks in four seasons, despite starting 47 games. In 2006, he pulled off the remarkable feat of having starting 15 of 16 games without recording a single sack
19. Kyle Boller, QB, Baltimore Ravens (2003)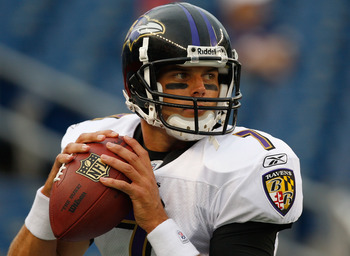 Jim Rogash/Getty Images
It's been nine NFL seasons and Kyle Boller is still starting games (he started one for Oakland last year), but he was a colossal bust in Baltimore.
Boller managed to start 42 games over five seasons with the Ravens, but threw just 45 touchdown passes during that span. He then bounced to the St. Louis Rams and now Oakland, where he is at least a serviceable backup.
18. Erasmus James, DE, Minnesota Vikings (2005)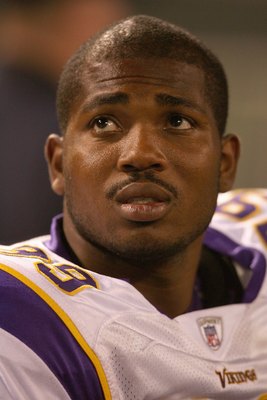 Nick Laham/Getty Images
This gives the Minnesota Vikings two defensive ends in a span of three years that both were first-round busts. Erasmus James was probably worse than Kenechi Udeze; he started just 12 games in three seasons with the Vikings, amassing a grand total of five sacks.
James played one year in Washington before he was out of the NFL.
17. Jarvis Moss, DE, Denver Broncos (2007)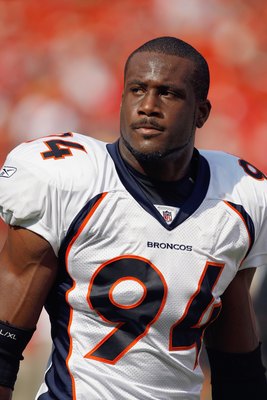 Jamie Squire/Getty Images
At 6'7" and 250 pounds, Jarvis Moss should have been a monster at getting to the quarterback. He hasn't exactly been a Pro Bowler, amassing just six sacks in five NFL seasons.
Moss is now on the Oakland Raiders, and it's doubtful he will ever turn into the player the Denver Broncos hoped he would be.
16. Larry English, DE, San Diego Chargers (2009)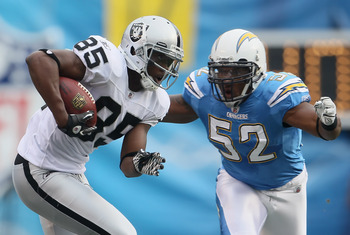 Jeff Gross/Getty Images
You may have noticed the common theme here—defensive ends bust frequently. Larry English was no exception. The San Diego Chargers picked him in the middle of the first round in 2009 and tried to convert him to outside linebacker in the 3-4 formation.
English is still on the team, but he's made just four starts and collected seven sacks in three seasons. He missed eight games in 2010 and then 11 more in 2011. He could be released before the 2012 season even starts.
15. Jerome McDougle, DE, Philadelphia Eagles (2003)
Hunter Martin/Getty Images
If you put all the defensive ends on this list together, Jerome McDougle would probably find a way to be the worst. The Philadelphia Eagles traded up to get him, passing on players like Troy Polamalu, Nick Barnett or Nnamdi Asomugha.
McDougle struggled with injuries and complete ineffectiveness, but Andy Reid kept him around for six seasons, convinced this would be the year McDougle would turn it around. He finished his career with three sacks and earned the dubious feat of being one of just three non-2011 players picked in the first round since 2000 to never start a game.
McDougle was most known for being shot in the abdomen in 2005, which caused him to miss the entire season.
14. Michael Haynes, DE, Chicago Bears (2003)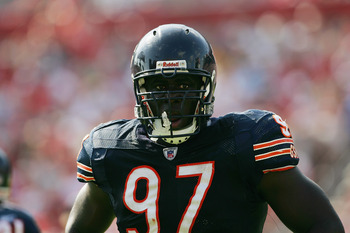 Jamie Squire/Getty Images
Michael Haynes and Rex Grossman in the first round of the 2003 NFL draft wasn't the ideal draft for the Chicago Bears.
Haynes picked up 5.5 sacks in three seasons before bouncing around the league for two seasons. He could have been a key member in a terrific Bears defense that included Brian Urlacher, Lance Briggs, Tommie Harris and Charles Tillman.
13. Adam Carriker, DE, St. Louis Rams (2007)
Dilip Vishwanat/Getty Images
Adam Carriker is still a full-time starter in the NFL, which is shocking because he's not a good player. The St. Louis Rams traded Carriker to the Washington Redskins in the summer of 2010, ridding themselves of a player that got them just 3.5 sacks in three seasons.
Brandon Graham from the Philadelphia Eagles (2010) is making a case to take over Carriker's spot, but it's still too early.
12. Wendell Bryant, DT, Arizona Cardinals (2002)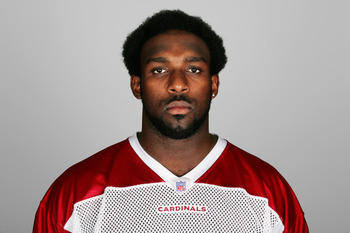 NFL Photos/Getty Images /Getty Images
Maybe I should have changed this to the worst defensive linemen selected since 2000. Wendell Bryant registered 1.5 sacks in four starts as a rookie, and then never recorded another sack for the remainder of his NFL career.
Bryant was suspended from the NFL for failing the substance abuse tests in 2005 and never returned, although he did see action in the United Football League in 2009.
11. Ron Dayne, RB, New York Giants (2000)
Al Bello/Getty Images
Ron Dayne was a workhorse in college, winning the 1999 Heisman Trophy and going to the New York Giants with the 11th overall pick.
Dayne was supposed to combine with Tiki Barber to be the thunder and lightning combination, but Dayne's refusal to keep his weight down ultimately led to a long stretch of poor seasons. Dayne managed to last eight seasons and was a decent goal-line runner, but he never turned into the Pro Bowler the Giants had hoped for.
10. Jamal Reynolds, DE, Green Bay Packers (2001)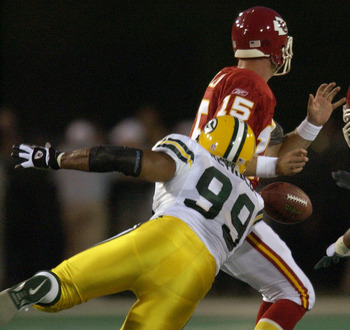 David Maxwell/Getty Images
Jamal Reynolds was probably a worse player than Jerome McDougle, and that's hard to imagine. Reynolds never started a game in the NFL, playing in just 18 of a possible 48 games from 2001 through 2003. Reynolds accumulated a grand total of three sacks and two forced fumbles in three seasons.
Reynolds beats out a slew of recent 10th overall picks; in fact, six of the last seven players picked 10th overall have been busts: Mike Williams, Matt Leinart, Amobi Okoye, Michael Crabtree, Tyson Alualu and Blaine Gabbert.
9. Reggie Williams, WR, Jacksonville Jaguars (2004)
Doug Benc/Getty Images
Reggie Williams beats out Ted Ginn, Jr. for the worst ninth overall pick because at least Ginn was a dynamic return man.
Williams did catch as many as 10 touchdowns in one season but his career lasted just five seasons during which he never topped 52 catches or 629 receiving yards.
8. Jamaal Anderson, DE, Atlanta Falcons (2007)
Kevin C. Cox/Getty Images
In five seasons in the NFL, Jamaal Anderson has 7.5 sacks. That puts him in good company with the other colossal bust defensive ends on this list.
Anderson joined the Indianapolis Colts in 2011 after four underwhelming seasons with the Atlanta Falcons, but it's too much to expect a sudden jump in his production.
7. Troy Williamson, WR, Minnesota Vikings (2005)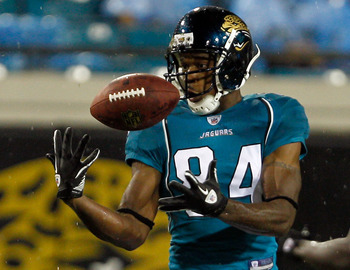 Sam Greenwood/Getty Images
The seventh overall pick in the 2005 NFL draft wrapped up his pro career with just four touchdown catches. He started 22 games with the Minnesota Vikings in a three-year span, then latched on with the Jacksonville Jaguars and was equally ineffective.
Troy Williamson beats out Byron Leftwich, Sedrick Ellis and Darrius Heyward-Bey for the spot on this list.
6. Vernon Gholston, DE, New York Jets (2008)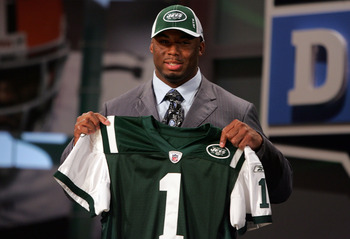 Jim McIsaac/Getty Images
I still remember my Sporting News 2008 NFL preview magazine saying the following about Vernon Gholston: "The word physical freak is far too overused for NFL prospects. That being said, Vernon Gholston is a physical freak."
Gholston never recorded a sack, intercepted a pass, recovered a fumble, or forced a fumble in three dreadful seasons. Gholston registered a grand total of 16 tackles in his career, making him arguably the worst draft prospect of this century.
5. Levi Brown, OT, Arizona Cardinals (2007)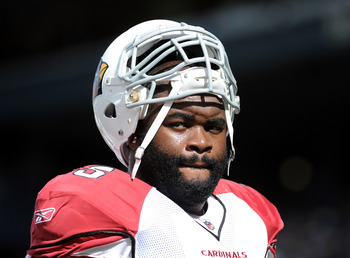 Harry How/Getty Images
The Arizona Cardinals seem to be convinced Levi Brown may still be a good offensive tackle, but through five NFL seasons, there's not much of an indication that he will resurrect his career.
Brown came on a little at the end of 2011, but he's given up 43 sacks and 160 quarterback pressures over the last four seasons. Those are frightening statistics for a player that was supposed to add stability to a constantly underachieving offensive line.
4. Mike Williams, OT, Buffalo Bills (2002)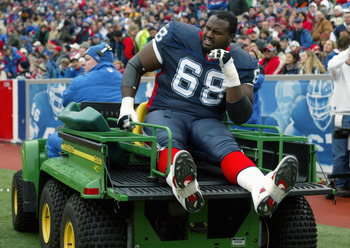 Rick Stewart/Getty Images
There have been a handful of fourth overall picks since 2000 that have been complete busts—Peter Warrick, Dewayne Robertson, Gaines Adams and Aaron Curry.
Williams gets the nod though because he hurt his team the most. The Buffalo Bills still haven't found a quality left tackle, and Williams was supposed to be the cornerstone of their line for the next decade. He started at right tackle to help him transition to the NFL and never was able to move to left tackle. What's worse is he couldn't keep his weight down, and was unable to even contribute as a guard.
The Bills released Williams after the 2005 season with him weighing close to 400 pounds. To make matters worse, the Minnesota Vikings selected Bryant McKinnie just three picks later; McKinnie has gone on to start 147 games in this league and make a Pro Bowl team.
3. Joey Harrington, QB, Detroit Lions (2002)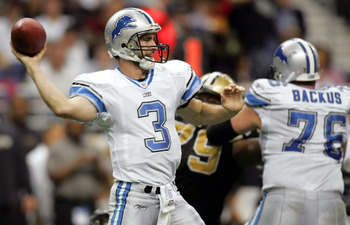 Ronald Martinez/Getty Images
Fortunately for the Detroit Lions, it's not as if they missed out on David Carr at the No. 1 spot in the 2002 draft; he was a bust too.
Joey Harrington's numbers are downright miserable: he was 26-50 as a starter, threw 79 touchdowns to 85 interceptions and posted a 69.4 passer rating. Fortunately for Lions fans, they got a real find with Matthew Stafford in the 2009 draft, and the quarterback position should be set for the next decade.
2. Charles Rogers, WR, Detroit Lions (2003)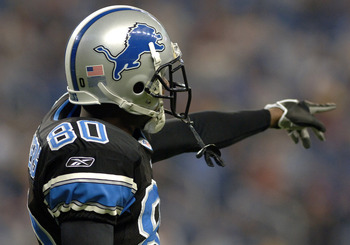 A. Messerschmidt/Getty Images
Charles Rogers is one of the worst picks in league history. He was active for just 15 of a possible 48 games during his three-year NFL career, breaking his collarbone twice in a two-year span and missing time for violating the NFL's substance abuse policy.
Rogers finished with 36 receptions for 440 yards and four touchdowns, not quite providing the type of performance the Detroit Lions wanted. If Joey Harrington and Rogers had played up to their potential, the Lions could have a terrific QB-WR combination in the middle of the decade.
1. JaMarcus Russell, QB, Oakland Raiders (2007)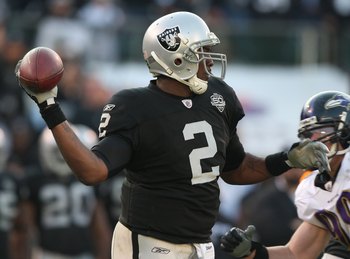 Jed Jacobsohn/Getty Images
Courtney Brown, David Carr and Alex Smith were awful picks, but no one comes close to JaMarcus Russell's level of ineptitude.
Russell had rare talent that was almost unmatched at his position; he could reportedly throw a football 60 yards on his knees. Russell was supposed to turn around an Oakland Raiders franchise that had been miserable since the 2002 Super Bowl appearance.
After signing a mammoth six-year, $68 million deal with the Raiders in training camp—$31 million of that guaranteed—Russell won just seven NFL games. He posted a .280 career winning percentage as a starter, completed just 52 percent of his passes and averaged just 6.0 yards per attempt for his career.
Russell was mercifully released before the 2010 season with reports saying he weighed in at close to 300 pounds. Russell hasn't played in the NFL since, and he has been called the biggest draft bust in NFL history.
Keep Reading