Washington Wizards' John Wall: Team Better Not Waste Opportunity
February 26, 2012

Rob Carr/Getty Images
John Wall of the Washington Wizards is the best point guard in the NBA. His athleticism, speed, quickness and superb leaping ability is unquestioned.
The showcase he put on at the NBA Rising Stars Challenge was one of the best All-Star performances I've seen in years. He was robbed of the MVP trophy, but that's for another day.
Despite his talent, he needs help in Washington.
This is Wall's second year. It's gonna end without the playoffs once again. Next year he's in the third year of his rookie deal. What happens after that?
It's time to start acquiring some talented players. Anthony Davis looks to be the real deal at Kentucky. Washington needs to do everything in its power to get the No. 1 spot in next year's draft.
A superstar from college will be nice, but they need more. Despite JaVale McGee's unquestioned talent, the team would be smart to acquire a veteran down low to help shoulder the load. A player like Kendrick Perkins comes to mind.
I like Jan Vesely, Chris Singleton, Trevor Booker, Jordan Crawford and Nick Young, but they need work. They are inexperienced and frankly will never be the players that will take Wall and the Wizards to the next level.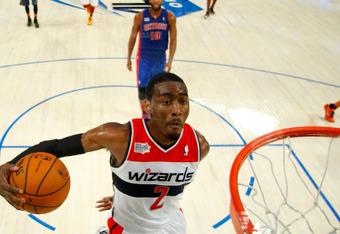 Pool/Getty Images
Andray Blatche is another capable big man, but he has shown his immaturity at times and can't be counted on to help lead this team.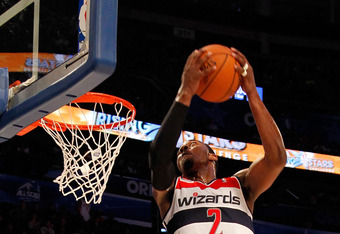 Mike Ehrmann/Getty Images
John Wall will be a wanted man soon enough.
The Lakers, Heat and Mavericks may all eventually make a move to acquire Wall, and with a poor supporting cast, it may be tough for Wall to resist.
John Wall is a franchise player. The kind of guy you build a championship team around. If the Wizards don't surround him with pieces to get a ring, somebody else will.